As a gray pickup truck rolled into the drive-thru at The Lube Center on the Golden Mile in Frederick Thursday, service technician Marvin Mills motioned the driver forward.
The floor opened up, and a technician underneath began an oil change. Up top, Mills popped the hood and peered inside. He signaled the driver to flash his lights. They were all in working order. Mills, 58, slid a squeegee across the front windshield.
"Blame it all on my roots, I showed up in boots, and ruined your black tie affair."
Exchanging a smile with the customers, Mills checked the tire pressure as he moved into the second verse of the Garth Brooks hit.
"Well, I guess I was wrong, I just don't belong, but then, I've been there before."
Mills isn't a professional performer, unless you count karaoke at the Orioles Nest. But he likes to sing at work.
"It just helps the day to go by, and customers like it," he said.
In his approximately 15 years with The Lube Center, Mills has become known by customers for his vocal talent.
"Every time a customer comes in here, they're probably asking for Marvin," cashier Annastaza Jones said. "Marvin's a sweetheart."
In the three months Jones has worked there, Mills has taught her basic vehicle maintenance such as how to check oil and rotate tires.
Mills has won numerous awards from his employer, such as "Employee of the Year" and "Top Performer," according to Michael Allen, managing partner of WLR Automotive Group Inc.
"Marvin's passion for customer service and his personal touch with each customer is on an entirely different level," Allen wrote in an email. "His character and work ethic truly reflects the WLR motto, 'Changing lives, One Neighbor at a Time.' Marvin has always been a wonderful asset to the overall success of the location."
Assistant manager Tyler DeGrange, who's worked with Mills for about five years, said his work ethic is hard to beat.
"Marvin brings a positive energy to the shop not a lot of people can match," DeGrange said.
And that energy comes after working a 3 a.m. shift at his other job, sorting packages for UPS.
Mills says he'll sing any kind of music he knows the words to — R&B, country, soft rock — and even takes requests.
On a hot day in May, Mills' customers say they appreciated the service with a song.
"More people should be that way," Sean Rose of Hagerstown said.
Rose and his father, John, were coming back from a plumbing job when they stopped at The Lube Center for some quick maintenance.
"Too many grumpy people in the world," John Rose said, "it's good to meet someone like that."
Mills has attracted many regulars over the years and tries to build rapport with them. He says some people open up and tell him about their woes. He's even prayed with customers.
Once, an older customer told Mills he needed someone to help him with yard work. Mills offered a hand, which turned into a four- or five-year relationship of Mills cooking and cleaning occasionally for him until he died about two years ago.
Shortly before his friend's death, Mills said, they argued. Mills, a vegan who doesn't drink or smoke, tried to encourage his friend to lead a healthier lifestyle. When they disagreed, Mills decided to give him some space for about a week. In that time, his friend passed away.
"I really felt awful," Mills said. "That really hurt me a lot."
He drove a Jeep Cherokee, Mills recalled.
California transplant
Most customers at The Lube Center wouldn't know it, but before Mills worked on cars in Frederick, he bumped elbows with the rich and famous in Los Angeles.
Working security at the Bonaventure Hotel — the largest hotel in the city — Mills met Janet Jackson, Whitney Houston, James Brown, Shaquille O'Neal, Kobe Bryant, Mel Gibson and Johnny Depp, among others. President George W. Bush gave him a pendant in an elevator there.
On weekends, Mills provided personal security for Little Richard.
Depp, who filmed "Nick of Time" in the hotel, was one of the friendliest stars Mills said he's met.
"Johnny Depp, basically, he knew me by first name because I would have to go up to his room and bring him down to the set," Mills said.
When Usher came to the hotel to film the music video for "U Don't Have to Call," Mills got an invitation to pose as one of the bouncers in the dance club scene.
Though Mills has 24 years' worth of memories from the hotel, his interactions with celebrities aren't the first stories he'll tell when he meets someone new. Sitting on a bench outside The Lube Center, Mills first talked about his job, the customers he meets and his favorite places to hike — he's particularly fond of the Maryland Heights Trail in Harpers Ferry.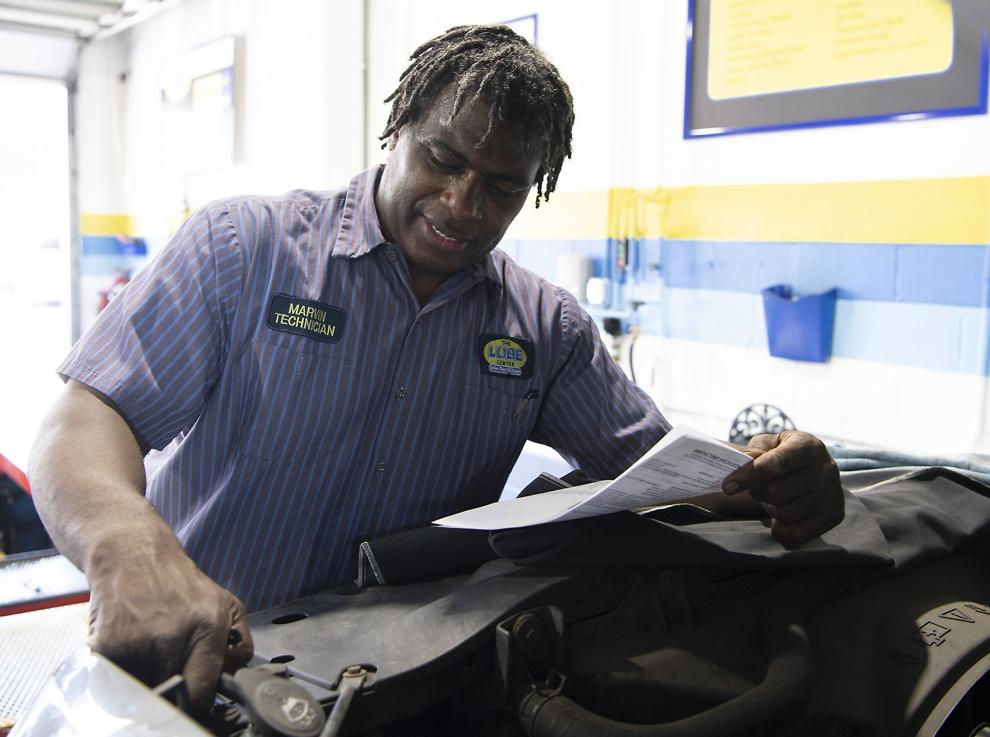 He's also quick to praise the life he's found in Frederick County.
"I like quiet, I like the country," Mills said.
He moved to Frederick about 15 years ago to be closer to his mother and find a different life for his children. Mills is now a grandfather of five.
Though he appreciates time off, Mills doesn't drag his feet through the work day. He smiles through the shift and hopes customers will catch a grin, too.
"Life is too short to be any other way," Mills said. "Smiles are contagious."