Maryland's latest attempts to contain the spread of the COVID-19 virus by temporarily eliminating dine-in service at bars and restaurants left Frederick businesses scrambling to figure out how to deal with the measure.
The order limited restaurants to drive-thru, carryout and delivery options for customers as of 5 p.m. Monday.
Amid a sparse lunch crowd Monday following Gov. Larry Hogan's announcement, Bushwaller's owner Amber Demorett said the uncertainty of the situation and how long it will last is what scares everyone.
She planned to take the next few days to see what happens, and was waiting for the county's liquor board to provide more information on what they can and can't do with carryout sales of beer and wine.
Business was slow Thursday, Demorett said, after Hogan's initial announcement of a ban on gatherings of 250 or more and the closing of schools in the state for two weeks. Then Friday and Saturday were very busy, then Sunday was slow and Monday even slower.
Demorett said she expected to drastically cut hours for the roughly 20 employees who work at the bar.
More immediately, Monday's announcement came the day before St. Patrick's Day, when Irish bars such as Bushwaller's draw huge crowds.
Demorett said they spend the whole year planning for St. Patrick's Day, and many of the staff count on the tips they receive.
"Our biggest day of the year just got canceled," she said.
Jarrett Walsh, the new owner of The Tasting Room, said he planned to give 20 percent of any carryout orders to his wait staff, since they wouldn't have any customers from which to collect tips.
His 30 employees would at least be kept on unemployment, although he would like to continue paying them himself if possible.
It's been a rocky week for Walsh since he took over the restaurant last Monday, handling the fallout of the pandemic.
"We're dealing with it as best we can, for sure," Walsh said.
Jasmin Tregoning and her partner Benjamin Cohen had just opened the brick-and-mortar location of Gambrill Mountain Food Co. on Friday. The company had previously run a successful food truck operation.
After a great turnout on Friday, Saturday and Sunday, the restaurant will be open for credit card-only carryout service "until we figure out what's going on," Tregoning said.
She spent part of Monday making sure the restaurant's entries on sites such as GrubHub and DoorDash were up-to-date.
With 10 employees, two of whom are family and another a close friend, she was confident they would weather the storm.
"We'll see what happens. We're feeling positive and optimistic," she said.
At the Pop Shop, owner Michelle Schaffer said the store would get rid of the few seats it has, but since their business is mostly people getting ice cream or soda to go, she didn't think they would have to close entirely.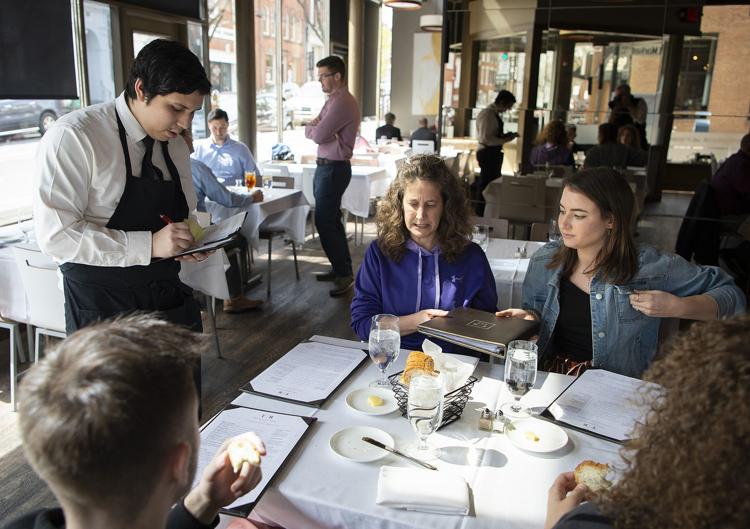 The store is opening a new addition in a storefront next to their location on North Market Street, and Schaffer said she had hoped to open it by Easter.
But without knowing how long the governor's order would remain in effect, she didn't know if they would be able to have a grand opening for the new space.
"This is all uncharted waters," Schaffer said.
Firestone's Culinary Tavern put boxes of free food outside Monday evening, including produce and eggs.
They'd been hoping to stay open for St. Patrick's Day, said General Manager Keelin Mallory, but had started a plan to close up on Sunday night.
"We already had as many employees as we could come in today and grocery-shop, essentially, in the restaurant, and now I just have all of these leftovers," Mallory said.
The restaurant's management and staff were taking it one day at a time.
"The owner is graciously paying everybody 50 percent salary for the next week at least just to help see what we can do," Mallory said.
Their employees get bonuses at the end of the year, which they'll be able to pull from over the next few weeks, as well as use some vacation days to try to help them get through the closures.
Andrew Popper, general manager of Taco Daddy, woke to Hogan giving his speech announcing the closure.
Not knowing how long the order would be in effect made it hard to deal with, Popper said.
The restaurant will do some sort of takeout, with a limited menu.
They gave away chicken and beef tacos, chips, and steak burritos Monday afternoon.
"People were elated to see that we were giving them out," Popper said. "They were surprised. A lot of people were blessing us. You know, it's just nice to kind of see the faces of the people less fortunate. You know, we're all kind of struggling in this situation, so it's nice to be able to, you know, help out any way you can."
He hoped patrons would continue to support the Frederick restaurant community.
"I know a lot of businesses downtown and even around the area who don't have a drive-thru, who unfortunately have to be shut down, are kind of testing it out," Popper said. "So I mean, if you see any businesses doing this, please support them. Tip well."
As restaurants and bars were closing Monday night in downtown Frederick, Christine Szabados was enjoying a "last supper" at Summitra Thai Cuisine.
Szabados, who lives in downtown Frederick, said she was doing her part to help downtown businesses before they were forced to close dine-in services at 5 p.m.
"I don't know what they're going to do," Szabados said of restaurants and bars. "At least we can come in and do carryout ... because these are my friends."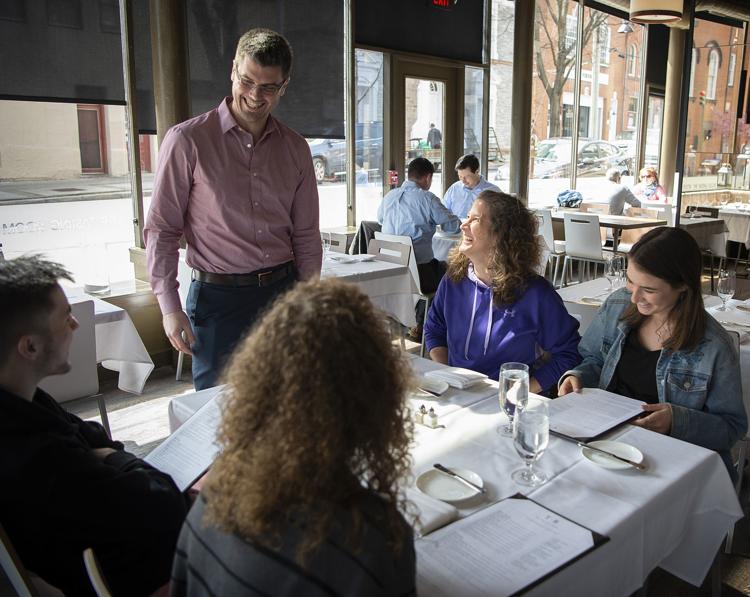 Many bars and restaurants are figuring out the logistics of operating only in carryout and delivery mode. That includes Shuckin' Shack Oyster Bar on South Market Street.
Wade Newman, co-owner of that bar, said as of Monday night, he and colleagues will be closed through Wednesday to figure out logistics and do some deep cleaning of the bar.
"With seafood, it's a little bit more difficult from a takeout perspective," Newman said. "You want seafood coming out hot, steamed and fresh."
"It's going to be a grind ... but everybody will come together, and it's a great community down here," he added.
Karen Medley, bar manager at Wag's Restaurant and Bar, was cleaning up around 5 p.m. Friday and said she is in wait-and-see mode to see how the mandated closing might affect business.
Medley said it's unlikely Wag's will offer any takeout or delivery services, given the type of food they serve. The bar's owner, John Wagner, will have to determine how long Wag's can survive without any income coming in, she said.
"Just tell them not to forget about us," Medley said of the public and when Wag's might reopen.
Staff writers Steve Bohnel and Hannah Himes contributed to this report.