Brian and Tina Merryman's lives are the making of an HGTV home renovation show — although they promise it's not that glamorous.
The pair own the investment and house flipping company American Flip House, which invests in houses, flips them and sells them, in addition to investing in rental real estate. Tina and Brian were recently listed at number 8 on the "Top 20 Real Estate Investors to Keep Track of in 2020" by Yahoo.
"It was amazing, we are very blessed because there are some big names on that list, Grant Cardone alone, that guy is super successful ... so I feel humbled and very blessed to be a part of that list," Brian Merryman said.
They've flipped nine houses so far, five in Frederick County, one in Sykesville and one in Westminster. The other two are in southern Pennsylvania. They try to keep their flips to within an hour's drive of Frederick.
While it may sound like fun, easy work, house flipping requires a lot of time and dedication. Brian also works full time as a lieutenant for the Montgomery County Police Department, often putting in 18-hour days.
He keeps track of his schedule in a strategic journal, setting aside time exclusively for his family. Tina and Brian have three children, one of whom has special needs.
That's their "why" — why they work so hard to make investing and flipping their full-time gig.
"You have to be motivated by your why, and our why is our son, he is 11," Brian Merryman said. "He is a middle schooler at Oakdale."
The Merrymans' son, Matthew, was diagnosed with brain cancer when he was 1. The intense chemotherapy left him with dystonia, a medical condition that hinders his cognitive development and his movement. Matthew uses a wheelchair.
They want to make sure that Matthew is always well-provided for, even long after they are gone.
"So we really, really try to remember that. ... Every day we learn something new and I'm not saying there aren't tough days there, but we just keep pushing and striving," Brian Merryman said.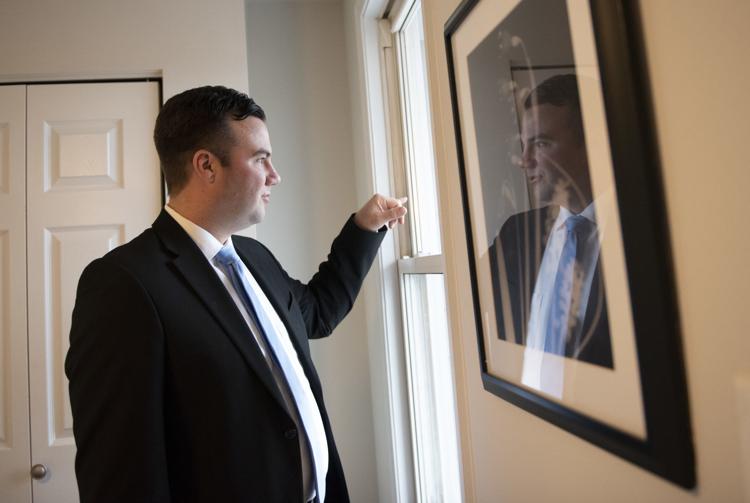 The process begins with finding houses. Tina and Brian work with several Realtors to scope out properties.
They make about 10 offers a week, most of which are rejected or sent into negotiations.
After they buy a house, the couple will walk through it with their real estate agent, Daniel Travelpiece, who sells the houses once they are done. They'll come up with a design together for the house — such as taking walls down and replacing flooring.
The couple hire contractors to do the electrical work, plumbing and other large aspects of renovation. They'll often come in and help, but they have to juggle everything from acquisitions to design.
The Merrymans often bring their children with them to the renovations, or to scope out properties.
"And then we realized we can't be in here like Chip and Joanna Gaines swinging the hammer. That's part of what we love about it," Tina Merryman said. "One day you can go in and help out, the next day you're negotiating, and turning deals. So it's a very versatile business, investing in real estate."
Tina is responsible for the interior design of the house. That includes colors, flooring and lighting, but does not include the furniture, which is brought in by a staging company, Maryland Design Group.
Staged houses sell about 73 percent faster than houses that are shown empty, according to The Mortgage Reports. A story by Forbes said staged homes also sell for 17 percent more than non-staged homes.
Many house flippers simply paint the house white and try to make it as much of a blank slate as possible. But the Merrymans like to weave their own elements of design into it.
"That's not our brand. It's definitely profitable if you're doing it in certain neighborhoods, but we want to give people a forever dream home, and these are people who might not qualify for an expensive, new-build mortgage, but they want a like-new beautiful home," Tina Merryman said. "That's where our niche is in house flipping right now."
The Merrymans' goal is to get each house flip completed in 120 to 180 days. Often, the flips take less time than that, but they can also take much longer.
Their most recent flip, a town house on East Fifth Street, was in the historic district, which made altering the exterior much more difficult. For example, the Merrymans couldn't replace the front door of the house unless they wanted to buy a specific, and expensive, kind of door. The Historic Preservation Commission requires doors that are replaced to match the original ones as closely as possible, in terms of both material and design.
While Tina and Brian originally wanted to invest only in houses that were built in 1940 or later, they have since invested in several prewar homes, even if they are a bit more work. Other investors call them "big rehab."
One of their more recent purchases is a house in Buckeystown that was built in 1878.
"When we get into those older homes ... I think people are generally in awe," Brian Merryman said. "It's like an old restored home with a modern touch. I's a really good balance of both."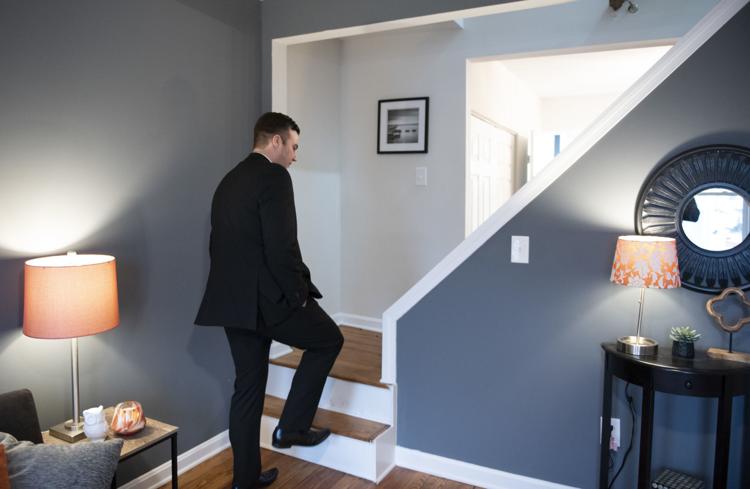 The couple's first foray into real estate investing was when they began renting out their house in Hagerstown after deciding to move to Frederick for the special education programs in the public schools.
But they didn't consider it a career possibility until they traveled to Florida for three months so Matthew could receive deep brain simulation treatment. They both had to stop working during their stay, and found themselves researching real estate investment.
Brian realized they could potentially do real estate investment and house flipping full time, and it could potentially be lucrative. They began to invest more in 2015.
Tina had already had experience owning her own business, one that sold natural and holistic products to women online. She decided to close it down once American Flip House got going.
The idea behind the name is that Brian and Tina want to invest in America by taking homes that have fallen by the wayside and give them the TLC they need to find new owners.
The company was originally named MLAC Investments, after the initials of their children, until a business coach told them that they needed a name that people would remember. They decided to rebrand to American Flip House last year.
"Our former business name was a commodity, not a brand. And we realized you reach a ceiling, where we were going to be marketable so we could put other people's money to work," Tina Merryman said. "... Having a brand attracts more of a network, at the end of the day."
Tina and Brian advise that any couples who want to work together prioritize their communication and try to play to their strengths.
"I think that couples that work together, if you don't have a yin and yang, I'm not saying it can't happen, but you better put your cards out on the table," Tina Merryman said. "I think the yin and yang is a big part of what makes this a possibility."
It helps that Tina's least favorite part of the job — negotiating and sales — is Brian's favorite part. But it also helps that Brian is a planner while Tina is more spontaneous, and Tina is detail-oriented while Brian sees the bigger picture.
"You have to rely on the strengths of others," Brian Merryman said.
The couple see flipping houses as just the beginning of what they hope to accomplish. Brian would love to try public speaking or writing a book in the future. The pair also hope to coach other people who are starting out in the house flipping industry.
"I don't think it stops at flipping. I think flipping is a skill set and a means to bigger and greater things, so I drive down the street now and I see mega apartment buildings and I say, I want to own that," Brian Merryman said. "This is something we're trying to get better at every single day."