Tiffany Cianci thought of the idea to offer on-site learning at her business, Little Gym of Frederick, out of necessity. She herself is a working mom with three children, and understands the struggle of remote learning.
"Really it just came from a position of needing my kids to have somewhere to have that support," Cianci said. 
Little Gym of Frederick is offering 18 spots at their facilities to children participating in remote learning. While their parents work, students will be guided through their online lessons by mentors, many of whom have educational backgrounds, and use tools schools would usually provide, such as centimeter blocks and base ten sets. They'll even have physical education in the gym to supplement their school's online classes, which Cianci says is lacking.
Businesses across Frederick County are attempting to help working parents with the dilemma they are facing this fall, as many of them are expected to return to work while their students are not returning to school buildings.
For Joe Richardson, CEO of Bar-T Summer Camps, the transition to all-day programs made sense. The Urbana camp had already been running before and after school care, in addition to daycare. They had even run daycare and camp during the pandemic already. Pivoting to fill the need was simple.
"I hope that this takes some of the stress and anxiety that I know a lot of families are feeling, both children and parents, regarding the distanced learning ... and gives them at least some semblance of what a normal school day might look like," Richardson said.
Bar-T is working with parents to manage drop-off and pick-up times, which can range from 6:30 a.m. to 6 p.m. During the school day, students will have their own space inside their large facility where they can focus on their classes.
Two Bar-T staffers will be available for every 13 students to help assist. Richardson said the majority of the students who are currently enrolled in the program are between grades 1 and 5. Many students that young are not equipped to follow through an entirely virtual — and largely self-driven — schedule every day.
That's a problem Cianci also wanted to help parents work through. Her staff will have the login credentials of all of the participating students. They've spent this first week of school managing the students' schedules and making sure to put students in pods that match their age group as well as their break and lunch times.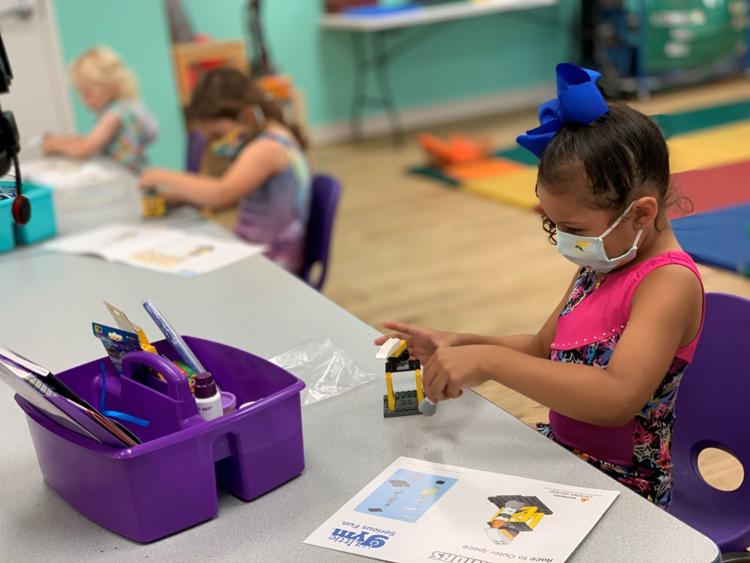 "One of the biggest and most difficult stressors that I think a lot of parents are facing ... is that every school has different starting times, every school has different lunch times, and every grade within that school has different start and lunch times," Cianci said.
Adventure Park in Mount Airy has also pivoted its offerings from day care programs to on-site virtual learning, with the option of before and after school care as well. 
"The parents are very thankful that we're offering it," said Erik Stottlemyer, CEO of Adventure Park. "Most parents in the local area are familiar with the way we run our programs and they know it's going to be handled in a professional and safe environment."
Other businesses have offered options for families who might just need their kids to have a half-day program, like Free Range Kids in the Francis Scott Key Mall. The educational theater company is offering a "study hall" program where students can safely learn from 9 a.m. to noon every day, which is primarily when the live sessions take place.
"So for a parent that needs a half a day for themselves to focus and have their kids somewhere else focused, that 9 a.m. to noon is the best option we've got," said Elizabeth Lucas, owner and founder of Free Range Kids.
She herself has 9-year-old twins, and knows how stressful managing both work and a child's education can be, even if it is all from home.
"I just knew that... this is needed right now," Lucas said.