Tiffany Cianci, owner of Little Gym of Frederick, didn't receive a single dollar from any of the government aid intended for small businesses. She applied the morning many of them opened, but the money had already run out.
She knew she had to take matters into her own hands if she wanted to keep her gym open so her students could return when things got back to normal.
Before owning Little Gym, Cianci worked in both public relations and digital strategy. She sought out what other businesses were doing while being shut down to try to guide her.
She came up with an idea that would cost her some money, but would keep her business afloat. Cianci banded with the owners of the Little Gym of Hunt Valley, Columbia and Silver Spring to bring her idea to life.
"I want to be here for our parents, I want to be here for our students," Cianci said. "I am going to reinvent how we do what we do and still deliver the Little Gym experience in a new way."
She bought enough equipment to provide each of her students with their own "magic bag" so they could re-create the experience of Little Gym at home. Her teachers, and the teachers at the three other locations, have gone live on Zoom daily to offer a variety of classes to their students.
"I got very aggressive with spending money that most people probably wouldn't want to spend right now," Cianci said.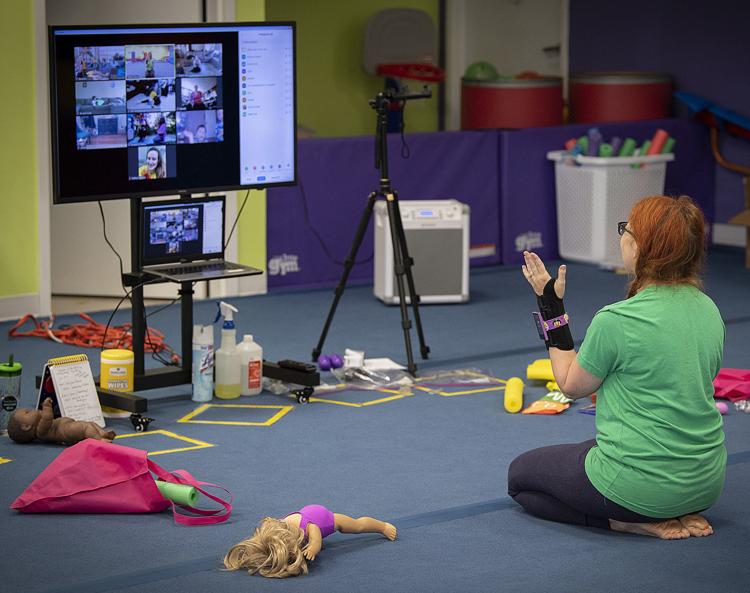 Parents had the option of either borrowing the bag long-term or outright buying it at a discounted rate. The proceeds from the bags went into a fund so that Cianci can still pay her employees, who she has not laid off. About 80 percent of parents decided to buy the bags outright, she said.
The classes are being offered every day, so students who used to only go to the gym once a week can now take several classes for the same price as they were paying before.
Cianci said the students love seeing their teachers in Zoom classes, but the teachers love seeing the students just as much.
"Our gym is very much a community and it has broken my heart to not have the kids here every day," Cianci said. "It's very lonely for teachers that count our days in high fives and hugs."
In addition to the Zoom classes, which are available for paying students, Cianci has introduced several free features that all families can enjoy on Facebook. "Go Little Gym Breaks" are videos intended to give students and parents a break from homeschooling in a variety of styles, from instructors reading stories to a costumed Batman teaching superhero training.
Cianci was disappointed that field trips for her preschool enrichment program were canceled due to the coronavirus, in addition to her daughter's field trips. So she decided to try to bring the field trip to her students at home.
The field trip was intended to be at the firehouse, which was not allowing anybody inside. But Cianci had the firefighters bring their equipment outside, and live streamed them explaining their jobs and equipment. Ahead of the event, she posted worksheets for different age groups that would correspond to the field trip.
Cianci figured that maybe 50 of her students would tune in.
Instead, she had 4,000 viewers.
The field trips became so popular that Cianci created a separate Facebook page, "InVentures in Learning" to post the worksheets and videos. She has also visited Walnut Ridge Dairy Farm, Mayne's Tree Farm and a kangaroo sanctuary in Montgomery County.
"I was just trying to do a community service. I just wanted families to have an hour they could sit with their children, have the worksheets they need, do the homework they need and we answer questions live the entire hour. They can ask anything they want," Cianci said.
Cianci is used to giving back to the community — she hosts an annual gift drive for foster children. Now, she's collecting breast pumps to donate to a woman in St. Mary's County who is using them to make respirators.
Cianci said shes' collected about 250 so far.
The Little Gym of Frederick, which is about 2½ years old, was about to hit its break-even point and become a cash positive business. Now, Cianci said that likely won't happen any time soon.
Still, she's optimistic about the summer, when she will continue to do Zoom classes and offer them to new students as well.
"They say nothing's going to be the same for a long time and that might be true. But it doesn't mean that we still can't be a constant," Cianci said. "And we want to be that constant for families in this city and in this county and in this state."