Nervous smiles lit the faces of Catoctin High School seniors Wednesday morning as they stepped into Knott Arena at Mount St. Mary's University.
Just as they'd rehearsed, they filed in two by two. Each pair paused for a moment, many exchanging a quick hug or a fist bump with the teachers who stood on either side of the aisle.
Later, during his speech to the class of 2022, senior Dylan Nicholson recalled another time the group walked together, feeling a mix of apprehension and excitement.
"Four years ago, we walked into Catoctin as little freshmen, dragging our feet through the halls," Nicholson said. "We were so scared and nervous."
Now, Nicholson said, the class was grappling with the reality that "life comes at you a little faster than you'd like."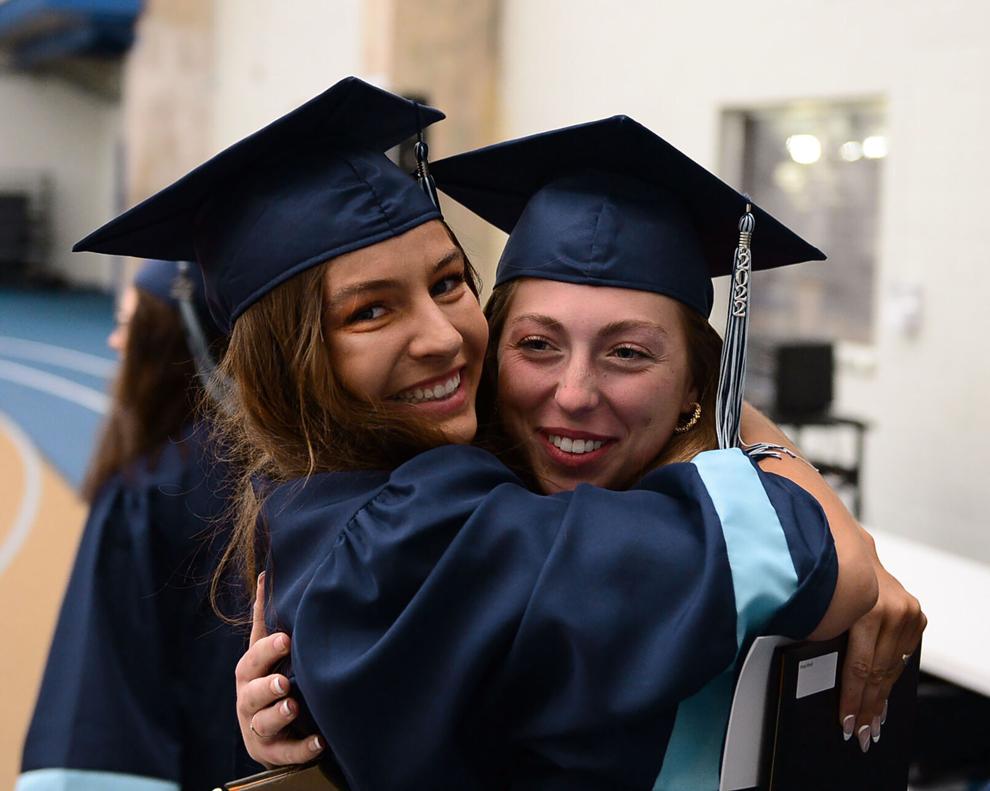 Catoctin's graduating class is one of the smaller ones in the county this year, at 150 students. At their ceremony, graduates spoke fondly of the little community so many of them grew up in.
"I'm going to miss how much people care about each other," said senior Shayne Hewitt.
For senior Emily Williams, who played on the varsity basketball team that made it to the state finals this year, saying goodbye to Thurmont was one of the hardest parts of graduating. Williams will head to Shenandoah University in the fall — and she's eager to get going, she said.
"I still love this place," she said Wednesday, standing with a group of her friends before the ceremony began. Seeing the way the community rallied around her team this season reinforced that love, she added.
And though Williams said she was ready to move on, a part of her was still grieving the time she and her classmates spent in virtual or hybrid learning.
"I wish we got all four years. It definitely hurts," she said. "It felt like lost time. A lot of lost time."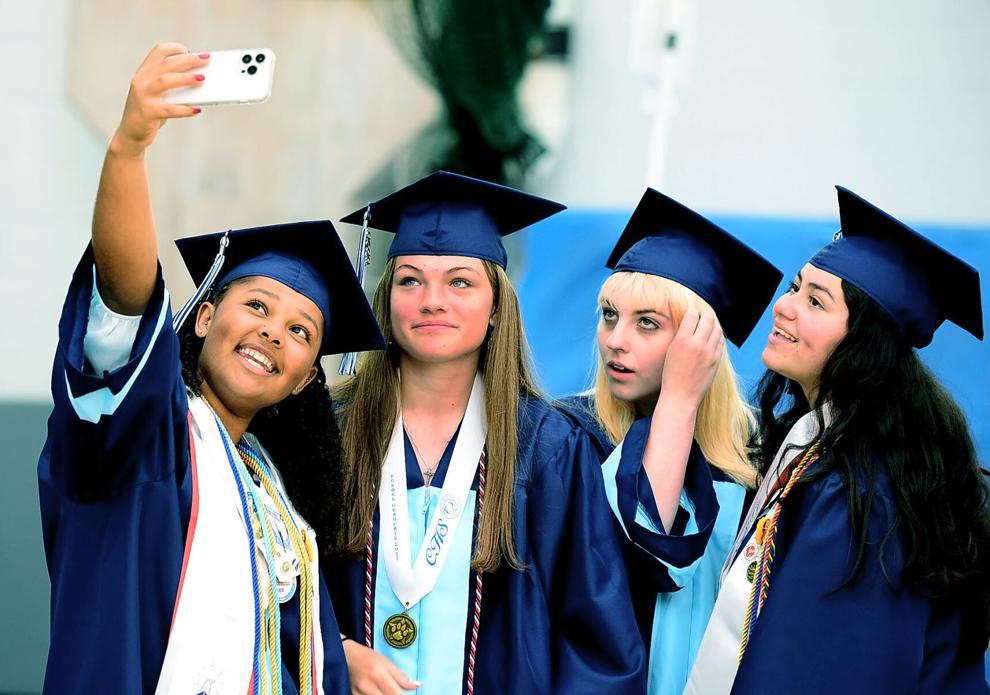 The atmosphere Wednesday morning was mostly joyful, but the ceremony began with a somber moment of silence for the 19 children and two teachers who had been shot and killed at a Texas elementary school the previous day.
"The Frederick County Public Schools family shares in grieving with the Uvalde community," Catoctin Principal Jennifer Clements said at the top of the ceremony. "The violent and senseless loss of students and staff in the small Texas town is being felt around the world."
"Today, we are here to celebrate our students," Clements continued, looking out at the sea of blue graduation caps before her. "Some of the most precious members of our community."
Frederick County Board of Education member Jason Johnson also opened his remarks with a reference to the massacre.
"This morning, we all gather to rejoice," he said. "But we cannot forget those who mourn."
Johnson went on to ask the graduates three questions: What do you hate? What do you love? What would you do for free?
He encouraged the students to ponder the questions over the coming days. Doing so would help them figure out what they wanted to change in the world, he said.
"Your responses to these questions is what will change the future," Johnson said, "and provide hope to millions of souls waiting for you to continue your journey and walk in your calling."