About 75 people gathered outside the Frederick County Board of Education building Wednesday, protesting the school system's recent decision to require masks when school resumes in two weeks.
Waving signs with phrases such as "end medical tyranny" and "choice not force," the demonstrators chanted "masks don't work" and "my body, my choice." Motorists traveling past the East Street building in downtown Frederick often punctuated their calls with loud honks of encouragement.
"Breathing is our fundamental right," said one attendee, Bridget Kalivretenos. She brought her three young sons along to the protest, each of them toting a large cardboard sign. "I will never send my kids to school in a mask."
Kalivretenos has pulled her kids — two 9-year-olds and a 4-year-old — out of FCPS, she said. She plans to send them to a private school but will homeschool them if masks are mandated there, too.
Many parents at the demonstration Wednesday echoed her, saying they'd either already pulled their children from the public schools or were considering it.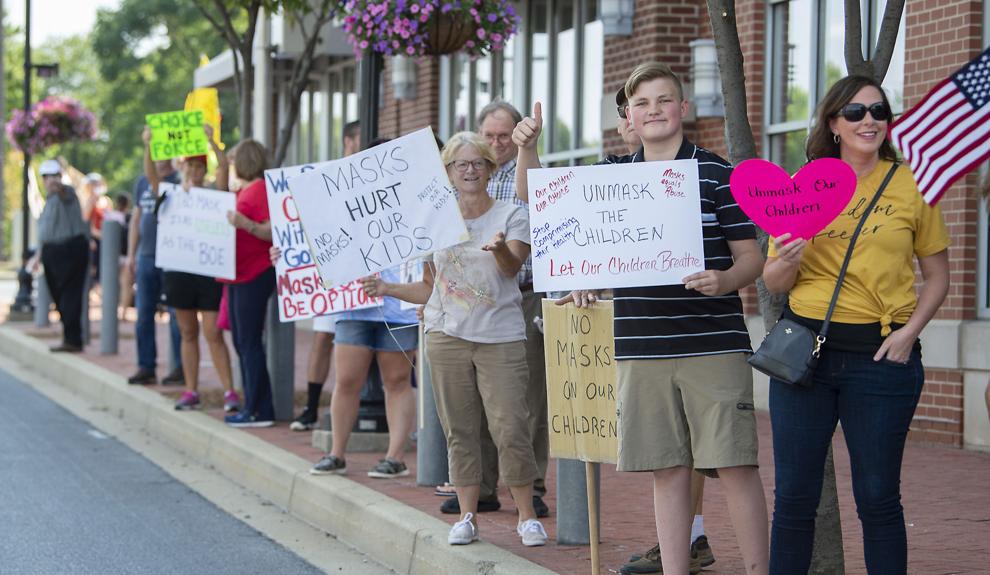 In May, FCPS asked parents to choose whether they'd send their child to school for in-person instruction in the fall or opt for all-virtual programming. The deadline for that decision was June 1, at which point the system had hoped to operate without masking or distancing requirements come August.
But as the highly transmissible delta variant of the coronavirus began to spread this summer, and public health guidance began to shift, FCPS reversed course.
April Montgomery said her daughter, a middle schooler, dealt with panic attacks and struggled to concentrate while masked in class last spring. She was signed up for in-person learning this fall and had looked forward to going to school mask-free. But now, Montgomery is looking to switch her to the virtual option.
FCPS spokesman Brandon Oland said that's been a common request since the mask mandate was announced last week. He emphasized that the system had been clear all along that its plans could change if health metrics shifted.
As of June 1, only about 1,400 FCPS students were slated for all-virtual schooling — roughly 3 percent of the system's population. Now, Oland said, there's a waiting list for families who have changed their minds.
The number of students on the waiting list varies by grade level and changes daily, Oland said, making it hard to pin down an estimated total.
"We have to make sure that we have the staff that are needed to accommodate virtual learners," Oland said. "They aren't physical spaces, but it's not going to be a good experience for anyone to have 85, 90 students in a classroom."
After the afternoon protest, which was organized by Mason Carter, a rising Walkersville High School senior and Republican candidate for County Council who said his policies are inspired by former president Donald Trump, about a dozen parents and community members filed into the board's public meeting.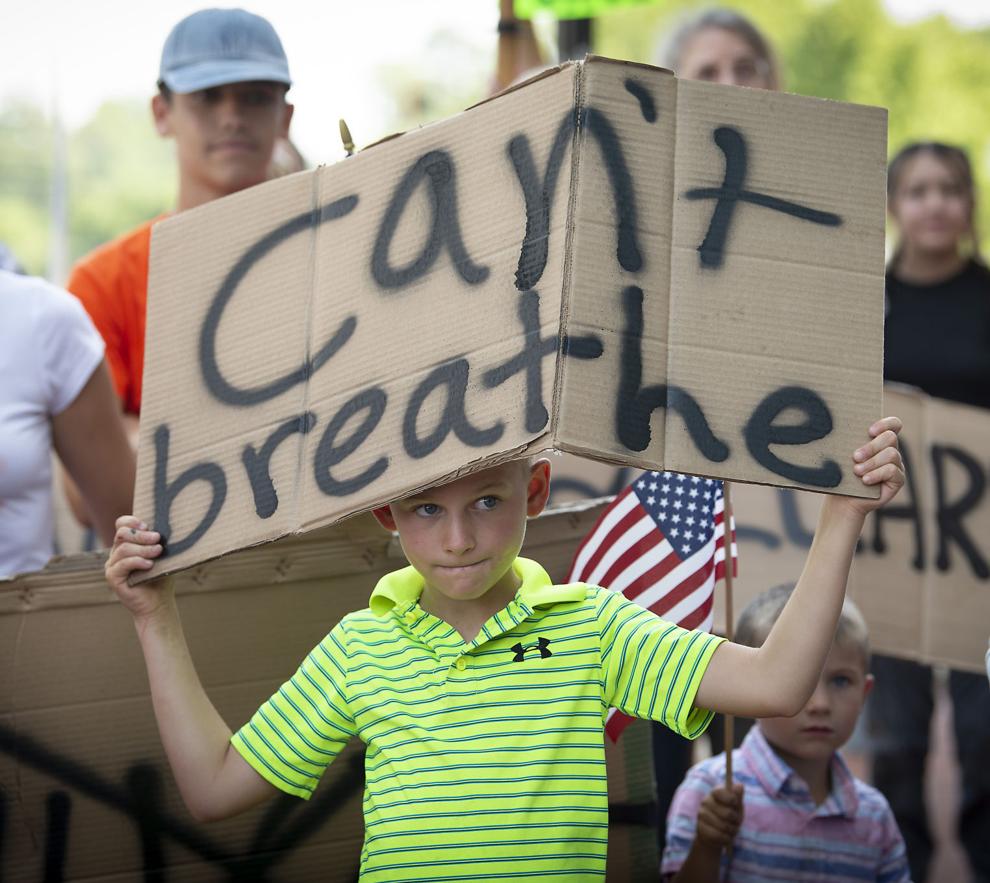 Several of them spoke against the mask mandate during the time allotted for public comment, most arguing that it violated students' bodily autonomy. Some asserted that masks were ineffective or that children were largely immune to the dangers of the virus.
In recent weeks, the Centers for Disease Control and the American Academy of Pediatrics have both called for masks in schools, regardless of students' or teachers' vaccination status.
FCPS Superintendent Terry Alban said she estimated that between 75 and 80 percent of the system's staff were vaccinated. She arrived at that number, she said, by coupling together the share of educators who said they wanted the shot — 72 percent — with the fact that FCPS couldn't fill its vaccination clinics by the time they had enough doses.
Staff largely declined appointments because they had already been vaccinated elsewhere, Alban said.
Alban stood firmly behind her decision to implement the mask mandate. Her priority, she said, is keeping students in school throughout the year without constant disruptions due to quarantine requirements or virus outbreaks.
But parents at the meeting weren't swayed. As board members responded to their comments, defending the masking decision, many shook their heads, occasionally interrupting with frustrated exclamations.