As food waste continues to be a problem in Frederick County Public Schools, students and staff at Lincoln Elementary School are making strides to combat waste by giving back to the community's neediest residents.
The school, in partnership with Farm to School and the Frederick Rescue Mission, launched a share table in mid-January to help provide food that would otherwise be thrown away to those in need.
After lunch each day, students can place their unopened milks, fruit cups, snacks, unpeeled bananas and uneaten apples on the share table. The items are then inspected and counted by student volunteers and placed in a cooler.
At 1:45 p.m., after the lunch periods are over, the Rescue Mission picks up the coolers. The items are then incorporated into the free hot breakfast the Rescue Mission serves each morning, said Guy Mutchler, manager of facilities and food acquisition for the mission.
Alysia Mason-Feuer, director of Farm to School in Frederick County, helped start the project. Her main objective has been working to get local fruits and vegetables into school cafeterias, but after seeing the amount of food thrown out, Mason-Feuer developed a plan to reduce waste.
"It was very hard for me to balance that idea of recruiting more local farms and farmers to bring that food in knowing that we may be throwing a lot of it away," Mason-Feuer said. "That was troublesome to me."
She felt Lincoln Elementary would be the perfect pilot school for a share-table initiative because the school already composts and is five minutes from the Rescue Mission.
Lincoln Elementary jumped on board immediately.
"People will say that one of my issues is that I say yes to everything," Principal Eric Rhodes said with a laugh. But he couldn't ignore the benefits the project brought to the school, he said.
"Our students want to feel purpose and to have a job and contribute in some way, so the more opportunities we can provide for that, great," Rhodes said. "Then also just knowing that that's going to be utilized for someone who has that additional need is just another motivation."
Lincoln Elementary has been using the share table for almost a month.
Data collected by the school shows an average of between 50 and 60 unopened bottles of milk per day are placed on the share table and donated to the Rescue Mission. And an average of 19 apples and bananas each are placed on the share table.
"It's significant. ... We're hoping that this will just increase the awareness as well as the potential for doing this, particularly at elementary schools because the data shows that is where you have the most food waste," Mason-Feuer said.
When the idea was introduced, there were concerns regarding how some items, such as milk, would be donated and kept fresh. So the school put guidelines in place such as which items could be donated and the time frame in which the coolers had to be picked up.
If more schools begin using share tables, the rules may vary based on how far the school is from the charity or nonprofit organization and how quickly items can be picked up.
Overall, though, it can be done, Mason-Feuer said.
"It can be done without red flags and people are just so worried that it's not allowed when actually it is OK to do, so we're just trying to bring clarification to that," she said.
Robert Kelly, senior manager of food and nutrition services at FCPS, said the department is working on a resource for school principals who want to implement a share table to guide them through the "do's and don'ts."
But concerns remain about the amount of waste and how many students are taking milks and fruit but not consuming them.
With milk in particular, Mason-Feuer said she feels the issue is confusion over the school district's policy of offer versus serve in lunch lines.
Kelly said milk must be offered to students, but they don't have to take it.
That confusion contributes to the amount of milk that is thrown out.
"One of our biggest challenges especially in the elementary level where you have aides and other people assisting especially the littler ones through the line, they're like, 'what kind of milk do you want?'" Kelly said. "[Students] don't have to take a milk. Milk has to be offered, but it is not a required component for a meal."
Kelly said his department is working to address this and develop resources to help clearly communicate the distinction.
In addition to clarifying offer versus serve, Mason-Feuer said she is concerned about schools that don't have composting or effective recycling programs in place.
"If you look at just the waste for milk, that's one thing, but ... the volume of plastic bottles ... we are throwing away hundreds of thousands of plastic bottles," Mason-Feuer said.
In a 2019 report on food waste in U.S. schools published by the World Wildlife Foundation, recommendations to reduce the amount of milk waste include switching to bulk milk dispensers instead of serving individual bottles or cartons.
When asked if FCPS had ever considered this, Kelly said yes but that the major challenge to bulk milk dispensers is time.
"When you have these little ones coming in and the assistance they would need to get that milk poured, that time frame the kids have to eat now is very tight and that's a concern I have," Kelly said. "It's 25 minutes and kids need the time to properly consume and socialize."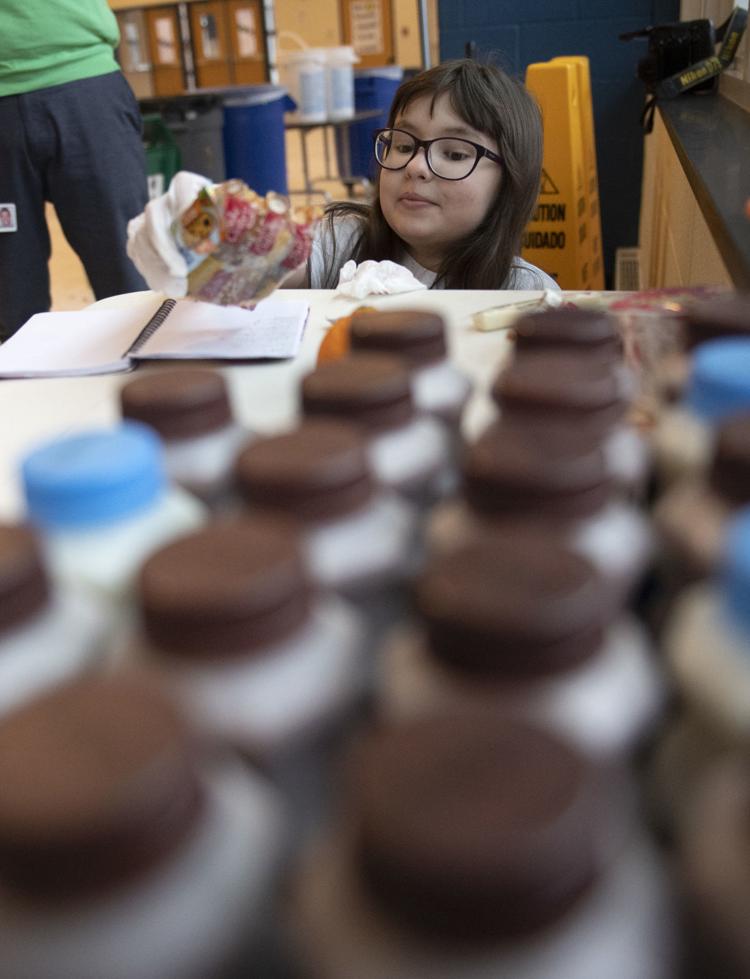 Kelly said waste in schools is constantly monitored, but it's not a problem that could ever be fully solved.
"Waste happens. Students drop things, we burn things in the oven," Kelly said. "When I see a school that doesn't show any waste, I'm like there's a problem here."
The change to a share table as an alternative to combating waste has diminished some of the problem, though. Rhodes said it was an easier change for students than composting.
Mason-Feuer agreed. She spent the first days of the project in Lincoln's cafeteria and said the students picked up on the purpose of the share table quickly.
"The very first day that we did this, the students just shook their head in acknowledgment. ... They came up to me and were very enthusiastic about sharing food with people that were hungry," Mason-Feuer said.
Lily Frizen, a fifth-grader who was picked to help count and record how many items are placed on the share table, said she likes the table.
"It's a good thing because we usually just throw it away and other people don't even have any food," she said.
Mutchler said it's a win-win — it not only provides food to those in need, but also teaches students an important lesson.
"We live in the most wasteful country in the world. There is so much stuff that gets thrown away that someone else could use," Mutchler said. "Thinking of others and not being wasteful, that is a really valuable lesson to teach children with the hopes that they will reciprocate it in their adult lives."
Mason-Feuer said she hopes to install the program in at least five more schools before summer break begins in June.
"I think that's going to be very easy to do because there is a lot of positive energy around this, and it just makes sense, and it's very sustainable without a lot of work," she said.
The students and staff of Lincoln Elementary have no plans to stop donating, because as Rhodes put it, it's a circle of giving and community support.
"Let's call it what it is. Some of our students utilize some of those resources off campus, so there's just like this reciprocity between us and them," Rhodes said. "And if we can give back in some way, that's pretty cool."