Nathan Pan has taken piano lessons for eight years.
Meghan Burgos has played softball nearly since she could walk.
Mia Venezia has participated in Irish dance for 13 years.
None of them ever thought those activities would help them on the path to high school graduation. But, as students in the LYNX program, the three Frederick High School freshmen recently received credits they can use toward their graduation requirements through their participation in those activities.
The LYNX program allows students to earn high school graduation credits through out-of-school activities as long as the activity can demonstrate mastery of the curriculum.
"It's a great example of personalized education, and teaches them to take ownership of their education, which is so powerful for their success," said LYNX advocate Marlon Moran. "I hope it helps them realize the value they bring to the school."
Burgos and Venezia each earned credit for the required Fitness for Life course with their two activities. The course is broken down into sections — physical education and health — that are each worth half a credit. Burgos and Venezia each had to take an online health course along with their activity in order to earn the full credit.
This year's LYNX cohort is the first of its kind, and 13 students earned credits through outside activities — most of which were students who ran on the cross-country team this fall.
Pan earned a music credit through his piano lessons, which he takes at Frederick Community College.
To earn the credits, students are required to develop a plan that maps out how they will meet the curriculum for the class of which they want to receive credit at the beginning of the semester. Once the students work with one of the four LYNX advocates, they submit an application that is reviewed and approved or denied by Principal Kathy Campagnoli.
Burgos' original application was denied, she said, but she worked with her advocate to redo the application and resubmit it, upon which it was approved.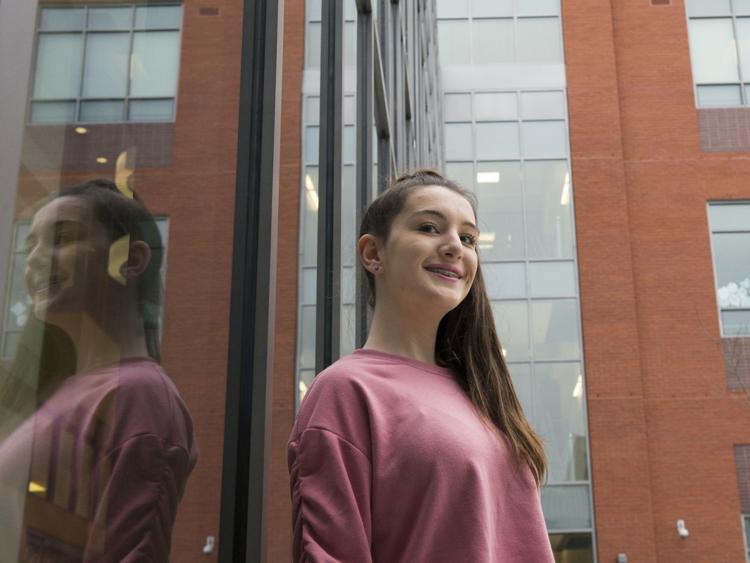 Students are then required to collect samples throughout the semester that match the curriculum standards and submit a portfolio for a final review to officially receive the credit.
Pan documented his journey from the first time he learned the music up until his final recital.
Venezia kept video logs of the dances she performed and explained the mental and physical demands of performing Irish dance. Venezia received evaluations from her coaches along with the videos to show the progress she was making.
"What we found so interesting was the strength that's required in her dancing," Campagnoli said of Venezia. "She does things that make her an athlete, and she was meticulous about meeting her standards."
Although all 13 students this semester met or exceeded the standards, Campagnoli said if a student's portfolio doesn't meet the standards, he or she will receive an "incomplete" grade and can try again in the next semester to earn the credit. There is also no limit on how many credits a student can earn through out-of-school activities, or for which classes a student can earn credit, she said.
Receiving credits for out-of-school activities allows students flexibility to take classes they otherwise may have to wait until later in their career.
Since finishing her project in the first semester, Burgos is now taking a music technology course that she hopes will aid in her career pursuits.
"My whole life I've wanted to be a writer," Burgos said. "But instead of publishing books, I want to be a music journalist. I think taking this class and learning about music theory and how music is played and written will be a strong foundation for me to pursue that career."
Venezia and Pan both echoed that while students have to learn how to manage their time, it's worth the flexibility that is provided by earning a graduation credit without having to physically be in a classroom.
"It's one less class that you have to worry about that you may not like," Venezia said. "And it's not something that adds too much onto your plate."