Parents of students at Spring Ridge Elementary School are eager to see if Frederick County Public Schools staff follow through with improved communication and other steps after a recent incident at the school.
An extra principal will be coming to the school to help with the Pyramid Program, which provides support for students with significant social and emotional needs at the school, staff from the FCPS central office told parents at a meeting Wednesday evening.
The school will also have another person with administrative experience to help with the program and how its students mix with the rest of the students, said Kathy Prichard, director of elementary and Title 1 schools in the school system's Department of System Accountability and School Administration.
Earlier this month, a student broke a number of windows at the school, which led to several classes having to be moved or combined while administrators dealt with the problem, Spring Ridge Principal DeVeda Cooley said Wednesday night.
The officials at Wednesday's meeting were limited in the amount of information they could provide about the incident, citing student privacy rules.
But Jamie Aliveto, executive director of system accountability and school administration, acknowledged that the broken windows constituted the highest-profile incident of several that have raised concerns about safety and behavior at the school.
The need to focus on special behavioral needs is a countywide one, Aliveto said.
The school system is working to hire five behavioral support assistants to help with students in the general student body, Prichard said.
She said the system recognizes the impact that children struggling with behavioral issues can have on students who are not.
Prichard, Aliveto and Cooley outlined a number of other steps the school and the county system will take to improve the situation.
At Spring Ridge, that will include a series of roundtable discussions from March through June, including sessions on communication, discipline and safety, and family engagement.
Numerous parents expressed frustration at how the window-smashing incident was communicated.
One woman said her husband got a notification about it, but she did not.
Another mother told the administrators, "I got my information from a 6- and a 7-year-old."
William Green, who has a first-grader and a fourth-grader at the school, said he got an email from the school system's Find Out First notification system that there was a student in need of assistance and that first responders were on-site, that some students had been moved to another room, and that teaching had proceeded as normal.
"When I first read that, I was thinking a student must have had an asthma attack and they had to call an ambulance or something along those lines," Green said. "I didn't really think that anyone was in trouble, or that my kids were in danger, because the tone of it was very simple."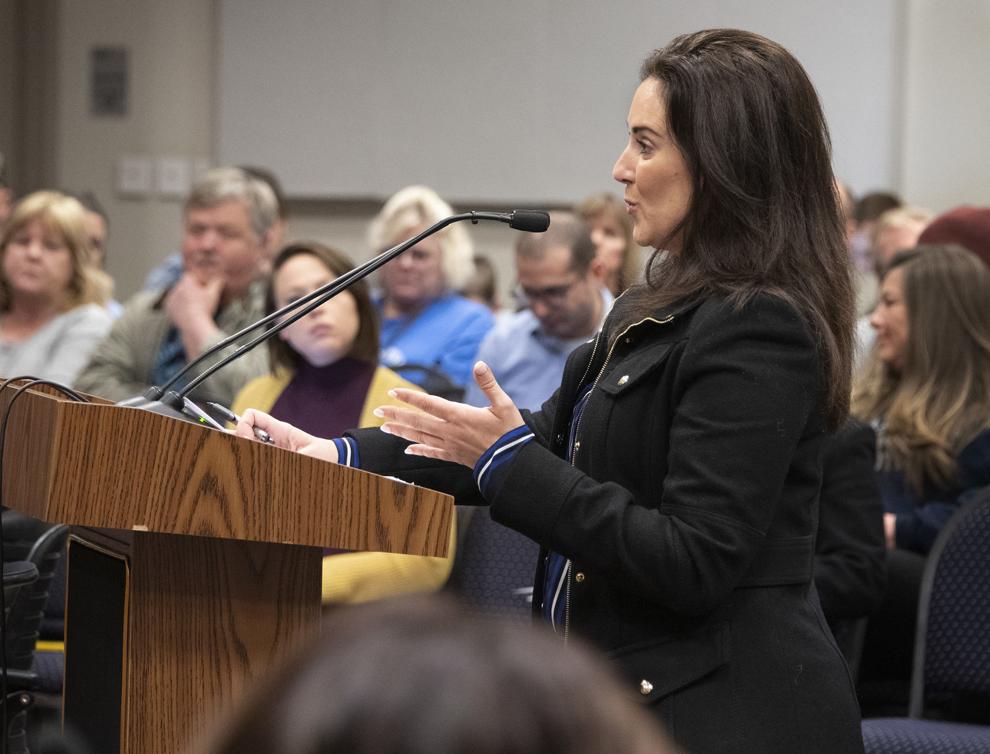 At the Board of Education's meeting Wednesday night, Spring Ridge parent Christina Poole said: "It's very disheartening as a parent to have to find out information from your child rather than the school administration. ... If there is something going on at our school, the administration needs to tell us as parents."
Kim Grinberg said: "The lack of information we are being told from staff is disturbing. We want to work together, we really are begging you guys for your help so we can make this a safe environment for our kids."
After the meeting at the school, Hilary Fallow, whose son is in first grade, said she appreciated the opportunity to talk with administrators, and their interest in addressing concerns.
The meeting was a great first step, she said, and she's looking forward to seeing what the follow-through will be.
Ashley Gbollie, whose daughter is also in first grade, said she was glad the conversation was happening, after it seemed as if it had been avoided for a while.
Like Fallow, she was interested in seeing what would come of the night's discussion.
"I hear your words, but I'm looking for your actions to see that you're following through," she said.