Instead of using her hair to scale down a castle, Rapunzel should have had a slide. Or maybe a helicopter could have whisked her away.
Those are a few of the ideas that preschool students at the Goddard School in Urbana came up with to rescue the fairy-tale princess Rapunzel during their annual STEAM week.
The school, which owner John Pelicano described as a true school with a day care component, instead of the other way around, celebrated National Engineering Week recently by giving their students the opportunity to practice being engineers for their favorite fairy-tale characters.
"A better way for Jack to climb up the beanstalk and get his egg from the giant's castle ... a better way to help Rapunzel escape from the tower," Pelicano said. "It's how our students could help them with some of their problems."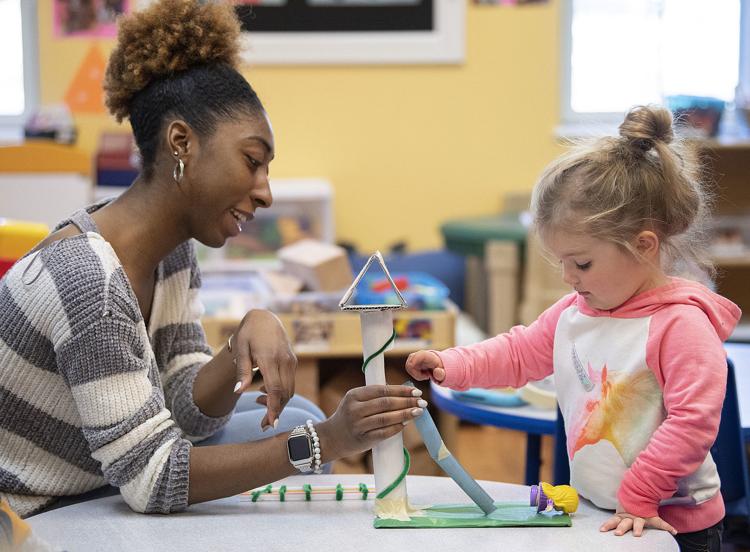 The students spent the week coming up with ideas and building their designs. One class was tasked with the idea of protecting Hansel and Gretel from the witch. Their idea was a booby trap set into the lawn in front of the house that the witch would fall into.
Rapunzel's engineers came up with ladders, slides, trampolines, and of course a very practical helicopter.
"They've been really into it," said Amy Baumgarten, a lead teacher at the school. "They really did such a good job trying to figure out the best scenario."
Baumgarten said the week and the projects not only help students be creative but also helps them develop problem-solving skills and teaches them how to work in groups.
Pelicano said special projects such as those done during STEAM week are critical to cognitive development because it helps put big concepts on a developmentally appropriate level.
"The key is to teach at the child's level, so if they're on the floor playing with blocks, you can get down there and teach them math and science by utilizing what the children are interested in," Pelicano said.
STEAM stands for science, technology, engineering, art and mathematics. Pelicano said the school uses STEAM instead of the more traditional STEM because the arts are an important but often overlooked piece.
"[The art] helps bring it all together and helps make it a more well-rounded process," he said.
In past years the school has held STEAM weeks with animal and aviation themes, and Pelicano said the students always look forward to it.
"They love to come up with ideas, and here ... they can come up with whatever they want because there is not a wrong idea. It's all about using their imagination and creativity," Pelicano said.