Abdul Mannan helped his daughter get out of the car at Urbana Elementary School Tuesday morning and then crouched down to take a selfie with her.
"Have a good day, listen to your teachers," he said as she walked into her school building for the first time.
She was excited, he said, because it was her first official day of school as a kindergartner.
"She got up early, had her breakfast, was excited to get into the classroom. We watched all the videos last night on how everything is going to go, and she is excited to see her friends in class," Mannan said.
It was the first day of hybrid learning for Frederick County Public Schools, and across the county thousands of FCPS students returned to the classroom for the first time since the onset of the COVID-19 pandemic last March.
With hybrid, different blocks of students rotate the days they attend for in-person learning. According to FCPS, approximately 56 percent of FCPS students opted for the hybrid model, while the remaining students decided to stay entirely virtual. Based on these numbers, roughly 25-35 percent of the student population will be in schools on any given day.
Photo gallery: Frederick County students, staff head back to school for hybrid learning
Thousands of Frederick County Public Schools teachers, administrators and students returned to school buildings today for the first day of hybrid learning. It's the first time a significant portion of FCPS students have returned to the classroom since the onset of the COVID-19 pandemic last March. Here are some scenes from the day.
At her campus in Frederick, Gov. Thomas Johnson High School Principal Tracey Kibler said Tuesday had "that same sense of energy" as a normal first day of school.
There's a different volume of students than a "normal" school day, Kibler said, but there's one notable benefit to that: She got to greet each student as they came in because they came in one by one rather than in large groups as they would if the entire student body was there.
Urbana Elementary Principal Tracy Hilliard said she had the same sleepless night as she does before any normal first day of school.
"It's been a day that we've all been waiting for," Hilliard said. "I was so excited this morning to see my first car riders roll in and then the buses, so it was great to have our Hawks in the building. Our staff is excited as well — we were just happy to connect with our scholars face-to-face today for the first time since last March."
According to FCPS, TJ High's student body was 53 percent hybrid and 47 percent virtual, although Kibler said the numbers could have gotten closer to 50/50 as some parents had last-minute reservations about sending their kids back.
She said she'd be lying if she claimed there was never a time when she doubted they would get to a day like Tuesday, as new information — often unwelcome — came in every few weeks about COVID numbers.
It was a new school environment for all, but it was especially new for Urbana Elementary students. For most students, Tuesday was their first day walking into the building, which was torn down in 2018 and rebuilt. Construction was completed, and the new school opened in August 2020.
Because of this, Hilliard said, the first week back will be focused on building relationships with students to make sure they are as comfortable being in the building as possible.
"This building is a new building, so it is something new for them. I just want to make sure they're comfortable because they're not going to learn unless they're comfortable," she said.
To help with the transition, kindergarten and pre-K students and their families were given tours of Urbana Elementary before beginning hybrid so students could get acclimated to the building and meet their teacher in person.
To help with keeping everybody on the same timeline throughout the day, schedules across the county were shifted to account for time for in-person students to travel home and give virtual learning students afternoon support time.
"We needed the hybrid and fully virtual models to be parallel, while ensuring all students received the state-mandated 3.5 average hours of instruction per day," FCPS Superintendent Terry Alban said in an email. "If we have to quarantine a student or a class, the parallel schedule allows for a seamless transition."
Parent relief
For many parents who opted for hybrid, Tuesday was a day to let out a sigh of relief after enduring months of challenges related to virtual learning.
"My daughter really doesn't do well in virtual learning," said Nicole Ugolini, the parent of a second-grader at Urbana Elementary. "She needs that in-person type of learning, and my son, he just started middle school this year, so he was really itching to go back. And I think they thrive better in the school building, so I told them let's try it. If it's not what you thought or you don't like it, you can always go back to virtual."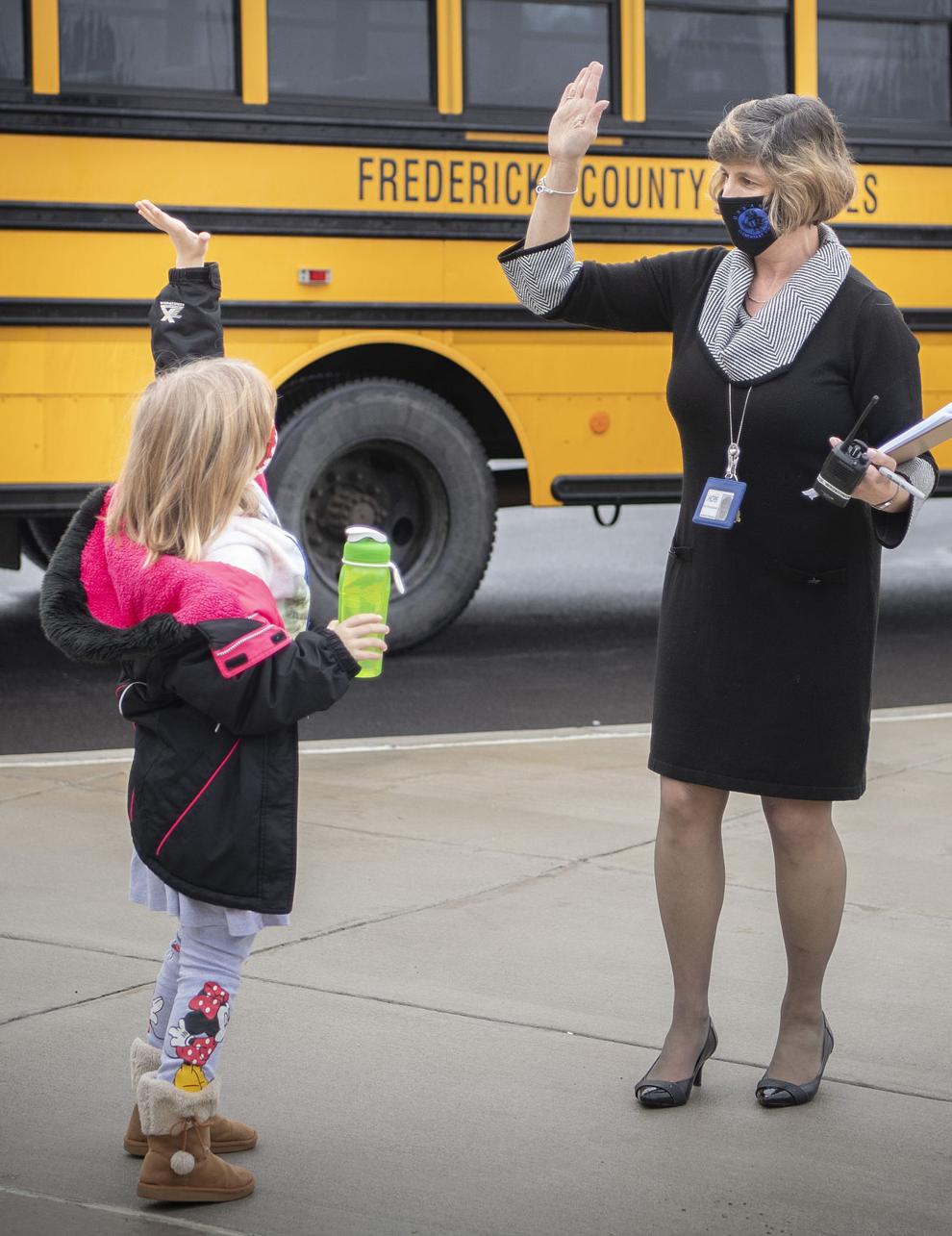 Mannan said he opted for the hybrid model for his daughter because he believes there are certain aspects of education that just can't be done through a virtual environment.
"I believe being in school is very important for socialization skills, to see her friends and get acclimated to the school environment, so we're in support of hybrid and making sure that the parents feel safe and the kids are comfortable coming back," Mannan said.
Several parents who dropped their children off Tuesday morning at Urbana Elementary seemed happy with the safety measures and protocols in place.
"I feel good. I have a lot of faith that everything is going to be OK, and I just pray for good health for everybody, and I'm just taking it one day at a time," said Grisel Nunez, the parent of a first-grader.
She added that she feels extra confident because of the strong communication and information she has been receiving from the school.
Ugolini said she also felt comfortable and is happy that FCPS finally took this step forward.
"My kids are really good with wearing their masks, and they know they have to wear them all day. I think that it's great that they finally did this. The fact that they put it all together and they're working to get the kids back in school, I think is great," she said.
'This is why I'm a teacher'Like other educators across the county, TJ High special education teacher Shane Craig said he was nervous about teaching in an environment with students both in the classroom and online.
Already Tuesday, there were times when he was so excited to have kids back in person that he had to remind himself to go back and check the online chat to see how the virtual students were doing.
But he was confident that he and the staff that he co-teaches with had worked out ways to accommodate both styles of learning.
"I feel like, this is why I'm a teacher," Craig said.
After her first day back with students, Urbana Elementary teacher Melissa Lasko said it was tricky to juggle two groups of kids, but for the most part, the day ran smoothly.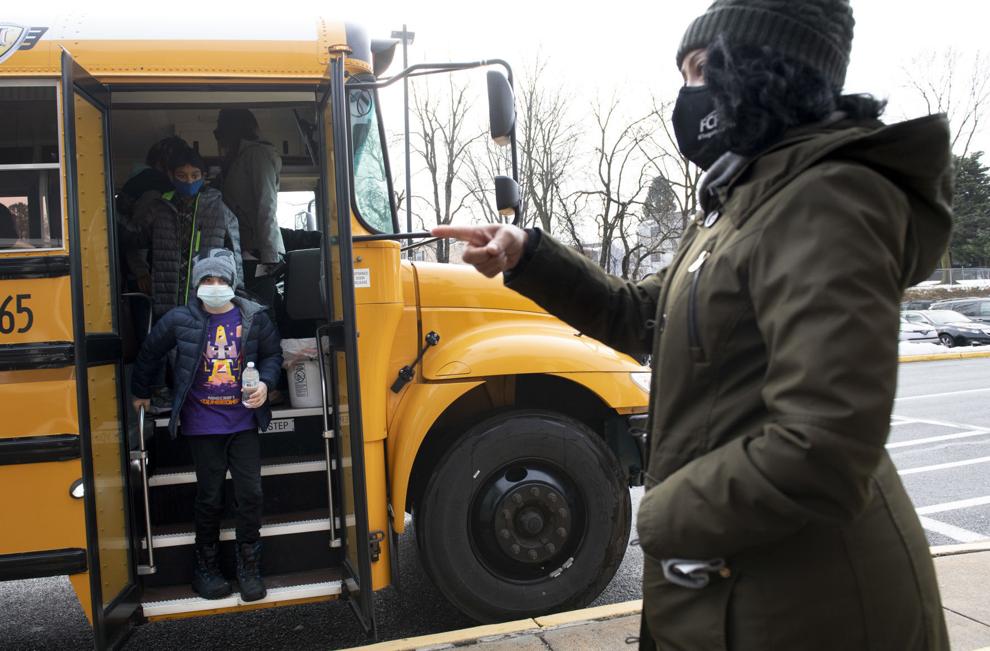 "Some of the things that you do virtually, you're constantly looking at your screen so that students can see your face, and now you're constantly looking up so the students in your room can see you and you can monitor them, so it's a bit of a juggling act. I'm not going to say it's easy to balance, but I think with some practice, it will be a little more natural," Lasko said.
She had nine students with her in person out of a class of 20, all of which are participating in the hybrid model. Lasko explained that some shifting was done in classroom assignments, and some of her previous students who opted for virtual were reassigned to virtual-only classes.
She added that she had all the equipment she needed for concurrent teaching, including a Bluetooth headset.
At the last Frederick County Board of Education meeting, board members were told that not every teacher in the county would have a headset by the time the hybrid learning model began.
Alban said the school system has received about half of the order so far. The rest should be arriving by the end of the month.
For the head of the school system, Tuesday was a great day.
"After nearly a year of planning, it was amazing to see the hybrid model come to fruition," Alban said in an email. "I am incredibly proud of everyone in the FCPS team for making this happen. Feedback has been very positive and very few issues reported."
Looking ahead, Alban said she expects this version of the hybrid model to stay in place for the remainder of the school year. Expansion to a hybrid model where students come in five days a week is not possible as long as social distancing is required, she said, due to the inability to transport large numbers of students for half-day programs.
When asked about vaccination efforts, Alban said approximately 900 employees have been vaccinated by the Frederick County Health Department. She added that second doses are expected to begin for educators on Saturday.
School's out
As the first day of hybrid learning wrapped up and custodians moved into classrooms to clean and disinfect desks, chairs, doors and other highly touched surfaces, students milled around outside TJ High while staff helped them find which bus they needed to board.
The day had been a little confusing, since the bell schedule was different than what they're used to, said junior Emma Hafner.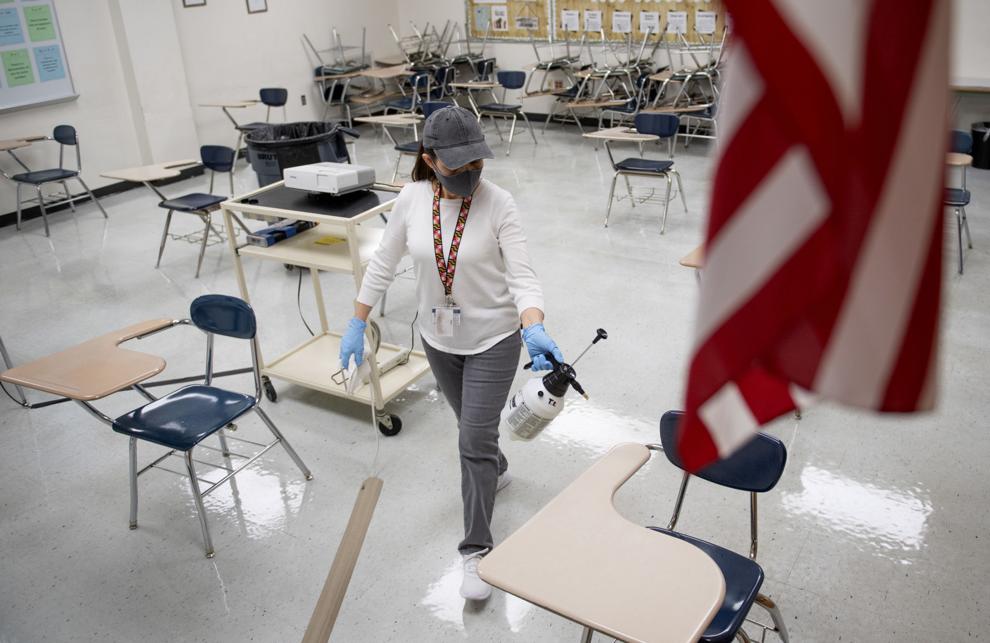 She admitted she was a little anxious about the new rules in place, but they weren't as bad as she had expected. There were about 10 kids in most of her classes, she said.
While things like the emptiness of the usually crowded hallways were a change from what she was used to, the day got more normal as it went on, she said.
Senior Mei Homman said it was strange having to social distance and not be able to really socialize with people. It felt normal to walk in to the school, like coming back from winter break but peculiar to see how few people there were, she said.
There were times she didn't know if a day like Tuesday would ever come before she graduated. The thought had been "kind of heartbreaking at first," but she had come to accept it.
"I thought I might never see TJ again," she said.