It was a morning of celebration, reflection, hair loss and whipped cream at Wolfsville Elementary School on Wednesday.
Students and staff had spent a month raising money for the American Cancer Society and, as a reward for beating their goal, students watched school counselor Chris Tressler get his head shaved.
Students who raised the most money from each grade also got to hit some lucky fifth-graders with whipped cream pies.
Wolfsville Elementary decided to hold the fundraiser due to some close connections — three staff members at the school are cancer survivors.
Dori Miller, an instructional assistant at Wolfsville Elementary, is a seven-year breast cancer survivor. She brought the idea of Daffodil Days to the school.
Daffodil Days, run by the American Cancer Society, is a fundraising effort that allows people to buy bunches of daffodils, which represent hope, to support cancer patients.
"[Miller] really wants to give back and she pours her heart into this organization, and hence she came to me and said, I think we can do more here at the school," Wolfsville Elementary Principal Megan Stein said.
It made absolute sense to hold the fundraiser, Stein added, especially after learning that all the money raised would stay in Frederick County.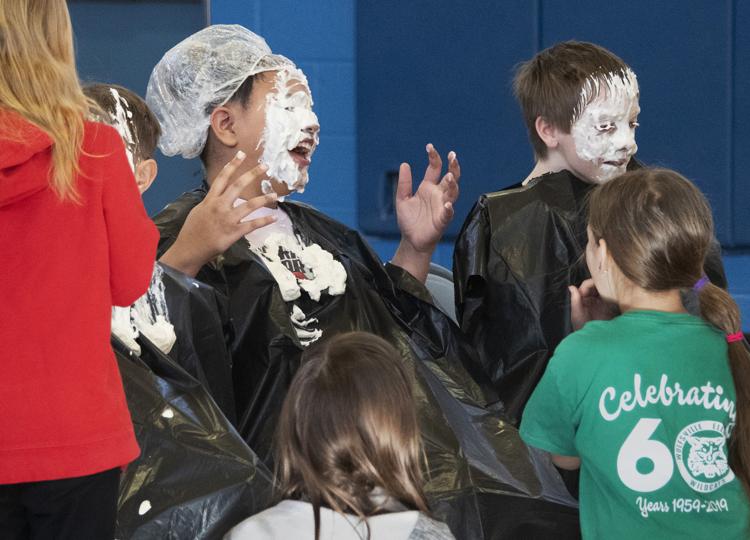 They set their fundraising goal at $1,000 and Tressler volunteered to have his head shaved if they reached it.
The school ended up raising a total of $2,100. Tressler raised $515 on his own and Addison Keary, a first-grader, was the highest student fundraiser, bringing in $215.
Miller, who has worked at Wolfsville for three years, said she has never felt so supported by a community.
"Once I came here, they just accepted me with open arms. I feel very valued," Miller said. "Here we are in this tiny little town and tiny little school, and they just came out to support in such a big way."
Stein said for a while, though, she wasn't so sure that the school would meet its $1,000 goal. The day before the fundraising deadline, only $600 had come in.
"You don't want people's efforts to be in vain or to be disappointed. ... We put it out to the community, we put it out to the students and the next day we doubled the amount," Stein said. "That is a testament to how much everyone cares about our school and about our collective efforts that nobody wanted this to fall short."
Before Tressler sat down to have his head shaved in front of the whole school by his barber, Sarah Buchanan, Tressler reminded students of the significance of what he was about to do.
"When people shave their heads, it isn't just to have a silly haircut, but to show support for people who have cancer and who have to take medicine that sometimes makes them sick and makes their hair fall out," Tressler said.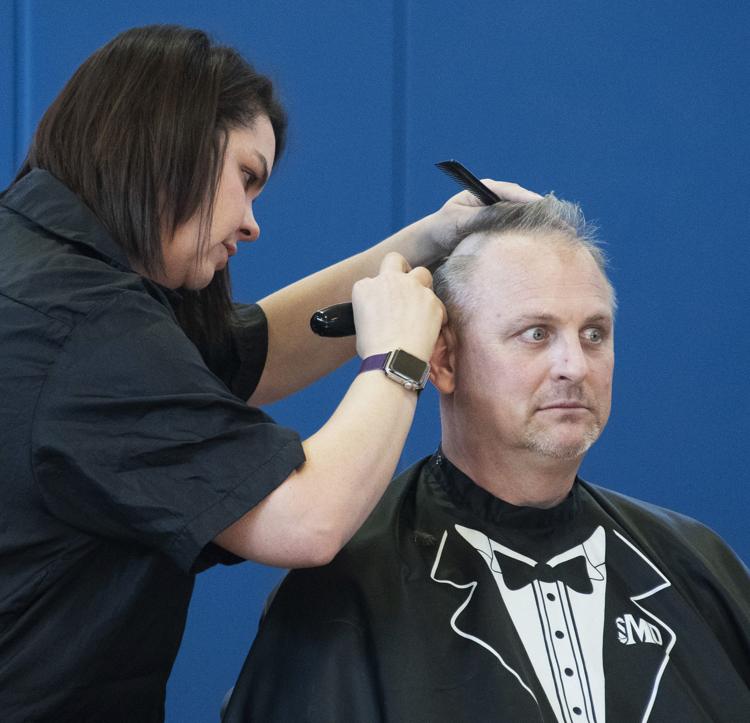 He said he wanted to make sure students understood the difference they made with the fundraiser.
"It's a fun thing and it's a celebration, but it's also a good time to reflect about a team initiative and how you can make an impact on a larger scale by working together," Tressler said.
Miller also brought in pictures of her with no hair when she was undergoing chemotherapy for the kids to see.
Miller, Stein and Tressler all said there is no reason not to continue the fundraiser next year, and Miller said she hopes to set the goal even higher.
"[Next year] more of the kids will understand what it's about. ... I think we should start our goal at $2,000 and go from there," Miller said. "And I'm sure Chris will shave his head again because his wife said he could as long as it's for good reason."
Tressler said the same thing and added that he is always willing to "put his hair on the line."