Joy Hall Onley will always remember her first day at Frederick High School. As one of 13 Black students who integrated into Frederick High in 1958, she knew one thing was clear from that first day: She was not welcome.
Parents lined the steps to the school, shouting slurs at Onley and her three friends as they entered. Once inside, they learned the school had separated the 13 students' schedules so none of them had any classes or lunch periods together.
"They really broke us down psychologically, or tried to. I think they were trying to make us want to leave there, not to stay," Onley said. "But it backfired. We started out with 13, and 12 of us graduated."
In this Black History Month of reflection, Onley calls the three years she spent at Frederick High some of the worst of her life.
Yet, at age 78, she said she'd do it all over again in a heartbeat.
"I stand on the backs of all those who came before me. I think that I owe it to them. They did not have that opportunity, and I did, and I still do," Onley said. "I feel whatever and however I live, I am … making them proud of me."
Frederick County Public Schools began integrating in the fall of 1957 after the Frederick County Board of Education mandated it earlier that year. Integration of the county's schools began two years after the landmark Brown v. Board of Education (of Topeka) Supreme Court case. It would not finish until 1965.
Prior to integration, Black students in the county either attended one of the few all-Black schools in the county such as the Lincoln School, which served students in first through 12th grade, or they received education through their church.
Carolyn Davis and her sister attended the Lincoln School for the first few years of their education. They then transferred to Urbana Elementary School after their family purchased a plot of land and built a house nearby.
Davis and her sister were the first Black students at Urbana Elementary in 1957. She recalled a conversation at the dinner table one night to tell them about their new school.
"My parents sat my sister and I down and said you're going to be going to the white school up the road in the fall," she said. "They said you're going to be made an example of, so you need to do your very best, because if you do well, then maybe they'll allow other Black students to go to the school."
Davis said she knew even at that young age that what the sisters were doing was important, but she didn't grasp the gravity of the situation.
"It was explained to me by my parents that this was a test and I had to do my very best and not fail, and that's all it meant to me," she said.
The transition
Both Onley and Davis said the transitions to new schools were hard because they loved the Lincoln School. It was like going to school with your entire extended family, they said, and many of the teachers attended the same church as the students and taught Sunday School.
"Because they had been around you, they knew what you were capable of ... what you could do. They encouraged you in a warm way," Onley said.
The transition was especially difficult for Davis, who was in third grade at the time.
"It was strange for me because I had grown up in the city and was used to city life on the streets, and all of a sudden here we were in a rural area ... I didn't have my group of friends to play with — it was just me and my sisters, and it was quiet. It was a different kind of environment, and I just didn't like it because I felt alone," she said.
Urbana Elementary was surprisingly welcoming though, Davis said. On the first day, a group of students greeted Davis and her sister at the door and showed them around the first week, making sure they had everything they needed.
For the most part, Davis and her sister were treated well, but there was still the sense of being an outcast.
"I felt out of place because the kids talked differently than I did, and I knew that my sister and I kind of stood out because we were the only two Black students in the whole school," she said.
Davis would often fake headaches in class so she could go home and escape the unfamiliar and often uncomfortable environment of the school. Eventually, she got used to her new school and made friends. She was determined not to fail and let her parents down.
But while Davis had a favorable experience with integration, Onley did not.
Onley was given the opportunity to attend Frederick High School before her sophomore year. She said she agreed because she knew the school had resources Lincoln did not. At Frederick High, she could learn a foreign language and take chemistry and trigonometry, all courses she needed in order to attend college.
"I'm really one of those [people] anyway, where if they're going to offer me extracurricular things to do to get a higher grade, I was always one of the ones who actually took you up on it," she said.
Still, Onley recalls a number of experiences at Frederick High that made her feel unwelcome and unwanted. Students and teachers explicitly told her to "go back" to Lincoln, she said. When a boy hit her in the back of the neck with a paper ball stuck with paper clips, the teacher scolded her for shouting out in pain rather than disciplining the boy.
Despite being an A-student at Lincoln, Onley graduated with a C+ from Frederick High. She said even when she could compare her answers to other students' — and thus see they got the same amount of questions right — she was often given much lower grades.
But the continuous hateful remarks and attempts to block their education did not dissuade Onley and her peers who were determined to succeed.
"That first day, walking to school, I was scared to death, we all were," Onley said. "And I was sorry, we were all sorry that we said we'd do it. But, we were not going to turn around."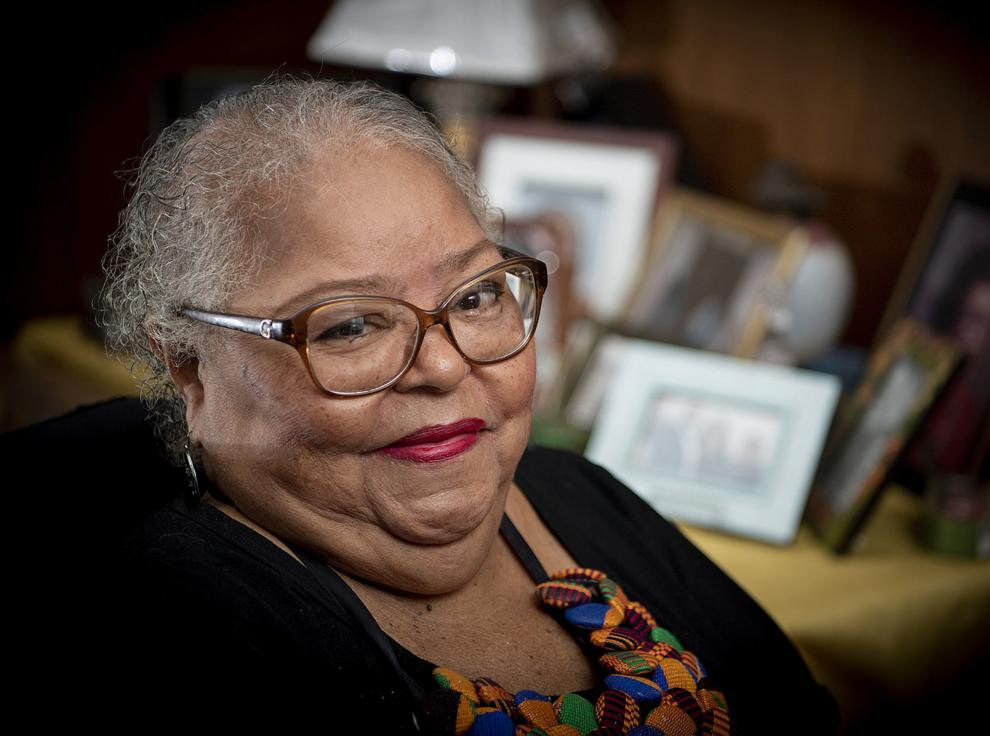 Both women also recalled the stark differences between Lincoln and their new schools. From the availability of classes to the number of books in classrooms, it was clear how underfunded the African American schools were at the time.
"It was just amazing to me all the things that [the white students] took for granted that I was just overwhelmed by," Davis said. "I remember having to copy my homework from the board [at Lincoln] ... the teacher would actually copy the homework assignment from the book onto the board and we would write it down."
Segregated schooling
Mary Harris, 81, attended segregated schools in Frederick County her entire life. She began her education at a small, one-room school in Libertytown in 1945 and graduated from Lincoln High School the spring before integration was enacted in Frederick.
Harris remembers the Libertytown school had outdoor toilets, and she and her classmates had to get coal to put in the school's stove during the day to keep it warm. They had old desks and old books and often had to run to the neighbor's house for water.
"All those years we were not appreciated, not given the money we needed, we were held back," she said.
But despite the conditions, Harris was fond of her teachers and still keeps in touch with her seventh-grade teacher who is now in her 90s.
Harris just missed integration, but she isn't upset about it; to her, true integration never occurred.
"It was not integration. Integration is you mix — we didn't mix. We were moved in. I don't know any Black schools that were integrated ... I don't know any white schools that joined a Black school," she said.
Moving forward
After graduating from Frederick High in 1961, Onley went on to study at Frederick Community College before getting married and starting a family. She worked in the school system for six years before taking a job at a bank, which set her on the path to a 32-year banking career.
During her career, she often encountered her former classmates from Frederick High. They always treated her nicely, she said.
"It's like they forgot … Everything was totally different," she said. "They were warm, almost like a different person from what I remembered in Frederick High School."
She always returned the kindness and even became friendly with some of the repeat clients. Onley said she lives by the golden rule: Do unto others as you would have them do unto you.
Onley doesn't blame Frederick High for her experience. It was just the times, she said. Any school could have been like Frederick High in 1958. But she still makes a point to not attend functions at the school because she finds the memories so painful.
While Onley pointed out that only a little over 60 years have passed since integration, she said she sees Black kids with many more opportunities today.
"For the kids of today, they need to just remember the struggles of their forefathers, it being Black History Month … and try to do the best that they can do in this time so that the ones coming after them will have something to strive for," she said.
Harris attended Bowie State College after high school and returned to the county as an educator. She taught at the Maryland School for the Deaf for 28 years.
Davis lived all over the world with her husband while he served in the Air Force. They eventually settled in Virginia.
Looking back on her life, Davis said she feels blessed that she was given the opportunity to attend Urbana Elementary at such a pivotal moment in history. The adversity, conflict and change she was subjected to made her a better person, she said, and it prepared her for life as an adult in a way that she never anticipated.
"I was always in situations where I was the 'token Black' ... and it was like, 'OK, I can handle this, I'm not going to be daunted by this challenge at all because I've been here and done that before,'" she said.
Davis has seen some old classmates over the years, but one memory sticks out to her as a symbol of how far society has come.
A few years ago, she went to a high school reunion where a few former classmates from Urbana Elementary approached her.
"They all hugged me ... and that's something I can tell you right now they wouldn't have done in elementary school," Davis said. "What it said to me was we've come full circle, and even after all these years, we've never forgotten each other. We still remember."