Frederick County businesses will have a few more days to prepare for a requirement that employees and customers cover their faces while in their establishments, after an executive order issued by Gov. Larry Hogan Wednesday afternoon.
Hogan's order requires all customers over the age of nine to wear a mask or face covering in any business or restaurant, and for businesses to require all employees to cover their face while working.
Hogan's mask requirement goes into effect at 7 a.m. Saturday.
A health order by the Frederick County Health Department requiring the wearing of masks by customers and employees in businesses and restaurants was supposed to go into effect Thursday.
But that order was rescinded Wednesday night because it was superseded by Hogan's order.
Frederick's Common Market has already ordered a large number of masks for employees, and many employees have already made their own, store manager Max Smith said Wednesday.
Smith said he's seen a steady increase in the number of customers wearing masks as the viral pandemic has progressed.
"It's the new social normality," he said.
Smith said the store is also using a "gatekeeper" to track how many people are in the store at a given time.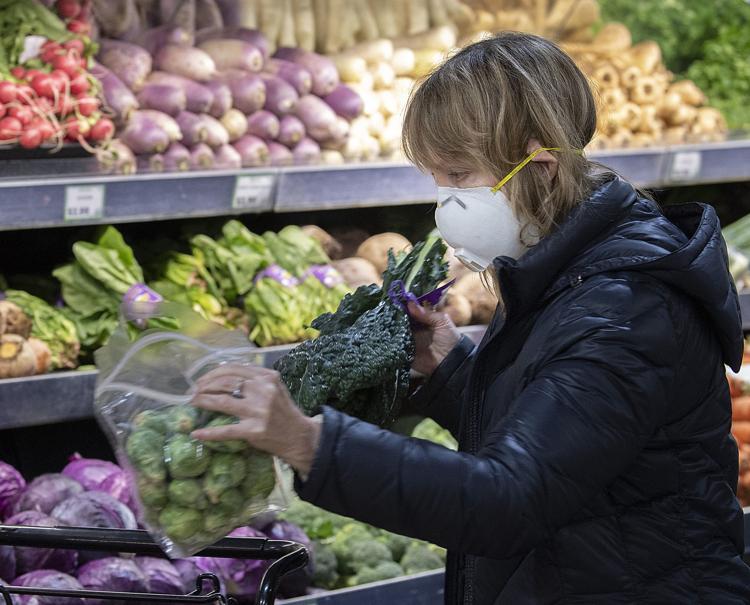 The Frederick County order announced Tuesday by Dr. Barbara Brookmyer, Frederick County's Health Officer, would have required customers in essential businesses to wear face coverings, and to limit the number of people in the store or waiting to get in.
Hogan (R) said his order also applies to those employers, who must supply the masks/face coverings to their employees. It was postponed until Saturday in order to give those employers time to adhere to the order, Hogan said.
"The wearing of masks is something we may have to become more accustomed to in order to safely reopen our state," Hogan said.
According to the executive order, those who don't wear a mask or face covering in retail shops or public transportation may be fined up to $5,000 and/or sentenced up to a year in prison.
Common Market customer John Carria of Gettysburg said most people will comply with an order if it's mandatory.
"Whether it's necessary, [is] always an interesting question," he said.
Montgomery County ordered the wearing of masks in businesses on Monday, and Serena Treworgy of Rockville said almost everyone she's seen was already wearing them before the order went into effect.
The question is where to find masks if you haven't already gotten them, she said as she ate lunch in Baker Park on Wednesday.
"If you have to wear them, it would be nice if they supplied them," she said.
Ray Rosario of Frederick said there are too many unknowns in the current situation to say people shouldn't wear masks.
It's better to have them and not need them than to need them and not have them, he said.
If he and his children have to wear masks to help protect more vulnerable members of the community, "I think that's our duty as a citizen," Rosario said.
Daniel DaCosta said the new order makes sense, but he's also seen a lot of people not wearing their masks properly.
Kaelyn Garcia said she doesn't believe a lot of people's homemade masks are actually protecting them, as she and DaCosta sat in the park.
"I feel like it's just to ease people's minds," she said.
Staff writer Steve Bohnel contributed to this report.