Jodi Flores from Frederick, took to the mat at the United States Powerlifting Association's Mid-Atlantic Classic this weekend to beat her own personal record.
"It's all about the personal records, to prove to yourself that you can lift the weights," she said.
But she ended up beating the Maryland state record for squatting in her weight division. She squatted 225 pounds.
Flores was just one of 109 lifters who came out to Building 13 of the Frederick Fairgrounds to compete in the powerlifting competition.
Powerlifting consists of three different lifts: a squat, a benchpress and a deadlift. Johnny Layne, vice president of USPA, said that many competitors choose to compete in all three categories, while others will just choose one or two.
"It kind of gives them options for what they want to do," Layne said.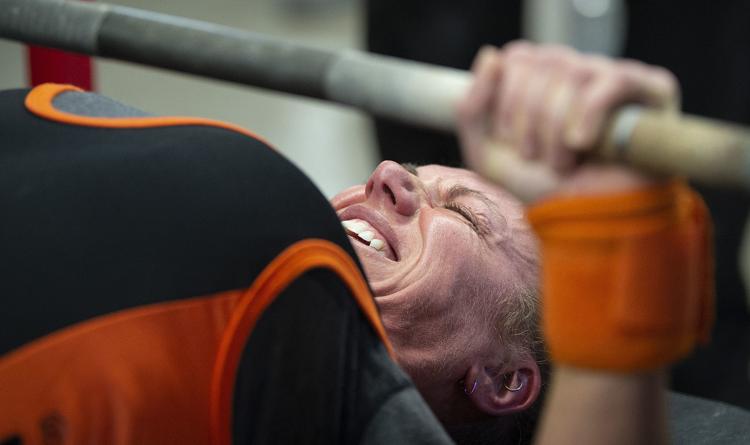 Powerlifting is different from weightlifting – which is the sport featured in the Olympics. Powerlifting does not require the lifter to start with the weights on the ground and usually does not include overhead movements.
Layne got into powerlifting after playing football in high school and doing weight training. He began competing in competitions in the 80s and 90s, and began running competitions himself in 2012.
The biggest difference from when he started, he said, is how many more women are involved now.
"In the 90s we really didn't have hardly any women compete, it was honestly pretty rare to even see a one in the audience," Layne said.
Now, between a third and a half of the competitors are women. Layne thinks that more women have gotten into the sport because of Crossfit, where doing a variety of lifts is expected.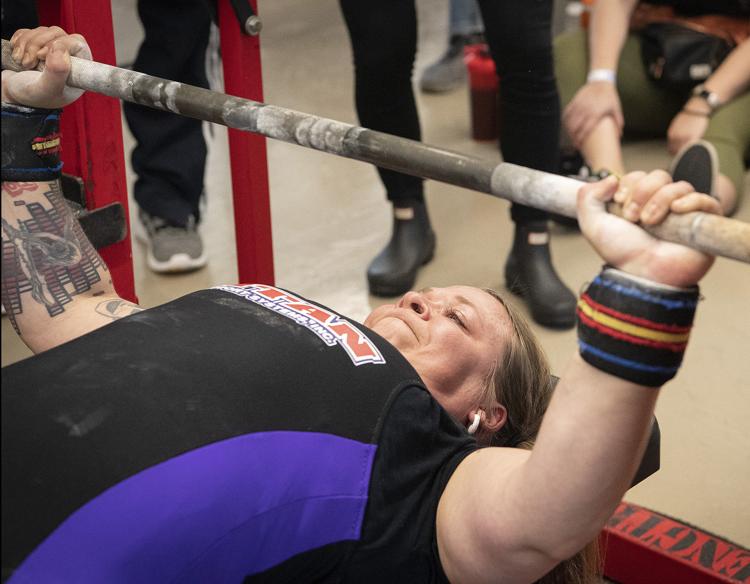 "It's been great to introduce women to the sport. I would say the majority of them, that's how they found their way here is through CrossFit," Layne said.
The thing that he loves most about the sport, however, is how encouraging other people are. It was more than evident at the competition, where two people lifted at a time at the front of the room. Spectators, friends and family all yelled and cheered for each lifter.
"It's an unusual sport where you will see a lifter cheer on another lifter even when they're beating them. This lift right here might give them the win but they'll still encourage them to do it," Layne said. "It's an environment where they want people to succeed."
Flores said that she loves how encouraging people are. One of her best friends inspired her to start weightlifting. They train together in their coach's garage gym.
Joe Midira and Frank Bevacqua, two active military members, attended the meet so Midira could compete for the first time. They both said that they like how the sport is more about the individual's goals and a focus on fitness.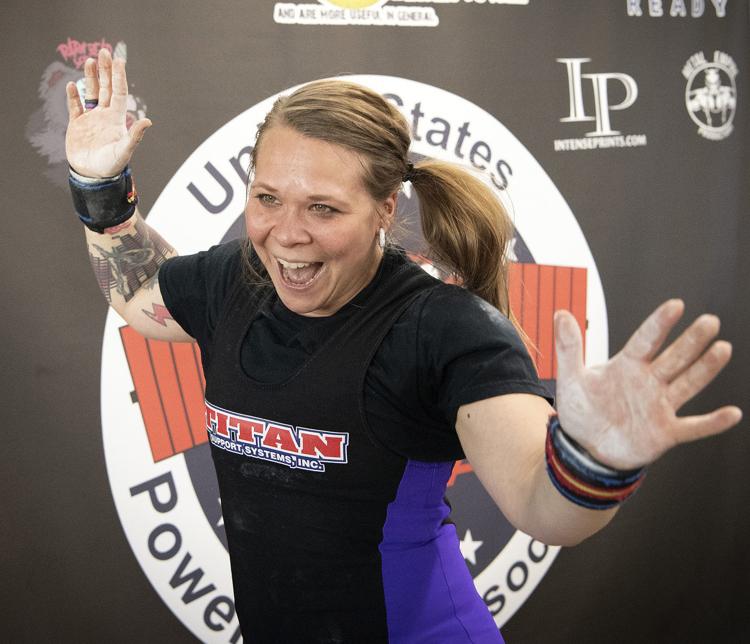 "It's a hobby sport, people don't do it for the money, they do it for the pride," Bevacqua said.
Sarah Santangelo of Smithsburg was competing in her sixth competition. As a personal trainer and group fitness instructor, she has always been into fitness, but it wasn't until a few friends encouraged her to try powerlifting that she decided to start training.
"Everybody's super encouraging," she said.
Now she trains three or four times a week.
Santangelo would tell anybody that's interested in getting involved in powerlifting to go to a competition and watch it and get used to the rules. But she stressed that nobody has to be super big or visibly strong in order to be a good powerlifter.
At her first competition, she saw a woman in her 70s compete, in addition to people who were basically just lifting the bar with no weights on it, and were treated the same as every other competitor.
"That's a record for them," she said.
First, second and third places were awarded in each weight class. Additionally, Layne said they use the Wilks formula to name a "best overall" lifter, based on their body mass and what they lifted.
That person gets to take home an Excalibur-style sword.
"Hopefully nobody's getting on a plane," Layne said.
USPA will be back in Frederick in August for another competition.