Residents on the Golden Mile have long had transportation challenges.
One local doctor might have a solution.
Come November, those living along the Golden Mile could have a free way to get to grocery stores and medical appointments.
Dr. Julio Menocal, who owns a practice on Baughmans Lane off the Golden Mile in Frederick, plans to manage a shuttle system that will offer free rides twice a day to those on the roads near his office.
The proposed route will send the shuttle from Baughmans Lane across to the Kmart, up U.S. 40 to Hillcrest Drive, to McCain Drive, to Butterfly Lane. From Butterfly Lane, the shuttle will go to Mount Phillip Road, to U.S. 40, then take a left on McCain Drive, to Key Parkway and back to Baughmans Lane. The route begins and ends at Menocal's office. The route is approximately 5.5 miles. Grocery stores are scattered along the route.
Menocal plans to begin the shuttle service in November, with the goal of running it twice a day — once in the morning, from 9:30 to 10 o'clock, and once in the afternoon, from 2:30 to 3.
"It's going to be very limited initially, but we're excited and kind of looking forward to it," Menocal said.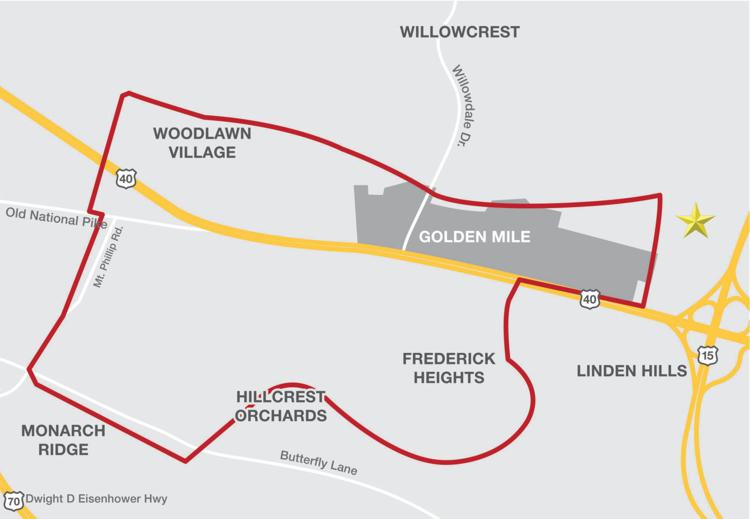 The shuttle line will cost approximately $4,500 a month, according to the first quote Menocal received. He expects the actual price will be higher. For the time being, Menocal will use his business and his own money to pay for the shuttle.
Menocal proposed the shuttle to members of Frederick County government, health groups and Golden Mile organizations at a meeting late last month.
"It's a good idea," Menocal said at the meeting. "It benefits the population I serve directly."
Nationally, lack of transportation is a barrier to medical treatment, said Randall Culpepper, director of HealthCare Connection and Preparedness within the Frederick County Health Department. Culpepper said in an email that Menocal invited the health department to the meeting.
"Patients unable to access their healthcare providers leads to missed or rescheduled appointments resulting in delayed care and, often times, adverse health outcomes," Culpepper said in an email.
Although plans are tentative, many attendees seemed to support the idea, including Steve Stoyke, a case manager in the Frederick County Senior Services Division.
Stoyke, who moved to the Hillcrest area in 1985, said the Golden Mile could benefit from a shuttle system.
"I think that the idea of providing bus service in that area will definitely make a difference," he said.
Transportation is limited on the Golden Mile, with many people left to rely on cab services or walking. While there are areas along the Golden Mile that have crosswalks, those who walk with children, are aging, might have difficulty walking or are in a wheelchair may not have enough time to cross the street, Stoyke said.
"Right now, we do have bus service, we got Transfer, we have Uber, but it's not enough. It's simply not working," Stoyke said.
There are transportation systems in the county, such as TransIT and the Medicaid nonemergency transportation program, in addition to taxis and ride-hailing services, Culpepper said in the email. About 1,000 people use the Medicaid transportation program, operated by the health department, he said.
"Even with these available transportation resources, there still is and always will be a need for additional transportation services," he said in the email.
A circulator like the one Menocal proposes could be useful to patients who live along the Golden Mile, Culpepper said.
If the circulator is successful, Menocal said he will look into more sustainable options, rather than him paying for it from his company's budget. One of those options might involve having it absorbed into a nonprofit.
Stoyke started a nonprofit, and he offered at the meeting to look at how he could use it to help the circulator.
The idea for the circulator originated five years ago at a Golden Mile Alliance meeting, said Menocal, who was then an alliance member. No movement had been made on creating a circulator, so Menocal decided to take it upon himself to provide it.
He plans to meet with the Golden Mile Alliance and the county in July about the shuttle, he said.
The Golden Mile Alliance is aware that Menocal is looking into a circulator, said David Newman, president of the alliance's board of directors.
"I personally think it's a great idea," Newman said.
Transportation is a big issue in the area, and he thinks it would be used, including to give people access to a physician.
For Menocal, one of the biggest questions left for the circulator is not if or when it will start, but what to call it.
"My personal preference is Clyde the Van, in honor of the first van we had, but most people I think are favoring Golden Mile Circulator," Menocal said.