Niko Negas had a good thing going prior to the pandemic.
For the last four years, the head chef and his staff at Roasthouse Pub had been hosting a monthly five-course dinner and beer pairings with breweries, some local, some not.
But when restaurants were ordered to close their dining rooms due to the coronavirus pandemic, the fate of the popular dinners was suddenly in doubt.
"It was a day I'll never forget," he said of the governor's order to close restaurants' dine-in service.
The events, which Negas said always sell out, offer customers the chance to hear from him as well as a representative from the visiting brewery which provides a different beer for each course. The two discuss how each dish pairs with a given beer, of which customers receive a sample.
To be able to continue to offer the culinary pairings, the solution that occurred to him involved adding both a video and social media component. Negas said he was looking for a way to continue with a take-out format, but still have customers feel like they were part of the experience, which resulted in virtual beer-food pairing dinners. Negas hosted the first one in May and another in June, with the next slated to take place in July.
Going virtual
The new plan was to prepare the dishes in a sort of deconstructed way, placing individual elements in separate containers and allowing the customer to assemble the dish at home.
One aspect of the beer dinner events still proved elusive — how to interact with the customer in a way that provided insight into tasting notes for each course and why the dish was paired with a given beer.
That's when Negas reached out to Chris Sands, who hosts The UnCapped Podcast, a craft beverage program that is a product of The Frederick News-Post.
The two discussed creating video and social media elements to make up for not being able to engage directly with customers during the meal.
After a brainstorming session they decided the way to retain the needed engagement was to create two videos. One, a recorded step-by-step video that would show people exactly how to prepare their meal, and the other a live video discussion on Facebook and YouTube later that evening.
"I think the livestream allows for even more interaction than the in-person dinners," Sands said.
Because of the demands placed on the chef and his staff during the in-person dinners, there wasn't much time for question and answer periods. The livestream, in this sense, added a new element to the dinners.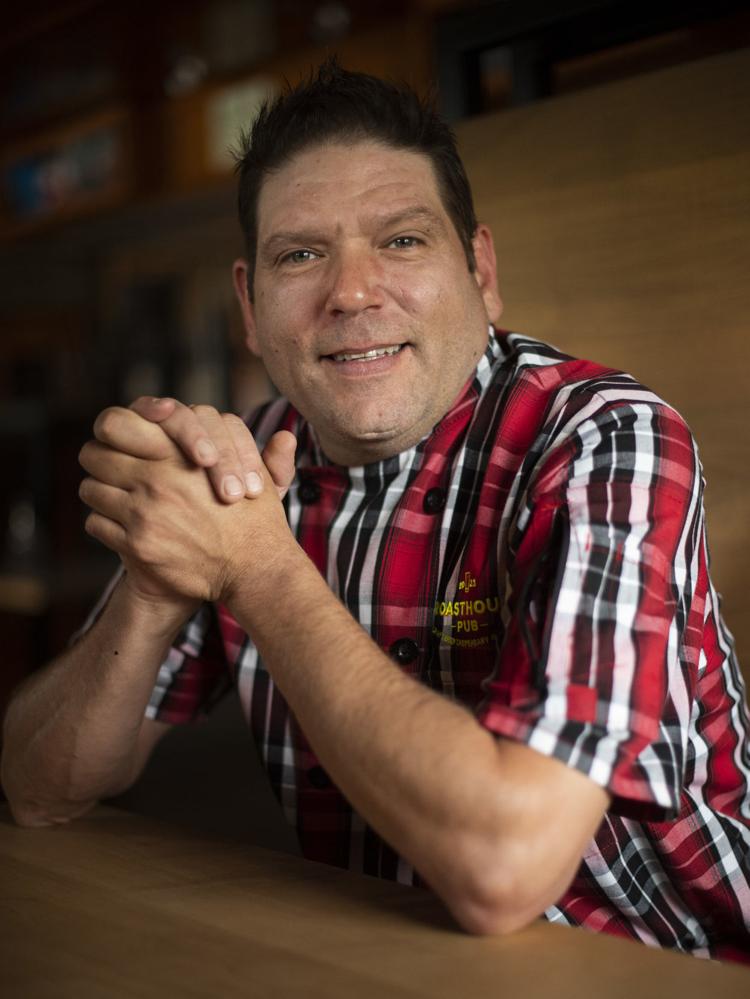 "I think one of the great aspects of it being done virtually and at home is it allowed me to cook something way more elevated than I would ever cook on my own," he said. "Because Chef Niko already prepared it half to three quarters of the way and provided every ingredient needed."
Negas said the feedback he received about the changed format was all positive.
Because diners became participants in the event by assembling the dishes at home, one customer texted Negas to tell him how much more involved they felt by assembling the dishes themselves.
"They actually felt like they were my sous chef," he said. "So it was not only interactive, but it actually expanded the experience."
The main protein — be it chicken, lamb, fish or something else — has to be par-cooked, which the customer then finishes in their oven at home.
Elements for each course are provided in precise proportions, even down to the few ounces of spring water for steaming basmati rice. The individual elements for each course are then put into a brown paper bag to keep everything organized.
Adding the brews
The job of finding breweries to partner with falls to the restaurant's beer director, Marrah Bailey.
Bailey, who brings extensive knowledge of the brewing industry to the operation, said she is always looking for new breweries to feature with Negas' cuisine.
"We try to focus on a lot of the little guys," she said.
Most of the breweries, she said, will be local, with some based nearby in Virginia, West Virginia and Pennsylvania. She looks for is a diverse portfolio of beer offerings to pair with Negas' culinary creations.
"You want to do something dark, you want to throw in some [India Pale Ales], saisons, and we usually leave that up to the brewery," she said. "Whatever they feel they want to showcase."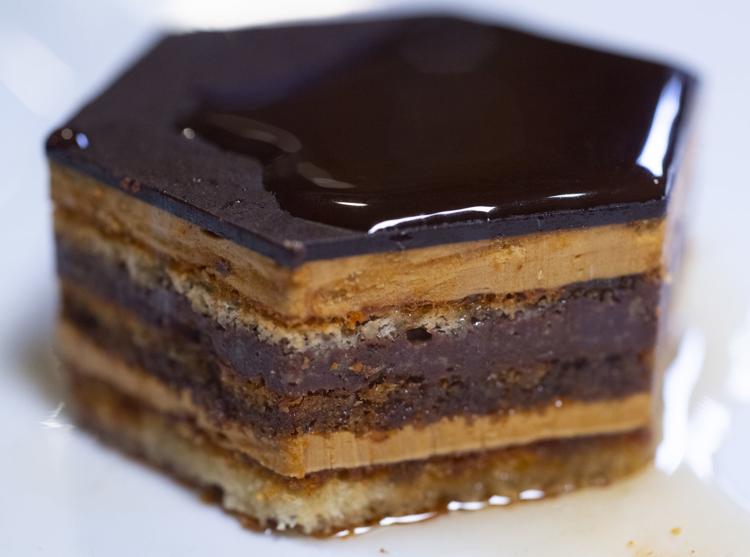 For Ben Little, the head brewer for Fourscore Brewing Co., an upstart brewery in Gettysburg, Pennsylvania, the beer dinner he took part in May was seen as a way to expand the footprint. Several of the beer festivals the nearly one-year-old brewery planned to be a part of had been canceled in response to the restrictions being implemented due to the coronavirus pandemic.
The proposition to move ahead with a now-virtual beer dinner was seen as a saving grace.
"I felt like we were in a good place from a brand perspective, to really start hitting it hard and really start promoting ourselves," he said.
Little said beer, as with food, is very agriculturally driven. And highlighting the similarities between the two industries is beneficial for everyone.
"It's just a really kind of fun thing for us," he said. "and I think it's a good way for both restaurants, bars, etc. and breweries to really deepen relationships … with each other and with the consumers."
Of the offerings on the menu for the Fourscore beer dinner, Little knew exactly which course was his favorite — a lamb taco that Negas created for the second course, which was paired with his All Together hazy IPA. The taco included shredded sprouts, cucumber and red currant salsa, manchego cheese and tahini sauce.
Here to stay?
A signature of Negas' beer dinner menus, which cost $60 per person, is the bold and inventive dishes he conceptualizes.
One recent bisque, for instance, included a strip of bacon fashioned from carrots, which was packed with flavor and had the snap of a well-done crispy piece of the real thing.
Whereas Negas would typically have five cooks working during an in-person beer dinner, the virtual dinners require one less person because the staff has longer to prep each course before customers arrive to collect their meal.
"It's a little harder on the back end, but less stressful than the in-person dinners," he said.
As restrictions on restaurants loosen and diners are welcomed back into dining rooms at half capacity, Negas said he envisions a continuation of the virtual beer dinners since he can only accommodate so many customers inside.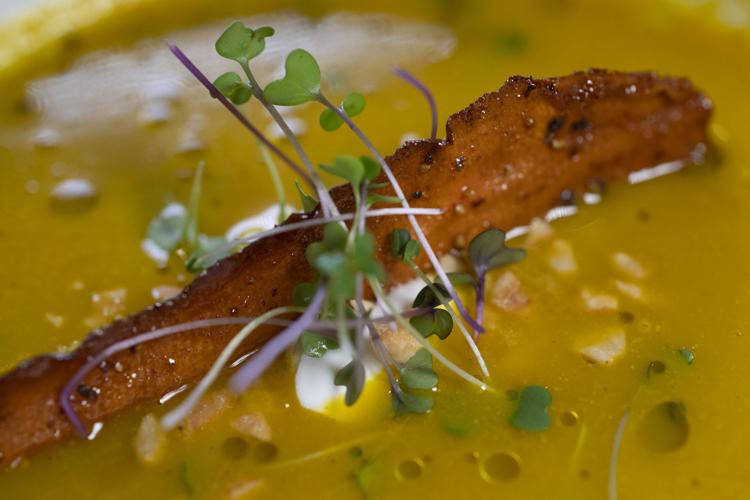 That, and some people may not yet be comfortable returning to in-person dining.
The virtual beer dinners, he said, "allows us to continue what we do best, which is create creative dishes that our customers enjoy."