If the packed tables at lunchtime don't draw you in, the aroma will.
As soon as I stepped out of my car in the parking lot of Kittiwat Thai Kitchen in Ballenger Creek, I was greeted by the smell of hot oil – the kind that is used to fry perfectly crisp spring rolls or a whole bass – both of which are present on the Thai restaurant's menu.
Manager Riley Corbin said Kittiwat serves "modern, Thai-style cuisine in a refreshing environment."
The modernness comes across in both the menu and décor of the space. Industrial style table and chairs fill the floor with a sleek, marble-top bar and minimal decorations.
The lunch hour seems to be the most popular. Both times I went, the space was crowded and buzzing. The draw could be from the lunch special menu which offers a complimentary appetizer – either vegan pot stickers or chicken tom yum soup – with your choice of entrée.
I chose the pot stickers to accompany Pad Thai with shrimp. The Pad Thai may be some of the best I've ever had. It was a big portion and cut the right balance of savory to sweet. The shrimp were the perfect size and you could taste that they had been freshly grilled.
Corbin said more well-known dishes like Pad Thai offer themselves to both new and seasoned consumers of Thai food. For someone who has never tried Thai food before Corbin said he often recommends a noodle dish like the Pad Thai or a simple fried rice. For more experienced eaters, like myself, Corbin said most of the dishes will look familiar.
"Most people who have been eating Thai food their entire life can usually find comfort in our menu," Corbin said.
As great as the lunch Pad Thai was however, the potstickers fell a little short for me. Drenched in what tasted like a hoisin sauce, it was hard for me to decipher what the inside vegetable medley actually tasted like. I almost wish the sauce had been served on the side to use as one wishes.
On a visit for dinner, my guests and I decided to try one of the restaurant's new fall specials, which will be served from now until December.
"Kittiwat tacos" is what they're called. Three corn tortillas filled with Northern-Thai-style ground pork, tomatoes, scallions, lettuce, cucumber, radish and pickled cabbage all topped with two to three fried pork rinds. Corbin said the recipe was developed by the chefs and owner of the restaurant.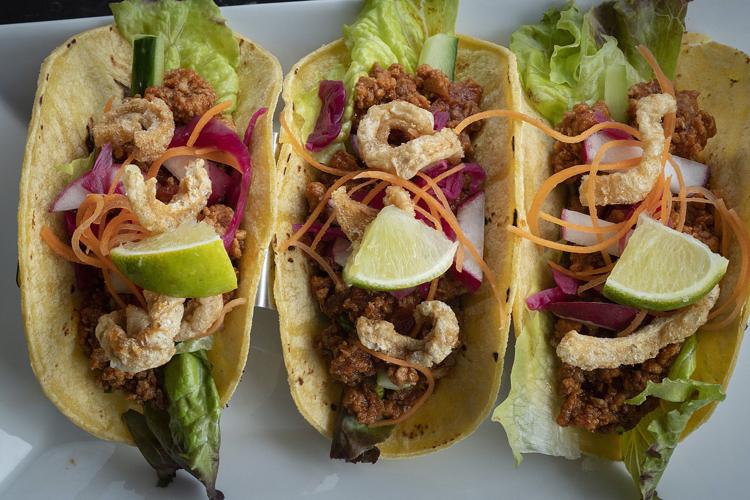 The presentation was lovely, with a small quarter of lime to accompany each taco. As I was eating, I kept waiting for the punch of the seasoned meat to hit my tongue but unfortunately, it never did. There was a lot of taste from the condiments such as the pickled cabbage but none from the meat itself, which I personally think is the most important part of any taco.
There is potential here though, and I hope Kittiwat continues to develop this recipe as I feel it could become something great, as is many of their other dishes such as the Ka Prow Kai Sub, which Corbin said was their most popular and signature dish.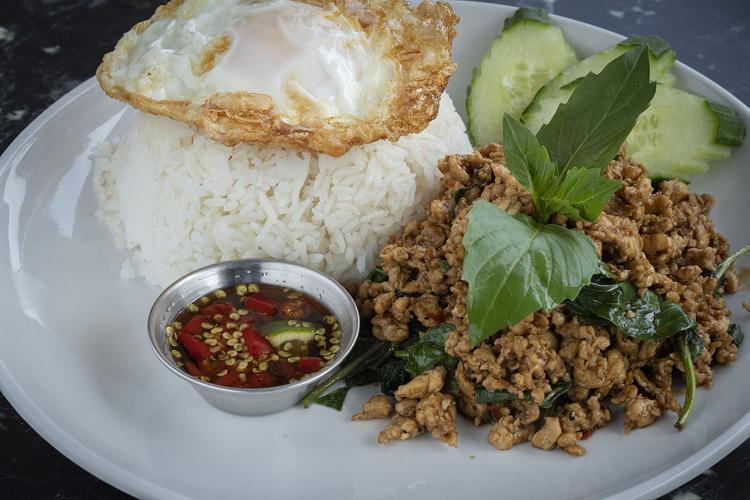 Ground chicken cooked with basil and chili over a bed of rice with a fried egg. There is nothing not to love about this dish.
"The bite of the basil is amazing," said one of my guests.
And she was right. A spoonful of the chicken itself was stellar but get it with one of the many leaves of fresh Thai basil that were interspersed throughout and it's taken to another level.
And because I am a huge fan of a fried egg on top of anything, that addition to the dish only made it better for me. The runny yolk mixed in with the rice and chicken became comfort food in a spoon, and this will definitely be a staple order for whenever I return.
Remember that fried whole bass? We decided to try it for dinner and although it was perfectly fried and tasted fresh, my guest summed up it's one downfall perfectly.
"They need to get a meatier fish," he said.
But perhaps the fish we got was just a little skinny. Maybe someone at another table got one a little heftier.
Overall, I was impressed with Kittiwat. The presentation of each of their dishes is elegant and only adds to their modern look. And although there a minor flaws in a few dishes, which could come with any restaurant, there are plenty of great options that will continue to keep me as a regular customer.
Follow Katryna Perera on Twitter: @katrynajill.