Driving up to Brunswick High School one could easily miss the unassuming, small white building on the side of the road.
There is a small gravel lot with no parking lines and the only thing that catches the eye is the blue and red neon "open" sign in one of two windows. The actual sign of the establishment hangs above, attached to a small cardboard billboard on the roof. It's frayed and torn at the bottom but looking closely a driver might be able to quickly make out "Adele's Tex-Mex Restaurant."
This little white building may be one of the most unassuming restaurants in the whole of Frederick County. The menu is simple, the interior is just a few booths and tables, and the staff at any point seems to be a maximum of four people. But the food – the food is spectacular.
Although advertised as a Tex-Mex restaurant, Adele's incorporates a few more Central American-specific dishes into their menu.
Hanging on the wall in the interior of the restaurant is a large painting of a street market with "El Salvador" written in cursive across the top. There are certainly Salvadorian influences in Adele's menu starting with the pupusas.
Pupusas are like stuffed pancakes. They are also the national dish of El Salvador. Thick cornmeal or rice flour encapsulates hot cheese, beans, and/or pork and is common street food.
Adele's pupusas come out piping hot and seem to be made fresh as soon as an order is placed. The cheese is as stringy as mozzarella, and the meat option comes stuffed with some well-seasoned shredded pork. The pupusas are large and an order of two could easily be a small meal as they are served alongside "curdito" a sour and tangy cabbage relish.
Cheese, in all forms, seems to be the most highly prized ingredient at Adele's as it is served in some form in almost every single dish.
When my guest ordered the chicken enchiladas they came smothered in a thick coating of melted cheese. There was no enchilada sauce just cheese.
To be honest, on the enchiladas it was a little much, and my guest mentioned she would have preferred some sauce as the cheese was so overpowering but the enchiladas themselves were delicious and stuffed with juicy, tangy shredded chicken.
On the burritos that Adele's serves up, the cheese is definitely not too much. It seems to be a Colby Jack or Monterey Jack blend and has that perfect melted cheese taste and texture. It coats the burritos, which are truly some of the best I think I've ever had. Adele's doesn't put rice or beans in their burritos – which I love – and focuses on the meat.
A steak burrito from Adele's comes stuffed to the brim with fajita-style sliced beef marinated with tomatoes, onions and peppers. The steak is tender and bursting with flavor.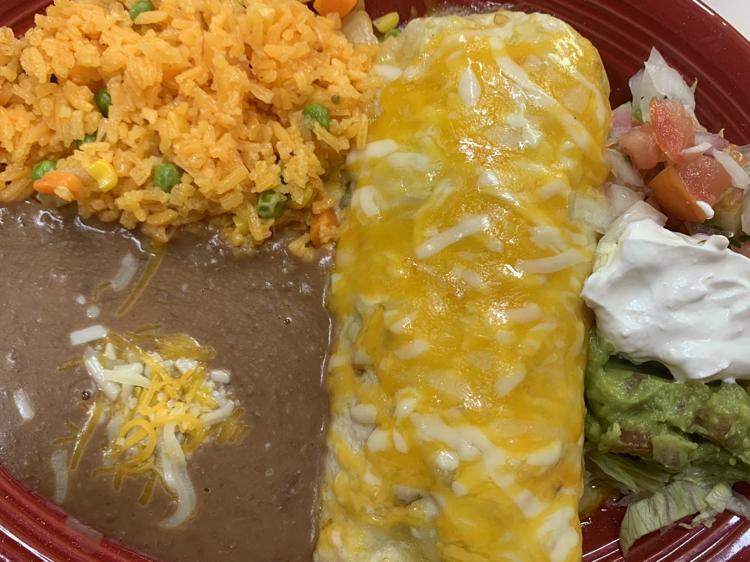 All burritos, enchiladas, fajitas, and tacos also come with a side of guacamole, sour cream, pico de gallo, rice and refried beans, and most entrees cost around $11. I really don't know where you can get a better deal considering the addition of rice and beans and guacamole all for one price.
The burrito was so good I actually ordered it twice, on two separate visits to Adele's, which I rarely do considering my goal as a critic is to try as many dishes as possible. But I just couldn't pass up another taste.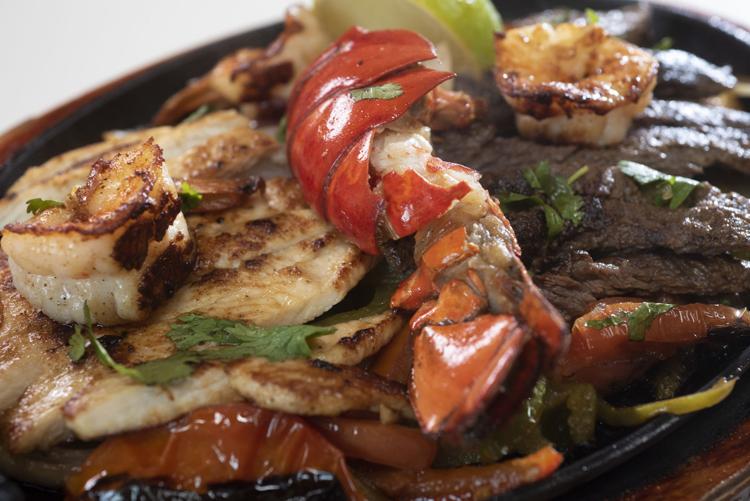 If you don't want as big a meal as a burrito or fajitas, I suggest the Tacos Al Carbon. The steak is reminiscent of fajitas — thin strips with grilled onions and peppers — but with this dish, it's wrapped up in three small tortillas and topped with cilantro.
Adele's also served up some sweet, and heavy, tres leches cake. What I enjoyed about their version of this classic Latin American dessert is that it is completely soaked in the milk. Not to the point where the cake is falling apart but it was so incredibly moist and scrumptious. The downside was that it was very filling. Lots of milk and cream and one slice would probably best be eaten over two days.
It should be noted that Adele's does not serve alcohol but they do have a selection of Jarritos, which are Mexican soft drinks. They range in flavors from lime to pineapple and are a sweet and bubbly accompaniment to any meal. I actually enjoyed the fact that there was no alcohol at Adele's. It made me feel like I was inside the painting of the Salvadorian street market, enjoying fresh, authentic food on a hot day with a cold, refreshing drink.
Over my week eating at Adele's, I became more and more impressed with every meal. It's such a simple and humble operation yet they are producing true, authentic flavors on the outskirts of the county. The staff is incredibly friendly and I hope to see Adele's flourish in business and become a spot that folks consciously travel to — because it deserves more than just Brunswick's support.
Katryna Perera is the food reporter and critic for the Frederick News-Post. A longtime "food enthusiast" she has taken cooking classes both domestically and internationally and is continuously following food trends and restaurant openings. She also briefly studied food reporting while attending Columbia University's Graduate School of Journalism.
Follow Katryna Perera on Twitter: @katrynajill; on Instagram: @kjp_eats.