As we enter the long days of summer and restrictions around the state begin to ease, more and more folks will start to venture outside to catch come sunshine.
If you decide to take a stroll on the sidewalks of downtown Frederick you may notice a new wood-paneled sign hanging over the entryway to what used to be Vini Culture.
Tsunami Ramen & Tapas, a Japanese restaurant, opened up in early April when the county was experiencing its most stringent COVID-19 restrictions.
First of all, huge props to them for opening during a global pandemic. That could not have been an easy feat and I'm sure the owners never expected that scenario in a million years.
It was such an interesting move that my fellow colleague Erika Riley even wrote an article about it. Co-owners Moo Rung and Pong Chan told her that the first weeks were really tough. Not only did the restaurant have to adapt to an uncharacteristically unique situation they also faced challenges like not having enough to-go containers and making sure they prepped enough food for the demand, which was very high.
The new restaurant seems to have now settled into a groove, though. Every time I ordered take out over the past two weeks, my food was ready quickly and separated thoughtfully into various containers.
My ramen broth came in small, tightly sealed containers while my noodles and toppings came in wide deep plastic bowls. What made it easy was that I could pour the broth right into the other container and voilà — a perfect bowl of ramen.
With ramen I've long held the notion that it's all about the broth. Yes, the toppings are great and can be customized but if you don't like the flavor of your broth you're not going to enjoy the dish as a whole.
Also, ramen toppings don't really have much variety. You've got your noodles, chashu pork, bamboo shoots, poached egg, maybe some corn – all of those are pretty standard across any bow of ramen. But the broth, that's where all the flavor and variety come from.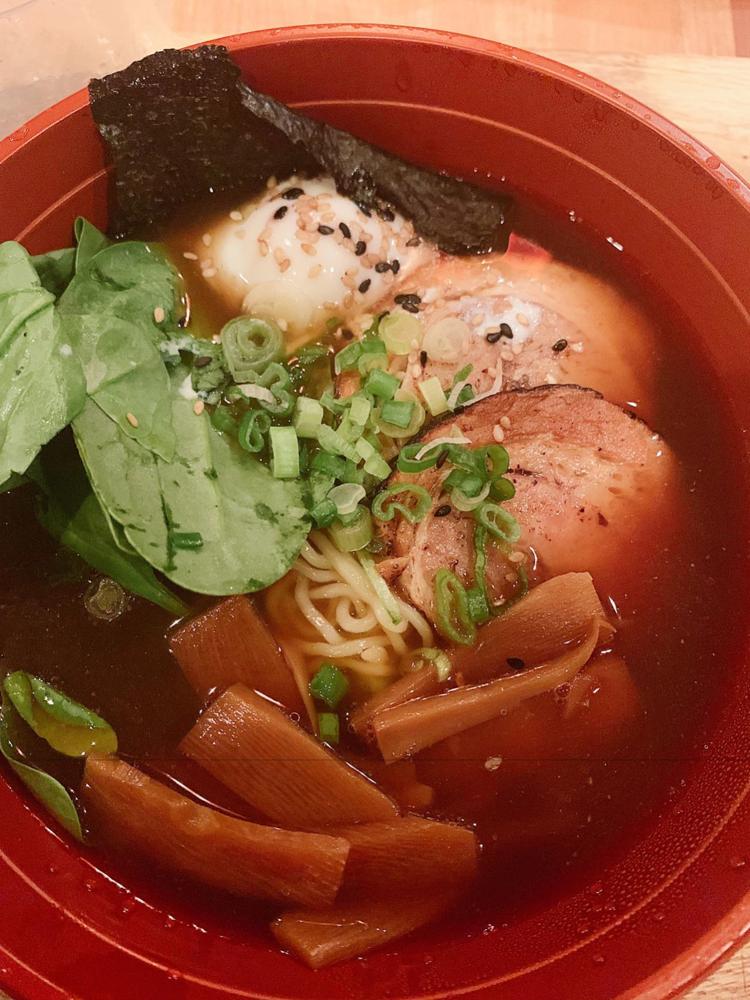 If you've never tried ramen before I suggest ordering Tsunami's Shoyu Ramen. The broth is soy-sauce based and a little milder in flavor than some of the others but is still very traditionally Japanese. If you ever find yourself in Tokyo, Shoyu ramen is one of the most familiar forms of ramen you will find.
The bowl is topped with classic egg noodles, chasu pork, spinach, bamboo shoots and a poached egg.
Pork is the protein most often served in ramen. It is typically medium-sized rounds of pork belly which are either braised or grilled and where the term "chashu" comes from.
For my ramen aficionados out there the Tonkatsu ramen from Tsunami packs a lot of umami flavor and is deeply satisfying. The toppings are also a little more authentic with mushrooms and menma – fermented bamboo shoots.
There is also a spicy version of this ramen which includes a little dash of chili oil.
Speaking of spicy, my favorite type of ramen has always been spicy miso. I love the flavor of miso to begin with — salty and savory — but then the added spice whether from chili oil or pepper, just takes the broth to another level for me.
I will admit, though, that I was a little disappointed in Tsunami's version. The broth didn't hold enough flavor to me and was a little watery. But being a restaurant that again, opened during a pandemic, I am giving them the benefit of the doubt and I hope to one day try their spicy miso ramen seated at a table indoors.
Tsunami also has a bunch of vegetarian and vegan ramen options, which I love. The vegan options in particular have kale noodles instead of the traditional egg noodles and all of them are loaded with a variety of veggies.
If you're not feeling traditional ramen flavors might I suggest trying Tsunami's Red Curry Ramen. The broth is thick and is most similar to a Thai-style curry with a very sweet, but spicy flavor. Made with coconut milk the broth is thick and creamy. Served with egg noodles, chashu pork, crispy wonton strips, bamboo shoots, scallions, and a poached egg, it's almost like eating a stew or pasta with a creamy, thick sauce.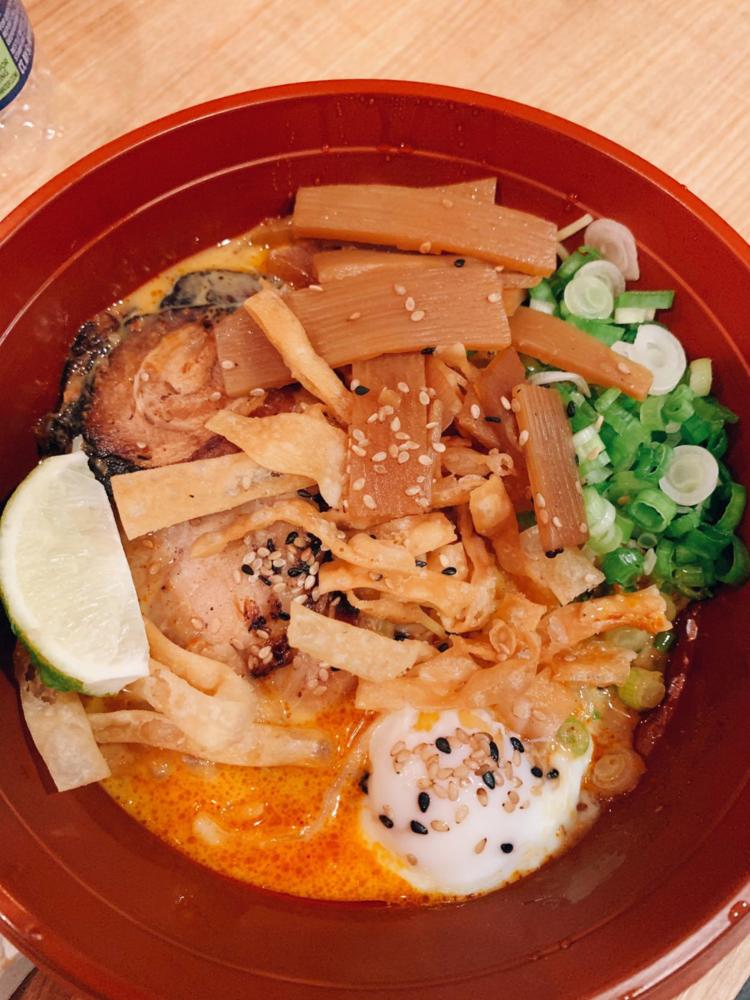 Squeeze a little lime over the bowl, which adds a needed jolt of sourness, and enjoy. Personally, I found it to be very heavy and I quickly became tired of how rich and overpowering the sweetness of the curry was, but I suspect others will enjoy the off-the-cuff bowl of ramen.
Tsunami shines in their ramen but also in their tapas. Both the short-rib steak and poached duck were delicious. Both proteins were cooked and seasoned perfectly. The steak was tender and soft and the Pinot Noir-Sapporo sauce, which is poured over, tasted most similar to Madeira sauce.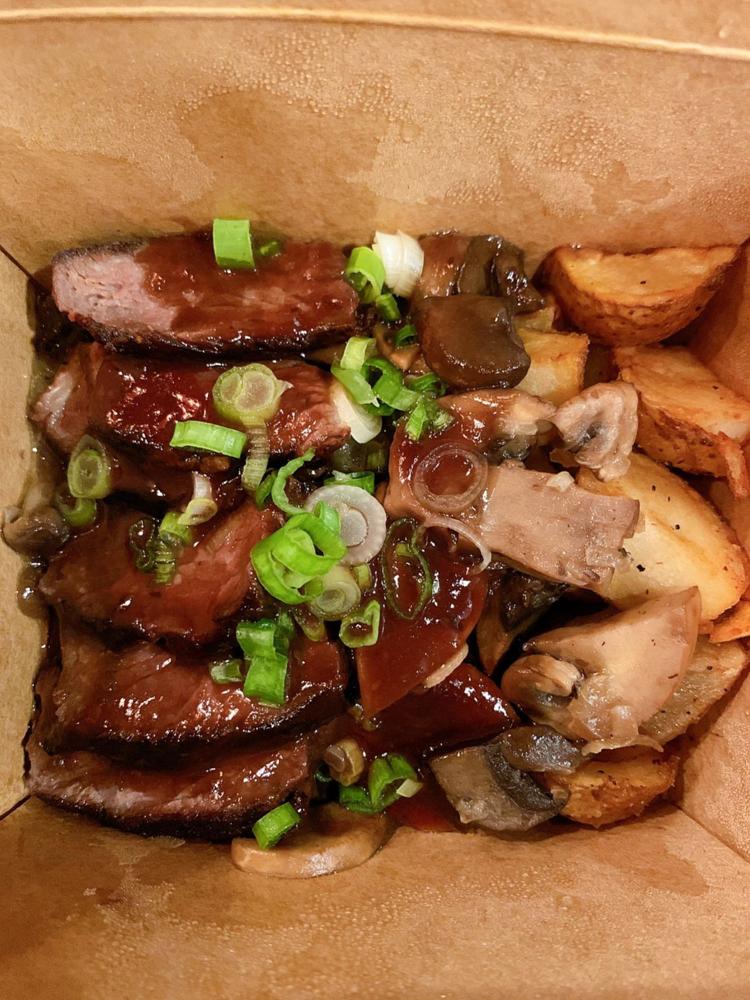 The poached duck was drenched in a port wine sauce but I liked that the gamey taste of the duck still came through with each bite.
With Tsunami's appetizers, I do feel that there is some room for improvement. I was very impressed by both the Bang Bang Shrimp and the Korean Shrimp pancake, but less so by the Tsunami dumplings, whose filling was bland and whose dough wrapping was, I thought, unnecessarily blue in color.
However, what I found throughout my time ordering out at Tsunami is that the restaurant does do a good job of offering authentic Japanese flavors to Frederick. It even comes through in their selection of beers, all of which are chilled and available for carry-out.
Tsunami has an amazing matcha IPA. It is literally green in color and quite bitter, but if you're an IPA lover you are sure to enjoy it.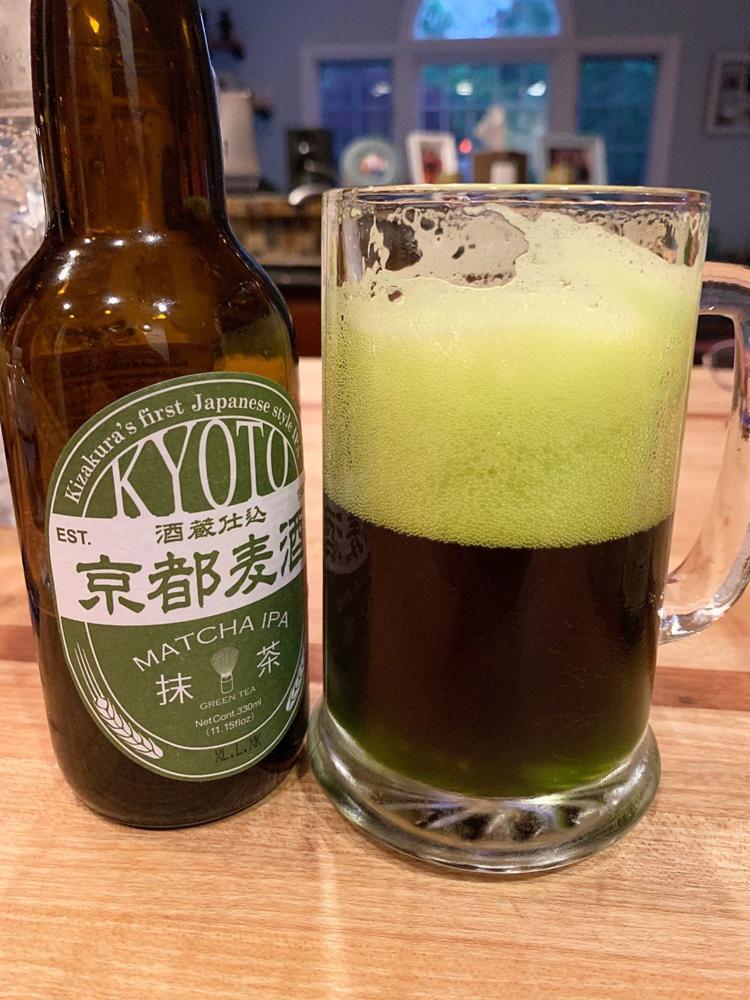 I've found through the years that ramen is a dish that tends to be scary to those who have never tried it, but my response is always you know those Cup of Noodles? That's just a dollar-store version of really good ramen.
And if you don't like some of the toppings, the great thing is that it's a dish that's almost completely customizable.
I love a good ramen spot and it makes me excited that one has opened downtown. I think it's a needed addition to the variety of cuisines already offered. And I hope that once the pandemic passes the demand for Tsunami's steaming bowls and delicious tapas are still as high as before. Not to mention that there are a lot of items, such as their Asian tacos, which will become available once operations return to normal.
I have faith, because if a restaurant can survive what the world is going through and has gone through, they can probably survive anything.
Follow Katryna Perera on Twitter: @katrynajill.