Hi everyone. How are you all doing? It's a time to be alive, isn't it? If you're feeling stressed, anxious, uncertain, scared you're not alone trust me. I'm feeling it too.
Not only am I stressed about the general state of the world I'm also constantly thinking about all the people whose lives and jobs are being impacted by what's happening. I'm particularly thinking about all my friends in the restaurant industry.
While many are able to offer carry-out or curbside pickup options during this time, I know for many that is not enough to pay their workers and bills.
So, if there's a day when you don't feel like experimenting in your own kitchen, turn to a local restaurant and give them some support by ordering out. It may not solve all their problems but it might just keep them going for another day. And right now, that's what we all need – the support to get through another day.
If you live in Frederick or are in the area and are craving some pizza I have the ultimate recommendation for you. Rasco Pizza on the Golden Mile is the spot to hit up. It's a tiny little shop, but their pizza has big flavor.
Normally, when I review a pizza place I make sure to try a classic pie like cheese or pepperoni and then a few of the specialty ones like meat lovers, buffalo chicken, etc.
I did the same at Rasco and even ordered a bunch of pies for the newsroom one day to give everybody a morale boost – and here's a little plug to remember your local journalists and all the work they do to keep communities informed.
What I was blown away with regarding Rasco, though, was that one of their classics pies, just a simple pepperoni pizza, was probably one of the best slices of pepperoni pizza I've ever had.
Perfect crust – not too thin, not too doughy, with a little bit of chew, then topped with a nice amount of marinara that had that perfect touch of sweetness. Perfectly baked-on cheese and pepperonis covering the entire slice.
And when I say there were pepperonis covering the entire slice I don't mean there was an overload of pepperoni because when there are too many pepperonis the saltiness overtakes the flavor. No, this was the perfect amount of pepperonis on the pizza.
It's something I actually noticed with all of Rasco's pies. They seem to pay great attention to their toppings and how much they put on.
One thing I hate with pizza is when the slices are so bogged down with toppings that the cheese and everything falls off as soon as you pick up the slice or take a bite.
That didn't happen with Rasco's pizza. Even on the more loaded pies, there were enough toppings to allow you to get the wanted flavors but it didn't cross that line. It was a perfect balance between pizza and toppings.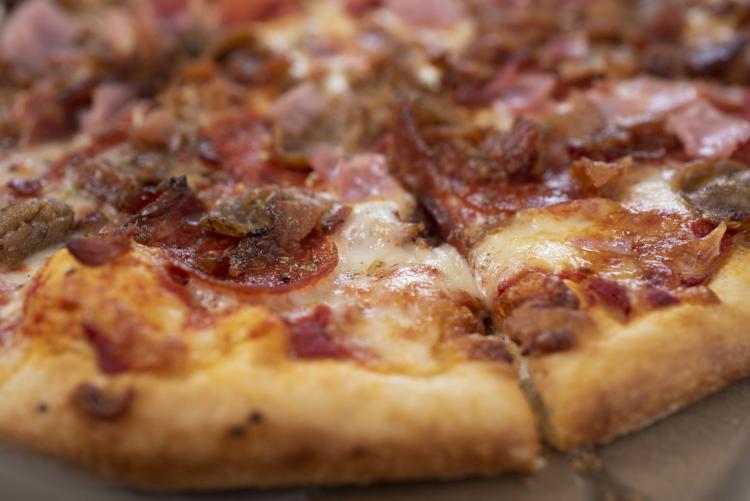 Anyway, back to the pepperonis. They weren't undercooked and they were extra crispy, they were in that perfect sweet spot and were topped with a little bit of oregano and other herbs.
Yes, the slices were a little greasy but in a really great way.
If you're not a meat-eater or like a little bit more of an artisan flair in your 'za try the Sicilian Margherita.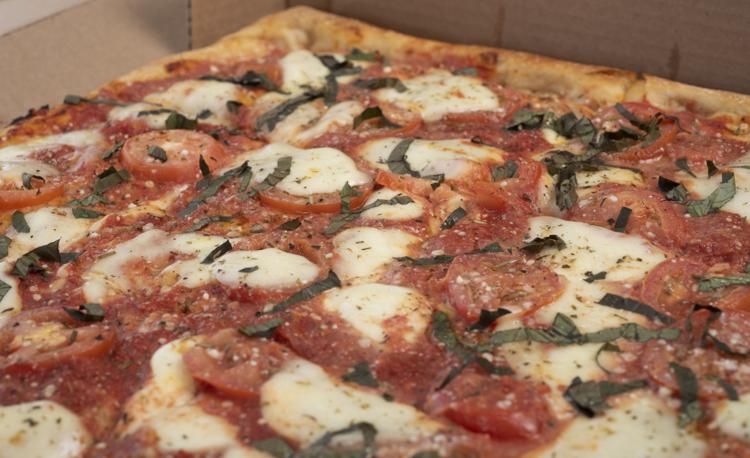 First off, a few things you should know, it's square and it only comes in one size which is a 16 by 16. This is a huge pizza but trust me you're going to want to have as many slices as possible. It is quite traditional in that one, it's square, and two, it's much thicker and doughier. Traditionally, Sicilian pizza is baked on focaccia.
Rasco's gives you that same sense and the crust is perfectly baked with a little crunch on the bottom and then fluffy dough on top. Marinara sauce is then spread all over and big slices of mozzarella are plopped throughout. Ribbon curls of basil give it a pop of color and a bright taste as well as a few fresh slices of tomato and a sprinkling of parmesan after it's come out of the oven.
All the flavors of a good Margherita pizza are present and made in a fun, alternate way.
There is already a lot of bread involved in pizza but if you want even more bread — I don't judge – get an order of Rasco's garlic knots.
So ridiculously buttery. That was the first thing I noticed about them. And fluffy and salty from a little sprinkle of parmesan. I would have liked a little more garlic flavor on them but for the most part, they are pretty excellent and a good accompaniment to any pizza.
Pizza is a great carry-out option at this time. For starters, it's already built to be carried out and if you order enough – like that huge Margherita pie – you'll have enough to last you for days. And at this point in the game, we may need those couple extra stored away slices at any moment.
You could order from the chains, as those workers need support too, but local restaurants are so important to communities. They provide identity, comfort and a true sense of belonging to a neighborhood or place. They will become the people who know you, the places where everybody knows your name.
And I suspect that your small local establishments put a little bit more love and care into your food than the big guys, so give Rasco Pizza and others a little support these days and let's all help each other get through this with some really yummy food.
Katryna Perera is the food reporter and critic for the Frederick News-Post. A longtime "food enthusiast" she has taken cooking classes both domestically and internationally and is continuously following food trends and restaurant openings. She also briefly studied food reporting while attending Columbia University's Graduate School of Journalism.
Follow Katryna Perera on Twitter: @katrynajill; on Instagram: @kjp_eats.