Across from train tracks, at the very edge of the state, pizza is being served out of an old gas station.
That doesn't sound great, but if you venture out and visit Deli on The Rocks all the way in Point of Rocks you will hardly be disappointed.
It's a small operation. The few times I visited there seemed to be only one or two cooks and one person manning the cash register, but they make it work and somehow dole out some classic pizza shop fare.
If you ever visit I recommend ordering to-go due to limited seating. I also recommend calling ahead if you're ordering more than one pizza. I called on a Friday night and it took about 40 minutes for the food to be ready.
The menu has nearly everything you would expect — pizza, of course, wings, subs, mozzarella sticks, fried chicken, and even a burrito bowl. And instead of the food being greasy and oily as one might expect from a small deli, I found it to be fresh and, for the most part, delicious.
Their cold Italian sub was one item I was most impressed by. A soft hoagie roll wraps around pepperoni, salami, ham, lettuce, tomato, red onions, provolone cheese, and a touch of mayo and oil and vinegar.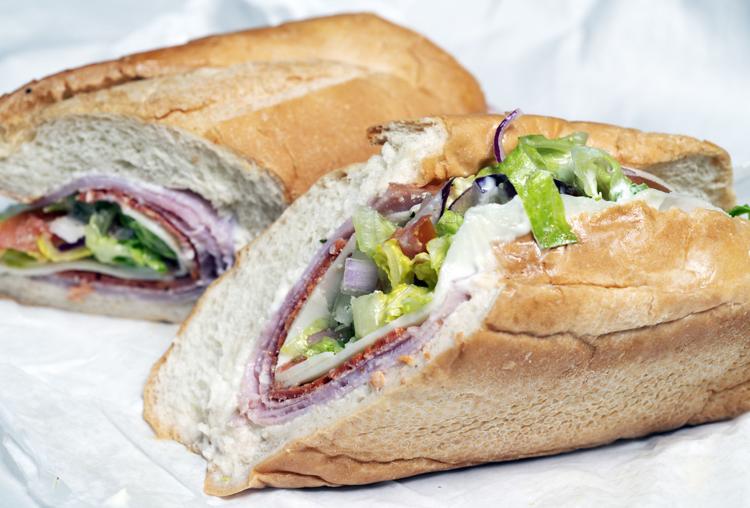 Sometimes subs can be heavy and can weigh you down after consumption but I found the Deli's Italian sub to be one of the lightest I've ever eaten. Crisp lettuce and tomatoes and thick slices of meat, the sub tasted healthy – a flavor and feeling that can only come from eating very fresh ingredients.
The only aspect of the sandwich I was disappointed by was that there was only one slice of each meat on the roll. I would have liked to see maybe two or three thin slices just to give the sub a little more depth, but perhaps it's the one slice practice that keeps it so light.
If feeling a little less healthy, try one of the newer options on the menu, the pizza sub. If familiar with Philly cheesesteaks you'll recognize this immediately as a simple pizza cheesesteak.
Chopped meat, slathered with marinara sauce and topped with mozzarella all in a lightly toasted roll. For the most part, I was happy with the sandwich, but I found the sauce to be overpowering at times and I wished there was more seasoning on the meat.
The sandwich also lacked salt – there was the sweetness from the hoagie roll and the sauce, but it needed a little extra salt either from more seasoning or cheese. The mozzarella did not cover the whole sandwich and was sorely lacking.
But enough about the subs, what about the pizza?
The pizza, no matter which style you ordered, hit a few marks consistently. Fresh and doughy crust, perfect sauce and not over-baked.
The Deli's "meat lover" pie ended up being my favorite of all the varieties I tried as it had that perfect sweet-salty combo I had been looking for in the pizza sub. And it was just the right amount of toppings, where you could still taste the rest of the pizza.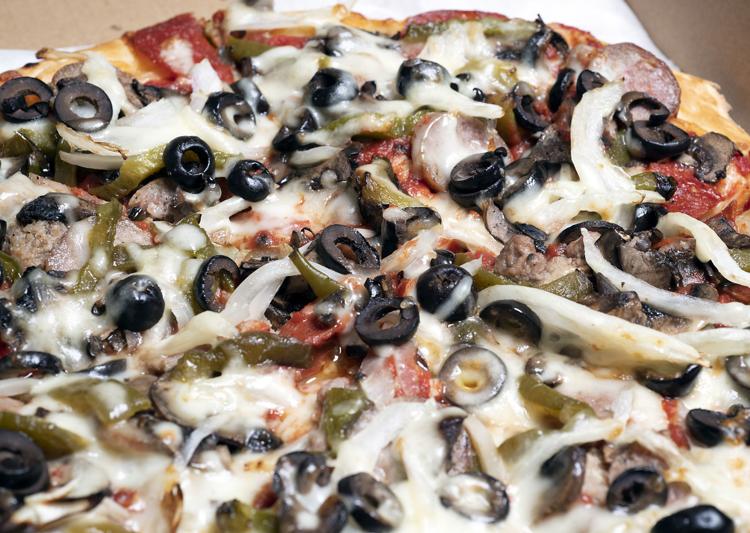 The "grand slam" pizza, however, was a bit of a mess.
Most will recognize this as the "everything" pizza with toppings of pepperoni, Italian sausage, mushrooms, green peppers, onions, ground beef and black olives.
I have had such pizzas at other places before and enjoyed them but the Deli's failed for me because it overloaded on an already overloaded pizza. The toppings were piled so high you could barely recognize the slices and each bite tasted like a whole bunch of vegetables and random spots of meat instead of anything like pizza. It seemed as if the toppings had been piled on and the cheese merely sprinkled on top. On some slices, there was a whole bunch of green peppers while other slices seemed to be dominated by black olives. And one bite had you taking off half the toppings of the pizza leaving you with a pile on your plate and plain crust in your hand.
"It's just coming right off," one of my guests commented.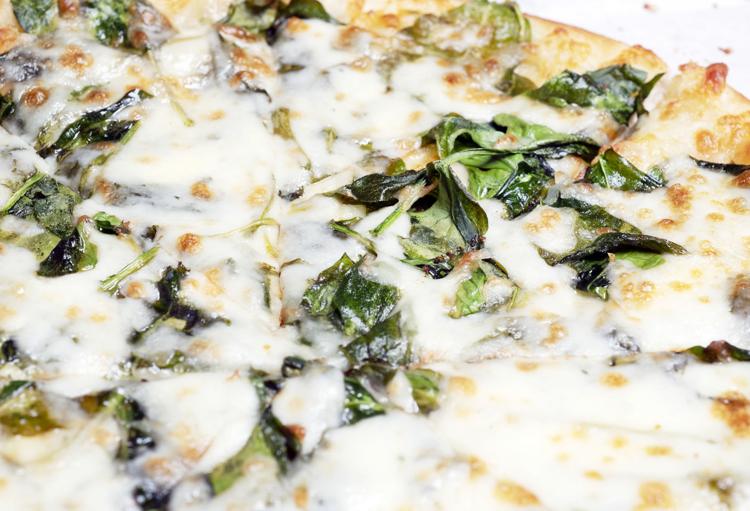 Other pie options had a few flaws here and there but for the most part, were delicious. The Spinach White which had spinach, mozzarella, provolone and cheddar with what the Deli claims to be it's "special white sauce," was cheesy and flavorful, but lacked sauce leaving it dry and stiff.
A regular cheese pizza, while delicious from the sauce and all the other factors that make Deli on the Rocks' pizza great, surprisingly had a lack of cheese with some slices having large spots of red covered by just a sprinkling of shredded mozzarella.
Making pizza is a tall order because people are picky and very particular about toppings, sauce, etc. But Deli on the Rocks seems to do a good job. A few improvements, of course, could be made but overall, they are doling out some great pies with a quality you might not expect from such a location.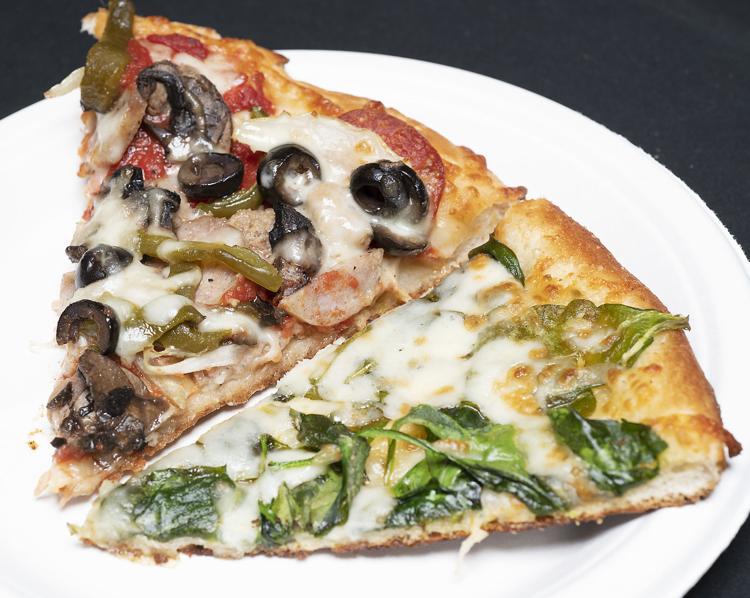 I might not voluntarily make the drive all the way out to the old gas station across from the train tracks, but if I ever found myself to be in the area I suspect I would return because establishments like Deli on the Rocks are harder to come by these days, and although the food may not be five stars — and a little pricy — sometimes you need a little satisfactory pizza grease in your life.
Katryna Perera is the food reporter and critic for the Frederick News-Post. A longtime "food enthusiast" she has taken cooking classes both domestically and internationally and is continuously following food trends and restaurant openings. She also briefly studied food reporting while attending Columbia University's Graduate School of Journalism.
Follow Katryna Perera on Twitter: @katrynajill; on Instagram: @kjp_eats.