In my opinion, there is nothing better on a cold day than a bowl of soup. It's comforting and warms you from the inside out.
Now take that up a notch, because once again, in my opinion, the ultimate cold or rainy day treat is the classic Vietnamese soup called pho.
Looking back on my childhood I am always thankful that my parents exposed me to different foods and cuisines at a young age because it meant I was never a picky eater and I developed the love for food that I have now.
Pho was something my mother introduced me to around the age of 10. Right next to the Asian grocery store in our neighborhood was a pho place and sometimes we would stop in there for lunch on the weekends after finishing shopping.
Out from the kitchen would come these big white bowls of brown broth filled with slurpy rice noodles, tender steak and a load of onions and cilantro.
It was through these lunches that I was also introduced to bean sprouts — which I love to eat by the handful now — and different cuts of meat including tripe and tendon, which would fill our bowls of pho.
I fell in love with the savory soup very quickly and have spent my days since seeking out a good bowl wherever I'm living or working.
So, when I stumbled upon Viet's Aroma Vietnamese Cuisine here in Frederick I was excited. I had heard of other pho places in the area but no one seemed to talk much about Viet's Aroma. Was it because they weren't serving up good pho or was it because they were simply unknown?
The answer, I found out as I spent time dining there, is the latter.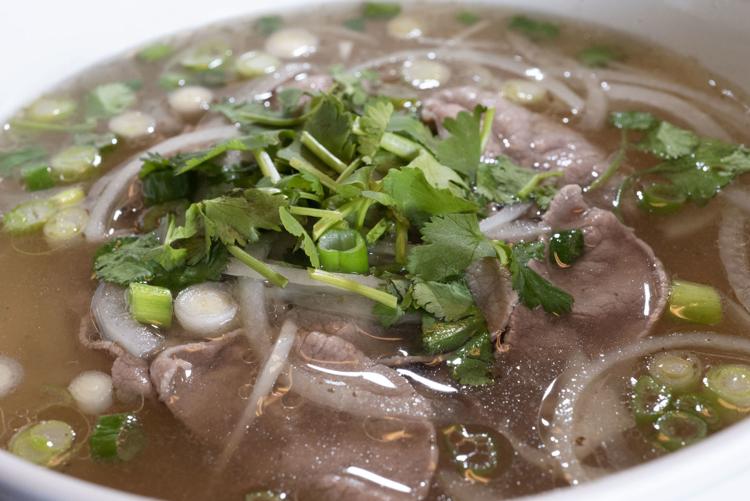 The excellence that is pho lies in its simplicity. A bowl of beef bone broth, simmered for hours, topped with rice noodles, thin slices of meat and the diner's choice of toppings, which usually consist of raw sliced onions, cilantro, bean sprouts, mint leaves, and maybe some jalapenos.
Each ingredient is allowed to exist as is and they all come together in an aromatic and flavorful combination.
If pho is done right it should be comforting and filling but light and fresh at the same time. It shouldn't make you feel like you've just eaten a heavy, oily soup, and this is why Viet's Aroma's pho is practically perfect.
It has that lightness, that brightness from the herbs and the comfort from the meat. It's soul-filling and head-clearing.
Got a cold? Drive to Viet's Aroma and order their pho special which comes with all the cuts of meat – steak, brisket, fat brisket, soft tendon and tripe.
The broth is savory but not heavy and the noodles are perfectly chewy. Viet's Aroma also uses a slightly different style of noodle than most pho places. Instead of traditional flat rice noodles, which look similar to linguine, Viet's Aroma uses a rounder thinner noodle which I found easier to pick up with my chopsticks making the whole dining experience even more satisfying.
If you want something a little heavier and spicier, though — maybe on those days that you just want something to really clear your nose and throat — go for Viet's hot and spicy beef soup.
It's got a serious kick — you've been warned — and it's perfect if you want something a little heartier. Big chunks of tender beef float in the soup along with thick, round rice noodles and of course lots of scallions and cilantro.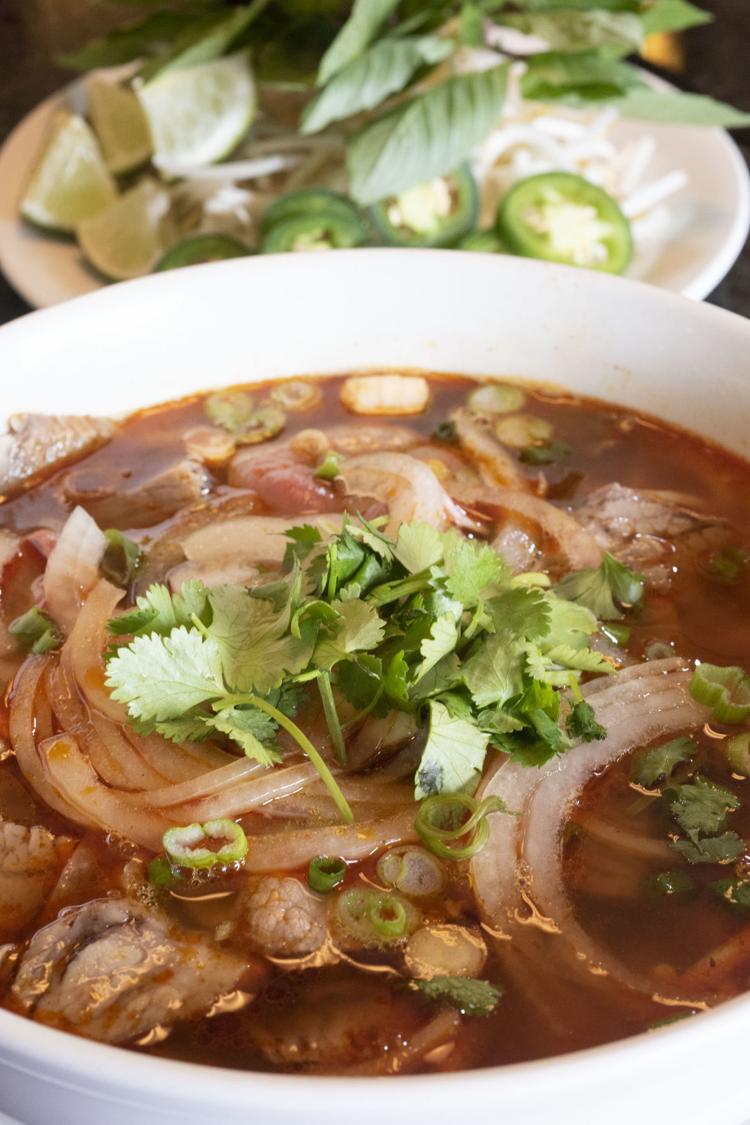 It's a little greasy in the best way and the only piece of advice I can give is don't wear white because you will slurp the noodles, they will splatter and the oil is bound to land on your clothing.
Let's say you don't want soup at all, you hate soup, and it's warm out. Try the vermicelli. It's like eating spring.
In Viet's vermicelli special a heaping bed of very thin rice noodles is topped with perfectly grilled cubes of pork, a few shrimp, a cut-up fried spring roll and lots more shredded carrots, scallions and cilantro.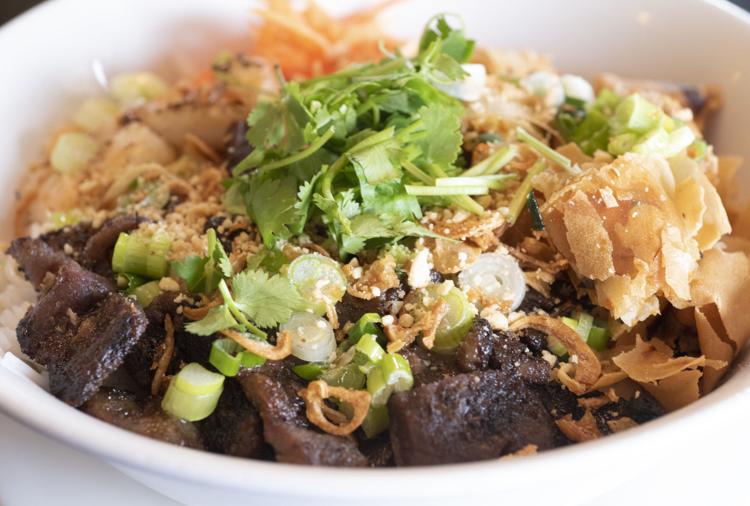 It is served with a side of "nuoc mam pha," or fish sauce. It's not that fishy, don't worry, it actually has more of a bright and slightly sweet vinegar taste. Pour this over the noodles and the dish becomes luscious and refreshing.
Overall, I was highly impressed and happy with everything I was served at Viet's Aroma, but there was one slight disappointment.
The same bright spices and aromas that accompany their main dishes I would expect to find in one of their most popular appetizers.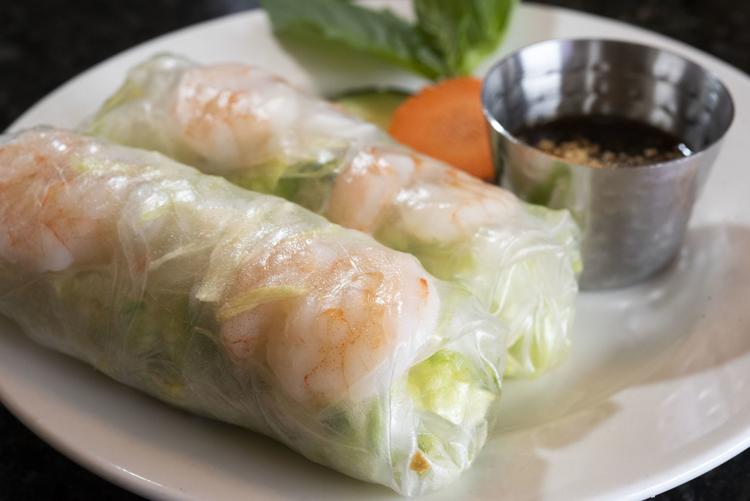 Viet's garden rolls, although big and full, could use an extra ingredient or two. Sticky rice paper is rolled around a heaping of shredded lettuce and maybe two to three shrimp. And although the accompanying peanut sauce gives the rolls a nice tangy sweetness more often than not I found my bites were full of just plain, bland lettuce. Maybe, if there were a little cilantro or shredded carrot in there it wouldn't taste like a plain salad with every bite. The word "garden" makes me picture a variety of vegetables but that wasn't the case.
Viet's Aroma is a small space, and it's tucked away off Jefferson Street in the Weis Festival shopping center. It seems to be a little bit of a hidden gem with no more than a few tables filled on any given day but the food is homey and honorably shows off true Vietnamese cuisine. Not to mention it's incredibly affordable. A bowl of pho or vermicelli will not put you over $10 or $11 and there's a good chance you will have enough leftover to take home.
Perhaps you already have your favorite pho place, but if you're in the area I highly suggest giving Viet's Aroma a try, they might just move to the top of your list.
Katryna Perera is the food reporter and critic for the Frederick News-Post. A longtime "food enthusiast" she has taken cooking classes both domestically and internationally and is continuously following food trends and restaurant openings. She also briefly studied food reporting while attending Columbia University's Graduate School of Journalism.
Follow Katryna Perera on Twitter: @katrynajill; on Instagram: @kjp_eats.