Whenever I try a new Italian restaurant, I go in skeptical, because more often than not I end up slightly disappointed.
After spending close to five months studying and living in Florence, Italy — and returning again just last year — I now expect a standard of Italian cuisine that is both a blessing and a burden.
A blessing because I know what good Italian food should taste like and a burden because it is very, very hard to find true and good Italian food in the United States.
I have never found a restaurant here that serves pasta carbonara quite right and I think Olive Garden is sacrilegious. And for those thinking five months isn't that long, it is for someone obsessed with food. I took cooking and wine tasting classes while there and instead of studying I often found myself focusing on what dish I wanted to try next.
So last week I decided to venture into Manalù Italian Restaurant in the Westview Corner Shopping Center. I had heard high praise. I heard that some people spend every Friday night eating there and that for others it is the go-to restaurant when treating business clients.
I must say I was impressed by how busy the restaurant was. I went for lunch on a Monday and it was bustling, showing that Manalù has truly gathered a loyal following.
However, during my week dining at Manalù, I found that it both hit and missed the cue.
I first tried the bruschetta and baked ziti. I'm always hesitant to order baked ziti because I feel it's a very easy dish to get wrong. There are many a baked ziti I've tried that have been dry and sauce-less.
Manalù's, however, was a pleasant surprise. One, it was the perfect portion for lunch, and two, it was coated in a ricotta-tomato blend with plenty of mozzarella. A very good baked ziti by all standards.
The bruschetta was fresh and the three slices of bread were perfectly toasted and drenched in olive oil. My only wish was that there was more basil. Basil makes bruschetta what it is, otherwise, it just tastes like salsa on top of bread, and I found Manalù's was leaning more toward the latter.
The Margherita pizza was also a bit of a disappointment. I probably ate one Margherita pizza a week when in Italy since it's one of the easiest things to get, so I like to think that I know what a good Margherita tastes like.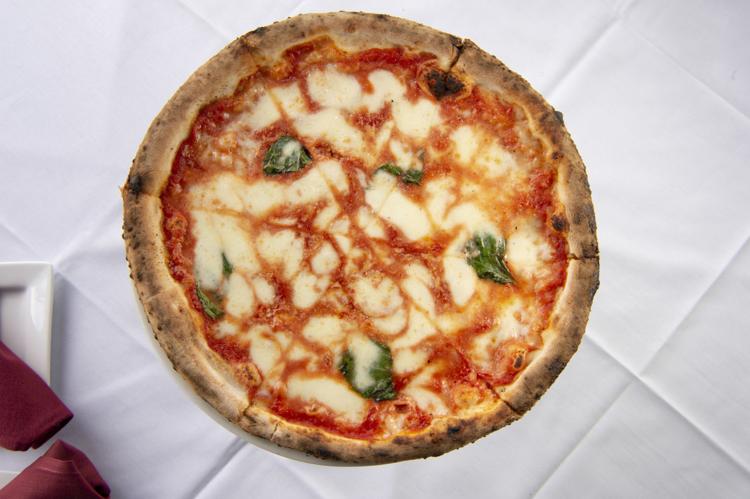 It should have big round slices of fresh mozzarella spread throughout the pie and plenty of basil scattered throughout.
Manalù once again lacked on the basil, presenting me with only one slice of the entire pie with one leaf of basil.
I was also disappointed to see a blend of both sliced mozzarella and shredded topping on the pizza, which made it taste and look off. I could tell the shredded mozzarella was not as fresh and it made me feel like I was eating a weird combination of a regular, American-style cheese and Margherita pizza.
The restaurant does, however, seem to have their knack with pasta dishes. Just like the baked ziti, every other pasta dish I tried was enjoyable.
Manager of Manalù, Marco Pontecorvo, told me that their signature dish was the "Ravioli Monti e Mare" — a black ravioli stuffed with lobster and served with sea scallops, crabmeat, baby shrimp, sun-dried tomatoes and shiitake mushrooms all in a white wine cream tomato sauce.
When the dish first arrived, I was shocked at just how much seafood was present on my plate. I thought there would maybe be a few raviolis and a few scallops and shrimp, but the dish was overflowing.
The ravioli was big and stuffed well and the cream sauce wasn't too heavy allowing you to still taste the freshness of the seafood and the taste of the lobster.
I also recommend another dish called "Risotto del Pescatore," which translates roughly to seafood risotto. Again, piled high with a variety of seafood, it reminded me of a combination of bouillabaisse and gumbo but with more Italian flavors present.
If you're not a fan of seafood I recommend the Chicken Francese, which is chicken breast battered in egg and cooked with shallots and mushrooms in a wine white sauce, served over a bed of a spaghetti.
It's light, refreshing, and comforting and the chicken breast retains its juiciness.
For dessert, go with the tiramisu. It's a classic, made in-house at Manalù and quite good. The cream is light and fluffy, the espresso is present but not overpowering and it's the perfect size to share.
Pontecorvo told me Manalù is meant to be a cozy restaurant that makes you feel "like you're eating in your mom's kitchen," and that aura definitely comes across. It's fine dining but you feel comfortable there like slinking into a familiar couch.
I must also make a note about the waitstaff at Manalù. They are some of the friendliest and most attentive I've ever come across. They can both joke with you and recommend a good bottle of wine to accompany your meal and they are present and welcoming without being overbearing.
And it is the waitstaff, I think, more than the food or the corny Italian music that plays over the speakers that truly makes Manalù feel like you're at home, eating in your mom's kitchen.
Katryna Perera is the food reporter and critic for the Frederick News-Post. A long time "food enthusiast" she has taken cooking classes both domestically and internationally and is continuously following food trends and restaurant openings. She also briefly studied food reporting while attending Columbia University's Graduate School of Journalism.
Follow Katryna Perera on Twitter: @katrynajill