Why did the human cross the road? To check if their local Popeyes had a chicken sandwich.
That's what many humans, including your new food reporter, spent the last three weeks doing after Popeyes Louisiana Chicken debuted their first-ever fried chicken sandwich.
As more people began to get their hands on one, the fame of the sandwich blew up online. As one user on Twitter noted, the "chicken wars of 2019" began as Popeyes, Chick-fil-a and Wendy's lobbed smartly written attacks at one another trying to lay claim to who truly had the best chicken sandwich.
As former food reporter Kate Masters' last day at The Frederick News-Post approached along with the deadline of my first food story, we decided to traverse Frederick County looking for the sandwich.
By this point, many Popeyes franchise locations across the country had sold out of the item. Pictures of store doors and drive-thru menus with pieces of paper saying "Sold out of chicken sandwich" had quickly populated the internet.
But we were hopeful. How many people in Frederick were actually going out to get this sandwich? It couldn't be that many.
Every location in Frederick County was sold out and we came back to the newsroom disappointed.
Later that afternoon, the official Twitter account of Popeyes tweeted "Y'all. We love that you love The Sandwich. Unfortunately we're sold out (for now)." Most took that to mean they were sold out nationwide.
Andrea Moreno, an employee of the communications department of Restaurant Brands International Inc., which handles public relations for chains like Popeyes and Burger King, said the franchise had seen an "extraordinary demand" for the new sandwich.
"The demand for the new Chicken Sandwich in the first few weeks following launch far exceeded our very optimistic expectations. In fact, Popeyes aggressively forecasted demand through the end of September and has already sold through that inventory," Moreno said in an email. "As a result, Popeyes restaurants across the country are expected to sell out of the Chicken Sandwich by the end of this week."
The nail had been put in the coffin. I would have to wait, perhaps months, to try this sandwich and my first food review was going from bad to worse.
But being a journalist and being trained how to think on your feet, I quickly pivoted the story to where else in Frederick County could one get a chicken sandwich.
The answer? A lot of places, but I zeroed in on Café Nola downtown. Their sandwich is pretty classic — a buttermilk fried chicken breast, pickles, lettuce, tomato, and a honey mustard vinaigrette all served on a kaiser roll.
I spent my Friday lunch break sitting at the bar of the cafe trying their version. The chicken breast was thick but slightly bland. There was no immediate sense of flavor in the batter, although the pickles and vinaigrette made up for it. And at a whopping $14 it was hardly worth it, even if you did have a craving.
As I sat there eating my lunch listening to the BeeGee's playing loudly over the speaker system, continuing to wallow in the disappointment of not succeeding with Popeyes, I received the tip of a lifetime: The New Market Popeye's had the chicken sandwich. As I raced down Route 70, Kate texted me. "I am on the edge of my seat. The tension in the newsroom is high," she said.
I pulled in so fast to the red and orange shop tucked next to a CVS that I practically jumped the curb. After waiting in line for what seemed like an eternity, I held the most famous chicken sandwich currently in the nation in my hands.
Bite one. "Wow this is really hot," I thought. Bite two. "This is so juicy."
The chicken had just come out of the fryer and it tasted like it. The bun was slightly sweet and the batter was flavorful. The mayonnaise didn't add much but the tang of the pickles was a nice addition.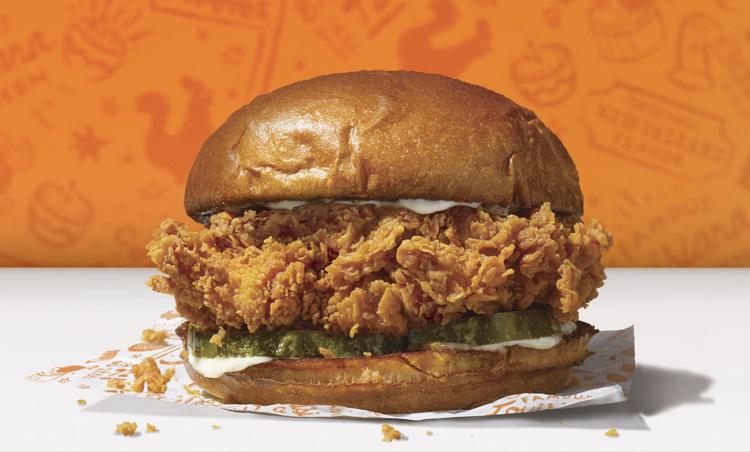 Compared to Chick-fil-A's classic chicken sandwich which is the same sans mayo, Popeye's was leagues ahead. Mostly due to the freshness. Chick-fil-A's chicken — which I ate two days prior — tasted like it had been sitting under a warmer and the breading was a little dry.
Yamisha Hansberry, general manager of the Popeyes in New Market, confirmed that almost every sandwich is made fresh to order and the process is tedious. Hansberry said each chicken breast meant for a sandwich must be knuckle-kneaded by an employee nine times before being battered and thrown in the fryer.
"We have an entire new station in the kitchen and it's new batter and chicken," Hansberry said.
Before the debut, she was told to hire two more employees but that quickly proved to not be enough.
"We don't even have time to talk to one other, that's how busy it's been," Hansberry said.
When I asked one of the cashiers how many people had come in to order sandwiches his reply was short but meaningful.
As I finished up my sandwich one big question still lingered in my mind — the does the New Market location still have the sandwiches? Hansberry explained. She said the New Market store and 34 others in the area are all owned by the same family. Once they recognized how high the demand was, they rented their own U-Haul trucks to drive to distribution centers and get as many supplies and ingredients for their stores as possible.
This little change by one cluster of franchises has paid off. Hansberry said at their store alone, sales have increased by 100 percent. They were expected to increase by only six.
"The fact that it's running out people are more in a frenzy to get it, but it really is a good sandwich," Hansberry said.
As a parting gift, I brought Kate a sandwich to try and after her first bite, she gave her last review for the News-Post in four words.
"It's really f—ing good," she said
Follow Katryna Perera on Twitter: @katrynajill.