Right now, George B. Delaplaine Jr. is just a guy.
In this moment, he's not the brilliant businessman who once sold a cable company for hundreds of millions of dollars. He's not the author of a recently released memoir, "Read All About It! My Life, Times and Travels." He's not the Frederick icon who's donated so much of his time, money and brainpower to philanthropic efforts aimed at bettering the city he loves. He's not the former publisher or the former editor of a local newspaper. He's not the president of a printing and manufacturing company. He's not the fearless cub reporter or the celebrated Eagle Scout or the unwavering man of faith.
Instead, right now, George B. Delaplaine Jr. is just a guy.
A guy sitting in the lobby of the American Legion Post No. 11 on a searingly hot Friday night in July reading over a speech he's about to give in honor of the post's 100-year anniversary. At 92 years old, he's as meticulous as ever, his khaki slacks covering the legs that cross in front of him. His posture isn't what it used to be, but it's still one that promises a man of honor kindly sitting somewhere within the soul of his hunched shoulders.
That's why the mere sight of him sitting alone feels weirdly inappropriate. With so much honor in the room, one would think Delaplaine could find a kindred spirit with little to no effort. And, within minutes, he does. One man sits in the chair next to him. Another comes to join the conversation. Before long, his chair is surrounded by veterans of wars that once ran on honor, wars fueled by those who put a premium on probity.
As the social hour before the celebration winds itself to an end, Delaplaine rises from his chair and shifts his energy toward the main room. He shuffles, leaving the chore of walking years in the dust. Eventually, he winds up standing in front of a trophy case unable to move because the flock of area dignitaries that encircles him grows larger by the minute. His thick-framed glasses hide eyes of excitement and gratuity. The perfect white-gray coif that sits on his head almost a century into his life remains untouched.
It isn't long before the clock strikes six and the program is about to begin. The circle dissipates and one of the most influential people to ever call Frederick home makes his way to his seat. He's seated next to a man in full Army fatigues. Until now, they had never crossed paths. Delaplaine extends a hand. The stranger shakes it. In unison, they sit down. Only a handful of seconds pass before the man leans in toward his new friend, hoping to hear whatever pleasantries Delaplaine is offering.
The man laughs. The crowd falls silent in anticipation of the celebration's beginning, but the man can't stop chuckling as he turns toward what's about to commence in front of him. He shakes his head, continues to smile and readies himself for the program, finally allowing the room to hush.
George, meanwhile, grins to himself as he glances down at his feet. As the evening officially begins, his grin widens into a smile. For the next hour or so, it won't leave his face.
Building an empire
Some preteens might start a lemonade stand for extra money. Others could shovel snow in the winter or pick up some household chores.
Some deliver the local newspaper to pick up some extra cash. George Delaplaine?
As he writes, along with Matthew Robb, in "Read All About It," Delaplaine was all but 12 years old when he received a typewriter as a gift. Before long, his entrepreneurial spirit shone through with the idea to publish his own newspaper, creatively titled "The Foo." He enlisted his sister Franny to help with the project, believing her maturity — at the ripe old age of 14 — could help advance the paper.
The name came from the "Smokey Stover" comic strip, where a phrase, "The foo, the whole foo and nothing but the foo," caught the boy's attention. Between brother and sister, they did everything from sell ads for the publication to hand-deliver it themselves. The venture lasted five years and the duo sold each issue for three cents apiece.
"We probably spent 10 hours each week on 'The Foo,'" Delaplaine wrote in his memoir, "yet enjoyed every minute of it. Working together as equals, Franny and I became closer than ever."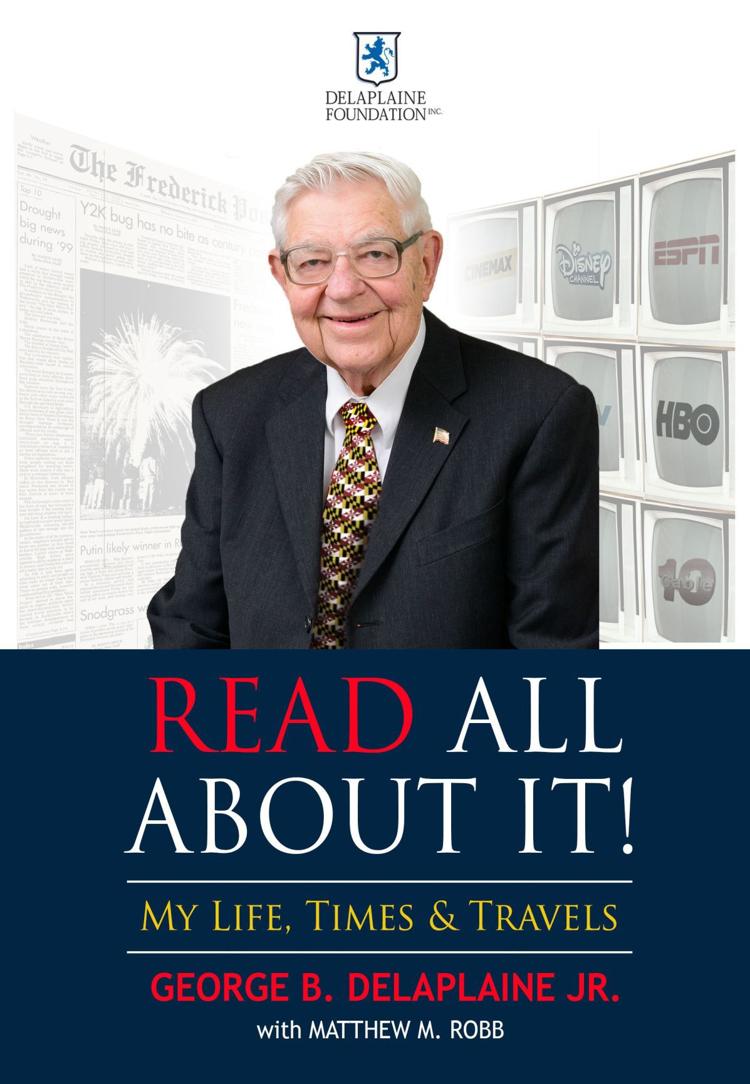 Creating "The Foo" would be a fairly strong precursor for Delaplaine's passions as he grew older. Turning 15, he joined the family business landing a job as a "printer's devil" at The News, which ostensibly amounted to having all the dirty work fall on him. He set type, cut paper, ran the stitcher, covered himself in ink and picked up whatever humble task needed to be done.
It would be valuable experience when his fiancée, Bettie Barker, who he met while she worked as an assistant in Hood's biology department, found herself at a coffee shop next to the editor of The Morgantown Post, a paper based in Morgantown, West Virginia. After studying at Johns Hopkins and Rutgers, Delaplaine had taken a job at The News and The Frederick Post, doing everything from stuffing envelopes to working in the newsroom. Six years of that, and Delaplaine knew it was time to move on. Perhaps more importantly, though, so did Bettie.
Her chance meeting with the Morgantown editor led to the newlyweds moving to West Virginia as Delaplaine pursued a career as a general assignment reporter, even throwing in help as a photographer from time to time. They spent 12 months in the Mountain State before returning home to Frederick. Bettie was pregnant and George was about to turn 30. It was time to return to the family business.
For the next eight years or so, Delaplaine immersed himself in the administrative side of newspapers. It would pay off in 1964 when his uncle, William T. Delaplaine Jr., died. At 37, after 15 years of working in print media, George Delaplaine Jr. became the publisher and general manager of The News.
"My father said, 'I'll take care of the money end'," George Jr. reflected recently in an interview, "'and you get the paper out each day.'"
Still, there was something George couldn't get out of his mind, something he once never thought he'd explore: Cable television. As he wrote in "Read All About It," "In early 1966, the cable TV bug bit me hard. People ask if I had one big eureka moment, but the answer is no, not really. Instead, my eyes were gradually opened by a series of fateful revelations."
The most potent revelation around that time came in the form of Jim McSherry, who was co-owner of a group called Frederick Cablevision. McSherry approached George about joining the Cablevision team and the newly minted publisher was conflicted. He knew cable television was the future, but he also knew he didn't have a whole lot of free time on his hands.
Things changed the next day after a conversation with his father. According to George Jr., his dad was "ambivalent" toward the move, but believed in his son enough to support his venture into the cable television world via the family's Great Southern Printing and Manufacturing Company. Before long, Frederick Cablevision was competing with the Cable Company of Frederick, a venture led by a D.C. man named John Hanly and a local businessman named Dan Weinberg.
Both companies bid on being the exclusive cable provider in Frederick to the Board of Aldermen. Conflicted, the board passed an ordinance that allowed both cable companies to cross Frederick's streets and install coaxial cable. Whoever gained the most customers would ultimately win the ability to be the city's premiere cable company. Weinberg, for his part, didn't much care for the competition, though, and pulled the Cable Company of Frederick out of the running.
And so it went. Cablevision would hit the airwaves in the summer of 1967 and go on to become the preeminent cable provider in the Frederick County area for years. When its parent company, GS Communications, was sold in 2001 to Adelphia Communications Corporations, the sale would ultimately grant the Delaplaine family an unparalleled amount of generational wealth for decades to come.
It would also grant George B. Delaplaine Jr. the ability to pursue what would become his most lasting fixation: philanthropy.
Building a legacy
In order to know George Delaplaine, you have to know Marlene Young. Perhaps his closest confidant since his wife Bettie died, Young speaks carefully but caringly. She defines poise, but she's also stern when she needs to be. Spend only a handful of minutes with her and you'll realize that menial things like frustration and anger aren't ideals that she allows to surface whenever she interacts with others. All traits of an indispensable asset.
"Marlene started out at the cable company and my wife was working part-time there," Delaplaine explained. "My wife told me, 'Watch that girl; she can do anything.'"
In the 1970s, Young was a recent graduate of Hood College and saw there was an opening at Frederick Cablevision. She interviewed with Myron Randall Sr. and landed a job as a customer service representative. Yet even with the position at the cable company cemented, it still took a couple pounds of chewing gum to formally introduce the two.
Young, as she explains in the foreword to "Read All About It," was at the lunch counter at McCrory's in downtown Frederick when Delaplaine came into the store to buy a bulk package of chewing gum. She wondered why a man "of his stature and wealth should be concerned about the difference between the price of a single pack of gum versus bulk," she wrote. "But then he said to me, 'If you take care of the pennies, the dollars will take care of themselves.'"
Nearly four decades later, the moment still sticks with her. It was the beginning of a working relationship that would intensify through the years — and the tragedies. After George Sr. passed away in 1977, for instance, George Jr. knew he would need an extra boost of help moving forward.
"George approached me and said, 'I'm really going to need somebody as my right-hand — would you be interested?'" Young reflected recently. "Long story short, when I joined the company, we had 1,200 cable subscribers. When we sold the business in 2001, we had 125,000 cable subscribers. The cable end of the business had grown into four states, so I was making the rounds at all of those offices."
While she rose from customer service rep to his right-hand, her title eventually turned into executive assistant, which eventually turned into director of human resources, which eventually turned into administrative vice-president for Great Southern Enterprises. These days, not only does she hold that title, but she also serves as the president of the Delaplaine Foundation.
"Marlene witnessed and contributed to a lot of George's success in the cable business, so she was an important storyteller," Robb, who worked with Delaplaine and Young on "Read All About It," said. "She's the unsung hero of the book. It wouldn't be possible without her. She facilitated the process every step of the way. I don't think we would have been as happy with the final book without Marlene."
Perhaps the most telling commonality Delaplaine and Young share is their commitment to faith. Both are religious.
Young was brought up with strong values and principles that relied on the ability to be grateful. Another powerful mantra instilled in Young throughout her early years was the desire to always lift up others whenever needed — traits she shares with George that might explain why they get along so well. These things, she said, have been essential while leading the Delaplaine Foundation.
"It's not work, it's a calling," Young noted. "Because through some of the grants that we make at the foundation, we're able to really move the needle for people who otherwise would be in a situation of not knowing where their next meal is coming from or if they would be able to make a mortgage payment."
She went on to explain how the Delaplaine Foundation makes it a top priority to help others. Among the examples she listed regarding how the organization stays committed to that included grants at the Religious Coalition for Emergency Human Needs, and the group's funding of the eviction prevention program, and the cold weather shelter. It was always the foundation's philosophy, she noted, to give back to the communities that have been good to them. The organization's work, she argued, perpetuates that.
"George has always believed in me and he gave me great autonomy," she continued. "I would give him an idea and he would say, 'That has some great possibility. Take that ball and run with it.' That's what I've been able to do. George has this very strong anchor in his faith. You are to be your brother's keeper, you are to help those less fortunate — as a child during the Depression, that was impressed upon him by his parents. He learned how to provide to those who weren't able to provide for themselves, not by giving, but by offering opportunity through that giving."
A center in his name
One of the most popular examples of the Delaplaine Foundation's giving comes in the form of the Delaplaine Visual Arts Center. Established in 1993, the location at 40 S. Carroll St. has been a hub for local artists for more than 25 years now. Not only does the 40,000-square-foot building host exhibits, but it also offers more than 250 classes annually that tackle everything from woodworking to ceramics to photography.
Catherine Moreland is the current CEO of the Delaplaine Center. She began her work at the establishment about 24 years ago, when she came on as executive director after working as director of Group Ticket Sales at Wolf Trap in Vienna, Virginia. She wanted to work in visual arts and thought the job at the Delaplaine would satisfy that need.
"George is amazing in so many ways," Moreland said recently in an interview at her office at the center. "He's the most generous man I've ever met, he's probably the smartest man I've ever met. He's also a perfect donor in that he's hands-off. He does not get involved in the minutiae of running this business, but he is there with advice and opinion. Over the years, his input has been really important. He's very much a financial man and he's had a role in helping us get to a really good financial reporting state."
One of Moreland's lasting memories while working at the Delaplaine is the interaction she would have with George's late wife Bettie. She would pop in at least once a month, the CEO explained, and was very much a fan of visual art.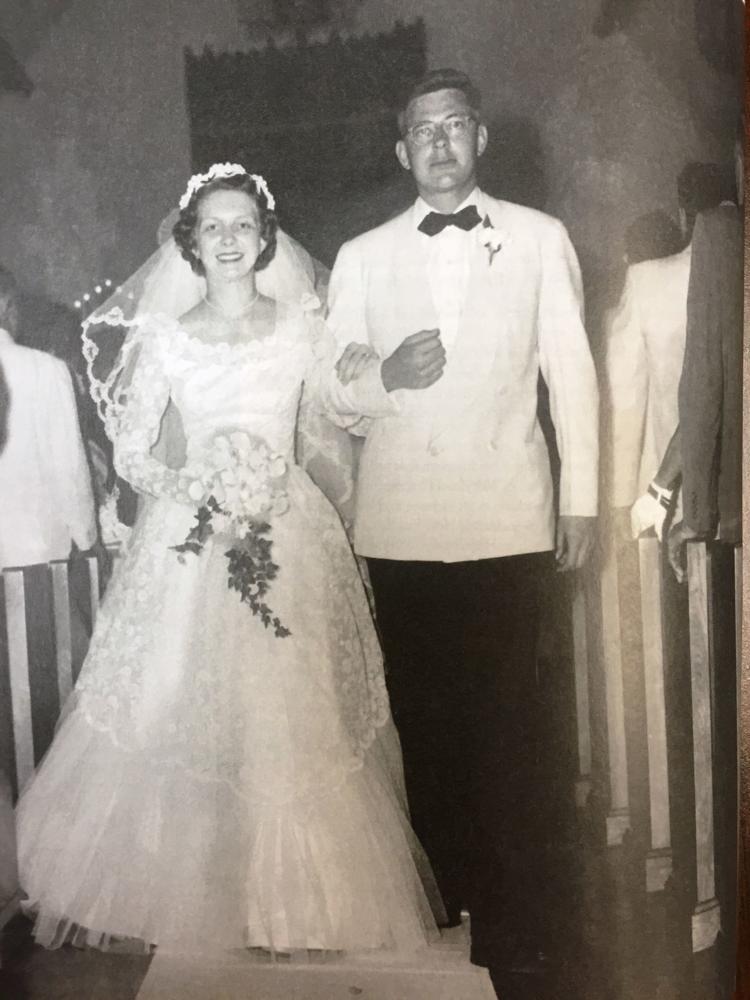 "She liked to say, 'Everyone's entitled to my opinion,'" Moreland recalled with a laugh. "You never had to guess what Bettie's opinion was, which was very refreshing. Had she been unkind in any way, it wouldn't have been refreshing, but she was very kind but very opinionated."
After her death in 2014, the center introduced the Bettie Awards, which is an annual art competition aimed at showcasing younger artists. Bettie was a big fan of emerging artists, Moreland noted, and she always wanted to encourage younger people to get into the arts. The program highlights ninth- through twelfth-graders who live or go to school in Frederick County. It's free to enter the competition and the winner receives $1,000.
Moreland was mum on the possibility of introducing the George Awards at some point, though she was quick to note how much she believes the center that bears his name means to the man who helped get it off the ground.
"I think what we do here makes him proud to have his name on it," she said.
But does she know that for sure?
"Well," she added with a polite snicker, "he's a man of few words."
A golden reputation
While George Delaplaine might be a man of few words, his actions may leave some speechless. He sold both The Frederick News-Post and Great Southern Communications after he turned 75 years old, with no intention of retiring. He's given away more money than most families make in a lifetime. Even Maryland Sen. Ron Young, who has done his fair share to help grow the Frederick community, admitted how imperative Delaplaine's legacy is to the history of the city.
"He gives a lot back to the community and I'm not going to knock anybody who gives money to the community," Young offered. "Philanthropy is his legacy. There are a lot of projects that they've given money to that I don't know if any of them would have made it, but a lot of good things happened from having the money to do them."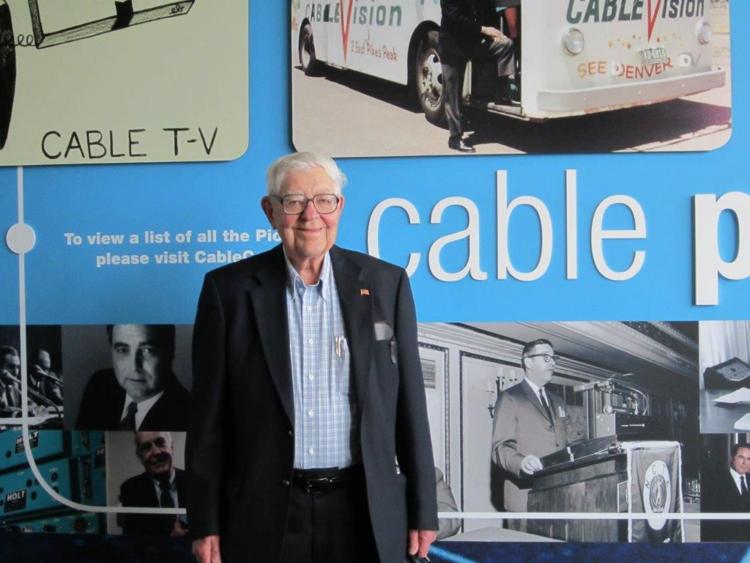 Yet aside from all the money, the donations, the businesses and successes, it could be argued that Delaplaine's most lasting impact is the impact he has left on the people around him. Attempting to find someone who would say a bad word about him is akin to the Frederick icon and noted swimmer — or anyone — swimming the length of Carroll Creek in under five minutes. It's not going to happen. No matter who you talk to, the story is always the same: He's kind, he's a leader, he's brilliant.
Chris Haugh, currently the Community Relations and Historic Preservation Manager at Mount Olivet Cemetery, rose through the ranks at Frederick Cablevision under the leadership of Delaplaine, all the way to the title of Local Origination and Commercial Production Manager. He oversaw between 40 and 45 people on both a part- and full-time basis. These days, he speaks fondly of his time at the cable company and refers to George Jr. as the encyclopedia of Frederick history.
Even so, as far as Haugh is concerned, more valuable than anything Delaplaine has accomplished professionally are the friendships he's cultivated over the years. After reminiscing about how his former boss came to his wedding, he recalled the final days of Frederick Cablevision under Delaplaine's watch.
"March 11 of 2001, that was the last day of the Delaplaine ownership of the cable company," Haugh relayed. "On that last day, it was a quiet, somber, sad day. I remember going in at the very end of the day to Mr. Delaplaine to thank him for my career and all he had done. It was very emotional for me. It was like I had never seen him before because all the energy was out of him. He was an emotional wreck but he was still trying to be George Delaplaine. I could tell it had been a tearful day. I extended my hand to thank him.
"He shook my hand," Haugh continued, pausing as he recalled the memory, "and he said, 'Thank you for all that you've done.'"
The former Cablevision employee paused.
"Then he said, 'Will you still be my friend after this?' You could tell he felt the responsibility of everything that was going on. I said, 'I'll always be your friend.'"
That recollection in mind, Haugh stared beyond the window of his office, his speech paralyzed if only for a moment at the recollection of the man he calls Mr. Delaplaine ensuring that his friendship was worth just as much as the company he once owned.
Carrying on
"We said we'd give him five minutes," David Swiderski, Post Commander for the American Legion Post No. 11, says a few moments before Delaplaine approaches the podium for his speech at the 100-year celebration. "But I don't think that's going to happen."
Swiderski is right. Delaplaine's speech goes a little over 22 minutes.
As it comes to an end, the man of the hour explains how he's "fighting a terrible battle right now."
"I still have a good friend," he says, "and one of the two of us is going to get that bottle of wine."
He's referring to the Last Man's Club that celebrates those who both fought in World War II and are still alive. The group is down to two members and the last one alive, as he proclaimed, will receive a bottle of wine. Of all the things his time in the U.S. Navy brought him, the last thing he thought it would eventually bring, some 70 years later, is a free bottle of alcohol.
The crowd erupts in laughter and then provides Delaplaine with a standing ovation. A few days later, he's back at his office, preparing to head out on vacation for three weeks with his family. The preparation for the trip, much like preparation for his speech the week prior, is the only thing on which he can focus. All this time and he's still committed to getting every tiny thing right.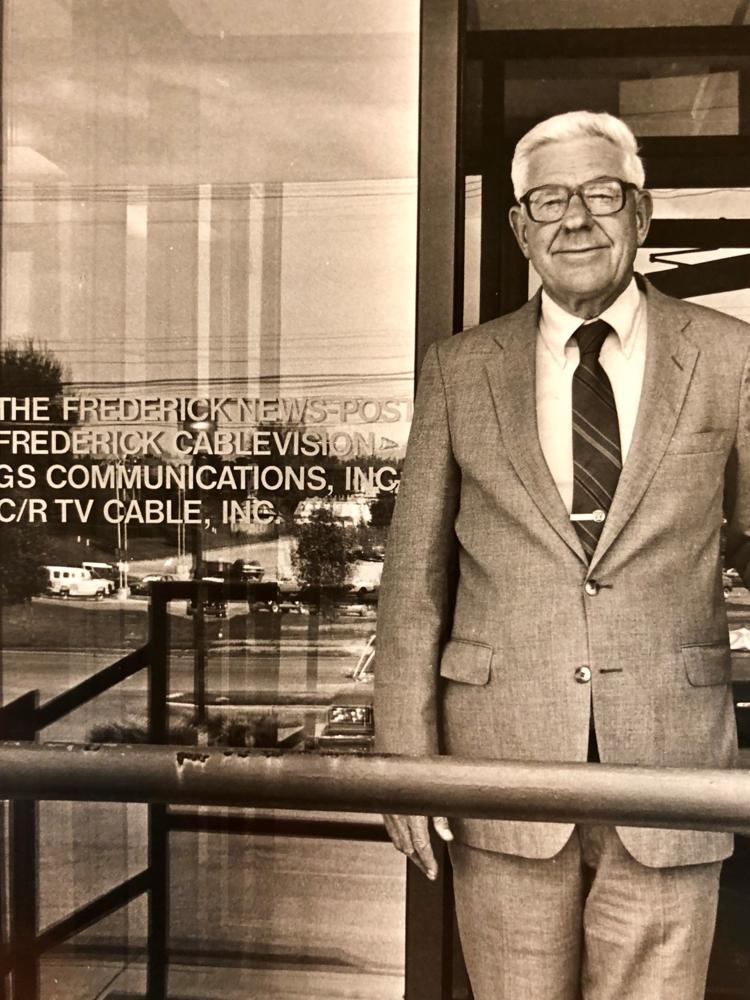 To this day, he stays committed to his newspaper roots. "The Foo" has been replaced with The Great Southern Enterprises newsletter he publishes once a month for friends and family. The July edition chronicled a recent trip to Arkansas he took to profile the history of Walmart. When he talks about traveling south, his voice lowers, almost in shame, as he admits he got there via his own airplane, continuing to prove that to him, money is neither the only thing nor everything. In fact, his humble demeanor suggests that he could be just as happy without it.
Slowing down isn't in his vocabulary, let alone his future. When he's asked what he'll do after his vacation, he responds, wryly, "what I've been doing," and then he extends a deep laugh. He spent three weeks — including weekends — preparing for his American Legion speech, and it excites him to talk about the work he put into it. His wits are still there, his passion is as prevalent as ever and it's clear that the only switch he knows anything about is "on." The off switch is as foreign to him as a world without the benefit of mass communication.
"To really understand George," Robb once said, "you have to understand that he is a product of the church, the Boy Scouts of America, the Great Depression, and World War II. He is the quintessential good Christian and lifelong Eagle Scout. He is a visionary and diehard entrepreneur. He certainly is not touchy-feely, but is empathetic, compassionate, and has an enviable record of helping thousands of less fortunate residents in Frederick County.
"George did well when he sold the cable business, but you don't see any excess in his life," the co-author continued. "His one splurge was covering his swimming pool at home because that's his exercise, his way of dealing with stress in his everyday life. I have written stories on hundreds of people for newspapers, magazines, and then in memoirs. Rarely have I found someone like George Delaplaine who people so universally love, respect, admire. Everyone I talked to had such praise for the man."
Right now, though? None of those laudatory words seem to matter to the guy. Instead, he's more concerned with his next move, which at this time, is his next newsletter, an extension of the ink that's in his blood. Just like he did 80 years ago with "The Foo," he writes all the stories for it and he takes all the photos for each article. He insists he has as much fun today with the newsletter as he did decades ago with his sister working on their first foray into business.
"I feel like I have to do it," he says, his low voice trailing toward the floor, where his head is currently directed. "I don't know what the hell I'd do if I didn't do it."
With that, he rises from his chair and heads downstairs, ready for his vacation.
Right now, he is the brilliant businessman. He is the author. He is the Frederick icon. He is the former publisher and former editor. He is the president of a printing and manufacturing company. He is the fearless cub reporter and the celebrated Eagle Scout and the unwavering man of faith.
He is, much like he has been for nearly 100 years now, more than just a guy. He is George B. Delaplaine Jr.