The news came early in the morning, Brian McMullen remembers. His wife shook him gently awake. She hadn't been feeling well for a few days, and the lines on the pregnancy test she was holding showed why.
He stood in C. Burr Artz Public Library on Thursday afternoon, absorbed in the memory as Alice — his now-2-year-old daughter — bounced around him, sporting polka-dotted rain boots and a zebra-print dress with bright pink trim.
"This is happening," McMullen, 33, remembers thinking. "Can I do this? Can we do this? What's it going to be like?"
The couple had been trying for a child for some time, he said. So despite the confusing cocktail of emotions, McMullen was overjoyed.
Twenty-seven months since he first held his daughter, he smiled down at her as she confidently counted picture books in the pile she had built on the floor. Navigating life with a toddler has been challenging, he said: Alice's independence is growing stronger each day, and she sometimes decides to push boundaries at inopportune times.
"We can't have that independence in the middle of the street while we're trying to cross," he said with a chuckle. "She has decided that she doesn't want to hold my hand anymore, and we're just trying to make sure we don't get hit by a truck."
For Father's Day, the News-Post spoke to dads around the county. From park benches, shoe stores and riverside beaches, they shared their reflections on fatherhood, their frustrations and delights.
Here are a few of their stories.
Tyrone Weedon Jr. led his boys out of a shoe store in Francis Scott Key Mall on Thursday, each of them clutching a plastic shopping bag.
Before too long, Teddy — who's 9 now but is quick to remind you that he's almost 10 — and 12-year-old Tyrone III will start attending a summer agility clinic aimed at getting them back in the swing of sports after a year off.
Both boys play football and basketball. Their dad was an athlete growing up, too.
"He has, like, 20 million trophies," Teddy said.
"Not quite that many," Weedon said with a laugh. "But more than they probably would have assumed that I had."
The boys keep Weedon in the loop on pop culture, he said, showing him music from artists he's often never heard of. They like to play Fortnite together, Tyrone III said.
Like anything new and unfamiliar, becoming a father was scary, Weedon said. There's a new sort of apprehension now, as his oldest gets ready to enter his teenage years.
"There's a lot of moments that I will never forget," Weedon said. Then he added: "There's a lot of moments that I would like to forget, too."
"But I wouldn't give these guys up for the world."
When Josh Tokar's foster daughter was first placed with him and his wife, she wanted almost nothing to do with him.
"I was just kind of there," he said, sitting on a shaded bench in Baker Park. "When I would go near her, she'd be like, 'No, go away.'"
On Wednesday, though, the little girl — 5 years old now — sat happily beside him, engrossed in a game of Pokemon Go. She bounded away, heading for the swing set, and called to Tokar enthusiastically.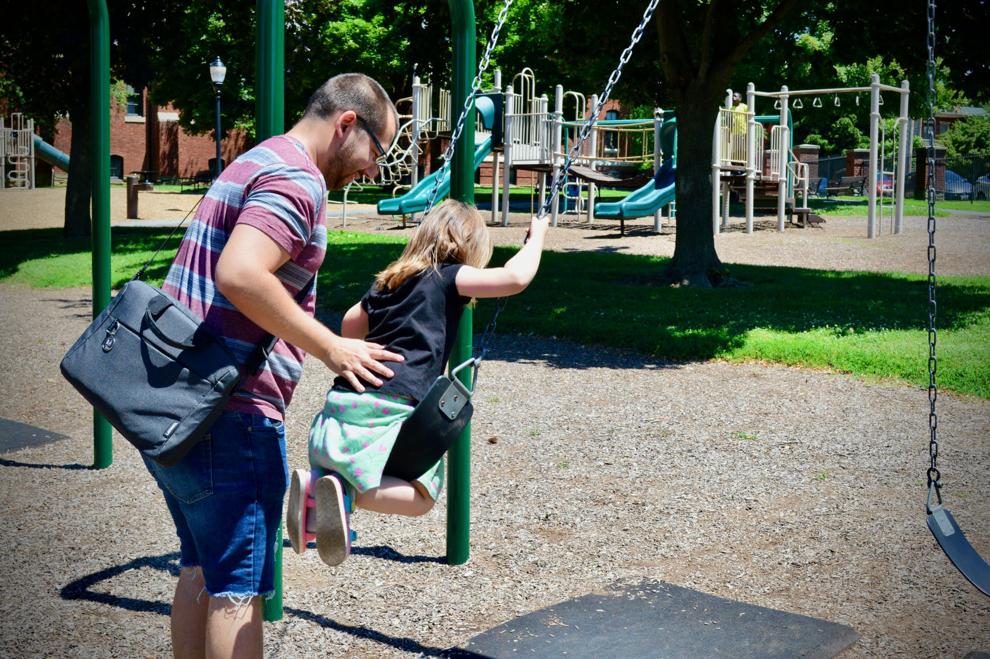 "I'm coming," Tokar, 28, called back. He lifted her onto a swing and gave her a push. She laughed as she rushed through the air, her hair swirling around her face and her rainbow sandals dangling.
Tokar's been amazed at the growth he's seen in his daughter over the year she's been with him. They spend plenty of time together now, jumping on the trampoline and building with Legos. The family's previous foster placements have been teenagers, Tokar said, so he acted as more of an older-brother figure to them.
Since the once-timid girl came into his home, though, Tokar has experienced a "delve into fatherhood."
"It's really changed my perspective," he said, following his daughter down a sloping, mulch-covered hill. "It's opened that caregiver part of my brain that wasn't open before."
At least once a week, Herbert Rivas brings his family to a riverside beach tucked off the walking paths at Monocacy National Battlefield.
Three of his four children splashed in the Monocacy under a cloudless sky Thursday. Rivas stood on the shore, goggles in hand, smiling out at them. They often catch crayfish, he said, proudly hoisting up a black bag filled with the hissing creatures.
Rivas was in the room for each of his kids' births, and the doctors let him cut the umbilical cord all four times, he said.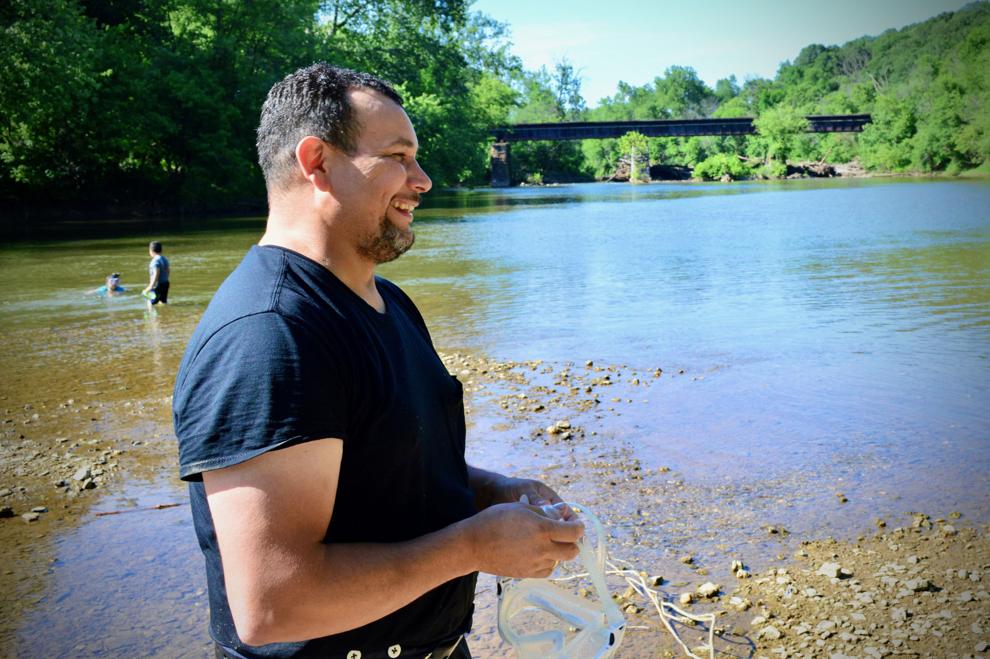 "I give thanks to God for giving me my life," he said in Spanish, "and the opportunity to be a father."
Rivas' daughter, Sarah, said she likes to watch Marvel movies with her dad. A lot of their time is spent outdoors, though: Rivas is trying to ensure his children have a close relationship with nature.
"To me, it's better than living in the city," he said. "You can share the birds, the fish, the water, the wind, the flowers — all of it."
In his six years of fatherhood, Bryan Aldeghi has learned it requires a constant, unwavering commitment.
"It's not a switch you turn on and off," he said Wednesday, his son and daughter climbing up to perch atop the picnic table where he sat. "You always have to be a dad."
"In case your kids break a bone," 6-year-old Zephyr interjected seriously.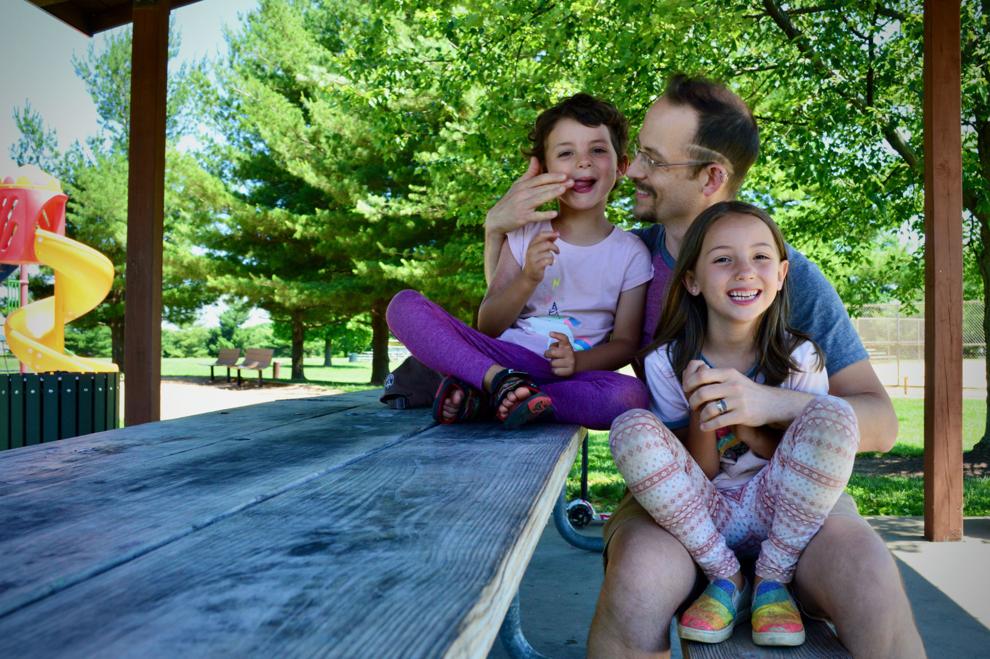 Aldeghi, 35, tries to take his kids on adventures near their home in Thurmont whenever he can: hiking, swimming, riding scooters at the park.
Just talking with Zephyr and 3-year-old Perrin is his favorite part about being their dad, he said.
"They're so much fun," he said. "They're the funniest people I know."
Zephyr said her dad was funny, too. She decided his humor was her favorite thing about him. But then she paused, and added: "And he's nice."
"This morning," she said with a grin, "he gave me frozen strawberries and whipped cream before breakfast."
When his own kids were growing up, Roderick Deacey had to spend more time at work than he would have liked to.
Now, his children work full-time, and Deacey often cares for their little ones. As a grandfather, he said, he's more involved on a day-to-day level than he was as a father.
This year, that meant being a full-time IT manager for 6-year-old Mavy's virtual kindergarten.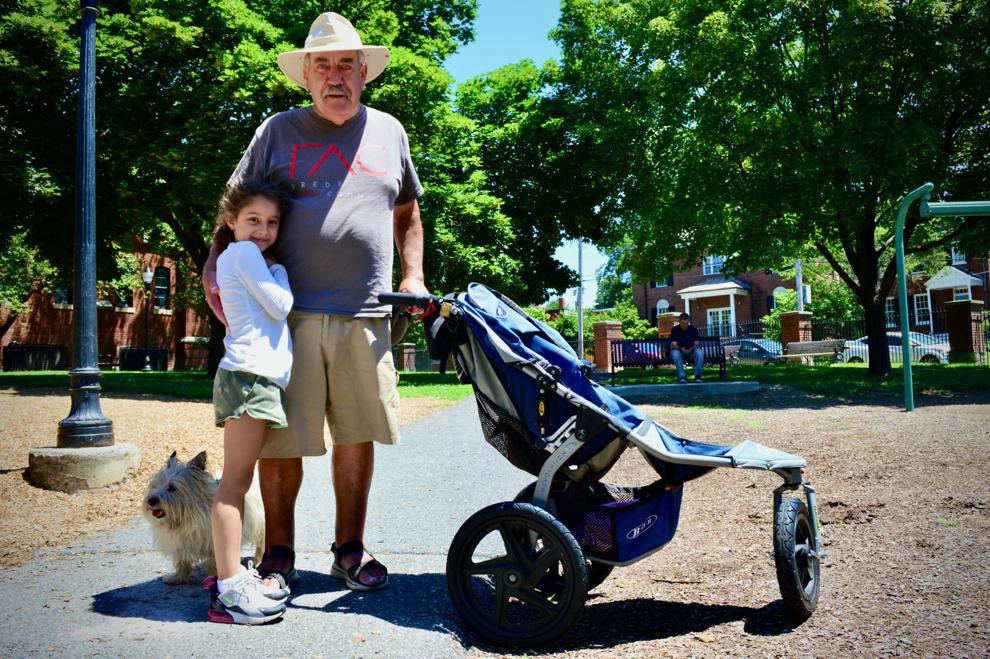 "It was interesting. I learned my numbers and my letters pretty well," Deacey, 77, said with a smile. "It was actually totally exhausting."
Despite the hurdles, though, Deacey smiled in Baker Park on Wednesday as he described taking his grandkids on walks around downtown Frederick and even driving them to 6 a.m. swim meets.
When asked what advice he'd give to newer dads, his answer was immediate.
"Spend time with your kids," he said as Mavy ran off toward the slide with a friend. "That's the most important thing."