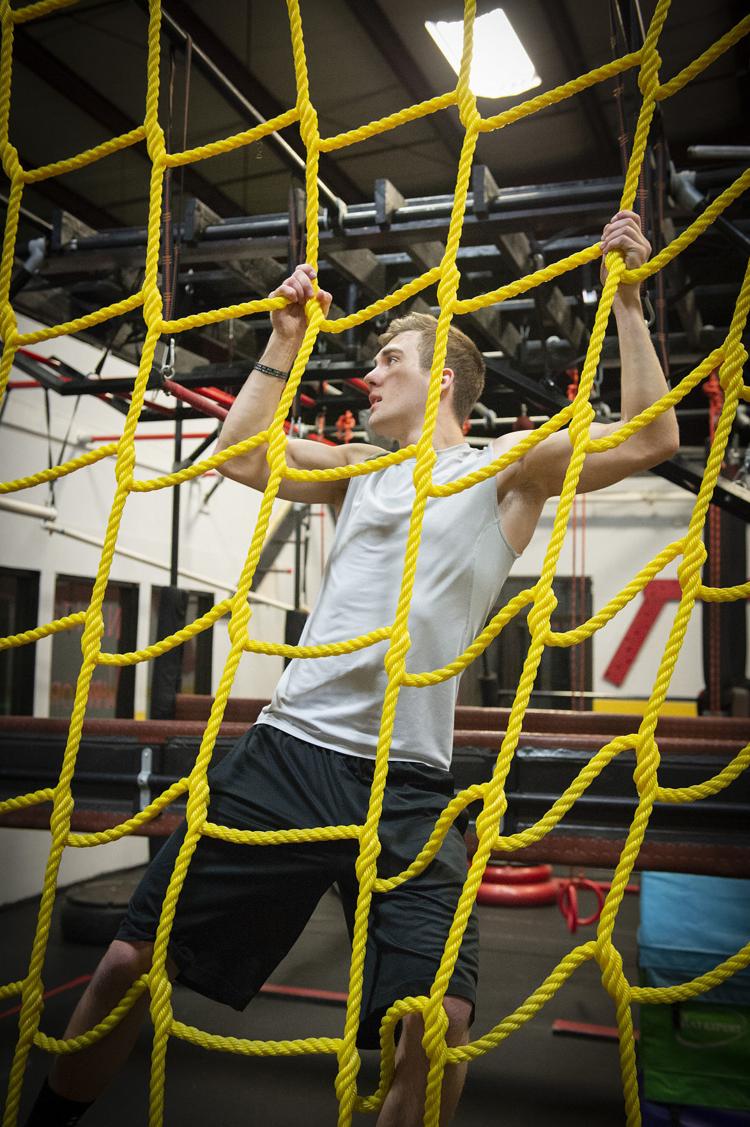 Heather Poffenberger sat with a book in the makeshift basement classroom of her Middletown rancher one day five years ago, trying to teach her 14-year-old son, Tristan. The rookie home-school instructor read to him from "The Hiding Place: The Triumphant True Story of Corrie Ten Boom."
But she had no idea if he was absorbing any of it.
In gestation, Heather explained, Tristan would "rumble" around in her womb. When he was a boy, his mother bestowed upon him the native name "Runs Wild." By age 12, the rambunctious kid was not a traditional learner, and school was a battle. So Heather removed him from Middletown Middle School and, despite her own deep personal problems, decided to take his education into her own hands.
That day in 2014, as she read Tristan the story of a Dutch girl whose family helped hide Jews during the Nazi invasion of Holland, Tristan traversed the rafters of their partially finished basement.
Fifty-six feet across. Fifty-six feet back. All just using his bare hands to monkey across the boards.
After doing 40 pullups, he hopped down in front of her, and Heather asked, "So, what did I just read?"
And he answered thoughtfully. And accurately.
"He was paying attention to everything I read him," Heather said.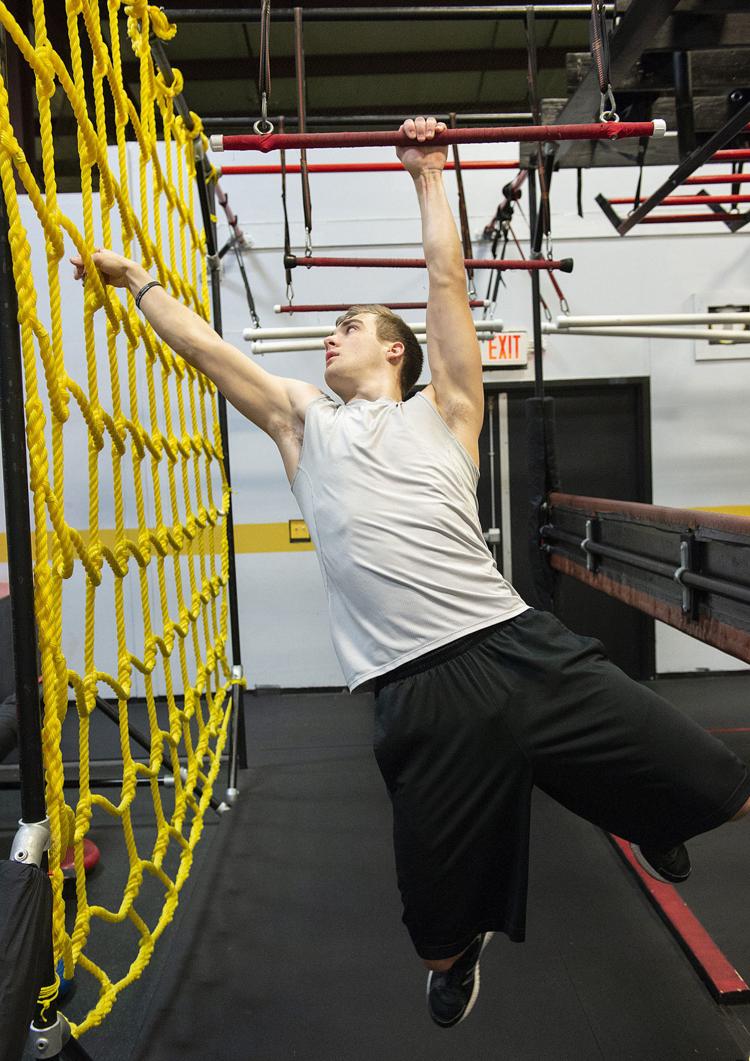 Given a glimpse into that peculiar educational setting, it's no wonder how this weekend that grown-up boy will channel all of his physical prowess and mental focus to fulfill a nearly lifelong dream. Tristan Poffenberger, 19, will be in Baltimore on Sunday for the taping of his city qualifying run for Season 11 of "American Ninja Warrior" — the show that persuaded him to treat the family's basement like his personal obstacle course. Even during school lessons.
And given the fact that he was home-schooled by a mom with a drug addiction who could've ended both of their lives on a perilous, reckless night in 2011, it's no wonder Heather says seeing Tristan reach this precipice is "a miracle."
"Because we shouldn't be here," she said.
Tristan's story — crammed creatively into a two-minute video he submitted online to the show in his first year of eligibility (he made the cutoff age by two months) — was one that had the "Ninja Warrior" casting directors saying, "We want to know more." Tristan used the video to display his skills, which aren't all that unique compared with those of most "ANW" contestants, but also to put his pure enthusiasm on display and tell the heavy tale of what he and his family have overcome.
Heather is central to that story. The incident he described in his video application taught him "at a young age that your life is so fragile, and you never know what's going to happen," he said. "Just go do. Go chase your dream."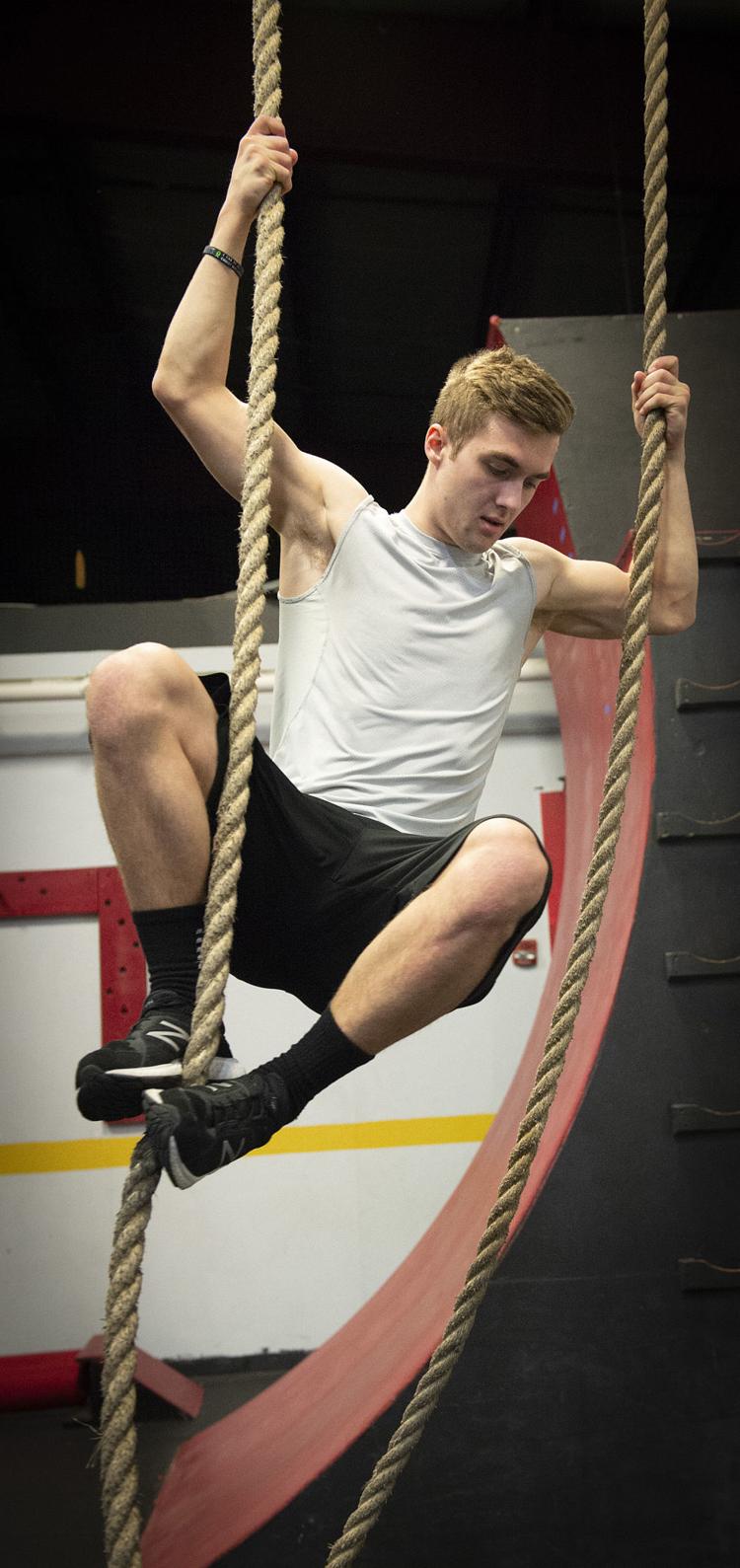 Tristan has been seriously training for his "Ninja Warrior" indoctrination since 2016, when he started working at Jump Climb Extreme in Frederick. Once owner Roy Klein put Poffenberger on the payroll, Tristan no longer had to climb the ceiling at home, or practice tumbling by jumping off his backyard trampoline onto mattresses.
It was a dream come true for him: He got to work at a place where he could finally, truly transform into a ninja warrior, honing himself to take on some of the tasks he'd seen only on TV as a faithful "ANW" viewer.
"I had never gone to a gym," he said. "Yeah, that was my first taste of the obstacles, and I liked it even more."
And it came naturally to him. Klein, who competed on the show five years ago, said the 5-foot-9, 155-pound Poffenberger "took right to it." Klein would show him how to navigate an obstacle, and Poffenberger could mimic him with ease.
"Two tries and no problem," Klein said.
Once the show dropped the age requirement from 21 to 19, Poffenberger began planning how to present his outgoing nature while also hooking the show's decision-makers with a crucial element — his subplot.
It revolved around Dec. 26, 2011, a harrowing night when Heather — who'd struggled with drug and alcohol addiction since her early teens — binged on prescription drugs just before taking Tristan home from a visit to his grandmother's house in West Virginia. Heather had raided her mother-in-law's medicine cabinet, swallowing a handful of medications. Then, she got behind the wheel of her white 1996 Toyota Tacoma with Tristan aboard.
"I had blacked out even before we left her house," Heather said.
She recalls only snippets of what ensued. But Tristan remembers every detail. It wound up being a trip fraught with hazards that not even a thrill-seeking kid would agree to take.
En route to Middletown, Heather stopped at an Exxon station, where she bought a can of Sparks malt beverage, which she downed before putting the vehicle in drive again as an employee tried to stop her from leaving. While departing, she slammed the truck into parked cars. Frantic, Tristan got on the phone with his father, D.J., pleading for help, unable to get his mother to stop. Heather swerved in and out of rocky ditches on the side of Chestnut Hill Road. She swerved in and out of her lane.
More than once, Tristan reached over and yanked the steering wheel to the right to avoid oncoming traffic as Heather drove — including on the U.S. 340 bridge over the Potomac River.
Finally, while exiting the bridge, the truck hit a structure, flattening a tire and forcing Heather to stop on the shoulder.
"I remember getting out and sitting on the road by myself and thinking, 'What the heck?'" Tristan said. "I was 11 years old at the time, and I don't know what's going on with her."
More chaos followed. Other motorists pulled over to assist them. Police arrived. D.J. Poffenberger arrived. Tristan cried. Heather was combative with police, who tried to restrain her. Tristan's aunt, Laurie Kershner, came to get him.
Heather left in an ambulance.
On the way to Meritus Medical Center, Heather said, she stopped breathing due to an overdose. Paramedics had to revive her more than once.
She spent nearly three days in a coma.
With police preparing to bring charges of child endangerment, Heather was booked into rehab at Mountain Manor Treatment Center in Emmitsburg.
Tristan withdrew. He wanted little to do with his parents, because he didn't understand how they'd accepted that lifestyle. He just knew he didn't want that for himself.
"He hated me," Heather said. "And I agreed with him. What he didn't understand is I hated myself for 30 years, and no one knows that kind of hate until you admit it to yourself."
Tristan's grandmother Abby Armentrout urged him to embrace Christianity, which helped him realize he had a purpose in life. It also helped him forgive his mother, who cleaned herself up and began reconfiguring her life, also with a focus on religion.
Free from the shackles of her addiction, and back home, Heather saw more clearly what her son needed to thrive. So she took Tristan and his little sister, Audrey, out of public school in October 2012.
"I got cleaned up and I realized I had a brain," Heather said.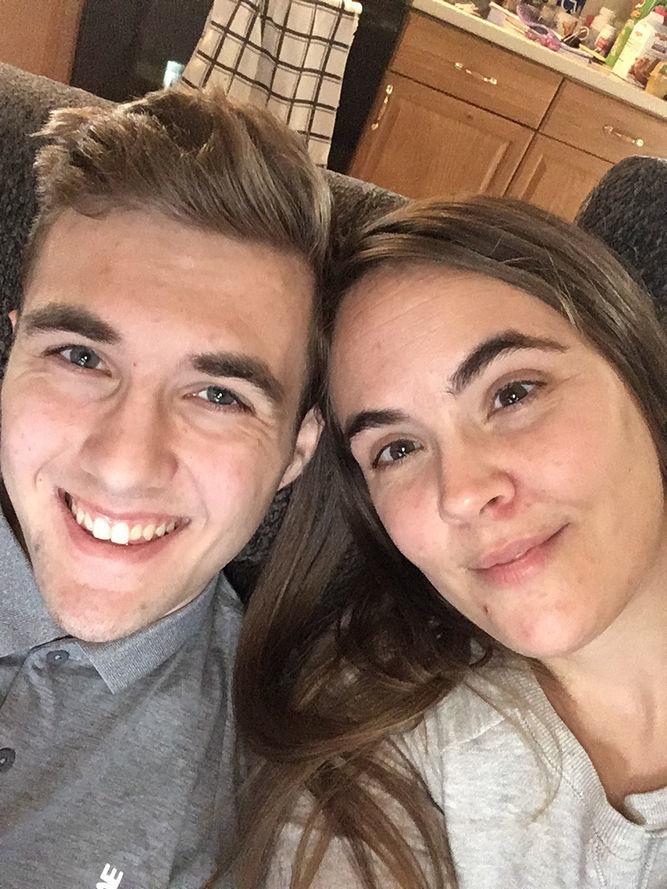 This home-school arrangement granted Tristan — an average student who'd struggled to focus and whose small size invited bullying ("I was on speed dial in the principal's office," Heather said) — the freedom to learn, at times while he zigzagged around the basement, suspended from 10-foot-high rafters.
"That's when the training really took off, because I wanted something to focus on to put my effort into," Tristan said. "Instead of doing something bad or stupid with my life, I've decided to do that and to share my story with people, and to devote myself to training."
His ninja warrior skills expanded. Now, he teaches kids those skills at Jump Climb Extreme, projecting his playful, fearless energy.
"The kids really love him," Klein said.
Tristan got a call from "ANW" a few weeks ago, informing him they'd accepted him as a competitor. He cried.
With cameras rolling and an audience watching, he'll make his "American Ninja Warrior" qualifying run at Rash Field near the Inner Harbor sometime between 4 p.m. Sunday and 7 a.m. Monday.
After enduring the nightmare obstacle course his mother put him through in that truck several years ago, Tristan now gets to attempt the obstacle course of his dreams.
Said Heather, "If I can get sober, my son can do this."