Sharp rises in voter turnout, an evolving electorate and gains in key areas of Frederick County were all factors in helping to turn the county blue in the 2020 presidential election for the first time since the 1960s.
President Joe Biden flipped more than two dozen precincts that Republican candidate Donald Trump won in 2016, and Biden made significant gains in others in the county's first vote for a Democratic candidate since Lyndon Johnson in 1964, according to an analysis of voting data by The Frederick News-Post.
While the Republican Trump won the county by exactly 3,000 votes in 2016 over Democrat Hillary Clinton, Biden captured 13,993 more votes than Trump in 2020.
For years, Frederick County's rural, conservative makeup led to its somewhat affectionate "Fredneck" reputation around the state. But as the county has added more urban and suburban areas, the political dynamic has changed.
Overall, the county added 9,500 households and 21,300 people between 2015 and 2020, according to statistics from the Division of Planning and Permitting.
Political scientists and elected officials are divided on whether the county's Democratic turn is a move toward the future or a momentary adjustment.
Todd Eberly, a political science professor at St. Mary's College of Maryland, believes it could be the start of a trend as regional growth continues in the county.
"The suburbs are essentially growing, the circles are getting larger and larger around the urban areas," Eberly said. "Whereas 20 years ago, Frederick was a more rural county and we thought of Montgomery County as the suburbs of D.C., Frederick County is very much a part of those suburbs and has absorbed a lot of those people who have moved out of Montgomery County or out of Howard [County] and have moved into Frederick just to be a little bit further away from things, and that changes the demographics of a county."
Carin Robinson, a political science professor at Hood College, also mentioned Frederick County's growing connection to the Washington region, especially through Interstate 270.
The change has caused the county to transform from a more rural to more urban environment.
"Frederick County looks like a suburb," she said.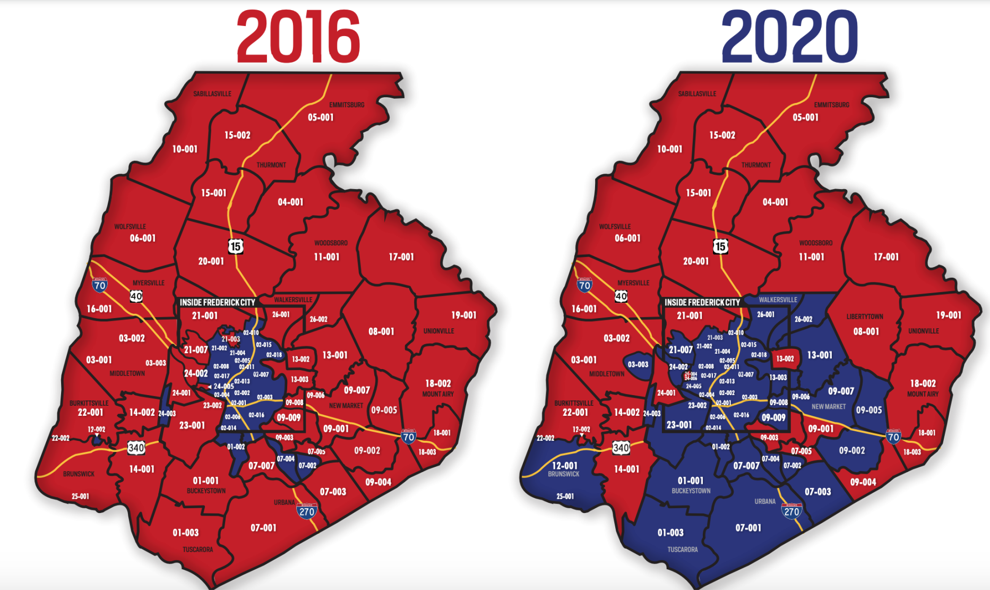 While the influx may be bringing more Democrats, there also may be more "lukewarm Republicans," Robinson said.
Steven Clark, chairman of the Frederick County Republican Central Committee, agreed that the Washington suburbs have expanded to the north and west, with Frederick County areas such as Urbana and the Ballenger Creek neighborhoods outside Frederick attracting younger people who tend to lean Democratic.
"We're not seeing a lot of party switchers. We're just seeing new people who are Democrats moving into the county," Clark said.
In 2016, the county had 65,905 registered Republicans and 60,747 registered Democrats, said Deborah Carter, chairwoman of the Frederick County Democratic Central Committee.
By 2020, there were 72,487 Democrats and 68,757 Republicans.
Those numbers have helped lead to increasing numbers of Democratic elected officials.
In 2018, the county elected all Democrats to the technically nonpartisan Board of Education, Carter said.
The city of Frederick's mayor and Board of Aldermen have all been Democrats since 2017, and the county has had a Democratic county executive since 2014 and a majority Democratic County Council since 2018.
"I think people see locally that we have better governance than in the redder counties, and so they're encouraged to vote for more of it," she said.
Most concerning to Republicans has been the growth in the city of Frederick, which was represented by a Republican state senator as recently as 2010, Clark said.
Regardless of what happens long term, local election data shows the stark shifts between the 2016 and 2020 presidential elections.
In one precinct on the western edge of Frederick, Biden turned Clinton's five point loss in 2016 into a 26-point win last November.
A precinct southwest of Frederick along U.S. 15 added 1,168 registered voters between the two elections and saw a shift from 50 percent for Trump and 41 for Clinton to a 59-38 percent win for Biden.
Even in areas where Biden didn't run away with a victory, he significantly narrowed Trump's margins or even eked out close wins.
A precinct outside of Brunswick changed from an 18-point Trump win in 2016 to a 48-48 percent split in 2020, while one near Braddock Heights saw Biden improve 15 points on Clinton's loss, where he lost by just over half a point to Trump.
One of the biggest swings was in Monrovia, where Biden turned a roughly 33 percent Trump victory in 2016 to a 49-48 win. The precinct grew from 1,908 ballots cast in 2016 to 3,828 ballots in 2020.
In a precinct that spans from Jefferson south to near Point of Rocks, Biden gained nearly 23 points in a loss to Trump. Clinton had lost to Trump there in 2016 by about 31 points.
Democrats in 2016 were able to capture people in the middle of the political spectrum that they hadn't in the past, Robinson said.
Biden's persona appealed to the ethos of Frederick County in ways that Clinton's didn't, she said.
Brian Stipelman, Frederick Community College's Dean of Liberal Arts and a political science professor at the institution, also pointed to another factor: overall growth.
Many precincts saw a significant increase in the number of ballots cast between 2016 and 2020, ranging from the city of Frederick to increases in rural areas countywide.
Trump did gain votes in numerous areas but was only able to flip two precincts in the entire county that he lost against Clinton—with less than a dozen votes cast in those areas in 2020.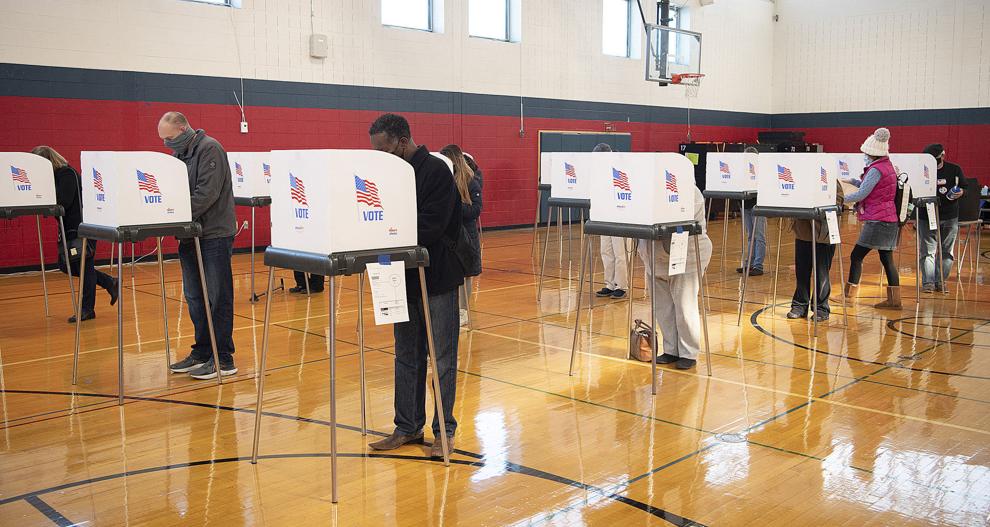 "There is just a massive increase in the numbers of people who don't necessarily normally vote, but showed up to vote for either Trump or Biden," Stipelman said. "And Trump's numbers increased as well—it's just the majority of the new voters, and quite a substantial part of the swing in Frederick County, ended up either voting for Biden or against Trump."
Sen. Michael Hough (R-Frederick and Carroll) has represented parts of Frederick County in Annapolis since January 2011 when he started a delegate. He seconded Stipelman's belief, noting Trump gained votes but also performed worse versus Biden than against Clinton.
It's a sign, perhaps, of the changing political landscape of not only the county, but the region.
"The closer you get to the Beltway, those areas are just turning more and more blue because the federal government is exploding in size, and there's more employees, there's more contractors," Hough said. "And if you work for the federal government or you're a contractor, those people just trend very hard toward the Democratic Party."
County Executive Jan Gardner (D), who has won two terms in what were deemed competitive races, believes unaffiliated voters were key in 2020 versus 2016. In Trump's victory year, 36,035 unaffiliated voters were registered pre-election. By 2020, that amount had jumped by well more than 6,000, according to state and local election data.
That bloc of voters—along with Democrats and even some moderate Republicans—was key for Biden's sizable win in 2020, Gardner said.
"Elections are fundamentally about math, and getting your voters to turn out," she said. "And I do think that growth has turned the county blue, I think young people are turning the county blue, and parents that are Republicans have children who are Democrats."
10 key swing precincts
| Precinct | Location | 2016 ballots cast | Trump votes | Clinton votes | Trump percentage | Clinton percentage | 2020 ballots cast | Trump votes | Biden votes | Trump percentage | Biden percentage | Swing |
| --- | --- | --- | --- | --- | --- | --- | --- | --- | --- | --- | --- | --- |
| 09-009 | Southeast of Frederick city | 476 | 270 | 167 | 56.96 | 35.23 | 1350 | 540 | 762 | 40.15 | 56.65 | 38.23 |
| 09-002 | Monrovia | 1905 | 1176 | 557 | 61.99 | 29.36 | 3828 | 1827 | 1872 | 48.03 | 49.21 | 33.81 |
| 21-003 | Clover Hill | 608 | 296 | 252 | 48.93 | 41.65 | 1212 | 430 | 732 | 35.80 | 60.95 | 32.43 |
| 24-005 | West end of Frederick | 470 | 229 | 204 | 48.83 | 43.50 | 761 | 273 | 470 | 36.11 | 62.17 | 31.39 |
| 07-007 | East Monocacy Battlefield | 144 | 81 | 51 | 56.64 | 35.56 | 579 | 252 | 309 | 43.52 | 53.37 | 30.93 |
| 24-002 | West of Golden Mile | 474 | 267 | 166 | 56.57 | 35.17 | 787 | 349 | 418 | 44.46 | 53.25 | 30.19 |
| 21-007 | Northwest Frederick border | 311 | 189 | 100 | 60.97 | 32.26 | 625 | 297 | 305 | 47.67 | 48.96 | 30.00 |
| 23-001 | Southwest of Frederick, along U.S. 15 | 2285 | 1127 | 935 | 49.69 | 41.23 | 4014 | 1515 | 2365 | 37.92 | 59.20 | 29.74 |
| 13-003 | East Frederick along border | 154 | 86 | 55 | 56.21 | 35.95 | 487 | 209 | 254 | 43.09 | 52.37 | 29.54 |
| 09-005 | East New Market | 821 | 478 | 280 | 58.65 | 34.36 | 1248 | 574 | 639 | 46.18 | 51.41 | 29.52 |