Don Briggs was re-elected to his fourth term as Emmitsburg's mayor Tuesday in a three-way race where campaigning was complicated because of the coronavirus pandemic.
"They're both fine gentlemen, and I look forward to working with them in the future," Briggs said about his challengers late Tuesday night. "We got a lot of work to do, we have the right trajectory, I just want to keep that going."
Hoover and Sweeney both congratulated Briggs in brief interviews Tuesday.
"[I] wish him the best for his administration, and of course, the best for the whole town," Hoover said.
Sweeney echoed the sentiment.
"He is a wonderful mayor, I have no problem with him being mayor for another three years," he said, adding he was happy about the turnout and would likely run for mayor again in the future.
Emmitsburg residents entered the town's lone polling place on 22 E. Main St. one-by-one Tuesday, as numerous cars drove past in each direction. Not too far away, inside a bay window of Emmitsburg Tattoo Company, campaign signs for Briggs, Hoover and Sweeney were visible to many walking and driving through the town square.
Lynn Orndorff was chief election judge Tuesday, helping shepherd voters and making sure only two people were in the polling place at a time.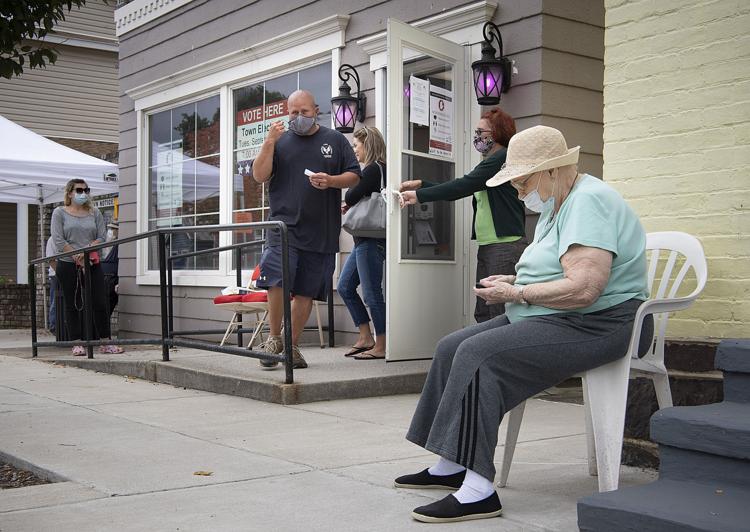 The high turnout could have been because three people were running for mayor, Orndorff said. She has served as an election judge elsewhere in the county before, but was filling in for Sharon Hane.
Hane has served as chief election judge in prior elections, but had just undergone an operation, Orndorff said. Hane called her to volunteer.
"Little did I know I'd be chief judge," Orndoff said with a laugh.
Gloves and surgical masks sat on a chair outside the polling building—a small space with a Founding Fathers portrait and the county sheriff office's insignia painted on a wall behind two other election judges.
Election judges sanitized voting booths after residents had opened, and Orndorff opened up the door for each voter.
Charles Snedegar, 42, said he was voting for Sweeney Tuesday. He's lived in town for more than 20 years.
Snedegar said he was concerned about Mount St. Mary's students' behavior in downtown Emmitsburg, and that underground infrastructure needed to improve.
"I know him personally, and the town needs a change," he said, referring to Sweeney, and how Hoover and Briggs have had their chance as mayor.
Debbie Arnold, 69, said she's lived in town since 2016. She moved up from Frederick because of the cheaper cost of living. She voted for Briggs.
"He seems very honest," Arnold said of Briggs. "He's one of the few politicians who can look you in the face when he's speaking with you."
Arnold added she would like to see more bus service around town in the weekends, and for developments to be completed, like the Brookfield community northwest of the downtown area.
Hoover said before votes were counted Tuesday that this election "has been the oddest campaign season" of any election he's run in. He added it was tough to estimate what his chances were of winning, but stressed that long-term infrastructure planning was a key issue.
He added the job was not easy, no matter who was elected.
"I always say I got my best education in that position," he added about serving as mayor, noting people need to know about parks and recreation, trash pick-up, wastewater and sewer treatment and other areas.
"For those who have never done it, they'd be surprised at how much the position gets involved in everything," he added.
Briggs said water and sewer piping replacement is continuously examined by him and town staff. A key area, he said, is the water and sewer infrastructure near Depaul Street and North Seton Avenue.
He will earn $8,000 annually as mayor, serve for three years and is scheduled to be sworn in during the town board of commissioners meeting on Oct. 5.