Hundreds of county residents streamed into polling places across Frederick, Middletown and Brunswick as Election Day began Tuesday.
Depending on how many people vote today, Frederick County could see its highest turnout in a presidential general election in nearly three decades.
Here were some scenes and news around the county and state Tuesday morning.
Biden claims victory in county
Joe Biden won a decisive victory in Frederick County, with a heavy majority of mail-in ballots.
The Democratic nominee claimed 52.5 percent of the vote in the county, to 44.8 percent for Republican President Donald Trump.
Of Biden's total 59,675 votes in the county, 33,787 came in via mail-in voting, compared to 20,063 in early voting and 5,825 on Election Day.
Trump claimed 50,932 votes in the county. Of that, 31,486 early voting ballots came in, 11,515 were cast on Election Day, and 7,931 were mailed in.
Sports gambling, three other county ballot questions pass with flying colors
The four questions that appeared on Frederick County voters' ballots passed with hefty majorities, according to unofficial results released Tuesday night.
Among them was a measure to legalize sports gambling, which passed with 65.9 percent support statewide and 64.1 percent support in Frederick County.
Other passed measures included a change to the state budget process, which reportedly passed with 74.9 percent support statewide and 72 percent support in Frederick County; a local charter amendment regarding council noninterference, which passed 85 percent countywide; and a charter amendment regarding borrowing limitations, which passed with 76.5 percent support among county voters.
Early BOE results in
The state of Maryland has reported some early results in the Board of Education race. The six candidates vying for three seats are in a tight race with mail-in ballots and early voting ballots reported. 
Earlier Tuesday, Election Director Stuart Harvey said it was unlikely Frederick County would know all three winners of the race. 
---
---
Election Director: Unlikely BOE race called Tuesday night
Update: 7:15 p.m.: As of 5 p.m., just over 22,000 ballots had been cast at the county's polling places Tuesday, said Election Director Stuart Harvey.
Harvey added that it's unlikely that all three Board of Education winners could be called Tuesday night, unless there was margin of thousands of votes between the third- and fourth-place candidates. Local election officials are still waiting on the State Board of Elections on how they will release results around 8 p.m.--which includes Early Voting ballots, Election Day ballots and thousands of mail-in ballots already canvassed, he said.
Results would be available on the county Board of Elections' website, Harvey said. He hopes most county results would be in by 10-11 p.m., but that depends on how long the lines are at polling places at 8 p.m.
---
Catoctin sees light early turnout
Update: 5:30 p.m.: Election officials said early Tuesday that things were running smoothly at Catoctin High School, the county's northernmost polling place.
Chief Election Judge James Bear said 99 people were in line at 7 a.m. and 354 people had cast a ballot as of just before 9 a.m. 
Jaclyn Kozlowski of Emmitsburg said she was voting for President Donald Trump, as she voted alongside her six-year-old daughter, Ivy.
"I just agree with the way he's running the country...the policies he's putting in place, I think that they are the best for our country," Kozlowski said. 
John Ayton, another Trump supporter, said the president has kept all his promises. Ayton added he opposed Question 2 on the ballot, which would legalize sports gambling statewide.
"I like small towns, I don't want a whole lot of gambling in the Maryland area," Ayton said. "I understand that there are casinos that are in Maryland, but … I'm not trying to turn it into Las Vegas."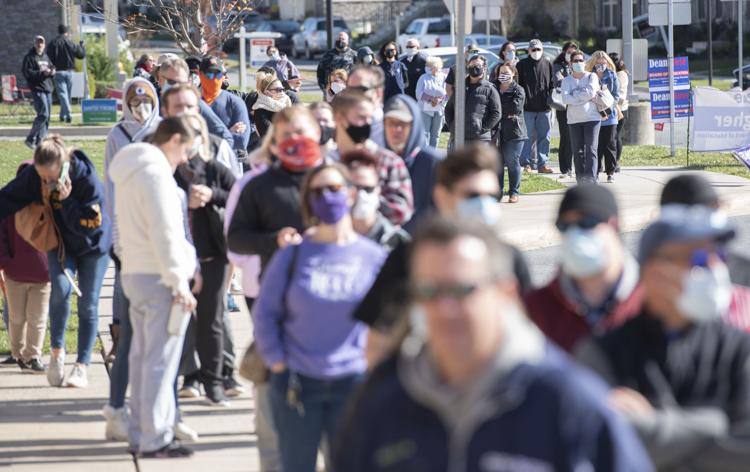 ---
Turnout "quiet" at Talley Recreation Center
Update 5:30 p.m.: Chief election judge Carl Thomas said activity was "unusually quiet" at Talley Recreation Center in Frederick. He's worked as an election judge since the 1990s.
There were 68 people in line at 7 a.m., and 771 votes cast as of around 12:30 p.m., Thomas said. 
Jeff Downs of Frederick said he was voting for Joe Biden, the former vice president, to unseat President Donald Trump.
"I've always voted Democratic and mainly right now just to return this country to a sense of normalcy," Downs said.
Virginia Socash, 50, of Frederick, was voting for the incumbent Trump.
"We're on the cusp of a lot of possible changes, losing our freedoms possibly, so in my mind, that was most important," Socash said. "I like the fact that he has worked really hard for our country. I appreciate his pro-life stance."
---
Turnout strong at Linganore High School
Update 5:30 p.m.: Linganore High School had a long line just before 2 p.m. Tuesday—hundreds of voters snaked out a hallway and around the parking lot.
But chief election judge Gail Boggs said voting was steady all day, and that the longest wait she heard from voters was 40 minutes. There were 1,780 votes cast there just before 2 p.m. and 223 people were in line when the polls opened, Boggs said.
She thanked the public for their patience, and said he loves being a judge.
"I like working with the people," Boggs said. "It's my duty to vote, so it should be my duty to help others vote. It's a fun day."
Jim Boyer, 61, of Mount Airy, was focused on the economy and global relations as he waited in line Tuesday. He was voting for the president because of his work with other nations and his economic record.
"The stock market is doing good [and] the building industry," Boyer said. "I do plumbing, so that's staying real good."
Kelly Arrington, 31, lives near Libertytown. She was voting for Biden. 
She pointed to civil rights issues and the need for everybody to be treated equally.
"He just seems really genuine and honest and cares about human beings," Arrington. "I just want the best for everybody, not just select groups."
Matt Murphy, 49, of New Windsor, is a Trump supporter, pointing to his economic record and lessening regulations on businesses, along with his international trade deals. 
"Why do we have to keep getting screwed over every single time somebody does a trade deal?" Murphy said. "It just helps a foreign country instead of us."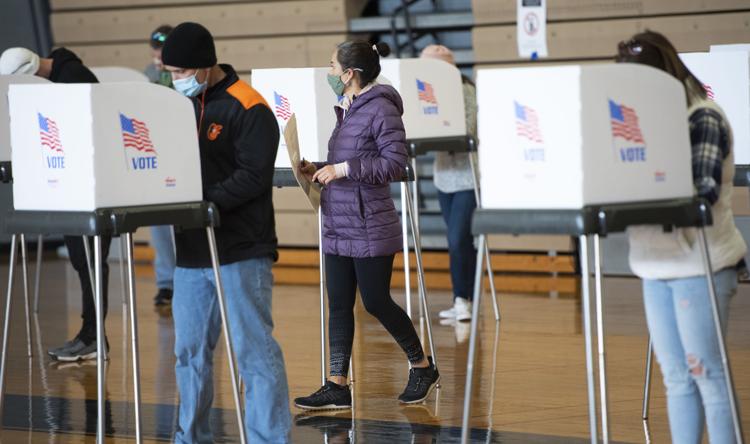 ---
Oakdale High School turnout steady
Update 5:30 p.m.: The line at Oakdale High School was similar to Linganore. Chief election judge Debra Rusk said 147 were in line at 7 a.m. and 1,526 people had voted as of about 2:45 p.m.
Delores Torres, 46, lives near Ijamsville. She was voting for Biden, and healthcare and coronavirus were on her mind heading into the polls Tuesday.
"I hate Trump," she said. "We need a better leader, I don't think he has good character ... just healthcare reform, and keeping Obamacare is important to me," Torres said.
Zach Lapira, 20, was a first-time voter. He was voting for Trump, pointing to his economic record and arguing he would do more to fix the healthcare system.
"I do like a lot of his policies," Lapira said. "Behind his rhetoric, his crazy bombastic personality ... he's one of the first presidents to do everything he said he was going to do."
"We'll see if he starts clamping down on Big Pharma and insurance companies, I'd really like to see that if he gets re-elected ... they're monopolies," Lapira said.
---
Urbana High crowd light in mid-afternoon
Update 5:30 p.m.: The line at Urbana High School was pretty light as of around 3:45 p.m. Tuesday. Arinn Neel, chief election judge, said about 100-110 people were in line at around 7 a.m. and 1,375 people had voted by nearly 4 p.m.
She wanted to work as a judge because her grandmother was a judge, and she wanted to keep that tradition alive.
"I also think there need to be younger, fresher people that get out and help with the voting process," Neel said, alluding to the fact most judges are senior citizens.
Danny Hunt, 38, of Ijamsville, was voting for President Trump, pointing to his support of the labor industry. It was his first time voting.
"I'm a Republican, and I just don't agree with what [Joe] Biden could turn this country into, so I think it's pretty important now," Hunt said. "My job, a middle-class blue-collar worker, he's bringing stuff back to America, I think it's better for everybody ...I work with my hands, so I can relate with a lot of stuff he's doing for the middle class."
Alexa Stone, 24, of Monrovia, said she was voting on Election Day because she doesn't trust the postal service—they lose her mail all the time, she said. 
She wouldn't say who she was voting for, but did support sports gambling.
"I have nieces and nephews in the school system, so if it goes toward them, that's cool," she said of that question.
She thanked election officials for their work, especially keeping everything safe during the coronavirus pandemic.
"Everything was spread out and sanitary, and social distancing was [in place]," Stone said. "They did a good job on that."
---
BOE candidates await results on Election Day
Update 4:55 p.m.: Board of Education candidates Dean Rose, Rae Gallagher and David Bass are left playing the waiting game for polls to close and results to be released.
"I feel good," Rose said. "I feel like I've done everything could have done, I wouldn't do anything different. I've put two years in this and I wouldn't change a thing."
Bass echoed Rose in saying he feels good about the work his campaign put in.
"I appreciate the work my volunteers have done and I've enjoyed talking to voters during early voting and all day today," he said. "Hard work does not necessarily mean that we win a seat on the board this year but I certainly am enjoying connecting with voters and I am hoping for the best."
Both Rose and Bass said they plan to tune in and watch the results of local and national results from home.
Gallagher said Tuesday that the nerves are starting to kick in. 
"I'm torn ... between like being anxious about the results and being not sure whether or not we're going to actually know anything definitive tonight anyways because of the number of mail-in and drop-off ballots," she said. "I'll definitely be keeping my eye on the numbers but I'm wondering if we will actually know anything definitive tonight, probably not."
Rose expressed happiness with what could be record turnout this election.
"I'm just proud of [voters]. I've made a lot of trips to the polls this week and I'm just really proud of our county for its turnout, it's been amazing," he said. "For the early voting sessions, it's just been amazing when you stop at the polls and people are waiting in line for an hour and a half to have their voice heard. So, I'm very proud of county and excited to see the results."
And Bass said he's looking forward to hopefully continuing to move the school system forward.
"It's been a great year of connecting with voters and I'm just really appreciative of the conversations I've been able to have and I think I have a better understanding of some of the challenges that lie ahead for our school system and I hope for the opportunity to help move our school system forward."
Gallagher, who is seeking to maintain her seat on the board, also thanked her voters for their support. 
"Thanks for all of the support, thanks for everybody coming out to vote, the turnout has been amazing I think this year," she said. "I'm just really appreciative of all the support that I've had throughout the past couple months."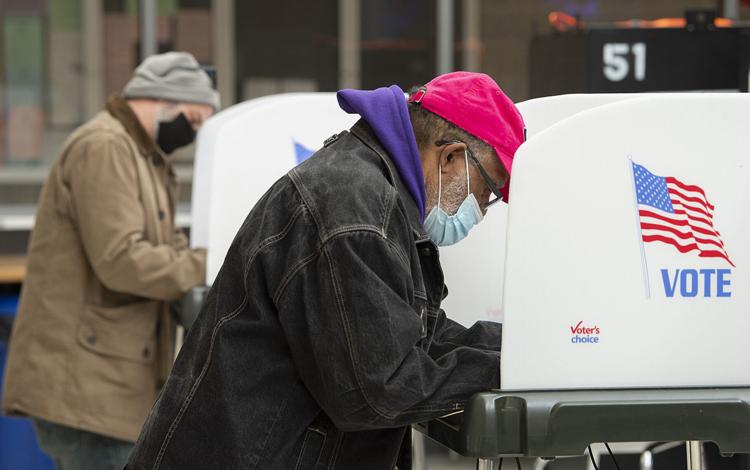 ---
More than two-thirds of Frederick County voters have cast a ballot
Update 3:53 p.m.: Frederick County voters cast nearly 14,000 ballots by 1 p.m. Tuesday, pushing overall voter turnout to approximately 67 percent — just 10 percentage points shy of the 2016 presidential election voter turnout rate.
Prior to Election Day, about 60 percent of the county's 186,356 voters cast ballots by voting early in person or by mail, according to Election Director Stuart Harvey. On Election Day, 13,916 voters hit the polls by 1 p.m., representing about 7% voter turnout, he said.
Frederick County voters cast nearly 14,000 ballots by 1 p.m. Tuesday, pushing overall voter turnout to approximately 67 percent — just 10 perc…
"It seems to be heavy in some places, light in others. So I guess I would characterize it as moderate," Harvey said Tuesday.
Early voter ballots numbered 52,948, while mail-in ballots amount to 57,699, he said, but there are likely more to come. Mail-in ballots postmarked Nov. 3 that are received by the Board of Election by Nov. 13 will still be counted. No mail-in ballots are being counted Tuesday or Wednesday, Harvey said, with counting scheduled to resume Thursday.
---
Maryland Elections Board debunks false rumors on Election Day
Update 1:33 p.m.: The Maryland Board of Elections wants to tamp down on false rumors on Election Day.
The board maintains a list of common misconceptions about voting and the election, to give voters a better idea of what to expect and what is out of the ordinary.
Here are a six of them, particularly relevant to this election cycle, as voters continue casting their ballots:
Rumor: Emails with the @marylandelections.us domain are spam
False. Emails ending in either the @maryland.gov and @marylandelections.us domains are legitimate. The Maryland Board of Elections uses both domains.
The email address absentee3.sbe@marylandelections.us, for instance, is used to send information to voters who requested a mail-in ballot, the agency says. Voters should ensure neither email domain is filtered into a spam folder.
Rumor: Ballot dropboxes are operated and maintained by the Post Office
False. The ballot drop off boxes are operated, maintained, monitored and secured by local election officials. The drop-off boxes are not property of the United States Postal Service.
Rumor: Mail-in and Provisional Ballots only count if the election is close
False. Mail-in and provisional ballots are always counted, even if the outcome isn't close. More information about absentee voting and provisional voting is available on the election board's website.
Rumor: Election judges will not post results once the polls close
False. Election results are not posted during early voting. But once the polls close at 8 p.m., the state Board of Elections will release returns from three sources: mail-in ballots tallied so far, early voting ballots counted by scanners and Election Day ballots counted by scanners.
Election results will also be available from the State Board of Elections and the local boards of elections.
Rumor: You can submit your ballot online
False. A voter who receives a mail-in ballot from the State Board of Elections website must return the ballot by mail or ballot drop-off box.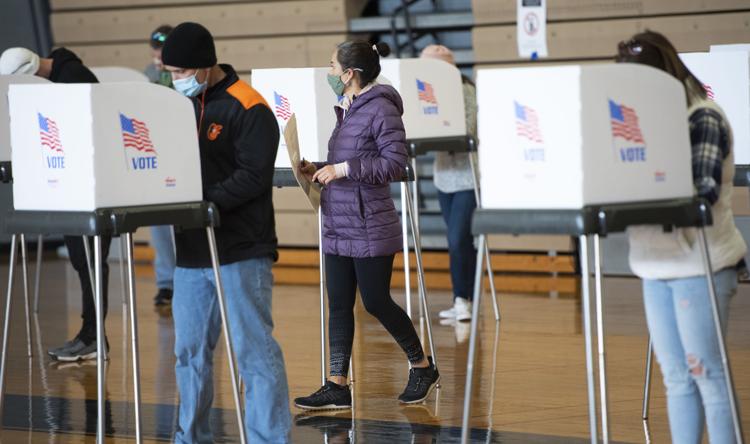 ---
"If we don't get it right, we're denying people their rights"
Frederick High School saw a steady but light stream of voters as the polls opened at 7 a.m. Election officials said there were 37 people in line at that point.
Alexander Tyron-Hopko, one of the chief election judges there, was working her last post during this election year. She was glad her work was winding down, but thanked the public and her fellow election officials for their support.
"People are taking a chance to do this," Tyron-Hopko said of voting amid a coronavirus pandemic. "And we want to make it as safe as possible to do that."
"If we don't get it right, we're denying people their rights," she added.
Eboni Clipper, 36, of Frederick, said the main issue this cycle that taxes and police reform was on her mind as she headed into Frederick High School Tuesday.
State officials have been discussing the issue, and Montgomery County Police have been receptive to ideas, Clipper said.
"I think it comes down more to training," she said of police reform. "Especially for those that have to work within the mental health community ... I'm only coming from a Montgomery County standpoint because the cops get so much training with that."
Abraham McNally, 33, of Frederick, stated he was voting for President Donald Trump. As a pastor, he has agreed with Trump's stance on abortion and other religious issues, along with the Republican tax platform.
Trump has kept his promises on "practical" things like those religious stances, McNally said.
Meanwhile, Keanika Lewis, 37, said she was voting for former Vice President Joe Biden. Lewis said she had a long conversation with her brother from the state of Washington, who swayed her to that position.
Lewis identifies as an independent, but said she was looking for a change in the presidency. She also stated she voted for Jason "Mr. J" Johnson for the Board of Education.
Johnson, a former school teacher, has great experience working with students—an important trait for the Board of Education, Lewis said.
"I think it's more important sometimes than the education part ... what I mean by that is you can teach them all day. But if you don't have a relationship with them, they're not going to be susceptible to receiving that teaching."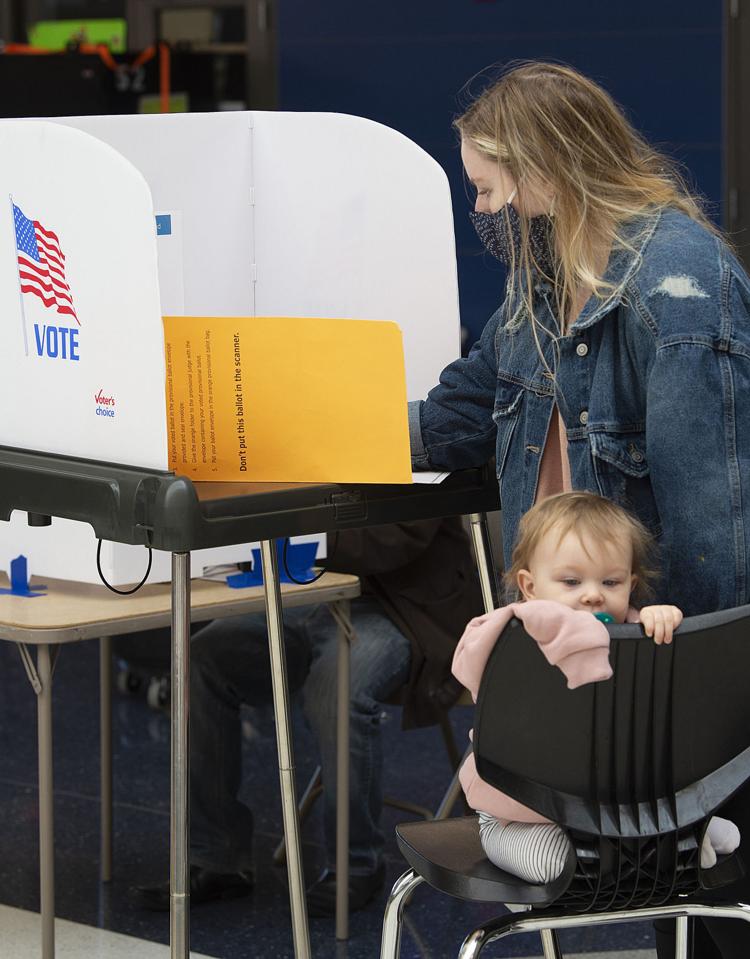 ---
Large turnout near Golden Mile
One of the other polling places in Frederick, Cornerstone Fellowship Church near the Golden Mile, had a line of voters wrapped around the building Tuesday around 7:45 a.m. 
Election officials estimated there were 200 people in line at 7 a.m. Mike Watterson was another chief election judge working another shift Tuesday, and said the space constraints and social distancing were of focus.
It also was important to work with new election judges, trying to make them feel comfortable and seeing how much they retained from training.
"So far, the new [judges] have been doing fine," Watterson said. "That's the main thing: making sure all of our judges are doing OK ... because with this weather, we want to get people out [the door]."
Bill Caufield, 38, lives just west of the city of Frederick along Edgewood Church Road. Voting on Election Day was a "patriotic thing" for him, he said. 
He specifically thanked everyone who ran for the Board of Education.
"I think we have some really good candidates this year, and particularly some people who are focused on kids," Caufield said. "It's a tough decision to be making right now, because of everything that's going on with the pandemic."
Brandon Shores, 46, of Frederick, said he was voting against Trump.
He's been overseas through his work, and said people across the globe have lost respect for the United States because of how Trump has handled being in office.
"I flew into the Netherlands, and security, they advised me not to tell anyone that I was from the United States ... because they don't like Americans because of what Trump has made us look like," Shores said.
He added he appreciates Biden's views on decriminalizing marijuana at the federal level, along with his view on solar energy companies.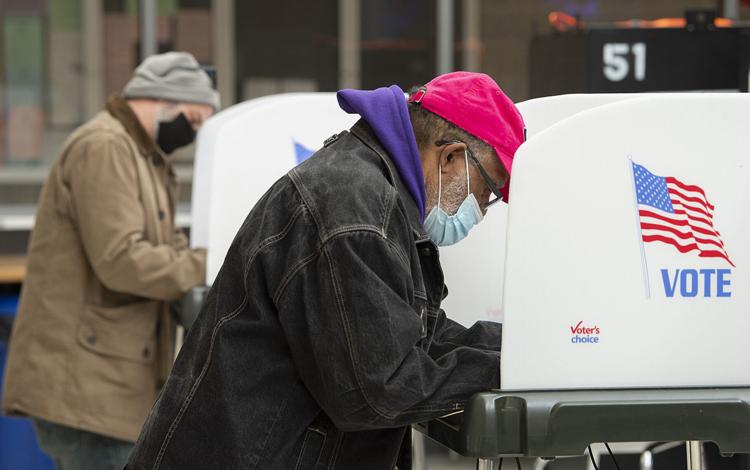 ---
Middletown quiet as day begins
Unlike Frederick, Middletown's two polling places were quiet as they opened. 
There was no line at Middletown High School, and well over half of the booths inside the gym were available for use just before 9 a.m.
Katherine Phillips, one of the chief election judges there, said 41 people were in line at 7 a.m. and that "small waves" of six to eight people were coming in throughout the morning. 
Phillips called on people to vote during this important election.
"I think it's my civic duty, I enjoy working with all these nice people," Phillips said of being a judge.  "I think voting is a privilege and should be taken seriously, and embraced by every citizen."
A short drive away at the Middletown Volunteer Fire Company Activities building, the voting line was much shorter than during early voting. Brenda Toms, a chief election judge there, said 47 people were in line at 7 a.m. and 246 people voted as of 9 a.m. 
Early voting is popular in the area, Toms said.
"This is an especially hot year for voting, it's very popular for people to put their two cents worth in," she said, adding she volunteers as a judge to give back and help facilitate people's ability to vote.
Michael Pritts, 26, of Middletown, was one of those people waiting to vote. He commended all the Board of Education candidates—he believes they are all "teacher-friendly."
He also was in support of Question 2, a state ballot question that would legalize sports betting if approved.
"I'm hoping it will get some funding for education ... I don't think it hurts to have extra funding, we could always use more for our kids," Pritts said.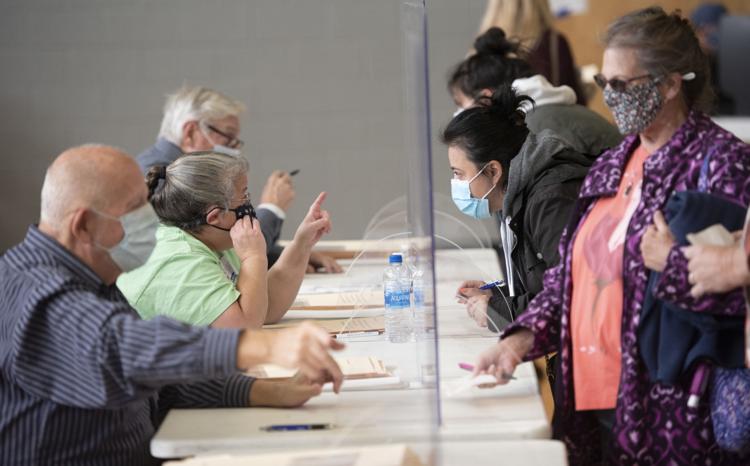 ---
Brunswick voters turn out in swaths
Robert Tippery was working his first election as a judge Tuesday. He was helping with same-day voter registration and provisional ballots at Brunswick Middle School.
He said 481 people had voted as of around 10:15 a.m., along with 18 provisional ballots. The line snaked from the one entrance around the building, and waits were roughly an hour or so.
"It was a lot of information shoved at me very quickly," Tippery said of training. "Fortunately, the supervisory staff here has been very patient, very helpful ... I thought I should get here and do my part."
Larry Collins, 68, of Jefferson, said he was focused on the economy and being pro-life during this election.
Collins was worried about religious liberties and freedom of speech, and was supportive of President Trump. He's delivered on his promises, Collins said.
"From appointing judges to defending lives to economic things to trade," Trump has been successful, he said.
Joan Davis, 78, of Brunswick, struck a different tone. Davis was concerned that both political parties cared more about money than their constituents, but feared if Trump was re-elected, things like the coronavirus pandemic might be worse.
Tyrus Austin, 27, agreed. He was voting in person to make sure his vote was counted.
"My biggest issue is I would like a president that is giving the office the respect it deserves," said Austin, who lives right outside Brunswick. "I don't think he's shown unity ... I just want to make sure we have some one who would restore that respect."