The chairman of the Frederick County Republican Central Committee disavowed a tweet sent by committee member and state Del. Dan Cox as rioters were storming the U.S. Capitol Wednesday.
Cox's tweet, sent at 3:21 p.m. as demonstrators were breaking windows and forcing their way into the U.S. Capitol, read "Pence is a traitor."
Cox is a vocal supporter of President Donald Trump, and Vice President Mike Pence (R) has been criticized by some Trump allies for saying he wouldn't support objections to state electoral college results certifying Democrat Joe Biden's victory over Trump in November's election.
Cox did not return multiple requests for comment as of 7:45 p.m. Wednesday.
Steven Clark, the local GOP chairman, said Cox was speaking for himself in the tweet and not as a member of the Central Committee. Pence was doing his job and is not a traitor, Clark said.
The chairman went on to call Wednesday's actions abhorrent and reprehensible. He said people who stormed the Capitol should be prosecuted to the fullest extent possible.
Former county commissioner and council member Billy Shreve, another Republican Central Committee member, said he hadn't seen the tweet and couldn't speak for Cox.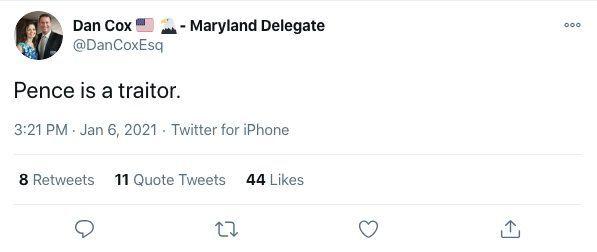 A spokesman for Gov. Larry Hogan (R), meanwhile, described Cox's tweet as "dangerous."
Hogan strongly condemned the actions at the Capitol Wednesday.
Asked if the governor thought the tweet was appropriate for an elected official, Hogan spokesman Michael Ricci replied, "The governor is too busy at the moment to read tweets by QAnon sympathizers, but on a personal level, as someone who worked in the Capitol for more than 13 years, I think it's not only inappropriate, it's dangerous."
Last October, Del. Cox used the hashtag #WWG1WGA, which stands for Where We Go One, We Go All. The hashtag is a rallying cry used by many who believe in the QAnon conspiracy theories, one of which claims Democrats and Hollywood elites are running a cabal of Satan-worshipping, child-sex predators, and that President Donald Trump is fighting that cabal. The conspiracy has been widely debunked, but it has risen in popularity in recent years, in part due to social media.
News-Post reporter Steve Bohnel contributed to this report.