State Senate candidates for District 4 Jessica Douglass (D) and Sen. Michael Hough (R) might not have much to agree on during their campaigns. But on Election Day, they agreed on one thing: It was wet.
The two candidates didn't let the rain, which ranged from drizzle to a torrential downpour, from getting out to ensure voters filled in the bubble next to their name on the ballot.
Hough, the incumbent who won a second term Tuesday, visited Brunswick Middle School, where he greeted each voter who walked toward the school to vote. Douglass, a first-time candidate, started out Tuesday morning by handing out flyers in Brunswick before heading to the Democratic headquarters to work the phones. She planned to go to the polls later in the afternoon to electioneer.
Hough was one of the few people electioneering at Brunswick Middle School in the morning. But the turnout was large. It seemed more like a presidential election than a midterm.
"So I figure it doesn't hurt to put a face to the name and personally ask for their vote before they go in," Hough said.
Hough, with his bright orange jacket and umbrella, stood out in the gray, rainy day. He approached most of the voters, some of whom he already knew. As someone who lives minutes away from the polling location, some of the voters were his neighbors.
"I think it's different because they know you not just from politicking, but they know you from Boy Scouting, the grocery store and church," Hough said.
Douglass, who lives in Mount Airy, said she also hoped to draw on support from her community of neighbors, church and the school community. She has four children, two of whom are in school. She also actively campaigned throughout the district, where she's made multiple connections, she said.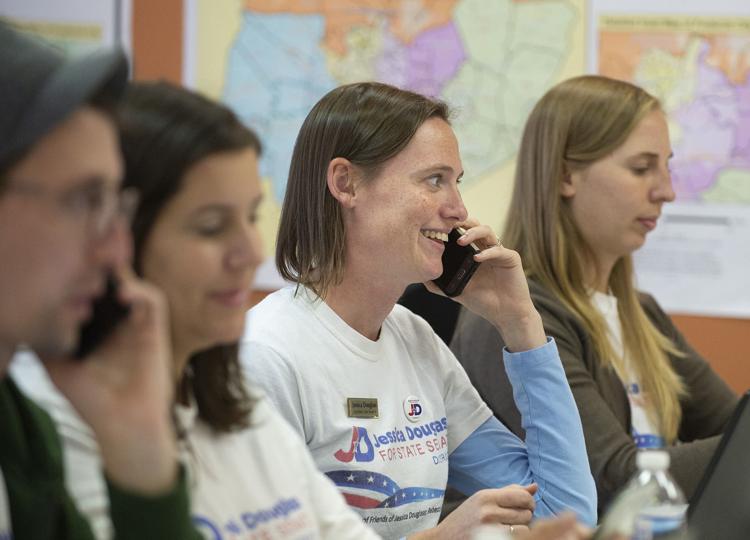 "And every connection helps," she said.
And while there's been a national push for Democrats to come out to the polls, Douglass knew she needed more than Democrats. She's also targeted unaffiliated and Republican voters in hopes of swaying them to her side.
"Hopefully, it's close," she said. "Close is the only way we win."
This is Hough's third election, but the first time with a Republican governor already in office. It was nice to see his name and other Republicans listed first on the ballot, he said.
"It makes it easy," he said. "Just vote the first name at the top of the ballot all of the way down."
It was also the first election he ran in when there was a Republican as president and governor.
"The party out of power is always more energized to turn out," he said.
He noted that this primary election was a bit nastier than in the past, although the general election was calmer. During the primary campaign, a woman yelled at him, calling him a Nazi, he said.
"She was literally following me in her car, yelling at me," he said.
Douglass said she first thought about running in 2016. But it was the Parkland, Florida, school shooting in February that motivated her to run. She was upset that Hough's Facebook page did not have any comment on the mass shooting, but he posted a picture of himself with his National Rifle Association rug six days later.
"And I thought, 'Absolutely not. This person does not represent me,'" she said.
So she got involved in politics, which is why she was camped out at the Democratic headquarters on West Patrick Street, calling people to encourage them to go out and vote.
Others volunteering for her campaign were using Hustle, a text messaging service that allowed them to reach voters. The volunteers would share the different responses they got, chuckling at the most memorable.
Hough and Douglass have their differences, but both had multiple commonalities as they made last-minute efforts to get votes. Both were happy with the large turnout, and both were hopeful the election would go their way.
And for each, it was a family affair.
Douglass' sons have helped her along the trail, with her fifth-grader telling his classmates during a recent field trip that his mother would soon have her offices in Annapolis. And her 3-year-old son has been one of her biggest supporters.
"He introduces himself, 'Hi, I'm Teddy. I'm running for state Senate with my mom,'" Douglass said.
Hough's wife, JoeyLynn, was out at the polls as well. She visited Urbana High School, he said. It was a good thing for him because she gets more voters than he does, he said.
"I'm telling you, statistically, she's the best poll worker I've seen in the county," he said.