One morning in Afghanistan in 2011, Air Force Lt. Col. Xavier Bruce was working at Kandahar Airfield when a rocket struck the walking path he took each day, less than half a football field from the office where he was sitting.
He had been on the path just minutes earlier. The explosion shook everything hanging from his office walls to the floor, and Bruce hurried to a nearby bunker. Sitting there, alone, he asked himself, "Why am I here?"
Bruce, a Frederick County resident and the commander for the Western Maryland chapter of the National Association for Black Veterans, has suffered from post-traumatic stress disorder since his deployment. He felt trapped in Afghanistan, so in any instance where he feels confined — even a conversation he can't get out of — he begins to sweat. His heart races.
Now, as the U.S. military presence in Afghanistan recedes, Bruce, like hundreds of thousands of U.S. soldiers who've served in Afghanistan since October 2001, is left to examine what his sacrifices truly accomplished.
With the drawdown approaching, the Taliban last weekend regained control of the country's capital city of Kabul for the first time since the U.S. began maintaining a military presence there.
Roughly 9,000 have been evacuated since Saturday, NPR reported Friday, and President Joe Biden said in a recent interview with ABC News that troops will remain in Afghanistan past his Aug. 31 deadline if necessary to evacuate Americans still looking to leave the country.
But U.S. citizens aren't the only ones desperate to leave Afghanistan. The Taliban has made clear that it will hunt down and kill those who aided American forces, though just 34,500 special immigrant visa slots exist for the 50,000 to 65,000 Afghan nationals who've assisted the U.S. and their families, NPR reported Thursday.
Several Frederick County veterans who served alongside Afghans are dumbfounded that the U.S. is withdrawing without prioritizing these people and their families. Frederick County veterans said they had promised their Afghan colleagues that they would be protected, that the U.S. would honor their service. The veterans said they have now broken that promise, and one said it felt like he flat-out lied to the Afghans who risked their lives for U.S. interests.
There is thoughtful disagreement about whether the U.S. should withdraw from Afghanistan at all. Some veterans believe troops should have remained until it was certain Afghan forces could repel Taliban advances and maintain a western form of democracy, no matter how long it would take.
Others say it was a lost cause — that the central U.S. objective had become too ambiguous and creeped too far from the initial goal of decimating those responsible for the attacks of Sept. 11, 2001. In essence, they say, it's become a fruitless nation-building mission.
Now that the Taliban has regained power, veterans in the county are questioning whether their sacrifices — and the sacrifices of the Afghans who served alongside them — were all for nothing. Were the injuries, the post-traumatic stress disorder and the death worth it?
Unkept promises
Frederick native Sean Moore, an Army veteran, has found himself ruminating and looking at the news "more than is appropriate," he said, leaving him distracted and unable to engage at work the way he usually can.
He knows being preoccupied with developments in Afghanistan is unproductive, but he wants to do something — anything — to help the thousands of Afghans who risked their lives to assist the U.S. One way to help, he said, is to stay engaged.
Moore remembers telling his wife that he and others who served in Afghanistan, engaging in America's longest-running war, made promises to people there. And now they have no ability to follow through on those commitments.
"It feels less about me and guys that I worked with at this point," Moore said. "It's more about the folks that are sitting over there and don't really have that choice or the ability to be elsewhere."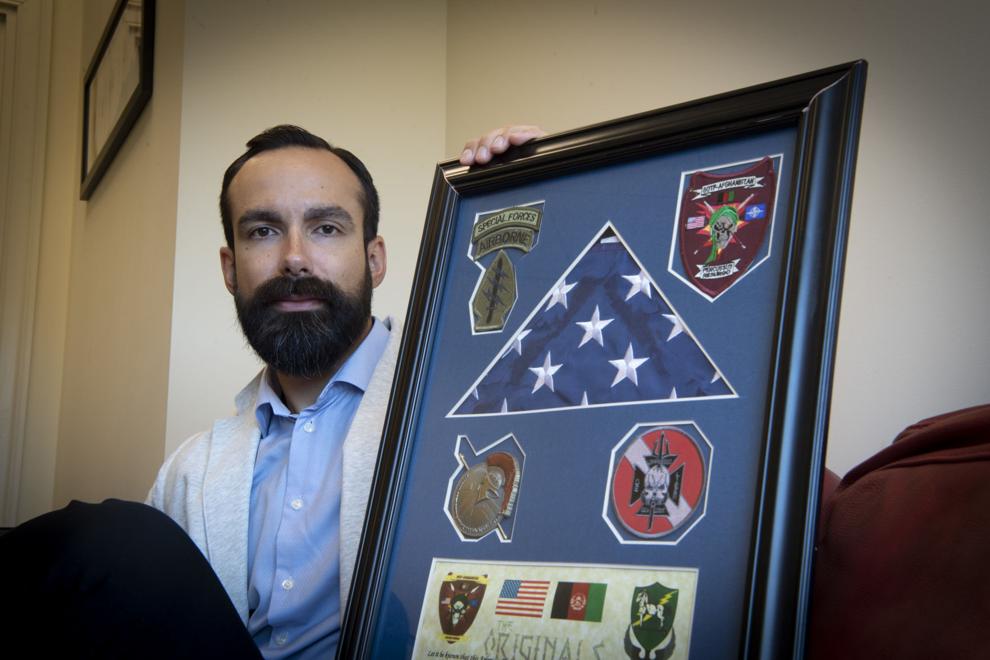 For the last few weeks of Moore's deployment in 2016, he was stationed at Bagram Airfield — the final base the U.S. withdrew from in July 2021. He recalled carrying the refrigerated, flag-draped caskets in numerous ramp ceremonies, some of which were for soldiers from his unit.
Given the U.S.'s lack of progress toward a broader objective in Afghanistan, Moore questioned whether the loss of life was worth it. When he first deployed, Moore thought he would contribute to a broader effort of giving the Afghan people a heightened chance of living "like anybody wants to."
"I don't know that that's what we did over there," he said. "That's certainly not what I feel like I did."
Moore was in eighth grade at the time of the Sept. 11 attacks. When he deployed to Afghanistan in 2016 as a Green Beret — an Army special forces unit — he felt the military's presence was a worthwhile use of America's stature to benefit a struggling nation. But he didn't feel he was avenging something.
At the time of his deployment, Moore was in his late 20s. Stationed in Afghanistan's Nangarhar province, his day-to-day schedule involved training native Afghan commandos, preparing for operations and, when the time came, completing them.
"It was very much like rolling out in big ol' military trucks, and like, you guys have two choices," he said. "We're making it very clear we're coming, and you either get to surrender, leave or die."
The goal of these operations was to occupy space in an effort to keep terrorist groups out, Moore said. The solution, however, wasn't sustainable and would've required the U.S. to maintain a military presence in Afghanistan for years in order to succeed.
Moore said he felt this type of operation represented a shift in America's presence in the region. He noticed less focus on equipping Afghan provinces with the capability to deter the presence of terror groups, which are the type of operations he said are typical of special forces units like the Green Berets.
Rather than withdrawing, Moore said, the U.S. should have maintained a diplomatic presence at its embassy in Kabul and kept a special operations unit to develop relationships with communities across the country.
"In my sort of dream-world scenario, we would never, ever leave that place," Moore said.
Lasting scars
As an Army recruiter in Frederick County, it was always in the back of Christy Butler's mind that she, and those she was recruiting, could be sent to war. But the feeling changed when the Twin Towers in New York City fell.
"I was like, 'Holy crap, this is for real now,'" Butler, also the executive director of the Fort Detrick Alliance, said. "That was such a defining moment. … It's like, we're really going to go to war, aren't we?"
Working in intelligence and interrogation operations for the Army, Butler would accompany all-male units on missions as the lone woman in order to communicate with Afghan women. In this capacity, Butler interacted with Afghan people on a daily basis.
"People in Afghanistan want the same thing that people want everywhere else in the world," Butler said. "Men just want to take care of their families. Moms just want to raise their babies. You want your kids to go to school. You want your kids to grow up, be healthy and have a better shot at life than you did."
Four deployments kept Butler in Afghanistan for five years, from 2007 — when she was in her early 30s — to 2012. During that time, she was spat on by intelligence sources and stuck in seemingly endless firefights of up to nine hours. Two captains in the Afghan National Army whom she worked with daily were shot at close range by a Taliban infiltrator. She lost one of her best friends and struggles each July on the anniversary of their death.
"Now that we're leaving … did they die for nothing?" she said.
She sustained permanent kidney damage from being unable to urinate for excruciatingly long periods of time — the result of flights without toilets and missions that didn't pause for bathroom breaks — and has been diagnosed with post-traumatic stress disorder. She still can't be in large crowds, and she won't drive near trash or dead animals on the road because terror groups were known to plant roadside bombs in them.
Left behind
Afghanistan was the second of three deployments for Dom Mancuso as an infantryman for the Army National Guard. It was the country where, in 2010, he turned 21.
The Frederick County resident recalled a young boy, about 12 years old, whom he and his platoon would encounter on security detail missions. Each time he crossed paths with the platoon, the boy's smile would light up.
The boy backed the red, white and blue even before Mancuso's platoon arrived, the veteran said. The team Mancuso's group replaced had established a relationship with the youngster, and that relationship was passed from unit to unit.
"That kid, coming up and coming of age, that's the new Afghanistan," Mancuso said. "That's what I was fighting for."
Now, Mancuso said he is terrified for the boy — the Taliban is notorious for targeting American sympathizers. For the past week, Mancuso has glued his eyes to the TV and his phone in an effort to soak up each development.
"The question of what it was all for rains hardest," Mancuso said. "And it's the one that I'm struggling the hardest to answer."
Fellow veterans and service members, including those who served under Mancuso and alongside him, are asking that very question: What was it all for?
"I'm freaking out because I don't have anything to tell 'em," he said.
It's disgusting, Mancuso continued, that the U.S. didn't appear to have a plan for quickly bringing to safety the thousands of Afghans who assisted American troops. When he served, the guardsman said, he had the feeling that the entire U.S. military would come to his rescue if he happened to be captured. After all, the military's mantra during his service was "leave no one behind."
'Holding on'
By the end of his deployment, Point of Rocks resident Ryan Bird saw the U.S. presence as completely ineffective.
"We're just going to hammer money, and more Americans are going to continue to die in a country that's never going to change," he said.
Bird deployed to Afghanistan in 2011 as a 21-year-old Navy combat engineer, or Seabee. His unit undertook projects such as constructing headquarters, living quarters and runways for combat helicopters.
Toward the end of his tour, Bird said, he felt the military's priorities lacked cohesion, and the broader U.S. objective had been lost over the last 20 years. While remaining in Afghanistan would have been a waste of time, America's more than $2 trillion war wasn't entirely in vain — the dedication and sacrifice of U.S. military personnel prevented the Taliban from reaching American soil, Bird said.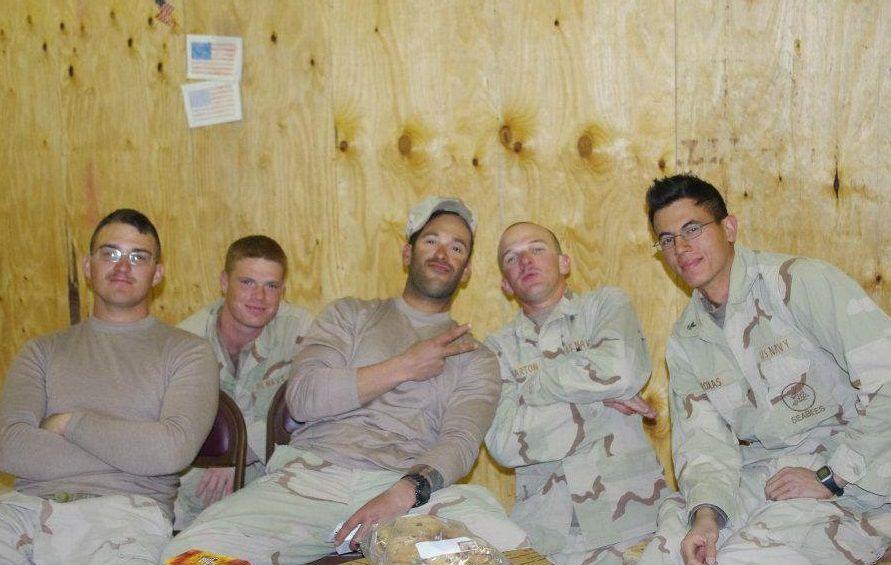 "The overall goal may not have been great, but I don't want any service members reading this to feel like what they did was completely useless," Bird said.
Bruce, the Air Force lieutenant colonel, said he also felt the undercurrent of mission creep, or change in overall U.S. objectives, throughout his deployments.
"The goalpost was moved various times," he said.
While serving in Bagram, Bruce helped coordinate the extraction of wounded soldiers from Afghanistan. He saw firsthand and heard regular reports of the carnage, missing limbs, death and destruction. The recent U.S. drawdown and successive Taliban rise have left Bruce disheartened and disappointed.
But he just doesn't know whom or what to be disappointed at.
There was probably a sound strategic reason for the change in course, Bruce said, adding that service members who weren't atop the chain of command may not have understood the underlying reasons. Still, the only accomplishment he's taken away from the past two decades were the killings of key leaders within terrorist groups, he said.
Bruce had hoped the U.S. military could equip the Afghan people to defend themselves against terrorist groups. But given this didn't seem attainable in recent years, he's uncertain if the U.S. had reason to continue its presence.
"It's like having a chain on a lion," Bruce said, the lion being the Taliban. "If you let go, then the lion is going to attack. But how long do you hold onto that lion?"
"That's what I felt like our military was doing," he added. "We were holding on."