When Edgar "Bud" Larson came to work at Fort Detrick in 1949, the steel exterior walls of a one-million liter test sphere lay on the ground like orange peels, he said.
More than 60 years later, the four-story structure — referred to as the "Eight Ball" — sits largely forgotten on a section of the Fort Detrick campus owned by the National Cancer Institute. It hasn't been used since President Richard Nixon signed an order ending biological warfare programs.
The structure — it's hard to call it a building because it isn't one — has been on the National Register of Historic Places since 1977. It's tucked away, dwarfed on three sides by NCI buildings, a Cold War relic with a few Dumpsters sitting out front.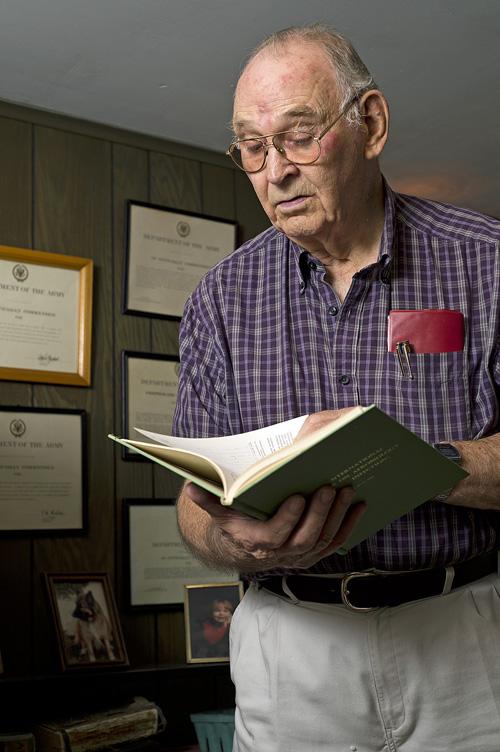 "It was made so big and so durable and so robust," Dr. Arthur Anderson, a scientist at the U.S. Army Medical Research Institute of Infectious Diseases and an expert on the Eight Ball, said. "It almost looks like a rocket ship that could take off."
The Eight Ball was a giant chamber used by Army researchers to aerosolize biological agents to study how the particles would suspend in air and infiltrate the lungs. Its walls are constructed of one and a quarter inch thick steel. Ports along its "equator" were fitted with biological safety cabinets for sample collection and animal exposure. Cubicles along the equator allowed for gas mask exposure. The sphere had access points along its base.
A structure enclosed the sphere from 1951 until it burned in 1975. The sphere itself was decontaminated in 1970, according to the National Register nomination form.
"It was built as a gas-tight facility into which we could use explosive disseminators," Larson, 87, said.
Larson said it was he who readied the sphere for its first aerosol trial with the pathogen Francisella tularensis.
The Eight Ball is perhaps best known for its use during Operation Whitecoat, a program intended to test the effects of biological agents on humans through exposure.
More than 2,300 Army volunteers participated in Operation Whitecoat, which ran from 1954 through 1973. Most participants were Seventh Day Adventists who were opposed to combat for religious reasons but wanted to serve the United States.
"They were conscientious cooperators," said Frank Damazo, 90, a retired Frederick surgeon and Adventist who worked as an advocate for the Whitecoat volunteers.
In the Whitecoat experiments, volunteers inhaled air into which biological agents had been released, and researchers then monitored their reactions.
The Adventists did not smoke, drink or use drugs, meaning the researchers could have a better shot at getting meaningful results, Damazo said.
The men, who worked normal day jobs at Fort Detrick, could decline to participate in tests without fear of retribution, Damazo said. Some declined at times simply because they were involved in more meaningful work in their other duties on post or because they had leave or other life events coming up, he said.
A volunteer could refuse to participate in all tests, but that was not the attitude among most of the soldiers, Damazo said.
"The real motivation was that this was the best thing they could be doing as a soldier in the Army."
Larson become chief of the aerobiology division in 1964, a job that included oversight of the Eight Ball. The work done in the sphere during the height of the Cold War helped provide the framework and guide research to this day, he said.
"We were pioneers in the science of aerobiology, which essentially was the study of the survival properties, survival and respiratory infectivity properties of pathogens in air and we developed all the technology to do this research," Larson said.
"When we closed down all the biological laboratories, I thought it was absolutely terrible that we didn't continue within the scientific community to use that aerobiological knowledge in the facilities we had. You want to remember, an awful lot of our everyday diseases are respiratory infections."
The science done at the Eight Ball had not been done anywhere else, and the men who led the projects, including the consideration of ethical implications for human test subjects involved with Whitecoat, "informed all of public health," Anderson said.
"To me, it's a symbol of the kind of amazing creativity and inventiveness that defined the American effort to come up with solutions to biological warfare." n
Follow Courtney Mabeus on Twitter: @courtmabeus.