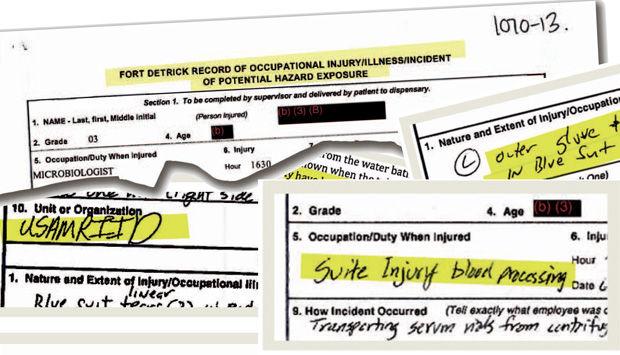 The vial wasn't supposed to exist.
Employees conducting an inventory check of toxins at a Fort Detrick lab had already marked the vial as destroyed when someone found it underneath a liquid nitrogen tank freezer.
Two months earlier, two employees found a petri dish holding a potentially dangerous substance upside down on the floor.
The Department of Homeland Security did not release the names of the substances the petri dish and vial contained, but they are on the federal list of Biological Select Agents and Toxins, and are considered as potentially severe threats to public health.
The two containers were found at the National Biodefense Analysis and Countermeasures Center in 2012.
The Frederick News-Post obtained copies of the mishap and occupational hazard reports from NBACC, the National Institute of Allergy and Infectious Diseases' Integrated Research Facility and the U.S. Army Medical Research Institute of Infectious Diseases at Fort Detrick through Freedom of Information Act requests filed in 2014.
The names of the people involved in reporting the incidents, some locations and names of toxins were redacted by the agencies that provided the documents.

According to a "lessons learned" report from NBACC about the discovered vial, safety personnel emphasized that staff who witness inventory actions should actually witness those actions.
"Staff members functioning as a witness to an activity are performing an important function and need to be vigilant in their verification activities," an NBACC report states.
In September 2013, NBACC employees found that a bag of unsterilized lab waste was left in an autoclave for 25 days. The contents of the bag leaked out into the autoclave chamber.
"This failure was the result of three independent failures: an overfull waste bag, waste placed in autoclave without a secondary container, and the autoclave sterilization cycle not being initiated," a report about the incident stated.
Staff reminded the person responsible for managing lab space that infectious waste should be sterilized as soon as possible.
Last August, the White House distributed a memo urging infectious disease researchers to review their biosafety and biosecurity protocols, inventory their culture collections and "increase attentiveness."
The memo came about a month after a box of more than 300 vials was found in a Food and Drug Administration storage room in Bethesda.
Some of the vials contained the smallpox virus.
The World Health Organization allows research on live smallpox in only two locations: the Centers for Disease Control and Prevention in Atlanta, Georgia and the State Research Center of Virology and Biotechnology in Koltsovo, Russia.
During the lab sweep at the National Institutes of Health in late July and early August, five vials of biological select agents and toxins were found outside a registered space, but were stored safely.
Some of those vials contained botulinum neurotoxin and ricin. Each of the samples was destroyed.
NBACC and NIAID-IRF also participated in the stand-down.
"We did a comprehensive walk-through of all the labs that have select agents," which they also do annually, according to Dr. Pat Fitch, director of NBACC.
NBACC staff members print out lists of materials that should exist in certain locations, and go to those locations to ensure the records are correct, he said.
"Here's this freezer, and on this shelf, in this box, there should be these eight things. ... If there's nine, you already know you have a problem," Fitch said. "Even if that ninth thing should have been on the shelf below it."
NBACC found no inconsistencies between its records and its select agents and toxins during the stand-down, he said.
The Vaccine Pilot Plant in Frederick, run by the Frederick National Laboratory for Cancer Research, was also inspected for biological select agents and toxins that may have been left behind or unaccounted for.
The plant helped manufacture a vaccine for Ebola in 2014 and continues work on a therapeutic for HIV.
After the inspection, green stickers were left behind on every doorway, signifying that each space, including the clean rooms and offices, had been inspected for unauthorized material.
Nationwide, the lab sweeps conducted during the fall of 2014 revealed 27 instances where biological select agents and toxins were not properly registered with a federal program.
None of those 27 instances occurred at Fort Detrick.
In 2009, 9,000 vials were found in excess of inventoried material at USAMRIID, according to the National Research Council.
"Many of these 'newly found' vials contained small volumes of working stocks left behind in freezers by departing scientists," their report states.
USAMRIID spokeswoman Caree Vander-Linden said the Army lab has made changes since the 2009 incident:
When a principal investigator leaves his or her position at USAMRIID, an inventory check is conducted and materials are transferred to another principal investigator.
Long-term biological select agents and toxins are verified by two people and wrapped in "tamper-evident materials."
Periodic inventory audits are performed to monitor biological select agent and toxin usage.
The 2010 National Research Council report indicated USAMRIID was considering a centralized storage facility for biological select agents and toxins, but Vander-Linden said that did not come to fruition.
Those materials are stored in registered labs and suites with restricted access.
Upon reviewing USAMRIID's inventory control improvements, Beth Willis said the labs had not been as open about their processes before.
Willis heads Frederick's Containment Lab Community Advisory Committee, which focuses on fostering communication between Fort Detrick's labs and the local community.
"They are providing some sunlight on what has happened, which I think is healthy," she said. "They have always spoken about the need for continuous improvement."
Follow Sylvia Carignan on Twitter: @SylviaCarignan.