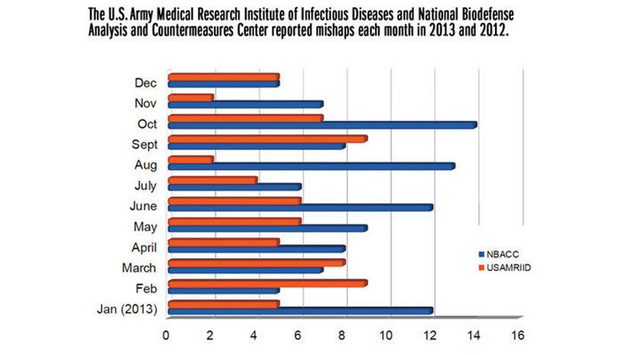 Animals do not leave Fort Detrick's labs alive. But before they meet their fate, some of them put up a fight.
Some of the occupational hazard exposure reports filed by researchers at the U.S. Army Medical Research Institute of Infectious Diseases document incidents in the lab with animals, including bites and scratches.
USAMRIID, the National Biodefense Analysis and Countermeasures Center and the National Institute of Allergy and Infectious Diseases Integrated Research Facility confirmed the use of research animals.
USAMRIID was the only lab to report animal bites in its mishap data. Of 185 provided reports, 17 involved live animals.
While pulling a rabbit out of a cage, a USAMRIID employee reported Sept. 5, 2012, that he or she failed to cover the rabbit's eyes, and it bit the employee's finger.
"The rabbit has become progressively aggressive towards the technicians," a supervisor noted in the report.
The suggested corrective actions included retraining the employee and discussing a "plan of action" for the rabbit.

In a USAMRIID report from July 2, 2013, an employee reported being bitten by a rabbit while feeding it Froot Loops.
According to USAMRIID spokeswoman Caree Vander-Linden, the sugary cereal and actual fruits are provided "on a rotational basis ... to make the rabbit more sociable and easy to handle."
As a result of the bite, the rabbits at USAMRIID are fed Froot Loops by using forceps instead of bare hands, according to the report.
"Rabbits not exposed to infectious agents and housed in non-biocontainment rooms are, on some occasions, offered treats by a gloved hand without incident, as long as proper approach to the rabbits is followed," Vander-Linden said in an email. "Rabbits in biocontainment rooms and exposed to biological agents are not provided enrichment directly by a gloved hand."
Rabbits are one of several different kinds of animals that are used in research at Fort Detrick.
At NBACC, researchers work with "mice through NHPs," according to their director, which means that a range of animals from lab rats to guinea pigs to nonhuman primates, or NHPs, are involved in their experiments.
USAMRIID's similar range of research animals includes goats and alpacas.
NBACC Director Dr. Pat Fitch said his lab's overarching purpose is to assess risk for the federal government and help departments set priorities. To achieve that, NBACC researchers may turn to animals when they need to determine a living organism's response to a bioterrorist attack and when computer models are not sufficient, Fitch said. Animals are used in the lab's toxicity studies.
According to a November 2011 paper published by NIAID-IRF's director, Dr. Peter Jahrling, the lab focuses on the use of imaging technology on infected animals and animal cells to help develop "medical countermeasures for biodefense agents."
"This unique facility is essentially an intensive care unit for animals experimentally infected with biodefense pathogens," the paper states.
NIAID-IRF spokeswoman Jennifer Routh pointed to published scientific papers as an indicator that they use animals in their research and declined to comment further.
A 2014 paper published by NIAID-IRF scientists notes that six macaques were part of a monkeypox experiment. They were infected intravenously with the virus. Three were given an antiviral agent, and three were not.
Each animal was anesthetized, restrained and put into a medical imaging tube up to nine times over the course of the experiment.
One animal in the control group survived the infection. The other two "became moribund," or terminally ill, by the seventh day of the experiment, the paper states. The research was a "preliminary" look into an immune response to the monkeypox virus.
The paper notes that the research followed federal guidelines for the care and use of lab animals, and made all efforts to minimize the animals' suffering.
Dr. Jerry Jaax was chief of the veterinary medicine division at USAMRIID and worked there from 1979 to 1998. He spent 26 years in the Army Veterinary Corps but now works at Kansas State University as associate vice president for research compliance.
"One of the cardinal principles is that you don't use animals unless it's absolutely necessary," Jaax said.
All research using animals at USAMRIID must gain approval from its Institutional Animal Care and Use Committee, according to Vander-Linden.
Researchers must justify why their project requires animals, and how they will mitigate any distress and pain their experiments might cause.
"The animals don't really have much of a say in it, and you really have to be an advocate for their welfare," Jaax said.
Jaax himself is no stranger to lab mishaps. In 1984, he was part of a team working with monkeys at USAMRIID. The conditions of their study on tear duct function did not allow them to anesthetize the animals, and he had to catch the monkeys to put drops into their eyes.
"The monkeys didn't like to do that any more than your 4-year-old might," he said. "We couldn't do it with heavy gloves on, and one of them bit me."
He said he still has a scar on his finger from the bite.
When the labs for NIAID-IRF, NBACC and the new USAMRIID building were first proposed, each agency assessed the potential risks a rogue infected animal might pose to the public.
The reports for each agency stated that the possibility of an infected animal escaping a lab is "remote" because multiple barriers are set up in each building to prevent an animal from leaving:
A specially designed cage.
The sealed floor, walls and ceiling of the animal room, plus a tightly fitted door.
Hallways designed to restrict access to doors opening to the exterior of the building.
Lab animals are not supposed to leave Fort Detrick alive.
"Rodents and lagomorphs will enter the (agency's) facilities uninfected and never will be brought out of it," each report states.
If a small animal, such as a rodent, escapes from the animal room, traps may be placed throughout the building, but that won't work for monkeys.
"Some personnel will be trained to use a dart gun to capture the (monkey) if it surmounts the primary barrier," the document states.
Former Maryland Congressman Roscoe Bartlett worked with animals at the National Institutes of Health in the 1950s. He wrote a New York Times op-ed, published in 2011, asking labs to stop using chimpanzees in research because their lab habitats were stressful to them.
Now, he said, there is little use for chimps in research, and smaller animals such as rats and guinea pigs have been bred to prefer life in the lab.
"These rats are very happy in the environment they're in," Bartlett said. "They're not like the great apes."
According to Vander-Linden, it is rare for animals that survive experiments to be used in other tests. Some animals used in tests at Biosafety Level 2 may be re-entered in other experiments, but "this is not a very common occurrence," she said in an email.
The only animals that lived out the rest of their natural life spans at USAMRIID were horses, which were housed at the large animal research facility on Area B.
The horses were used to produce antibodies, Vander-Linden said, but the facility does not currently have horses.
Bartlett said animals are used less frequently than in research decades ago. Scientists often turn to tissue cultures but sometimes need to test the effects of agents on organ systems.
"There's still a role for animals," he said.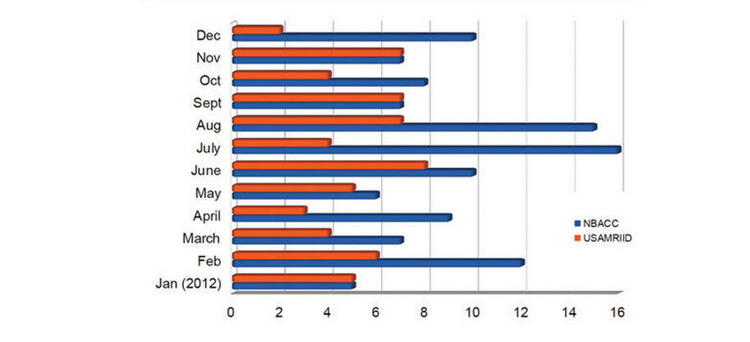 Follow Sylvia Carignan on Twitter: @SylviaCarignan.