As the rain began to fall more heavily on the crowd gathered Sunday at the amphitheater in Carroll Creek Linear Park, Roberto Juarez talked about his parents.
His father came to the United States from El Salvador in the 1980s, escaping the civil war in that country. His mother came from Peru as a domestic worker, while his father worked as a mechanic.
Juarez grew up in Frederick, went to college, and then came back to the city.
He spoke at a rally Sunday as a member of the group Resources for Immigrant Support and Empowerment (RISE) Coalition of Western Maryland, which supports immigrant rights and the immigrant community.
"You may not see the work of immigrants in this community," Juarez said. "But we are here. And we are making this community better."
Sunday's rally was in response to a rally held simultaneously in Baker Park by supporters of Sheriff Chuck Jenkins and the sheriff's office's involvement with U.S. Immigration and Customs Enforcement through the 287(g) program, which provides training for sheriff's deputies by ICE that allows deputies to ask the immigration status of anyone booked into the detention center. If appropriate, begin deportation proceedings.
The Carroll Creek rally was meant to send a message of solidarity with the immigrant community, and the idea that having immigrants in the community make the community stronger, said Juliana Downey, a member of RISE who helped organize the event.
The event had a festive atmosphere, with face-painting, food, and a performance by a mariachi band.
The rally was peaceful, with a visible police presence along various parts of Carroll Creek.
Frederick Police deployed 87 officers between the two rallies, police department spokeswoman Michelle Bowman said in an email Sunday.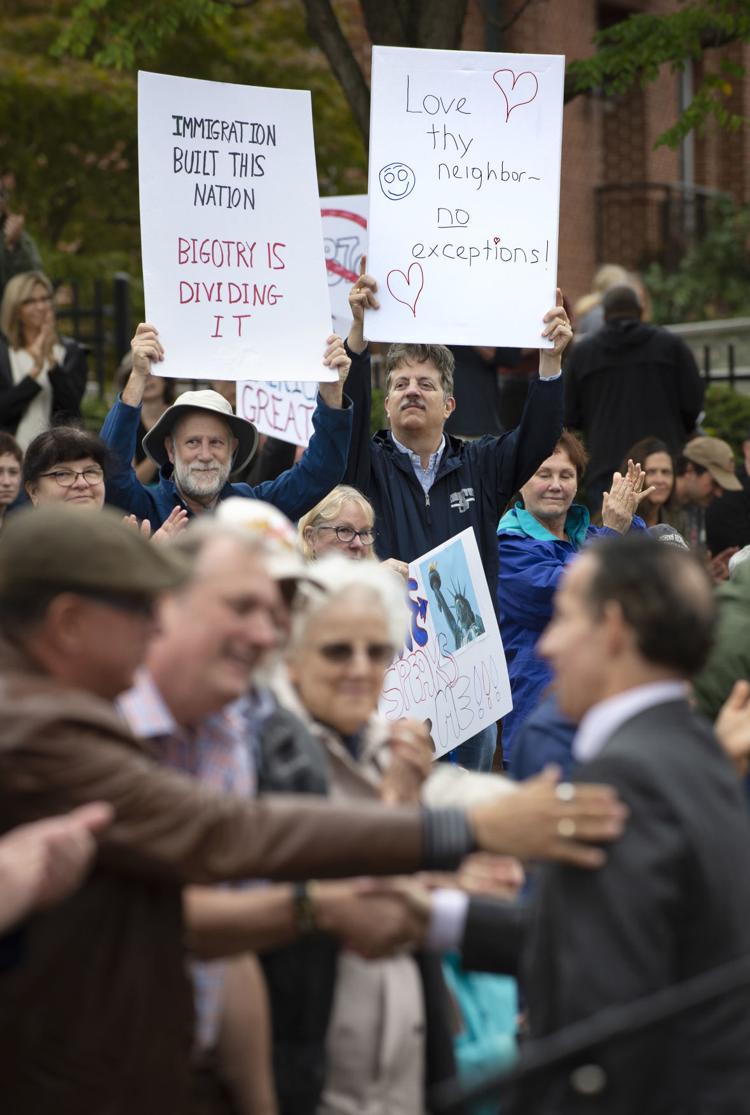 It was not a protest of the rally at the bandshell, but was meant to be a "beacon of what our community is really about," Downey said.
Marsha Kessler of Mount Pleasant said she wanted Sunday to be part of a peaceful movement.
Kessler said she's very distressed about the state of the country and about immigrants' welfare and how they're being treated.
Regardless of their spiritual beliefs, Kessler said, everyone is required to love and serve each other.
"We're sabotaging our spiritual welfare," she said.
U.S. Rep. Jamie Raskin (D-Md.) asked the members of the crowd to raise their hands if they were immigrants or descendants of immigrants. Nearly everyone raised their hand.
"That's who we are in America," Raskin said.
Frederick Mayor Michael O'Connor and Alderman Ben MacShane also spoke, with MacShane delivering much of his comments in Spanish.
Dana Vickers Shelley, executive director of the ACLU of Maryland, said her group is working with RISE and others across the state to curtail cooperation with ICE through the 287(g) program, as well as programs through which immigrants come in for interviews as part of their citizenship process, and then they or their spouse is detained.
Mostly, the country needs a process through which people who want to become citizens can do so, she said.
Raskin agreed that the country needs serious, comprehensive immigration reform.
"We can have laws and borders without hating and vilifying immigrants," he said.