More than 100 people are crammed into a room the size of a large basement of a single-family home on an early January Saturday night as Justin Timberlake's "Can't Stop the Feeling" plays quietly on the speakers.
The disco-pop single from the Memphis-born music icon is a far cry from what will soon be played in the back room of Olde Towne Tavern a short time later, when a band will plug in, tune up and dominate the stage. The man at the corner of the bar, who just threw back a shot of Fireball Whiskey and is holding a Bud Light, is responsible for it.
Scott Marceron, a tall, oak-tree of a human with a long, graying beard, holds his beer bottle high in the air, toasting to a man who just walked through the door. The man responds by holding up the devil horns, the hand gesture synonymous with rock and roll music.
Marceron, founder of the Frederick Let There Be Rock School, is preparing the stage and his students for the start of the school's second adult-only show at Olde Towne Tavern. The school started adult-only shows last month as Marceron aims to give students the experience of real-life concert gigs.
"It's from 9 p.m. to 1 a.m., so it's a real nighttime show," Marceron says. "Which is huge for them, because if they want to start doing this, these are the types of shows they're going to be playing."
Marceron has run the school for eight years this month, but much of his work is teaching young kids not just music theory, but performance art as well. While putting together an adult show doesn't have the same concerns as a kids show, Marceron quickly finds there is still the occasional fire to put out.
Just a few songs into its set, a band named Skrimshaw begins to play "Lord of This World," by Black Sabbath. Debbie Caballero, the lead vocalist of Skrimshaw, begins to sing the lyrics, but the audience can't hear a word. Marceron quickly shuffles from the bar to a second microphone and replaces it with the main one. Before the end of the set, the microphone malfunctions again, but, again Marceron steps in to make the switch.
"Believe it or not, when you are on that side of the stage, there is so much noise, it is hard to hear yourself," Caballero says after the set. "I couldn't tell if it was me not hearing myself, or the mic actually not working. I was more confused than nervous. I noticed it was the mic when someone in the crowd tried signaling me. I was going to switch the mic, but then Scott came to the rescue, thank goodness."
It happens in nearly every show, regardless of the performers — a moment where things start to go wrong, and it looks as if everything could fall apart.
But, like this particular Saturday night, once the music hits, and Caballero's voice begins to boom, Marceron pumps his fist into the air, singing along, allowing himself to get lost in the first thing he ever loved — rock and roll.
The Genesis
Growing up in a townhouse in Brunswick, Marceron learned everything he knew about rock music from his older brother, Ritchie.
"He was the only punk rock kid at Brunswick High School in the mid- to late-80s," Scott explained. "And he got ridiculed for it. He had the combat boots, the Doc Martins, the leather jacket. All of that. It was cool, man."
Though Ritchie stood out in a crowd of rural students at Brunswick during that time, he didn't mind, Scott recalled. He often traveled into Baltimore and D.C. to see shows at places like the 9:30 Club. He'd visit well-known record stores and bring records home that Scott would listen to. Ritchie even turned Scott on to his all-time favorite band, Bad Brains.
While Marceron's parents weren't as interested in punk-rock music, they often had Fleetwood Mac or famous Motown bands playing in the house. Holidays like Christmas, as well as birthdays, were celebrated with music.
"There was just awesome music at my house all the time," Scott noted. "That's where I fell in love. That's the foundation of who I came to be."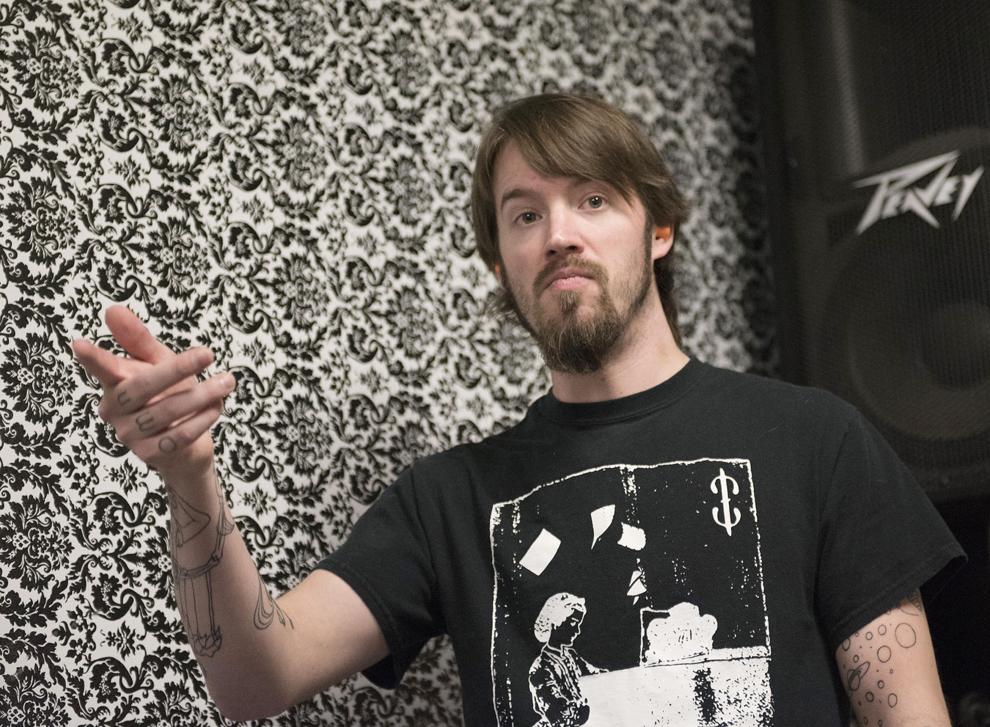 After Ritchie died at 16 from leukemia, Scott clutched to the strongest bond the two ever shared: music.
As he got older, he wanted to learn to play the music he spent so much time listening to. He started his first band, which often practiced in the basement of his parents' home.
"We sounded terrible," Marceron recalled. "Just trying to figure it all out. But they were always cool with it. It's where we hung out; they were always invited over. I think they liked that they knew where we were and what we were doing."
It wasn't until his second band that possibilities for a career in music started to pop into his head. That was when the project first stepped into a recording studio and cut their first demo.
But as the band tried to grow its presence, it struggled to find a place to rehearse. There were few places for bands to practice in Frederick at the time — and fewer places to play shows.
So, Scott managed to talk the owner of the rollerskating rink in Braddock Heights into letting him open a club in the basement of the skating rink, where he would set up a stage for both his band and others to play on.
Eventually, at age 14, Marceron was holding all-ages shows with as many as 300 people in attendance, charging $5 a person.
"I gave $2 to the owner and I took home $3," he said.
Every weekend for six months Marceron packed out the basement of the rink — until a fire marshal ultimately shut down the operation, Marceron said. 
Yet even after his minor, slightly off-the-books business was kiboshed, the flood gates had already opened for Marceron.
"It was eye-opening to see what you could do and how much money you could make," Marceron said. "From there, I knew this is what I was going to do."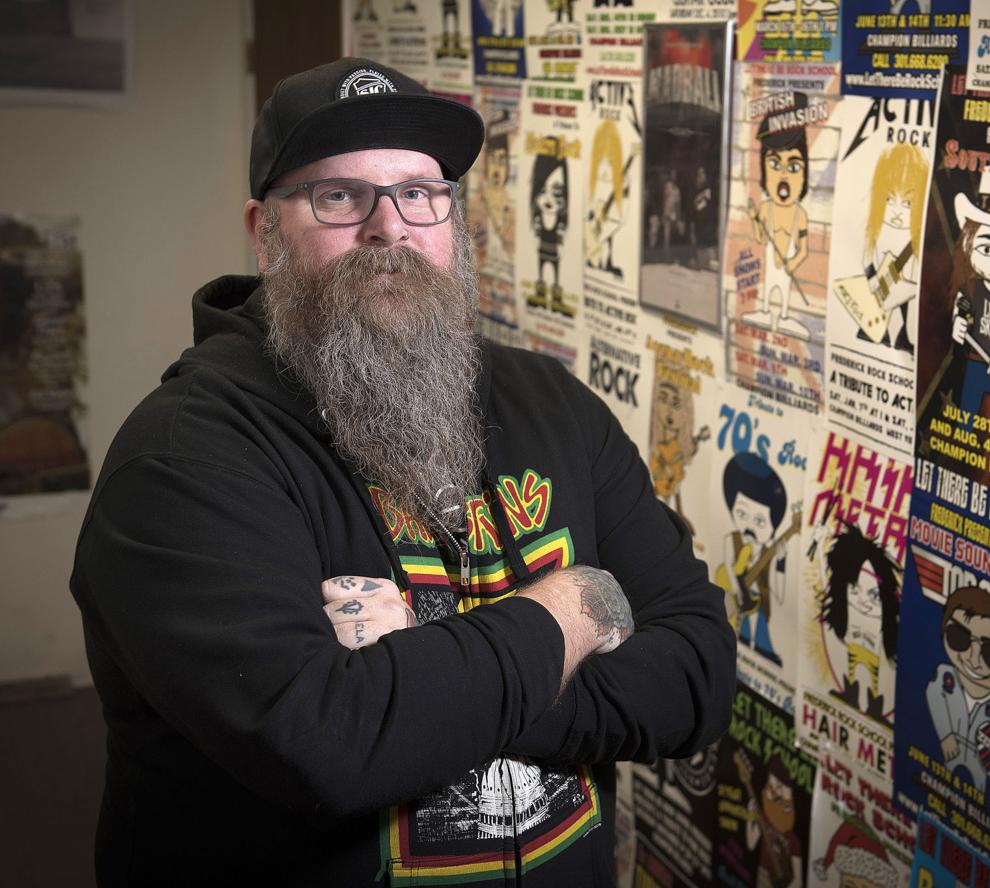 Passion For The Craft
Scott's passion and drive for music caught the attention of a young woman in a Frederick Community College music class years later. Kela Marceron, now Scott's wife, met Scott in class and the connection was immediate.
As they got to know each other, the two would find out that they shared similar music tastes. One day, while walking to the parking lot, Scott noticed that Kela had a Bad Brains bumper sticker on her car. 
Conversely, what impressed Kela was Scott's passion for the music industry. Scott's band was touring at the time, still trying to make the dream happen.
"Music was all he talked about," Kela says now. "That and how pretty I was."
Kela was doing performance dance, often traveling to Washington D.C., but still, the couple made it work, and they saw each other when they could. 
"We both have this passion for our craft, and it's something that we respect in each other," Kela says. "We were never going to ask the other to give up on that because we know how much it means."
Even so, Scott would soon be forced to shelve that dream so that he could afford to raise his family. 
Scott played bass in a band called Shaft, which landed a "really crappy" record deal with an independent label in New York. The band made a record, and opened shows for the likes of Korn, Limp Bizkit and Pantera.
Marceron also served as one of the main songwriters and was the band's tour manager when it was on the road. He developed a knack for management and development. Still, in 2000, Shaft's growth had plateaued. The band had hit its ceiling.
"There's a time you know when you're like, 'OK it's just not reacting,' or, 'We're not at the right place at the right time,'" Scott says now.
The band's manager thought Marceron could have a career developing and touring with bands as a manager, so he set up a meeting with Uppercut Management, whose top client was Kid Rock. Marceron decided it was time to shelve the dream of being a big time performer and shift to the other side of the industry.
"It sucked," Scott explains. "These guys were my best friends, and I'm the guy breaking up the band."
Marceron eventually landed a job with Roadrunner Records in New York, where he worked for three years. But when Napster came along, the industry crumbled. CD sales were down, and it became increasingly difficult to make a living in the business. So Marceron left the industry and took a job as a project manager.
He hated it.
Let there be rock
Kela saw how much Scott disliked his new career. At this point, he hadn't left the industry — he was still scouting bands and going to shows — but it was far from a full-time gig. His passion burned, and he didn't have an outlet.
So, when a friend reached out and told Marceron about a school that was teaching young kids rock music, his interest piqued. The school, founded by Paul Green, became the basis of a documentary and a Hollywood movie called "School of Rock," starring Jack Black.
Marceron visited the school, and while he liked the concept, the execution left a lot to be desired.
"I just didn't like the program," he currently reflects. "It felt cold and uninviting. It felt corporate, and I didn't like a lot of what I saw with how they interacted with the kids. People in Frederick would see through it because it wasn't authentic."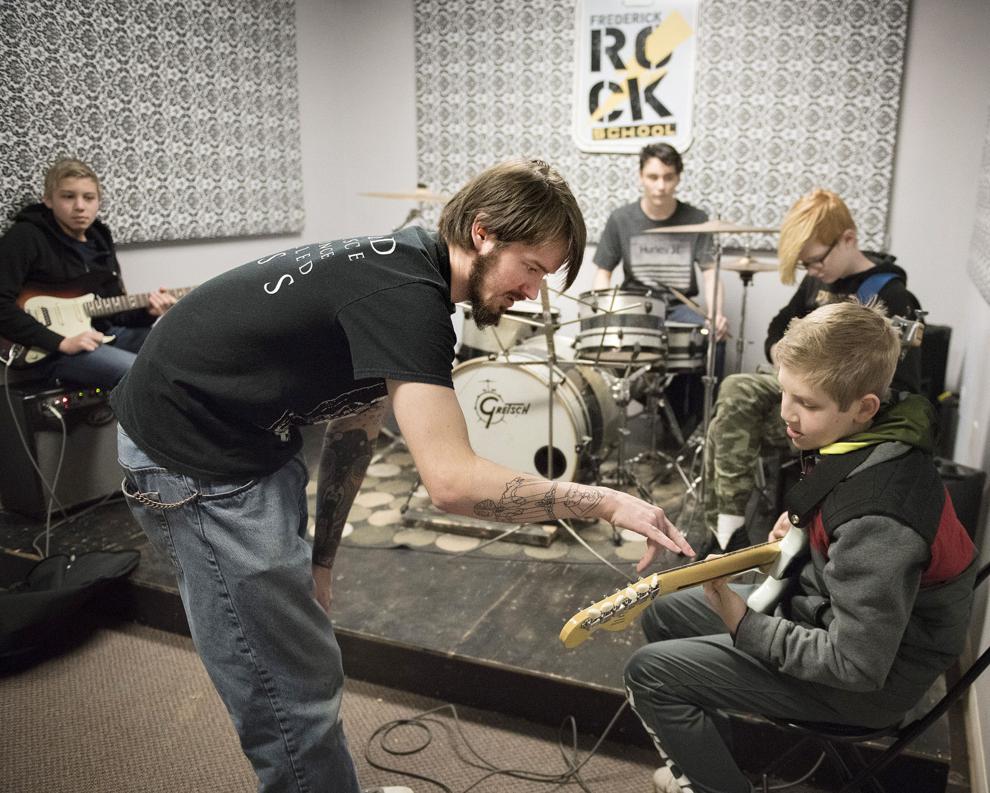 So Marceron decided he'd try to build his own school to teach kids how to play music and perform for an audience. He would give them the rehearsal place he never had — with the best instruction he could find to go along with it.
Next, he put a business plan together, and tried to get a loan. But, in the late 2000's during The Great Recession, it was challenging for anyone trying to start a business to receive a loan. Marceron was laughed out of most rooms.
But he and Kela had bought their house before the market crashed and they had some equity in the house that they could leverage to get a loan. Because many small businesses fail within the first five years, using home equity to start a business, at any point, is a risky venture.
Kela, though, told Scott not to worry about the risks.
"I was never going to tell him not to chase his passion," she says now. "If that meant we start over, we start over. But I grew up in a family that was always supportive of my goals, and Scott was always supportive of my goals. Who would I be to not support his? So, I was 195 billion percent behind him."
Eight years later, the school is thriving, with more than 250 students enrolled, and 14 instructors teaching classes and overseeing bands — a stark improvement from when Marceron was managing 19 bands by himself, working out schedules alone and employing just one other person.
For a while, though, it was a challenge for him to find a venue for his kids to play. Enter Champion Billiards Sports Bar in Frederick. Naturally, the relationship with the venue began on uncertain terms: Scott had to lie to Gary Allen, owner of the place, just to get a shot.
"I lied to him," Scott says blankly. "I told him I could guarantee 100 people show up on a Saturday afternoon when nobody was there."
Four bands played that day and 100 people didn't show up — 250 did. The bar got so busy, Allen actually had to help bartend to keep up with the customers.
That was eight years ago, and the school still plays shows at the bar every 12 weeks with as many as 27 bands performing a set. Kela is at every show now along with Scott. She joined the school full-time, handling the scheduling and much of the accounting parts of the business. But for a bit, the business took a toll on the couple. 
"It was the first time in our marriage that we really felt challenged," Kela says. "It was hard. We were running a brand new business. I was staying at home trying to raise our kids. We had to figure it out."
For a while, Kela struggled to find her role in the company. But then, the rock school would have its first nationwide success story. 
'I couldn't wrap my head around it'
Bad Seed Rising, a band of eccentric teenagers and pre-teens, signed a record deal in 2012 with Roadrunner Records before many of the members could even drive a car.
The band was one of the first groups formed after the rock school opened. Aiden Marceron, Scott's son, started the band with Mason Gainer, and they were eventually joined by bassist Louey Peraza, who was a longtime friend of Aiden's, as well as lead vocalist Francheska Pastor.
Aiden, the youngest member of the group, was only 11 years old when the band signed its record deal, and the group began touring the country. They were opening shows for the likes of Daughtry and 3 Doors Down.
"Being on a big record label like Roadrunner [when I was] 15 was nuts," Peraza says. "I definitely couldn't really wrap my head around it."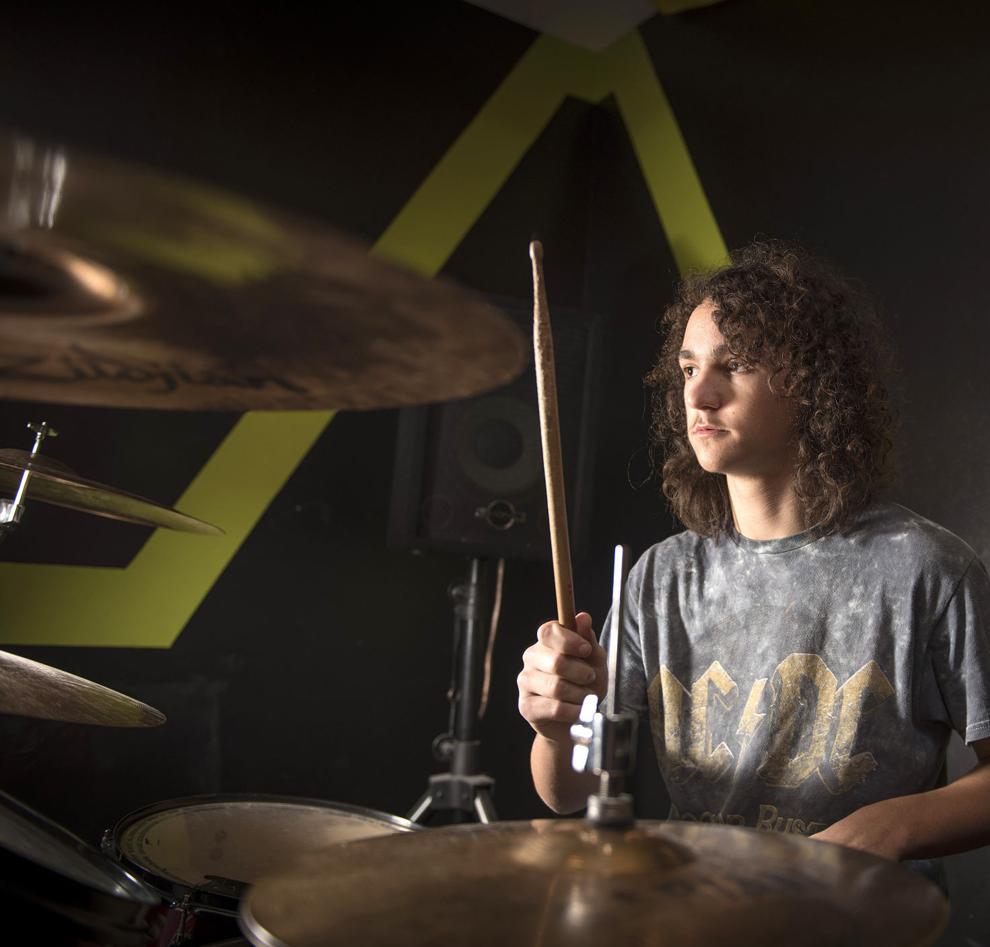 A record deal is an achievement many bands never see. But, many don't see the challenges that follow the band after that deal is signed. Scott sat the band down and told them about the difficulties of touring to make sure they knew what would have to be done.
"Those kids are incredible man," Scott says now. "They were ready and willing to do whatever it took to make this thing happen."
Because Aiden was so young, Scott and Kela knew they couldn't allow him to go off on a tour with a stranger for a manager. So, Scott served as the band's tour manager at Kela's behest.
"We wanted to make sure Aiden was safe, and we felt like Scott would be the best one for him to show him how it is being on the road," Kela says. 
But Scott being on the road meant leaving Kela at home with four kids, and a business to run. Kela admitted it was a challenge, but one that she was able to embrace. She had slowed down on the performance aspect of her career, and this opportunity gave her a place to channel that energy.
"I knew I had to step up and take on a bigger role at the school," Kela says. "It was the first time in a little while that I felt like I had some direction, and I felt like I had new goals to achieve."
So while Scott toured with the band, hitting every state in the U.S. except Alaska and Hawaii, and traveling all across Canada, Kela visited the school every day. She dropped in on rehearsals, handled the scheduling and got to know the students who came through the school.
While Scott flew to Vegas with the band after they recorded a song for the movie "Spy," Kela made sure the other four children at home were fed.
And yet while most tour managers, even if they are parents of band members, get paid for their services, Scott never asked the band to pay him. 
"I would rather see that money go somewhere else," Scott says. "This was about these kids. It wasn't about me, not about the parents. This is what Aiden wanted to do. He worked his ass off to be a world-class drummer. I've never once had to tell him to practice. If he wasn't that way, I don't think I would have given up seeing my other four kids, for four or six weeks at a time, or my wife. But, it was an easy choice not to take money from them."
Peraza said Scott served as a resource for a young band trying to find its way on tour. As someone who had been where these kids were, he knew how to help them navigate the challenges of being on the road.
"Being away from home was hard but it got easier as time went on," Peraza says. "Also keeping up relationships, whether it be friends or girlfriends or whatever, was tricky. Honestly, just trying to parent yourself and, like, stay healthy could be a challenge.
"It was cool to have someone who had done this for a long time himself out there to help us," he adds. "We picked up stuff by watching him."
The band parted ways amicably in September, but Peraza says the group still keeps in touch. How could they not? Among the accomplishments Bad Seed Rising celebrated throughout their existence were the completion of three EPs and one full-length album, as well as a collaboration with Foo Fighters, and a date on a festival with Judas Priest, where Peraza met one of his heroes, Rob Halford.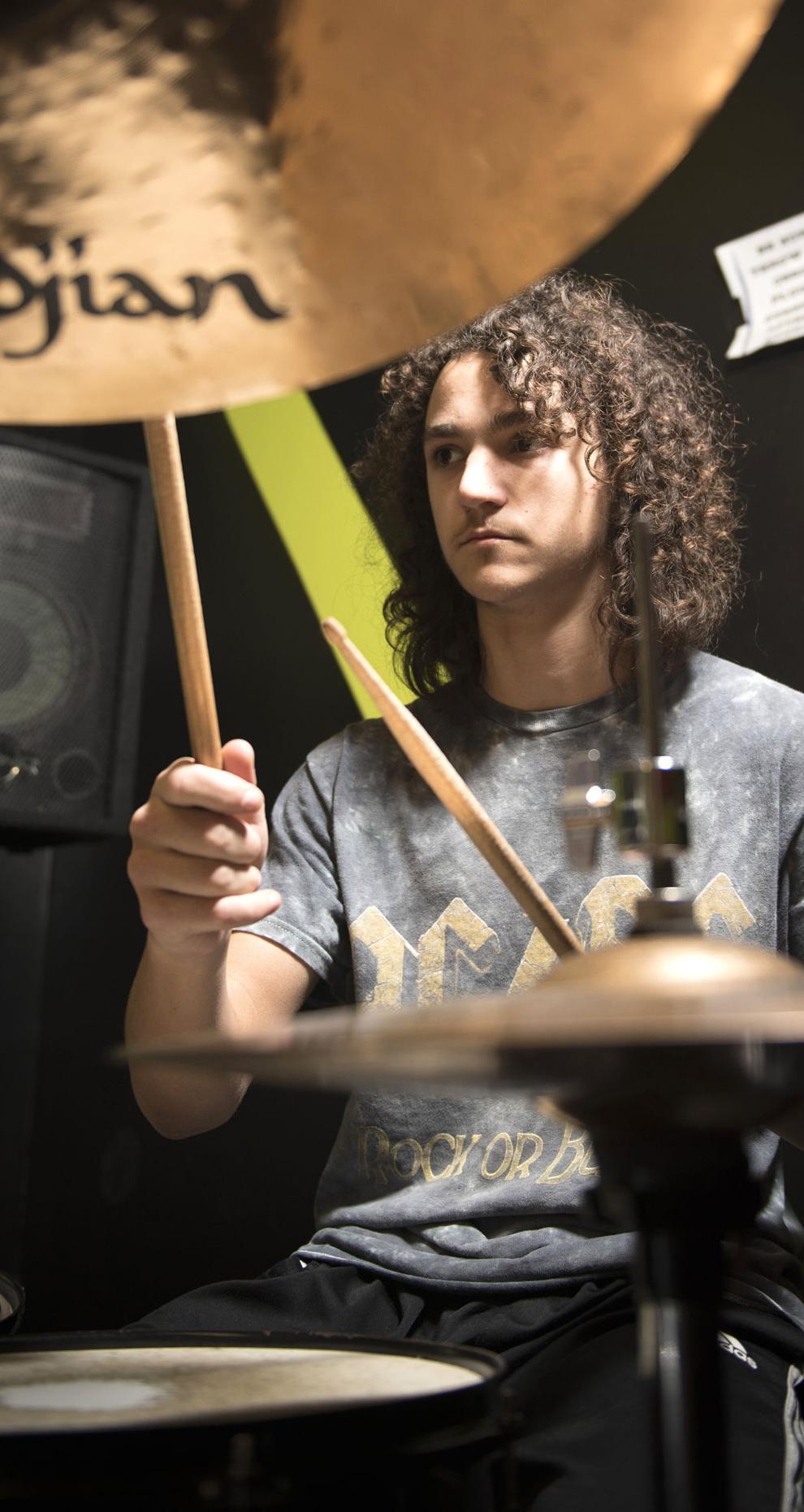 Three years after Bad Seed Rising signed their record deal, another band from the Let There Be Rock School would get its big break. A band called More to Monroe, which has since re-named itself Goner after lead singer Chris D'Aquino left to pursue college, signed with Roadrunner Records in September 2015. 
Shortly after signing, the metal-core group released its debut EP, "Appalachia." The band played Warped Tour in 2016, and finished 2017 with a tour throughout the East coast. 
"The proof is in the pudding," Scott says of the talent his school develops. "The vibe and cool kids we have here, I don't know, man. I'm just super proud of the place. Our vision and what I envisioned to happen is ... it's kind of happening."
The dreamers
For every Bad Seed Rising playing on the Warped Tour, there will be 10, maybe 20 students of the Let There Be Rock School making the rounds in downtown bars playing for whatever tips they can get. For every Louey Peraza and Aiden Marceron and Francheska Pastor, there will be a Xander Ripley, a Connor Stalzer, a Debbie Caballero.
"There are certainly some kids coming here that just want to play music and they're having fun and that's great," Scott Marceron says. "But a lot of these kids are really trying to do something with music. Whether it's going to a music program like the great music programs at Belmont, Berklee, (and) Musicians Institute, or they are on the grind, playing shows, trying to make it."
Connor Stalzer, a 16-year-old guitar player, joined the Rock School a couple years ago at the encouragement of some friends.
Connor, a kid of average height, has a long, blonde combover hairstyle that screams "I'm in a band." And if that's not enough to let you know he's into rock and roll, the usual rock band t-shirt and silver ring with the large purple gem stone in the center confirms any suspicions.
Before he joined the school, Connor had little idea what would happen to him. He recalled a difficult period of time, when he was dealing with a loss in the family, and he hit a low point.
"For a while, it was getting pretty heavy, and I didn't know what was going to happen," he recalls. "It didn't look good."
But, one day he picked up a guitar, and tried to play. He wasn't a natural on the axe, but playing made him feel better. So he kept doing it.
For the first time in his life, he now says, he was good at something. Until then, he had spent his life not fitting in, trying to find something he excelled at. But, music? Music could be something.
"I was just a kid floating through the crowds. I didn't really fit anywhere," he says. "Guitar gave me something I felt I was good at, and something I could work toward. There were small goals that I could meet."
Now, Connor plays in three bands: Neutral, Frequency and Skrimshaw — something Marceron and the school encourage so students can learn from each other and see which band or which style works best for them.
Connor's confidence has grown, too. He's also grown to be comfortable expressing himself through his music — something in which Marceron takes pride. There are plenty of kids like Connor, who have found a safe place in the school. Some come as many as five or six days a week, Marceron said.
"It's pretty amazing what these places do," he says. "I was that kid. I see them everyday coming here. They're not the kids that are into sports, might not have a ton of friends. Just the kids that aren't into everything that the kids are at school.
"This place," he adds, "gives them somewhere they can come to be around like-minded people."
Connor's dad, Ken, who Connor credits for his love or rock and metal, even joined a band at the school. The two played together at the Olde Towne Tavern show, and they practice at home together, or come into the school and rehearse songs. They push each other to get better, and whether or not they don't seem to mind if they become the next Bad Seed Rising.
"I'd like to see if I can take music somewhere," Connor says. "But if not, I'm not going to stop playing."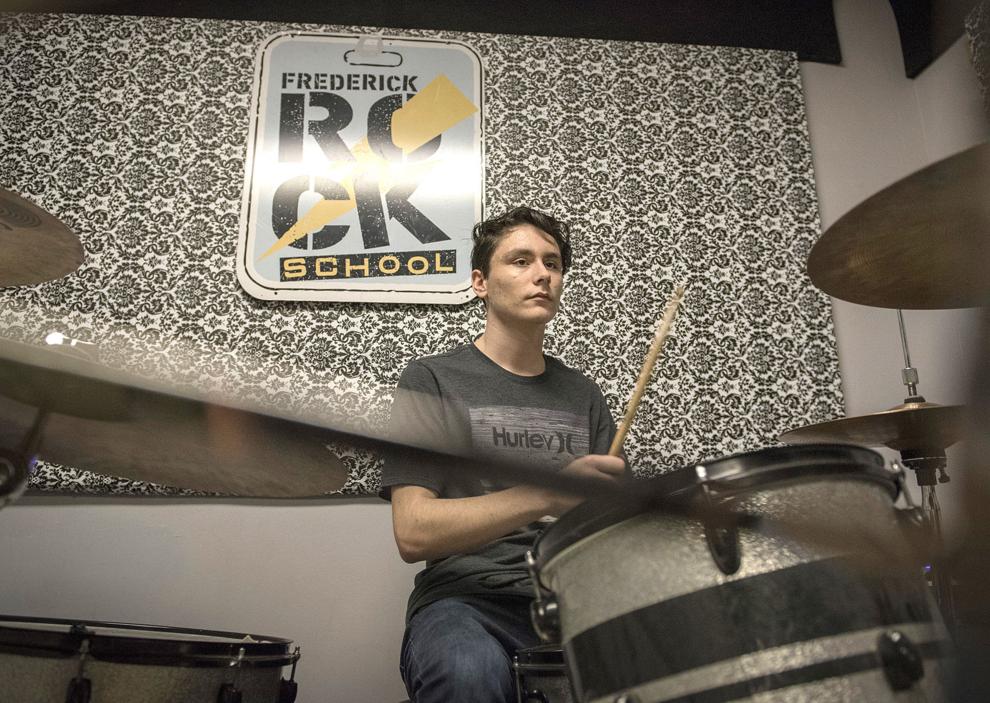 Xander Ripley, on the other hand, doesn't hide his dream of getting swooped up by a record label and touring the world with his band, Straight Up. That said, Xander has considerably more time to chase those dreams. The drummer is just nine years old, but performing in shows has become the norm for him.
His band, made up of Marceron's son, Keegan, Max Gold and Gabe Rossi, performed at the Frederick Fairgrounds as part of Olde Mother Brewing's two-year anniversary in November, and the band garnered one of the largest and most responsive crowds of the day.
Xander started taking lessons at the school when he was 7. His parents had him taking piano lessons, but the instrument didn't stick. So he stopped, his father Vaughn said, but they still wanted him to do something involving music. So Xander chose to try the drums.
He was already friends with Keegan from school, and Keegan told Xander to come check out the school. He hasn't looked back.
Now, Xander practices at home at least 45 minutes a day, but often goes until it's either time for bed, or his parents force him to stop. He has his own YouTube channel where he plays drum solos, and many of the videos have thousands of views.
In one YouTube video, Xander is brought on stage to perform with a band called the Screaming Trojans, which features Mark Bryan, the guitarist for the band Hootie & The Blowfish. It was an opportunity orchestrated by one of the instructors at the school, and the performance ended with Bryan giving an emphatic fist pump in the air and a high five to Xander. It's one of the reasons the Ripley family is so thankful for the school.
"The school gives them a chance to spread their wings and learn to play at shows and play with other players," Vaughn Ripley says. "That's the key. They get to learn how to work with others. They work through the nerves. And they have some really cool opportunities."
The Teacher
For every dreamer that walks through the doors of the Let There Be Rock School, there's an instructor that will try to help them reach whatever goals they have. 
Jayme Salviati joined the school six years ago on a part-time basis, after graduating from Shepherd University and starting a job at a video production company. She wasn't satisfied in her work, and she wanted to get back into music, so she looked for music schools to join. 
When she found the Let There Be Rock School, she set up an interview with Scott. Upon arriving at the school, she didn't think it would work out. Posters of rock and roll and metal bands covered nearly every inch of the walls. The owner was a walking tattoo canvas whose usual attire includes a trucker hat and often a zip-up hoodie with a band's logo.
"I'm not very rock and roll," says Salviati, who specializes in acoustic music. "Scott is so rock and roll. I didn't think our styles would mesh."
Nonetheless, Scott asked Salviati to play for him. And when she did, he offered her a job on the spot. Salviati eventually accepted, but she didn't leave her job immediately. She started doing work at the school part-time to see if it was something at which she could be good. 
But the list of clients requesting to work with her grew. So much so that she not only left her job at the production company, but she had to cut back on her role at the school, too. Salviati used to help students in one-on-one lessons, songwriting and in band rehearsals. With the school being open from 3 to 9 p.m. Monday through Friday and 11 a.m. to 4 p.m. on Saturdays, Salviati is booked for lessons every half hour that it's open during the work week. She eventually stopped doing band rehearsals because she couldn't keep up with the demand. 
Salviati estimated she works with 40 to 50 students per week. And she has to know all of their personalities to adjust how she coaches them along. 
"Adults tend to be their own harshest critics," Salviati says. "So you have to really focus on positive encouragement and making sure they know they can get it right."
And for kids?
"Patience," Salviati laughs. "The key for kids is not making them play something. It's allowing them to find something they're interested in and letting them play that. Whether it be classical music, or a pop song they heard on the radio."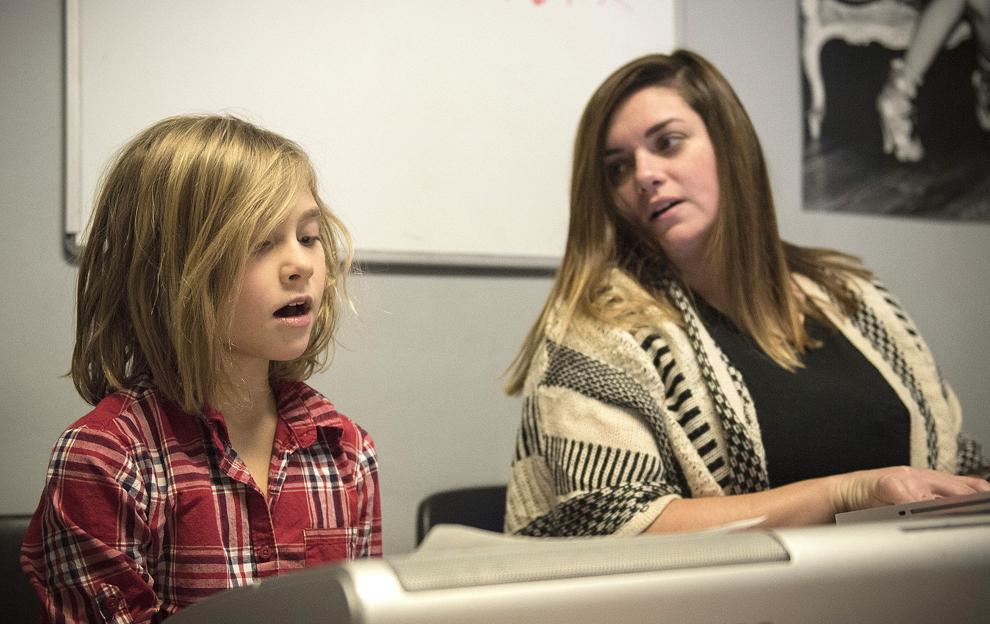 Salviati is the exception, not the rule. Most instructors help out at the school on a part-time basis, Scott says. They do a few lessons a week, and either work another job, or they're chasing a music career themselves. 
Salviati isn't chasing a music career, but she still occasionally performs acoustic shows throughout Frederick. When she does those shows, she always has her students open up for her, and encourages them to play their own original songs. 
She also helps organize most of the school's acoustic shows throughout Frederick. Her students will perform in venues like the Blue Side Tavern, Cafe Nola, and Olde Towne Tavern.
"It's really gratifying to see these students get up on stage and play a song that they wrote and see the crowd react to it," Salviati says. "It gives them so much self-confidence and self-worth."
Starting a culture
As the night at Olde Towne dwindles, the crowd does not. Even as bands finish their sets, the members stick around and watch their fellow students play. It's a rule of Scott's: No one who plays leaves early.
"It does no good for the band," Marceron says. "There's no way to make connections. It just makes a band look bad."
But the lack of support is exacerbated in Frederick. An 11-year-old from Frederick toured the world with a group of teenagers from Frederick and played in front of, literally, millions of people — and somehow, it felt like few people in Frederick took notice.
Marceron doesn't fault the music scene in Frederick. Bad Seed Rising was an anomaly — swept up by a big record label and thrust onto the national stage before Frederick could even get a whiff. But there was a reason the band often billed themselves from Baltimore.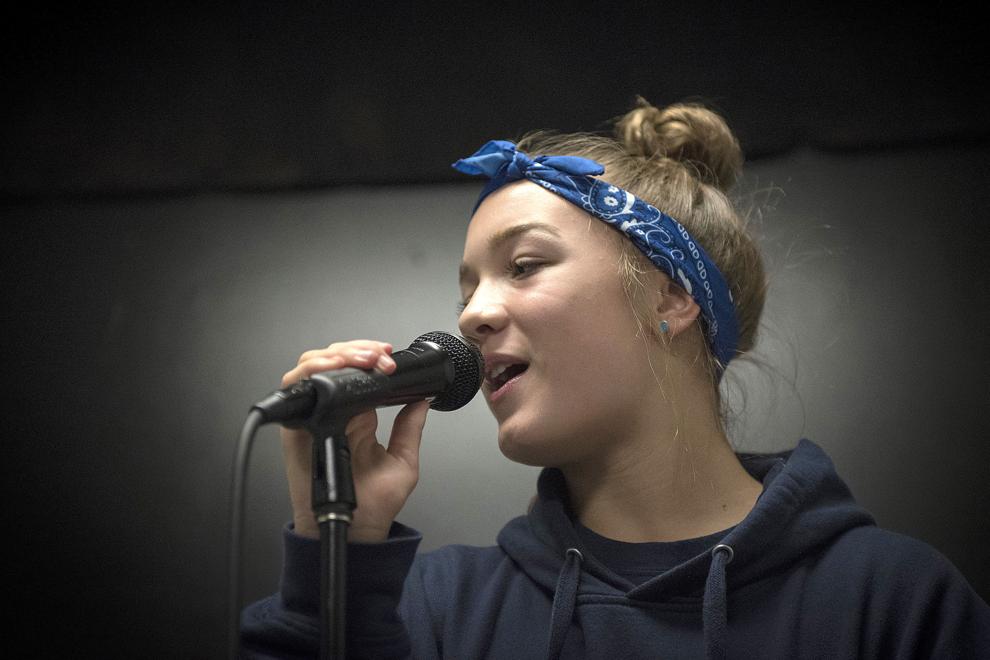 As for Goner, while the band did not return a request for comment, guitarist Sam Smisek has gone on record on his thoughts on the local scene.
"There is an insane amount of talent in Frederick, but I really don't know if there is a strong scene," Smisek told Frederick Playlist in September. "There are incredibly talented bands and other artists in all genres – EDM, rap, indie, etc. – but no real platform for everyone to get together and create a 'scene,' so to speak. Not to bag on the venues in Frederick, but a lot of them aren't willing to even have a show with a band like us, let alone have shows multiple times a month with a bunch of these talented artists to create a 'scene.'"
Marceron, for his part, wants to change that. He's getting new venues interested in having his bands play shows. It helps that he can pretty much guarantee a packed house wherever they play.
Marceron has also been able to land his students shows at Shiley Acres — a concert venue in West Virginia — with some big name acts. Those shows can garner audiences of up to 3,000 people, and any student who has performed there refers to the experience as one of their favorite things about being involved with the school.
As the scene continues to build, Marceron is confident the support will also continue.
The event at Olde Towne Tavern is simple proof of that — more than 100 people show up on a night when temperatures are near zero, and they stay until Saturday turns to Sunday.
A few songs into the evening, a young woman holding a mug of beer pulls Scott, also holding a beer, out on to what little dance floor the crowd has allowed to exist. They twirl each other around other, holding their beers in the air.
Scott smiles, and yells to the crowd. There are no fires to put out, now. There's no stress over whether or not people will show up. They're here.
And now, even with the spotlight shining on the Trojan Rabbits playing their set, this is Scott Marceron's moment. His moment to enjoy what he, and the Let There Be Rock School, is building.