The National Weather Service determined late Friday that a tornado struck parts of Frederick County earlier in the day.
After having representatives visit the county after the morning storm, the weather service determined an EF1 tornado, which means winds could have reached up to 110 mph, tore through the Jesse Smith Road area, according to a text from Jack Markey, director of the Frederick County Emergency Management Agency.
Jesse Smith Road travels north of Old National Pike (Md. 144) between New Market and Mount Airy.
Markey said the weather service might return to the county for more information.
Earlier on Friday, a father and son walked around their Monrovia farm while assessing the damage as metal and debris were strewn about the property.
Severe winds damaged a 60-by-80-foot barn and two 60-foot silos on the farm in the 11000 block of Fingerboard Road where Wayne Burall Sr., 70 lives with his son. The storm also threw a trailer 20 feet across the property.
Wayne Burall Jr., 46, said he narrowly escaped injury as he ran from outside into his mobile home.
"I heard something coming," the younger Burall said. "I had 10 seconds to climb in a closet and curl up like a baby. I've lived here all my life. Never seen anything like it."
Aside from a two-by-four that went through the mobile home, it didn't sustain much damage.
"I don't know how the trailer stayed [on the ground]," Wayne Burall Jr. said.
A second nearby farm off Cook Brothers Road also had a barn destroyed.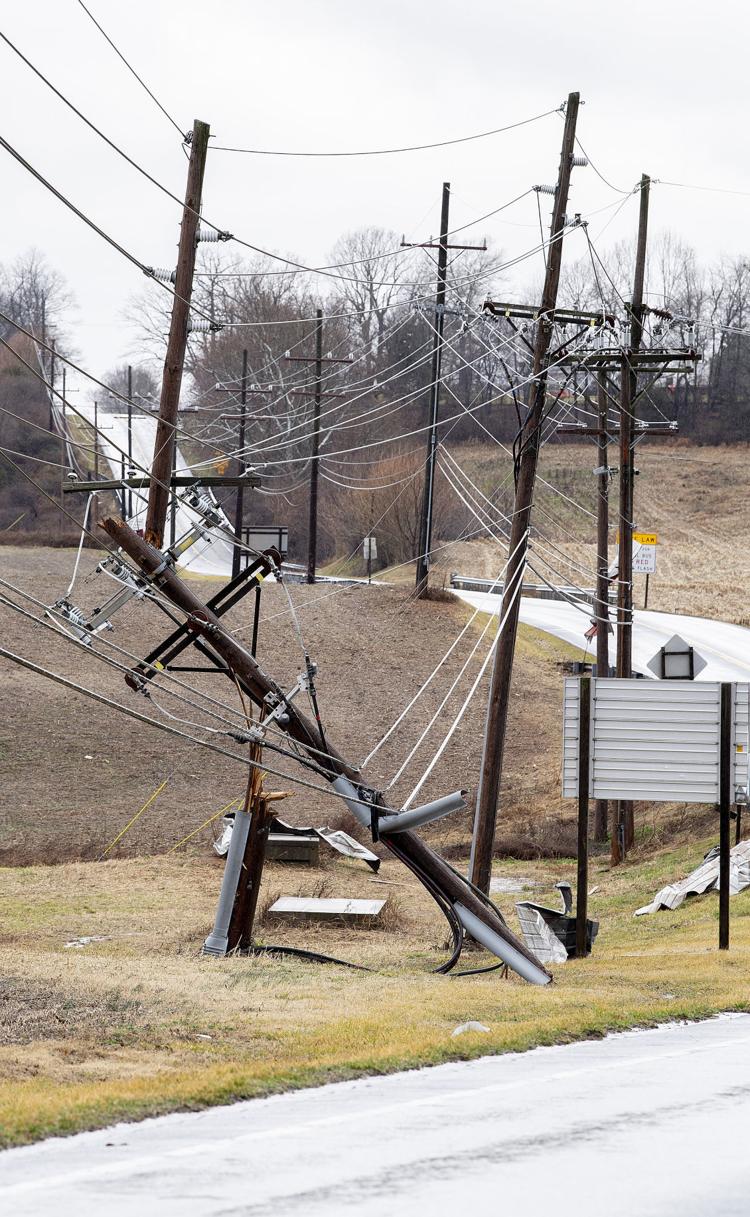 A severe thunderstorm warning was issued by the weather service at 7:26 a.m. for southern Frederick County, followed by a tornado warning that went into effect at 7:46 a.m. and lasted about 30 minutes.
The weather service typically teams up with local emergency management agencies to survey areas that experienced storm damage in order to provide information to supplement what the weather service's radar picked up from the storm, according to Isha Renta, a meteorologist at the National Weather Service's nearest station in Sterling, Virginia. While radar data can indicate that tornado-like conditions existed, data gathered from the field often provides even more telling clues.
"One of the basic things we look for is, when we have multiple downed trees, we look at the way the trees are laying. Are they all blown down in the same direction or are they scattered about, anything that could indicate rotation," Renta said.
While some storms and natural disasters, such as the widespread flooding in Frederick in 2018, can trigger federal assistance or funding, Friday's storm did not appear to be nearing the impact or damage threshold, Markey said. Still, valuable information can be gathered from careful analysis of any severe storm.
"We may not always have funding available to help people with damage to their property, but we will gather data to try to help translate that into more effective warnings in the future," Markey said.
The storm caused road closures in the area of Fingerboard Road and Green Valley Road that went into effect shortly after 9 a.m. after the winds knocked down several power lines, according to a press release from Maryland State Police. Several telephone poles were bent from the storm and trees fell. Between the time when the tornado warning was issued and 10 a.m., fire and rescue personnel responded to more than 20 storm-related calls for service, mostly near Green Valley Road, Old Annapolis Road and in Mount Airy, according to a press release issued Friday morning by the Frederick County Division of Fire and Rescue Services.
Downed trees also led to the closing of Weller Road and fire and rescue personnel were sent to a report of a tree that had fallen into a house and a vehicle rollover on Jesse Smith Road at 8:13 a.m., according to the release. No injuries were reported at either incident, but one occupant was trapped in the residence and required help to get out, the release states.
The storm system formed near Front Royal, Virginia, and rapidly moved east into Leesburg where the first reports of wind damage were received before continuing into Montgomery County and eventually into Frederick and Carroll counties, according to weather service data. As the storm tracked east, more and more damage accumulated in its wake.
Rick Yount, executive director of the Warrior Canine Connection in Boyds, said he and his family had little time after receiving the tornado warning before the worst of the winds hit the organization's grounds. After ushering several volunteers and therapy dogs in training into his basement, Yount stayed above ground to keep an eye on the grounds and watch for damage until he no longer felt safe.
Almost as soon as Yount ducked into the basement, he heard a thunderous noise outside as a 30-by-30-foot section of corrugated steel roofing from one of the organization's storage buildings was blown off the structure and onto a nearby driveway.
"I don't know if it was a tornado or not, but it doesn't really matter; it destroyed a building, so whatever it was was more powerful and formidable than our building was," Yount said. "No humans or dogs sustained any injuries, but our very large storage building, it completely destroyed it. Debris was thrown probably over 200 yards away, large pieces of debris."
Security cameras at the site caught multiple angles showing when the roof was blown off the building.
As many as 6,600 FirstEnergy customers were left without power across the utility's service area — which includes Frederick County — as a result of Friday's storm, said Jim Cannon, a FirstEnergy spokesman.
"I think Frederick [County] was the hardest-hit, particularly Green Valley, New Market and Mount Airy," Cannon said.
Service had been restored to thousands of customers as of 10:30 p.m., but 442 customers remained without power in Monrovia, while 58 had no power in Mount Airy, according to the utility's website.
"Due to the amount of damage and the resources that we have in place and available to us being so taxed, it's going to take a little bit of time and patience before we see full restoration," Cannon said.
City editors Allen Etzler and Pete McCarthy contributed to this report.