When Erin Laird had pictured what her father's end of life celebration would be like, she thought she'd be in her 60s.
She thought her dad would have spent his final years in Puerto Rico and that everyone would wear brightly-colored shirts to the funeral to celebrate him.
"He wanted that but, unfortunately, plans change," Erin said.
Instead, at 14 years old, she and her 12-year-old sister Madelyn faced a sea of dark blue uniformed personnel and others who'd come out to Mount St. Mary's University Tuesday to bid Battalion Chief Joshua Laird farewell.
Laird, 46, died from injuries he sustained fighting a house fire in Ijamsville Aug. 11. He served 21 years with the Frederick County Division of Fire and Rescue Services. His death and the fire are under investigation.
Thousands appeared to come out for his celebration of life at Knott Arena in Emmitsburg.
The distant thud of a bass drum announced the approach of Laird's casket. As the sound grew closer, bagpipes joined in, and an American flag-draped casket escorted by family and firefighters entered the room, passing a row of uniformed personnel holding flags. Marching musicians followed, their notes reaching every corner of the solemn space. At the front of the room, colorful flowers greeted them.
As speeches followed, guests dabbed their eyes with tissues. One seated firefighter patted another on the back. Through their tears, speakers drew laughs from the crowd as they recounted pranks and silly antics Laird was known for inside and outside the fire station.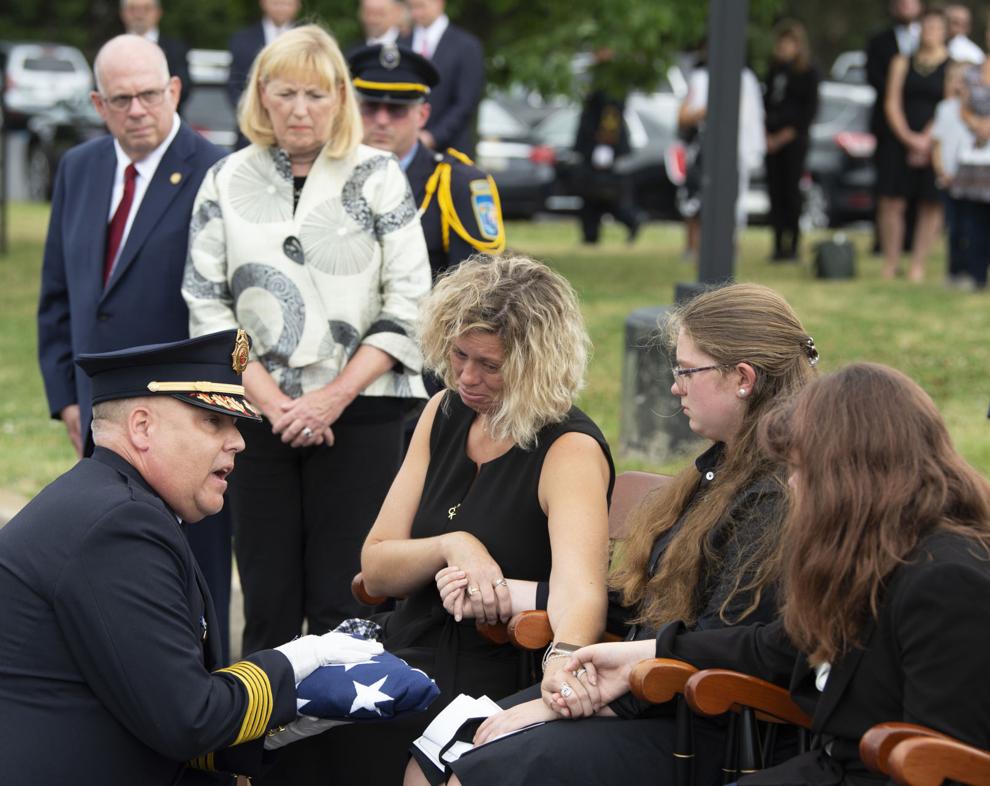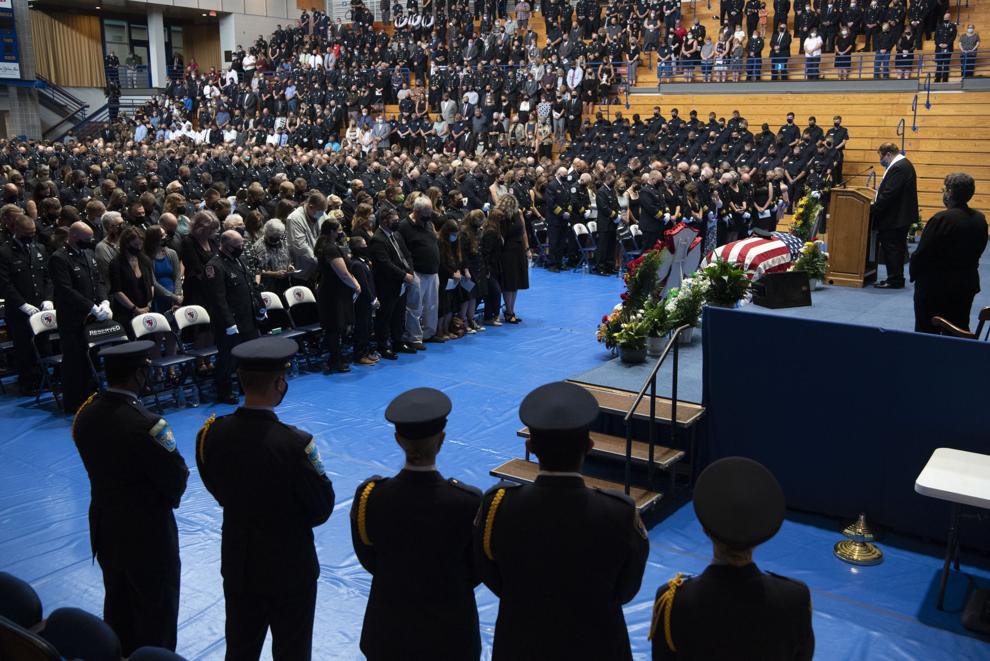 Erin said her dad used to tap people on the wrong shoulder so they'd look the other way, or pretend there was a spot on your shirt so he could boop your nose.
"My dad was unapologetically himself, and I admire that about him. He dressed funny, he was uncivilized and he always put others first," Erin said.
Madelyn recounted how their father taught her to fish and tried to teach her to hunt, but their mother Sara was better at that. He loved having drinks with friends, played golf terribly and went to bed early, Madelyn said.
As the sisters recounted memories of their father, the audience chuckled. The way the girls described him, Laird would have rather seen people laugh than cry.
"Now it's time to party, because I love my dad, and it's not right to say I loved him, because I do love him," Madelyn said, emphasizing the present tense.
Speeches were punctuated by musical selections that seemed to speak to Laird's personality. An instrumental version of AC/DC's "Hells Bells" played, plus "Keg On My Coffin" by Chris Trapper and "Down To The River To Pray" by Alison Krauss.
Laird's pastor, Brenda Walter of Fairfield Mennonite Church in Adams County, Pennsylvania, remembered the way he stood up for his daughters and church. Last summer, a big man on a motorcycle used to ride by the church and harass congregants holding weekly vigils. One day, Laird rolled up in his pick-up truck and confronted the man for scaring his daughters and their friends. The bully never bothered them again, Walter said.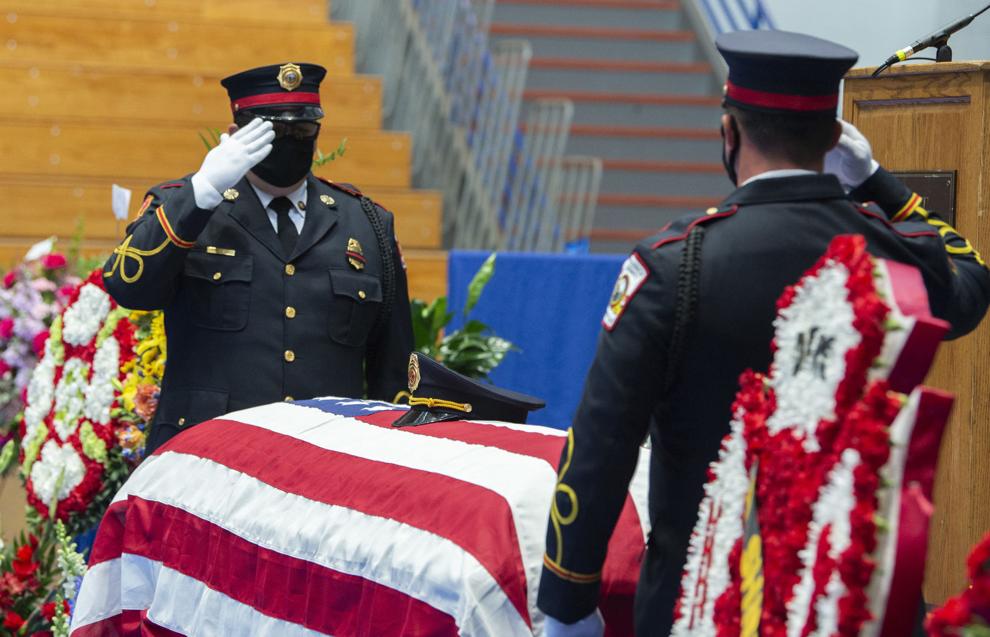 Gov. Larry Hogan revisited the bravery and sacrifice Laird exhibited throughout his career, both as a member of the Fairfield community and in his final hour.
"He felt a deep-rooted obligation to make his community a better and safer place," Hogan said. "And he put every ounce of his being into making that possible. Even when it meant putting his own life on the line."
The last words Laird spoke over his portable radio, Hogan said, expressed the love Laird had for his family.
Even before Laird entered that burning house in Ijamsville, he was a hero, Frederick County Executive Jan Gardner said.
"Josh is a hero to the people of Frederick County," Gardner said. "He touched many lives during his decades of service to our community, from the patients he treated when he was a paramedic to the toddler he befriended with a toy fire helmet when they met at a gas station just last week."
Before presenting the Laird family with the International Association of Firefighters Medal of Honor, IAFF Local 3666 President Stephen Jones put the service's location into perspective. At the Mount, guests were only about three miles from the National Fire Academy.
Though Jones on Tuesday represented the local union Laird was a part of, he also knew him on a personal level and even witnessed some of his notorious pranks — like when Laird filled Jones' parents' swimming pool with 500 goldfish.
IN PHOTOS: Funeral service for Battalion Chief Joshua Laird
Speaking to Laird's daughters, Jones said, "You embody everything that he hoped for in this world. May you never forget the love that your father had for you. He lives on through you."
Though Laird's professional firefighter career started with Frederick County 21 years ago, DFRS Chief Tom Coe detailed how Laird's journey started long before then. He began volunteering at age 16 in Mont Alto, Pennsylvania, and became the state's youngest paramedic at the time, Coe said. He went on to serve in Waynesboro, Chambersburg, Shippensburg and Fairfield, Pennsylvania.
In Frederick County, Coe said Laird served at fire stations in Green Valley, New Market, Spring Ridge, Westview, United, Carroll Manor and Braddock Heights. His accomplishments included earning a silver medal of bravery for saving a man's life in a rescue. And when the pandemic struck, Laird became part of the fire department's COVID-19 incident management team.
Coe presented the Laird family with a battalion chief badge and collar pins to signify Laird's posthumous promotion to the rank.
Laird was a family man above all else, many said. Coe, speaking from the podium, directed his gaze to Laird's wife and daughters.
"Josh's heart was so full of love for each of you," Coe said. "While Josh is no longer with us, you now officially have 532 protectors who will stand beside you as your big brothers and sisters for the rest of your lives."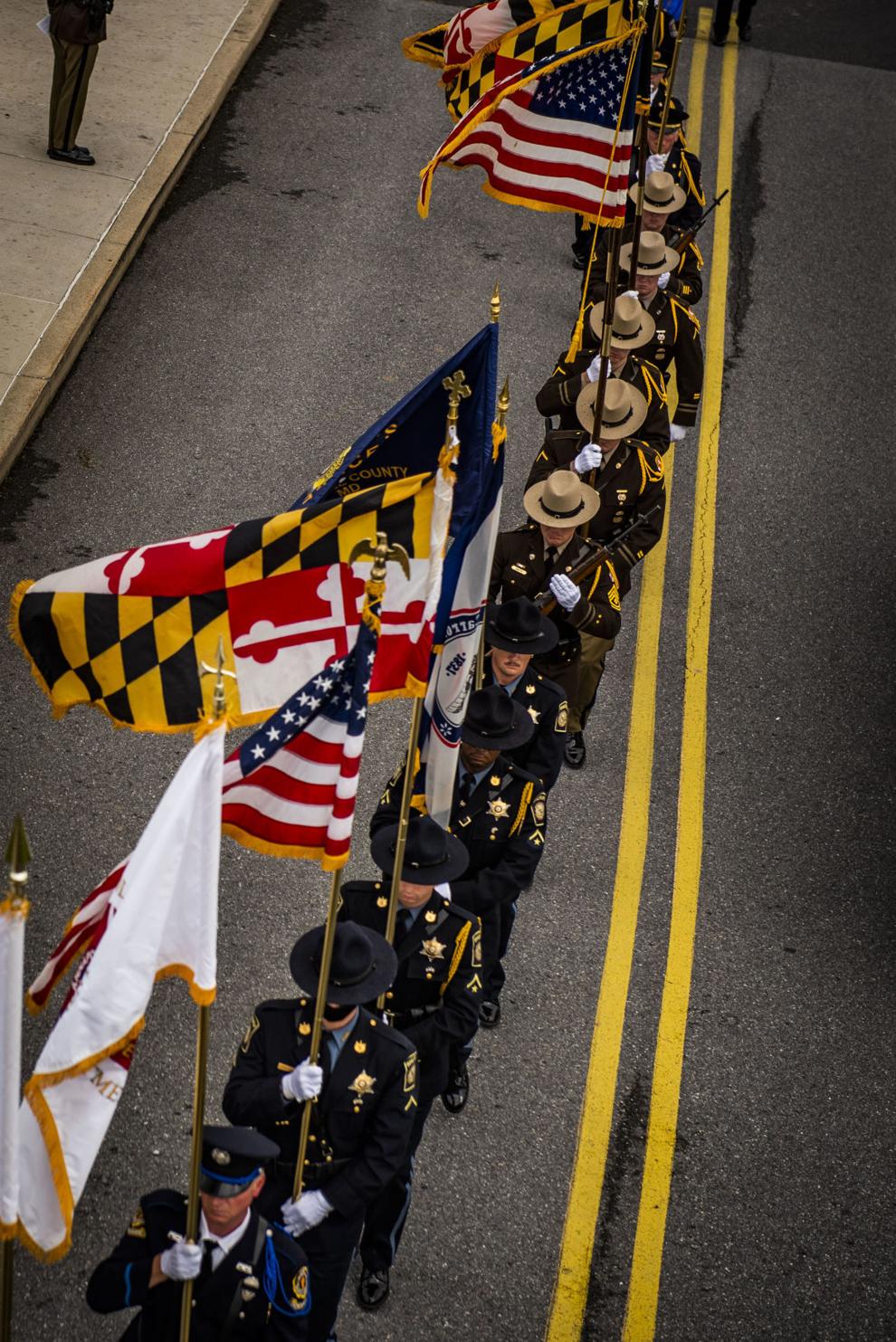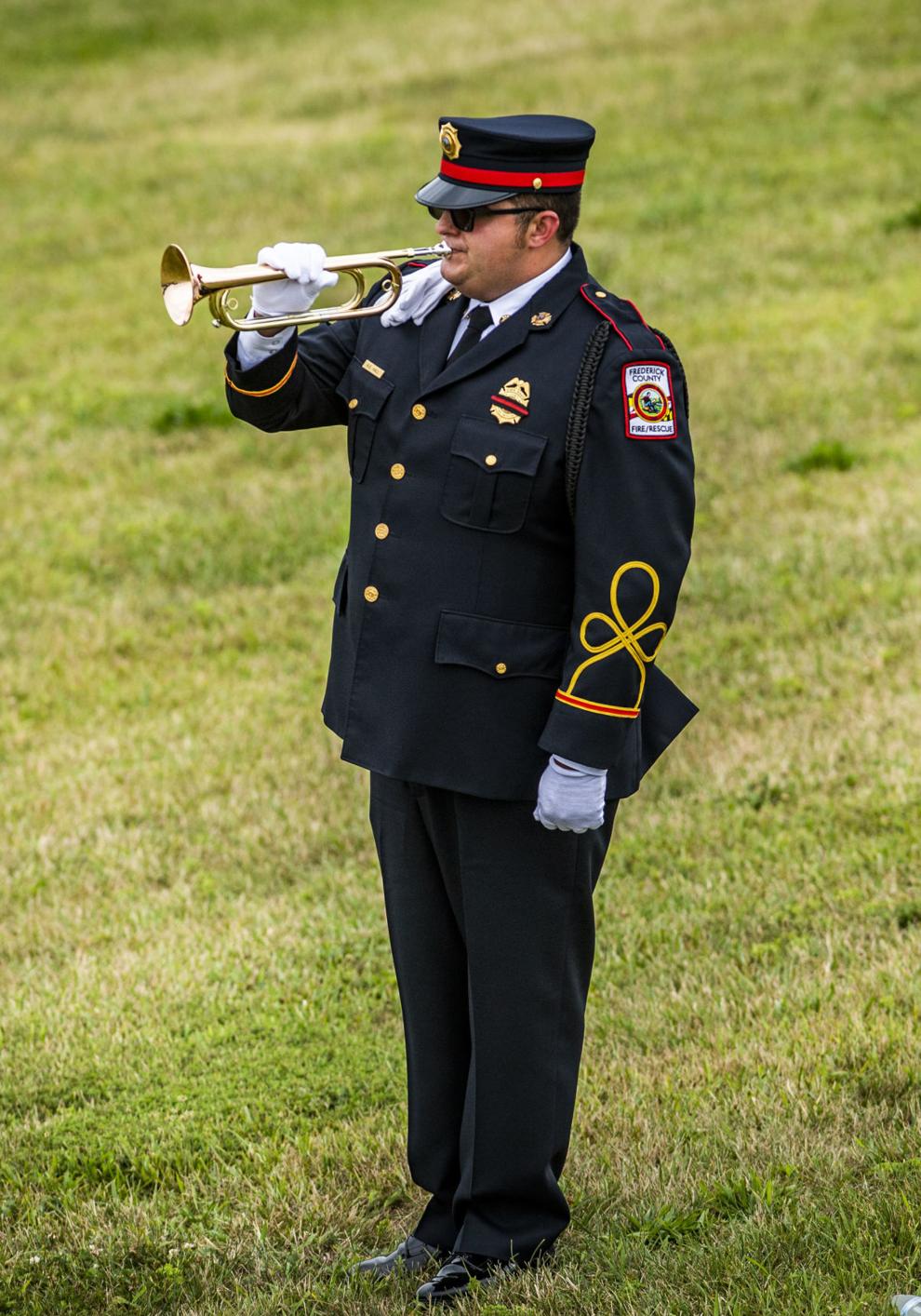 As the indoor ceremony concluded, those in uniform trickled outside to form what's known as the "sea of blue." Standing in rows on a grassy lawn, they saluted the fallen battalion chief as his casket made its way to an awaiting fire engine.
Bagpipes swelled to the tune of "Amazing Grace," joined by pounding drums. Laird's last alarm came over the radio, and a silver bell was rung 15 times, with a pause after every fifth ring — a tradition in the fire service.
A lone bugler blew taps, then a long silence fell over the crowd. Eight pallbearers wearing white gloves slowly lifted the American flag from the casket, folded it into a triangle and presented it to the Laird family. Light rain began to fall.
Earlier, firefighter and pallbearer Vincent Parrish in his speech called Laird his best friend.
"If I could make a list of all the things I admire about Josh, I would be here all day. He was, simply put, one of one, limited edition," Parrish said, his voice breaking.
Laird was 100 percent himself, 100 percent of the time, he described.
"I guess what I'm trying to say is, in a world of people just trying to fit in to get by," Parrish said, "be a Josh Laird."