As Jordan Addison was racking up catches, yards and ESPN-worthy highlights in the fall, some traits served him well aside from the obvious speed, elusiveness and hands.
Allow his mother — who sometimes couldn't contain herself, given the level of plaudits Addison was amassing — to explain.
"Jordan has always been just laid-back, calm, chill," Keisha Blackman said. "That's always been Jordan. From the time he's been born, as he has grown, that's always been Jordan. Laid-back, calm, chill."
So, while Addison was breaking out as a freshman wide receiver at the University of Pittsburgh, he wasn't exactly leaning into stardom. That's not his style. To Addison — a quiet, perceptive, internally motivated guy — attention is mostly background noise. And it probably wouldn't matter to him if it ceased.
But, the way his first season of Division-I football went, that's not likely to happen anytime soon for the 2020 Tuscarora grad.
In 10 games with the Panthers, Addison had 60 receptions for 666 yards — both team-highs — and four touchdowns. Last month, he was named a freshman All-American by The Football Writers Association of America. He also earned All-Atlantic Coast Conference honorable mention.
"My first season, I feel like I did good," said Addison, who is back in Frederick on break between semesters, trying to find ways to work out and — almost — avoid interviews like the one he gave over the phone Wednesday. "Just me looking back at it, I know I can improve."
He identifies route running, contested catches and explosive plays as areas where he'd like to make strides. It stands to reason that he will — considering this season was just the second since he was a Tuscarora sophomore that he'd been able to focus all of his attention on being a receiver.
In his final two years with the Titans, he split time on offense between receiver and quarterback, while also serving as a shutdown corner on defense. He'd been a youth-league shotgun QB for the Montgomery Village Chiefs. But on the playground and in his head, he was a receiver, often trying to emulate Tavon Austin — an NFL standout with a body type and skills similar to Addison's.
At Tuscarora, he did whatever was asked of him by former coach Vince Ahearn, who says Addison is not merely "coachable" but "a coach's dream" for the uncanny way he can implement adjustments — immediately, flawlessly — to any part of his game.
As a Tuscarora senior, Addison said his role changed based on gameplans or even in-game scenarios. He had to know so much.
"With the development of his game, we were careful with him," said Ahearn, now the head coach at Smithsburg. "He kind of built his knowledge of the game incrementally through these progressions, through these years. And I think regardless of what position he was gonna end up in, that helped him tremendously."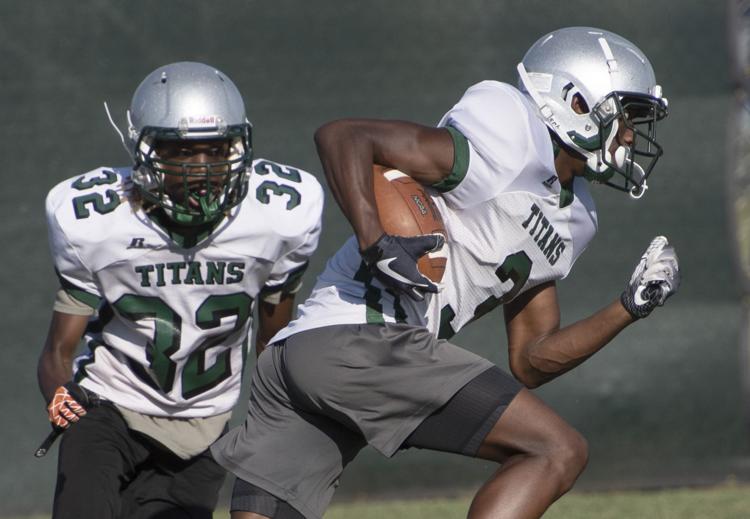 Addison understands well, for instance, his QB's route progressions. He understands, too, an opposing defensive back's tendencies based on where he's positioned across from him.
"So playing those other positions, it kind of helped," Addison said.
Many times at Tuscarora, he'd come back to the huddle after running a route, pull off his right receiver glove, jam it under his uniform belt and take snaps at quarterback.
"I actually got a picture," he said with a laugh of a photo taken during a game against South Hagerstown. "I was running and I had one glove in my pants, kind of sticking out."
'EVERYTHING FOR HIM IS A CHALLENGE'
Both of his gloves stay on at Pitt.
With the Panthers, he's strictly a receiver. His position coach is Chris Beatty, who held that same job with the University of Maryland when he first met Addison at a camp three years ago. Present that day, Ahearn said Beatty understood Addison's talent right away.
With Beatty — who tutored Carolina Panthers star receiver D.J. Moore at Maryland — Addison gets to dig into the nitty-gritty. Footwork, spacing, selling his routes.
"It helped me more perfect my craft, not having to worry about taking my gloves off and dropping back and throwing the ball," Addison said. "I got to focus 100 percent, and put everything into working on my craft and getting better as a receiver."
Blackman, though, wasn't sure about how much it helped her son to finally concentrate on one position because, she said, "Everything for him is a challenge."
His mindset, she said, is: "I'm going to take this challenge and focus on it, and I'm gonna be the best at it. That's just Jordan."
That's just Jordan — it's a tagline echoed often by his mother and former coach. Ahearn first began to grasp Addison's earnest nature when he sat down with a ninth-grade Jordan and his family. The freshman was already a known quantity as a football player, garnering offers from private schools. But his grades weren't quite where they should be.
Ahearn was up front about it.
"That guy, from that time on, completely flipped," said Ahearn, adding that Addison finished high school with a 3.0 grade-point average.
He left early for Pitt. He made a good first impression on coach Pat Narduzzi, who in the summer likened Addison to the college version of four-time NFL All-Pro receiver Antonio Brown. He quickly earned the trust of three-year starting quarterback Kenny Pickett.
Addison caught seven passes in his debut against Austin Peay on Sept. 12. From there, he only accelerated. He was appearing in games on TV. People were talking about him, sharing clips of his best plays. Excited, Blackman would sometimes send Addison social media posts or stories about himself. She'd be raving, "Oh, my God!"
"And he would text me back, and he would be like, 'Mom, it's not that serious,'" she said. "He's just so nonchalant. To me, he just always feels like, 'I have to do better.'"
But one of his top plays garnered so much attention that even Addison had to call his brother, Michael Blackman, who plays safety at Shepherd University, to ask if he'd also just seen Addison on "SportsCenter."
ABC color commentator Todd Blackledge lauded Addison's concentration and noted that he even got two feet in when he only needed one. Sideline reporter Todd McShay called it "unbelievable."
By that point in the season, Addison had become a regular topic of conversation online among Panthers fans and media.
"I could sense it. It was a little different for me," Addison said. "But, it's like, this is what I worked for, this is everything I dreamed of. I was really just trying to live in the moment and take everything in."
SOMETHING TO BUILD ON
Soon after that game, postseason honors began rolling in, setting the stage for bigger expectations. With his future appearing so bright, Addison is attuned to everything he needs to work on — including his body.
Putting on weight has never been easy for Addison, partly because he's not so interested in eating. Blackman said, with her family (Jordan is the fourth of her five children), they eat when they're hungry.
Breakfast was omitted by Addison in high school. He called it laziness. Ahearn disagreed.
"He's not lazy anywhere," Ahearn said. "In his mind, he doesn't have time to eat, because he's on to the next thing."
The coach lectured him about health and nutrition. He came up with a plan to add the most important meal of the day to Addison's schedule. Every morning, Addison received a bag of food packed by Ahearn's wife, Becky. It included a couple of her famous muffins, some fruit, maybe a peanut butter and jelly sandwich.
Becky Ahearn told Blackman about the Ahearns' plan, and Blackman thought, "Good luck."
Vince Ahearn thought it was going well. Then, one day he noticed Addison in the cafeteria at lunch, eating what was supposed to have been his breakfast. That's what he'd been doing all along.
"That defeats the whole purpose of this!" Ahearn told Addison.
Addison is 6-foot, 170 pounds. He never thought he'd play Division-I football because he was always small. He knows that adding some bulk to his frame might help him. But it's not easy — certainly not as easy for him as mastering football techniques.
Blackman is unconcerned. She believes he'll eventually fill out as he gets older, and that, "You can't make somebody eat."
"He's just going to be slim and he's going to be cut," Blackman added. "That's just going to be it."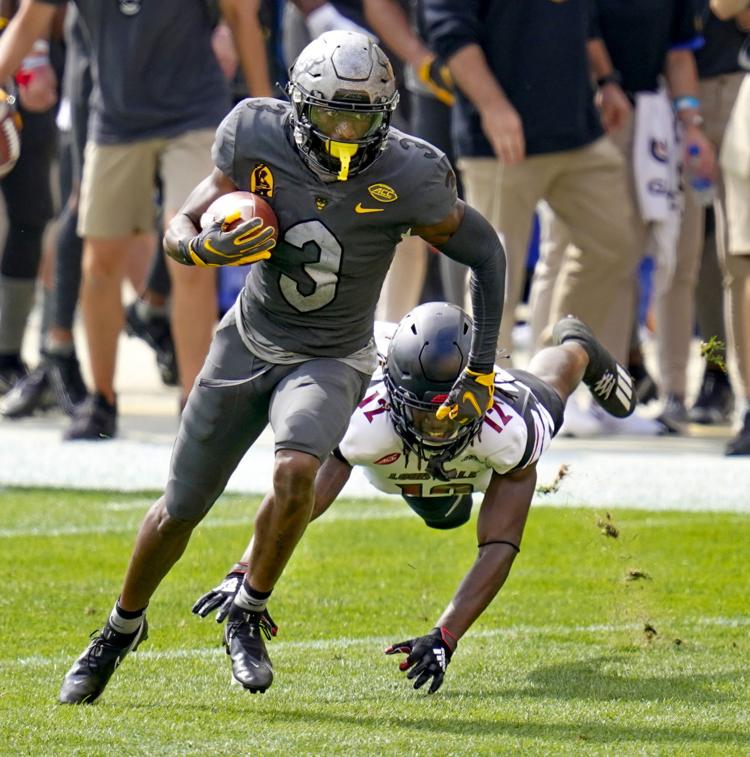 Addison's build didn't seem to deter his rise in his first season at Pitt. In fact, nothing did. Despite not knowing any other players when he arrived, he still developed a bond with teammates in an abnormal time when off-field hangouts were prohibited due to COVID-19 protocols.
Addison thrived anyway. And now, after his sparkling start, there are already odds on him winning the Heisman Trophy next season. For instance, the sportsbook PointsBet came out with odds on 27 players, and Addison is listed at 25/1. Oklahoma quarterback Spencer Rattler is the favorite at 5/1.
Addison saw the news on Instagram and thought, "Is this real?"
Blackman heard about it and joyfully went to show her son. Other than being skeptical, he didn't seem to care much.
She closed the door on him, jokingly hollering, "You're always ruining my moment!"
But that's just Jordan, as they say. In any moment — big, little, meaningful or inconsequential — he's the same.
Follow Joshua R. Smith on Twitter: @JoshuaR_Smith