After placing his football helmet in his locker and putting on a clean T-shirt, Max Butler strode out of the locker room and headed toward the distant sound of his second practice of the day — in the band room.
Butler, a sophomore at Frederick High School, is one of two members of the marching band who are also involved in the school's football program, on which he plays cornerback and wide receiver for the junior varsity team.
As he entered the music-filled room and headed to grab his trumpet, a girl's voice rose above the instruments. "Maxie Max, it's your turn to conduct!"
His trumpet would have to sit a little longer.
The band was ready to rehearse "Minimally Speaking," by Richard Saucedo, and so Butler — one of the program's two drum majors — took his place on a podium to direct the performance.
"He has command and direction and just enthusiasm for everything he does," band director Kevin Lewis said. "We sent him to [marching] camp this summer at James Madison University, and he's come back and he's showing great command."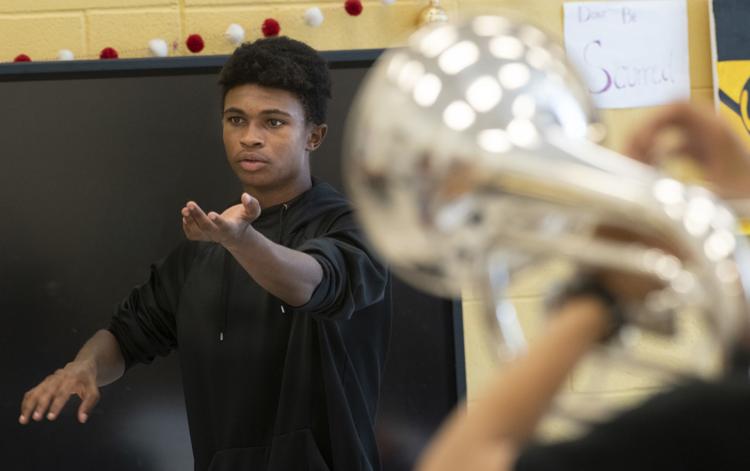 With the school year less than two weeks away, many students are likely wondering how they will balance academics with sports or other extracurricular activities.
Even Butler's mother, Samantha Jones, worried when Max, an honor student, told her he wanted to do both marching band and football.
"I'm always asking, 'How are you going to fit all this in?'" she said.
But she said Max, the eldest of her three children, is attentive and focused.
"He can be almost professional in the way he acts," Jones said.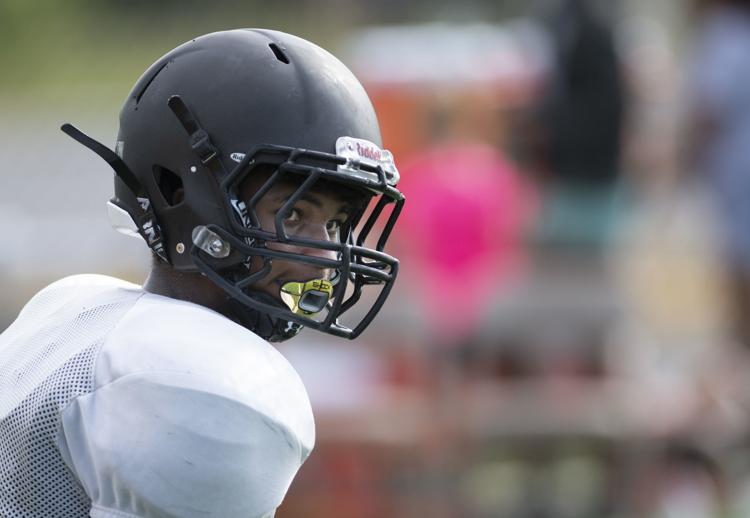 At about the same time Butler was putting on shoulder pads for a morning training session Wednesday, his bandmates were kicking off their own practice — part of a two-week band camp that would last from 7 a.m. to 4 p.m.
That day Butler was donning the white jersey worn by the JV team, but he stood out as one of the few JV players to be routinely running plays with the gold-clad varsity players.
"Incredible kid," said Kevin Pirri, Frederick High School's head football coach. "Does everything asked of him and more."
The only reason Butler isn't on the varsity team this year, Pirri said, is because of the team's depth at his positions.
"If I had a hundred of him," Pirri said, "we'd win states every year, for sure."
Butler, who also wrestles and runs outdoor track for the school, said he thinks playing in band benefits him on the field.
Playing the trumpet, he said, "helps with football, because it builds up lung capacity."
"So I would say it's a benefit from band because you're just getting stronger," he said.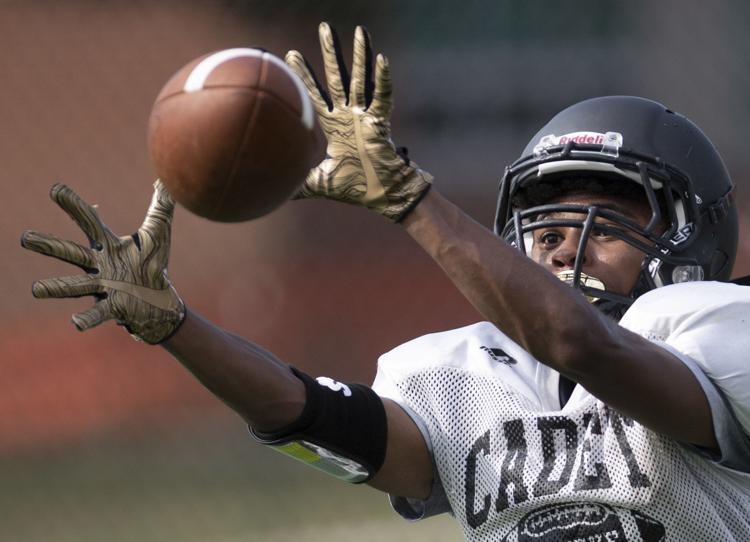 After plucking passes out of the air and running mandatory laps when a teammate is a little too slow coming back from a water break at football practice, Butler is quiet but methodical with his band peers.
"I've always wanted to be more expressive with music," he said.
Pirri said he hopes the positivity exhibited by students like Butler will carry around the school.
"We want to build a culture here," he said. "A culture of winning. And if that's band to football to wrestling to track, then that's perfect."
Ethan Lichtenberger, the assistant band director at Frederick High, echoed Pirri's thoughts on having students who want to participate in multiple extracurricular activities.
"They're going to mess it up sometimes," he said. "They need to prioritize. And it's a tough learning experience, but we'd rather them learn it now in high school than when they're adults or further on."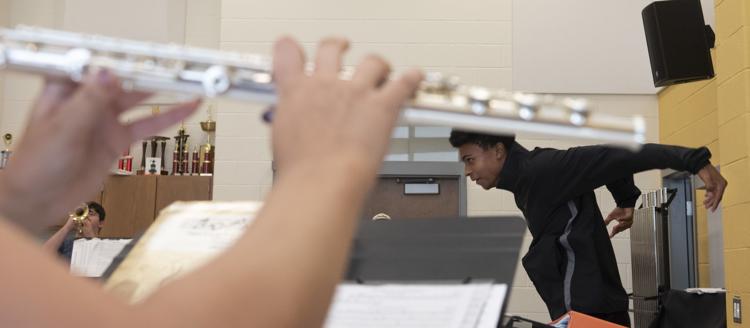 If Butler stays on the JV squad this season, his Friday nights will be free for him to march at halftime of the varsity games.
But should he be called up to the varsity squad, Butler will trade in his silver-plated brass trumpet on Friday nights for a matte-black helmet and shiny gold mouth guard.
"The goal is to get to varsity, and then just march in [band] competitions," he said.