After an exhaustive search for answers to troublesome pain she'd managed for years due to a schedule that could've overwhelmed an actual superhero, Jessie Graff found herself on a table last November at the Orthohealing Center in Los Angeles.
She was preparing to have marrow extracted from her hip bone to use as part of stem cell treatment on her creaky shoulders and neck. Forgive those body parts. They have taken a dreadful pounding as Graff — forgive her — has climbed the ladder to become an in-demand Hollywood stuntwoman and famous "American Ninja Warrior" competitor.
That's when her cellphone rang.
It was a producer from NBC's "The Titan Games" — yet another extreme obstacle course-related TV series that was looking for an injection of Graff's star power.
Just as Graff, a 2002 Urbana High graduate, sought a different sort of injection, "The Titan Games" asked for something that, perhaps knowing her mindset, she couldn't refuse.
She was on a table, yet so was another enticing offer: They wanted her as a Celebrity Titan for Season 2 of the show, in which she'd go head-to-head against contestants who are vying for a $100,000 prize.
"We spent about 20 minutes on the phone with the producer, discussing what length of time of recovery would be acceptable as a risk for them," Graff said earlier this week from her home in Calabasas, California.
She settled on stem cell treatment in strategic spots, a plan that would allow her enough time to recover and prepare for the show's taping 10 weeks later in February.
As is her modus operandi, Graff did the mental calculations and pushed the envelope. Her mother, Ginny MacColl, counseled her to err on the side of caution — a side that Graff has basically flouted since she was a fearless kid who kept a bag packed in case the circus called.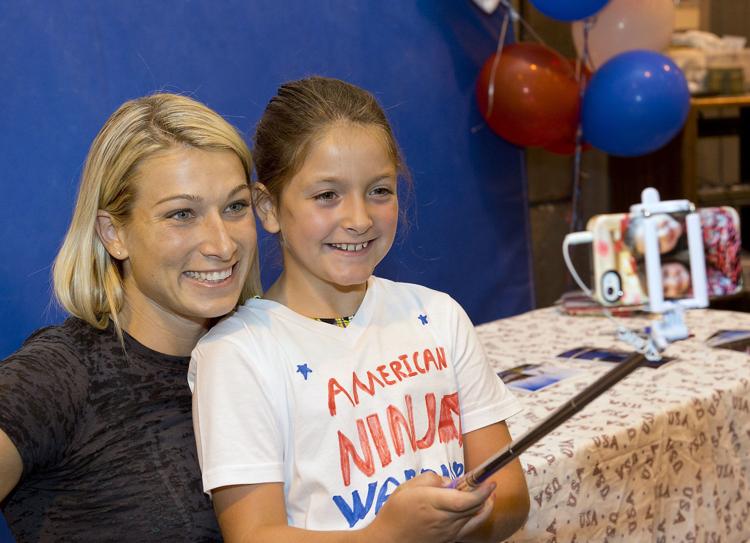 "I don't know what her muscles are feeling like or what she can go forward with, I only know what she's telling me," MacColl said. "And when she tells me she has these tears and bulging discs in her neck and these problems with her arms, I'm like, 'You can skip this year ... do it when you're more healthy.'"
At a time of year when most of Graff's devotees (she is a social media darling who endorses name-brand products and has done a TED Talk) are primed for her annual appearances on Ninja Warrior, that opportunity was removed when the show's regional competitions were postponed due to the coronavirus pandemic.
Lucky for her fans, though, Graff accepted the challenge presented by "The Titan Games," which premieres at 8 p.m. Monday and is hosted by Dwayne "The Rock" Johnson.
Graff's primary appearance will be deeper into the season due to her special role on the show. It's just the latest expedition for someone who has been upwardly mobile for her entire life — certainly including her time as a Maryland state record-breaking pole vaulter then known as Lauren.
'I am way out of my league'
Given the compressed timetable between her treatment and the schedule for the Titan show, to say nothing of the competition's rigorous requirements, Graff couldn't help but have doubts — no matter how effervescent and chiseled she always appears.
She was the first to admit that her type of strength did not necessarily correspond with what's needed to complete Titan Games tasks. Tasks like Atlas Smash, where bulky contestants can swing a sledgehammer to chip pieces off a 350-pound concrete ball before using a pulley system to hoist it 25 feet into the air. Twice.
That's a little different than maneuvering your body through hanging structures or sprinting across a broken bridge — which Graff has done with fluidity on Ninja Warrior for five of the show's 11 seasons.
"I went into ['The Titan Games'] knowing I am way out of my league and the expectations are high," Graff said. "But I always preach to little girls, 'Don't be afraid to do something because you're not going to be good at it. Go out of your comfort zone. Try new things. Fall on your face if you have to, because that's how you're going to learn and grow the most.' ...
"I guess I'm taking my own advice."
One of six celebrities, Graff was in Atlanta to tape the show for a week, along with Claressa Shields (gold-medal boxer), Joe Thomas (former Pro Bowl NFL lineman), Victor Cruz (former Super Bowl-champion wide receiver), Hannah Teter (gold-medal snowboarder) and Tyron Woodley (former UFC champion).
MacColl, who lives in North Carolina, traveled to watch Graff perform — "holding my breath the whole time," the mother said. While MacColl was obviously concerned for Graff's well-being, she also knew her daughter would attack this new endeavor as intelligently as possible, much like she does when viewers can almost see her mentally grinding through Ninja Warrior obstacles.
"I was amazed at how she took to it," MacColl said.
Graff came out injury-free, though she is precluded from discussing specifics of her Titan Games participation due to a confidentiality agreement.
"It allowed me to test my limits in a totally different way and to see how strong I could be and how much I could accomplish," she said.
'Things were adding up'
Testing her limits has been Graff's personal credo since she was a kid who seemed certain she could teach herself how to fly. And while Graff has always been vigilant about taking care of her body, all of her high-throttle, high-flying, high-impact activities had taken a toll.
Like all of the wild workout videos she posts online, Graff also documented the aftermath of her second stem cell therapy, which took place in March and had her wearing a neck brace.
When asked about her injuries, she delved into a narrative that lasted the better part of 10 minutes. She found out nine years ago about bulging discs in her neck; her shoulder has given her problems for six years; her elbows developed tendinitis and sprains three years ago.
All of it, she knows, was the price of her violent vocation and heavy-duty hobbies. So she figured out ways to work around most of her kinks. ("I'm a specialist at that," she said.) But their sum had reached the point where she had to govern her training.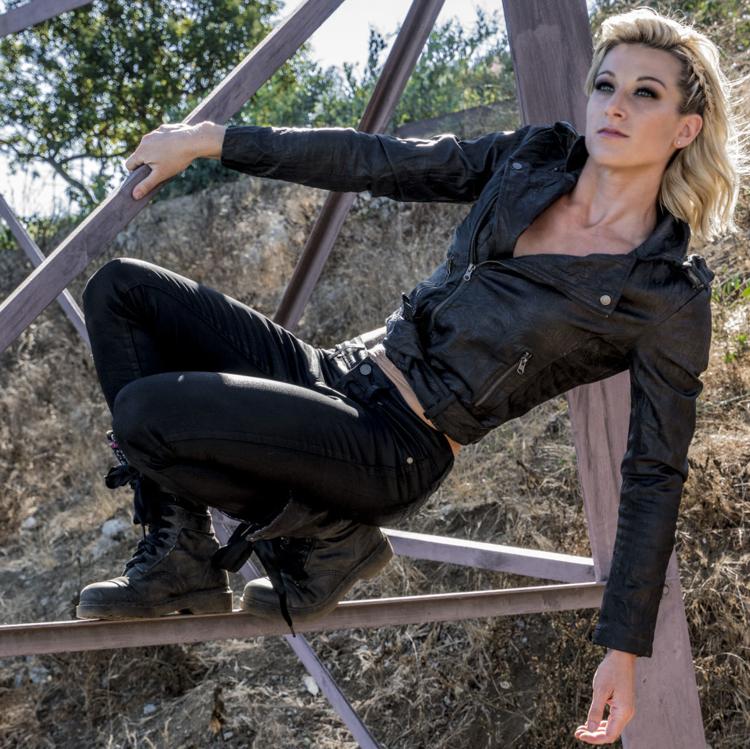 "One by one, things were adding up, and I was losing the ability to perform at a level that I was happy with," she said.
Four doctors had told her surgery was necessary, and that wouldn't even address her nearly helpless neck.
"Not a very promising answer," said Graff, who was trying to avoid the 10th surgery of her 36 years.
Therefore, the woman who is so darn good at overcoming obstacles began searching deeper for an answer to her ailments. That's when she looked closer at the benefits of cell therapy, which help repair damaged tissue in a less invasive manner.
By the time "The Titan Games" rolled around for her, Graff felt like the cell therapy, followed by focused training, helped put her shoulders in "better alignment."
In fact, shortly after she returned from Atlanta for "The Titan Games," she topped her 3-year-old pull-up record by three — pumping out 43.
"I've gotten my injections, recovered from them, competed on 'The Titan Games' and gotten my second round of injections," said Graff, adding that she's ready to take stunt jobs whenever production reopens.
'I can't not compete'
Prior to her first treatment, and even after making "The Titan Games" deal, Graff decided she would not compete on "American Ninja Warrior" this year. Her shoulder, she thought, was still too vulnerable and could not tolerate the full-extension stress of more Ninja competition.
That's when her phone rang again.
A few days after Graff completed her Titan Games commitment in mid-February, the Ninja Warrior folks checked in. They wanted to see how she felt about competing again on the show that propelled her into public consciousness — the show that banks on her appeal in developing its marketing projects.
Graff considered how good she felt about the stabilization of her shoulder, "and as soon as they asked, I lit up."
She figured, "I can't not compete."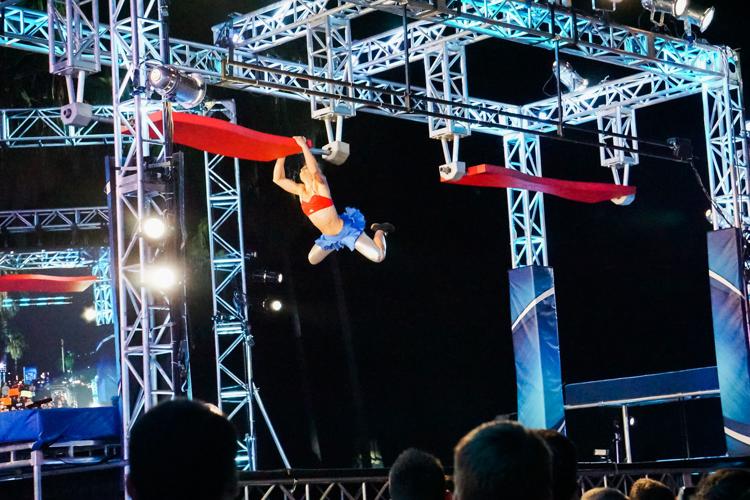 That set in motion her interviews for the show and plans for the flashy attire she'll wear while flitting through the obstacles.
"I have a whole new outfit that's ready, that coincides with what I got to wear on 'Wonder Woman 1984,'" she said of the dream stunt job she spent 10 months on in 2018. (The movie, starring Gal Gadot, is scheduled to premiere on Aug. 14.)
Then the virus crisis struck. Ninja tapings were put on hold. Graff went through with her second round of stem cell injections, risking that she might not be fully recovered in time for Ninja Warrior, depending on the length of the shutdown. At this point, though, she says those concerns have faded.
The show's production company still hopes to have a Season 12. But, like so much of "American Ninja Warrior" competition, that's up in the air.
Graff bombed out of the national finals on the third obstacle last year, a shocking end for the first female in the show's history to complete Stages 1 (regular season) and 2 (USA vs. The World).
Her failure occurred on something called the Double Dipper, a two-part hanging slide with a transition in the middle. It was the transition that spelled the end for Graff, who missed the bar with one of her hands and fell into the pool below.
"I just made a stupid mistake," she said, just as she told the cameras on the broadcast last September.
No surprise: She viewed the error as a chance to grow. That meant improving her hand-eye coordination, which she said has always suffered because, growing up, she never played a ball sport.
As part of her daily training, Graff bounces a tennis ball off a wall and grabs the ricochet, alternating hands. She's taught herself how to juggle. And we're not talking scarves. We're talking two-pound balls and long plastic knives.
She's noticed that, if she knocks something out of a cabinet, she reflexively snags it before it hits the counter or lands on the floor.
"It's working," she said.
So, yes, Jessie Graff — Wonder Woman's stunt double, the real-life superhero, the groundbreaking Ninja Warrior, the Celebrity Titan, inspiration to little girls everywhere — can now also catch.
Follow Joshua R. Smith on Twitter: JoshuaR_Smith