Downtown Frederick's Sky Stage may not have live performances for a while because of COVID-19. But organizers will have a cash flow for when they start back up.
The $10,000 of city money promised annually to the Frederick Arts Council for the live outdoor South Carroll Street concert venue is still a go for fiscal 2021, joining an array of funding awards to other arts and entertainment organizations that managed to dodge the pandemic-fueled threat to their finances — for now.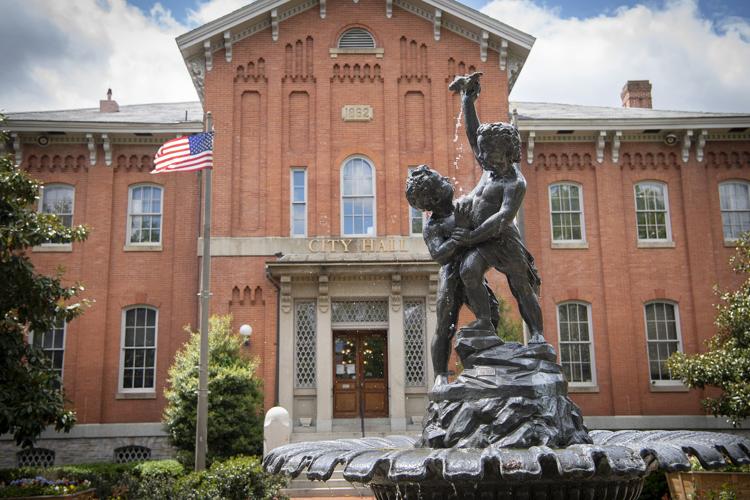 Value in the arts
The Frederick Board of Aldermen last week approved a total of about $44,000 in grants for arts-centered nonprofit groups, which included the $10,000 that the arts council uses to pay artists at Sky Stage, $15,000 to the Maryland Ensemble Theatre, $7,500 to local production company Phenomenlogy, and $5,000 to New Spire Arts, among others. The city's approved budget also included $180,000 for operations at the Weinberg Center for the Arts and $50,000 for the Delaplaine Arts Center via contract agreements.
The awards did not stray from the requests for this year, despite cuts made to the overall budget at the eleventh hour to make up for $5.5 million in projected revenue losses.
"While the focus of many of the nonprofits included for funding has changed as a result of the pandemic, the needs and important roles these organizations play in our community has not," Mayor Michael O'Connor said Monday in an email. "I expect that at some point in FY 21, many of these groups will be back to functioning as they have historically, likely with modified operations and procedures in place. And their need for community and government partnerships will likely be greater. We have seen through this crisis the value that performing and visual arts, athletics, festivals, etc. play in building community. Our support for these groups will assist in helping them transition back to normal when it is safe to do so."
County dollars
The Frederick County Council is also set to vote on the county's budget later this month. The proposed document includes a $50,000 allocation to the arts council, $20,000 to the MET and a little more than $10,000 to the Delaplaine.
County Executive Jan Gardner said Monday the $50,000 to the arts council is consistently awarded and used for staff time and other needs to help sort through state grant funding programs. The arts council does the heavy lifting of distributing state art grants and performs other associated needs with the money.
Gardner also included the money for the Delaplaine in the list of community partnership grants in her proposed budget because she had not seen a request from the nonprofit before and wanted to support it, she said.
She said funding arts projects and organizations — in any given year — is challenging because no ongoing dedicated revenue stream exists for the efforts.
"The challenge of all that is there hasn't been funding that has been ongoing, to maintain some of that public art … whenever you need to maintain art, it's always like another capital campaign," Gardner said,
She referenced the Public Art Master Plan, which the arts council rolled out last year. The 107-page report set out an ambitious road map for expanding art across the county and included funding requests from both the city and county. And while the pandemic has not helped, the revenue stream needed to carry out the plan's goals was shaky from the get-go.
"There was an interest to define a stream of revenue for public art, but that's never happened … I do think public art is always a challenge to compete with, given the demands with the county budget," Gardner said.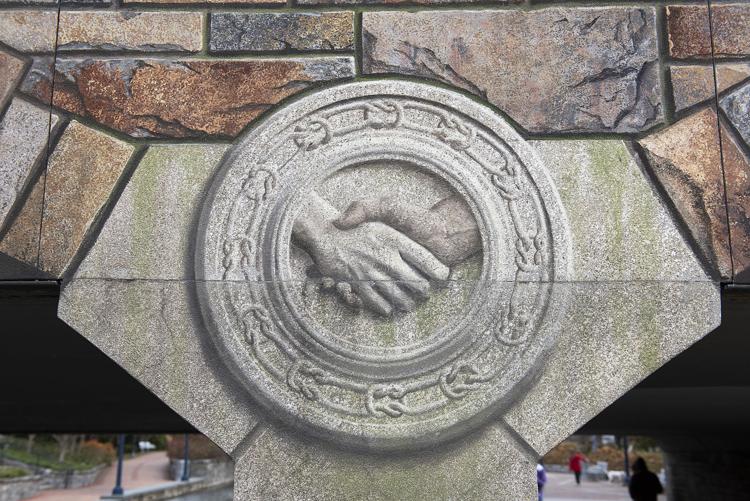 Essential service
This year in particular public money and grant funds are important to organizations like the arts council because more artists are in need.
"There's no doubt that this COVID-19 crisis has been uniquely devastating for artists," said Louise Kennelly, the executive director of the arts council. "It's hard on everybody but it's hard in kind of unique ways for artists. I'm sure you're hearing many artists' sources of revenue are dried up due to cancelations and postponements and that's across the discipline."
She added many artists have seen their revenues from things like ticket sales and gallery exhibits completely dry up and have also lost secondary sources of income with the closure of many other businesses.
"A lot of our members work in the service industry to make ends meet because some of the challenges in our community were there before this crisis in the sense that they're trying to do a lot with very little," Kennelly said. "So to make ends meet they often have jobs in the restaurants and in the retail centers and of course those are closed too so there's a domino effect."
This same need applies to artists who perform at Sky Stage, who Kennelly said are adjusting to online performances but are currently unable to perform live while the venue is required to remain closed.
She added that every penny from public sources is appreciated and she hopes that through all of this it will remain and officials will continue to realize the importance of arts to the community.
"Sometimes it's not as clear as it needs to be that the arts are an economic driver," she said. "It's not the outcome of a heathy community it's the driver of economic vitality more and more these days because the creative economy is key to engaging people to come to your community and spend time there. So it's not something we should consider an extra or an add on … It's the beginning of the story so when you look at it that way you realize just how essential they are."
News-Post reporters Steve Bohnel and Ryan Marshall contributed to this story.