Sarah Coleman and her Southern cooking seem to have taken Frederick by storm within the last few months — but that wasn't always the case.
Coleman has one of few Black-owned food establishments in the county. After launching IMOJAE's in January 2019, she struggled. One day, shortly before the COVID-19 pandemic hit Frederick, Coleman only took in a revenue of $23 and thought she may have to decrease the number of days she was operating her business in order to make rent on the kitchen space she was using.
However, after being added to a short-lived Frederick County Take Out Facebook page during the COVID-19 pandemic, the business began picking up. Soon after, when protests began in the U.S. over the killing of George Floyd and there was a call to support locally-owned black restaurants, IMOJAE's was added to a minority-owned business section of the page. And the phone hasn't stopped ringing since.
Cooking with love
Years ago, Coleman began cooking out of her home with her son, Josh King. At the time it was called S&J Soul Food for Sarah and Josh. Coleman saw it as a way to help her son get back on his feet, after he was fired from a salesman job.
"I just wanted to teach him something that no one could ever take from him," Coleman said.
It was a hit, and soon King's fried fish recipe was more popular than his mother's. However, one day while King was spending some time in Montgomery County, he was shot by a stranger and killed.
The orders and the cooking stopped as Coleman grieved her son, but while driving past King's gravesite one day, Coleman said she had a sort of epiphany.
"I heard Imojae's, and then the acronym just came out. It said 'In Memory of Josh and 'Em," Coleman said. The "'em" is short for "them."
Coleman operates her business out of the kitchen of Mountain City Lodge downtown. She likes to describe her food as "southern comfort."
Each week, the menu cycles through a variety of items — fried chicken, fried fish, baked Cornish hens with onion gravy, smothered pork chops, catfish. And then there are the sides. Macaroni and cheese, baked yams, collard greens, baked beans, fried cabbage and cornbread.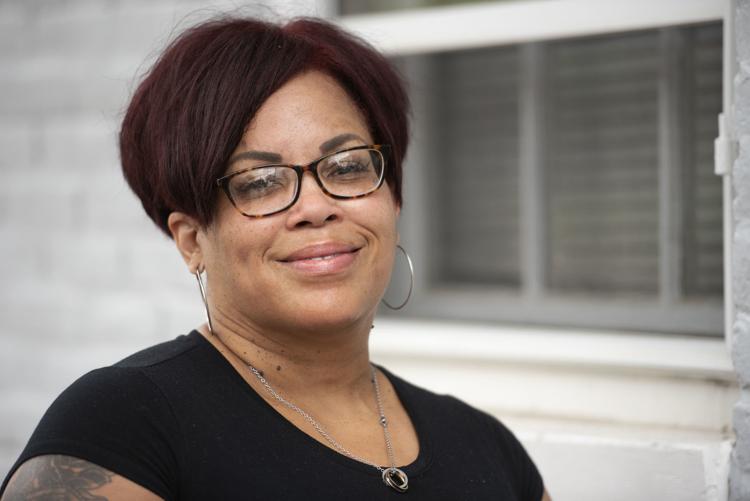 Coleman loves the support she has received in the last few months but hopes the backing is coming from an earnest place.
"Support me because you enjoy my food, support me because you read something about me that inspires you but I don't need white guilt," Coleman said. "I would prefer a person come out and support me because they like what I'm serving as opposed to what the police are doing or what their ancestors did."
Despite her astonishment at the sudden uptick in business though, she is optimistic that the support will continue. She said she feels embraced by the community and despite the racial issues that exist across the county Coleman feels there is actually more unity than division — something she hopes to continue increasing through her cooking.
"Food makes you feel good... and I cook with love," she said," It's like a hug."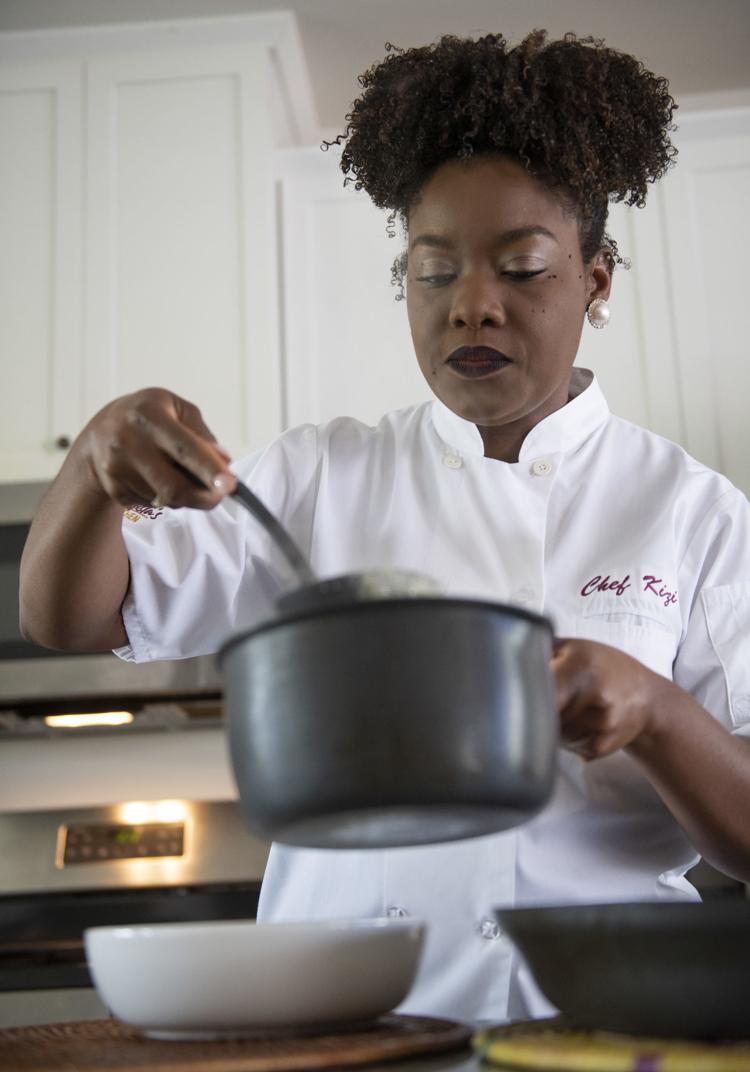 Catering success — everywhere but Frederick
While Coleman and her North Carolina cooking have been embraced by Frederick County, Kizi N'Kodia seems to have had an opposite experience.
N'Kodia is originally from Côte d'Ivoire — also known as Ivory Coast, a country in West Africa. She runs a personal chef and catering business out of Frederick called Bouffista.
N'Kodia came to the United States in 2001 due to political unrest in Côte d'Ivoire at the time. She finished high school in Silver Spring and attended the University of Maryland. Her love for cooking began in college when she would have friends over to study and cook Ivorian dishes.
She launched Bouffista in 2015 after running an online food blog for many years.
N'Kodia has held catering contracts all over the country from Virginia to Texas to Colorado but she has never gotten a job within her hometown.
"As much as I post and advertise and do promotions on social media I have never gotten business within Frederick County at all," N'Kodia said.
She isn't exactly sure why that is but feels there is a lack of minority-owned food establishments across the county in general.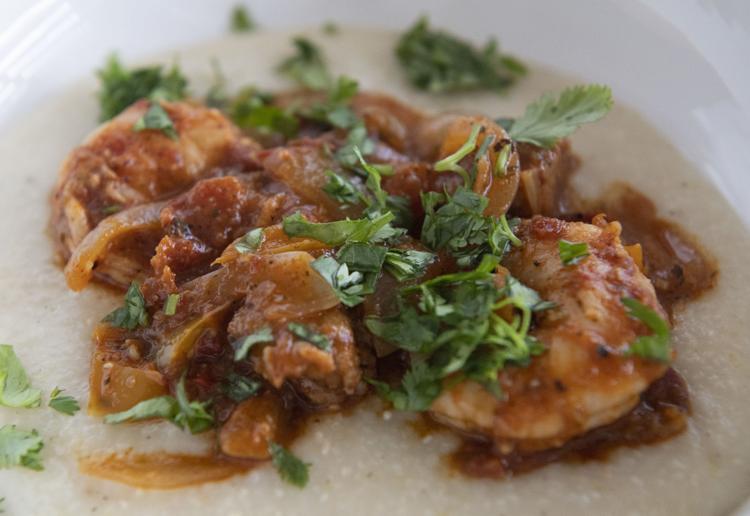 "Frederick is super diverse ... but I have to say especially downtown, there is not one Black business or storefront. Whether it's food or anything else. And that's sad," N'Kodia said.
When asked how she feels about the current state of the nation in terms of race relations, N'Kodia said although she feels slightly disconnected, as she is purely African, she still thinks a lot needs to change.
"At the end of the day we're all Black, we're all human ... it's crazy, it's mind-blowing. Even in Africa, they don't kill us like that," N'Kodia said. "For most Africans being in the United States is the [expletive]. Why? Because of the opportunities that are available ... but now it's like do you even want to come here?"
N'Kodia said she doesn't feel support from her community as a Black owned-business and hopes that soon more initiatives will be introduced to help businesses like hers find a place within the county.
Her cooking is Ivorian-based with aromatic fish and chicken dishes and things like Attiéké — a couscous-type grain made from cassava.
N'Kodia also incorporates many American dishes and said there is nothing she makes that is "super traditional" that people can't eat, and wishes more people were willing to try different and unknown cuisines. She hopes going forward that people will seek her out and begin to cater their events with the different flavors she offers. After all, N'Kodia has had success everywhere else.
"Once I started catering retreats, the reviews were amazing, and I was like you know what, this is a gift. People love it and I enjoy it," N'Kodia said. "They are meals that can be embraced by any culture even if you're not African.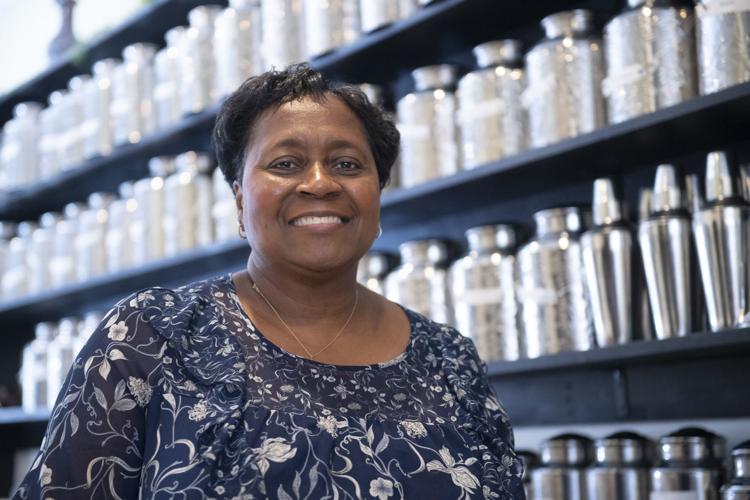 Embracing Carolina roots
For years, when people heard of Blanch Henry and Serenity Tea Room their minds immediately went to the purple building on West Patrick Street in downtown Frederick.
A two-decade Frederick resident, Henry ran Serenity Tea Room & Fine Dining for 15 years before retiring. Although the brick-and-mortar location is now closed, Henry is still selling loose-leaf teas and homemade scones through the business website.
Her love for tea originated from her grandmother, who Henry described as an extraordinary chef.
"My grandmother purchased me a china pattern at birth," Henry said. "I learned to appreciate ... the different things that she did and it just built my appetite to want to explore other cuisines and other foods."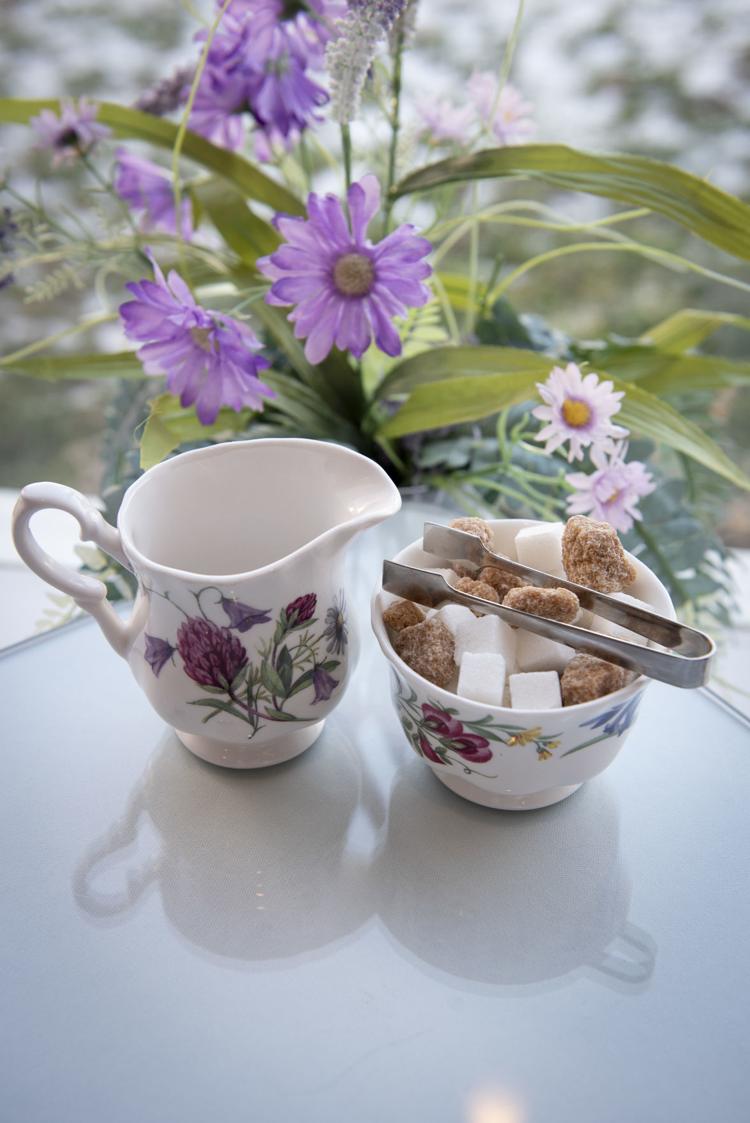 Henry's grandmother and her South Carolina roots had an impact on every part of the business, from the flavors of the teas and the scones to the dinner menu they served, which Henry described as "upscale southern cuisine."
Menu items included shrimp and grits, chicken and waffles, braised short ribs, and salmon and coconut risotto.
Her Carolina heritage also impacted the way Henry ran her business.
"My grandmother taught me not so much about the money more so about building relationships," she said. "I wanted people to feel like they were welcomed into my home when they came in ... we built relationships, we got to know a lot of our customers ... they've become a part of our family."
Running the tea room as a black woman was not always easy though, Henry said.
"I grew up in the south where I saw prejudices; I came to the Washington, D.C. area thinking that I wouldn't see it here," Henry said. "People would talk to me on the phone and set up a meeting with me and then when they come in ... they assume I'm not the owner. I got that even up until my 15th year that I was open."
Similar to N'Kodia, Henry wishes there were more Black-owned businesses within the county. She also hopes the change people are asking for today will actually happen. Henry said although she has lived in Frederick for many years, she often felt uneasy for herself or for her daughters.
"Because of the color of my skin and I'm always feeling like I got to dot my 'i's' and cross my 't's'," Henry said. "We shouldn't have to leave our homes ... thinking what do I need to do to protect myself or what do I need not to do to make sure I don't get in trouble. That's how we live our lives and that's sad."
She is grateful though for the uplifting actions she has seen from the community both in terms of supporting her transition online and the protesting that has been taking place downtown. Henry and her husband attended the organized march through Baker Park.
"I'm so glad we did not miss that," Henry said. "God doesn't see color ... and I pray that my grandchildren and great-grandchildren see the change."
Follow Katryna Perera on Twitter: @katrynajill.