Faces of the Great Frederick Fair
It's early last Friday afternoon at The Great Frederick Fair. Even before the gates officially opened at 5 p.m. people were milling around trying to grab some food and seeing some of the open exhibits.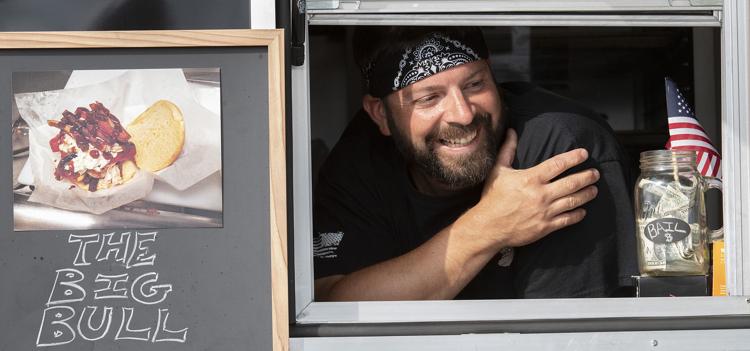 The sky was filled with gray clouds that blocked the sun, but there was a light breeze that brought with it the smells of food, the sounds of people chatting and flags flapping in the wind.
Karen Nicklas, the fair's executive assistant, was driving around on a golf cart trying to make sure things were ready for the first day of the annual event. She said The Great Frederick Fair has been going on since 1822, which started out as an agriculture exhibit before growing into the event it is today. This year's fair has 4,000 exhibitors and 150 vendors, which doesn't include the ones who are part of the carnival aspect.
Then there are the people. The people who run the exhibits, judge the competitions, sell the iconic food, and run the rides and games. And of course, the people who come to the grounds just to see it all. Here are some of their stories.
The Dazé family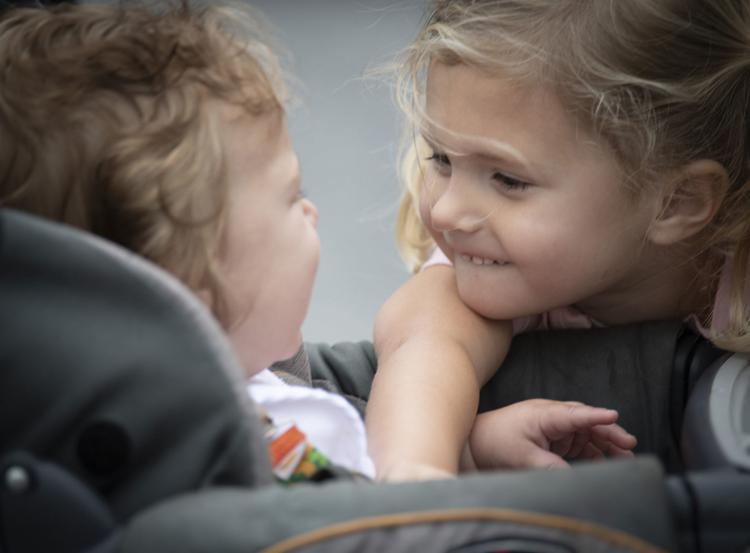 Pierre and Katie Dazé of Middletown had brought their children, Claire, 3, and Paul, 8 months old, to the fair. Claire has become a veteran to the event and requested to ride the Ferris wheel. This year marks Paul's first official trip.
Katie and Pierre both said they like to go to the household building. They also said they love eating the fair foods. Pierre said his favorite is Hemp's Meats from Jefferson.
They didn't only come to sightsee, Pierre also entered his sticky buns in competition this year. Last year, he walked away with second place for his blueberry pie.
As Frederick natives, the Dazés said they make sure to make the fair part of their end-of-the-summer plans.
"We go because it's a Frederick tradition," Katie said.
Fred Wisner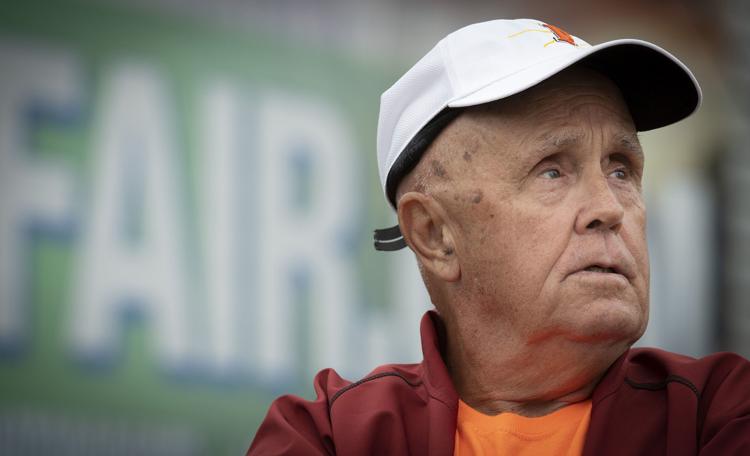 Fred Wisner, 70, was sitting on a green bench at The Great Frederick Fair, arms crossed over his jacket, watching people walk by.
Wisner, of Frederick, has been coming to the fair since he was a child when he grew up on a dairy farm.
"The old man used to bring us here as a kid," he said as the flashes from the carnival rides went on and off. "He'd bring us here and let us all loose."
He spent nearly every year since he can remember coming to the fair, except for when he was drafted and served during the Vietnam War.
He spent three years in a VA hospital a few years ago. After the stint, he promised himself that he would travel more. He's been to Switzerland, Russia, Ireland, Ghana and Wales
Wisner said he still comes to the fair because he likes the agriculture stuff, it reminds him of those days on the farm. He was looking forward to watching the tractor and truck pull. However, he steers away from the carnival rides.
"I don't care for that much," he said.
Kelsey Blank
Kelsey Blank, 15, of Thurmont, was standing outside the dairy cow barns waiting on the bovine to arrive. A sophomore at Walkersville High School, Kelsey has been showing dairy cows since she was 8 years old. She's entered again this year in 4-H and open classes.
"I just love animals and getting to see all the people," she said.
Kelsey said she likes the prizes they offer, meeting new people and seeing how she did in the contests. This year she's entered in about 15 contests. She said did well last year, but admitted that her sister Kaitlyn did a lot better because she won grand champion.
With hopes of being a cop one day, Kelsey said she loves showing her cows.
"I love seeing all the kids who come by who are happy to see the animals," she said.
Gary Smith
Dougherty's Country Kitchen has been a staple at The Frederick Fair since 1970. The company opened the year before and is celebrating 50 years in business this year. It was originally owned and operated by Harry Dougherty Jr.
Beginning in 2006, Gary Smith worked for Dougherty, whom he called "Junior." After Dougherty's death in 2018, Smith took over the business in late May.
The biggest sellers for Dougherty's are chicken potpie, which sells for $4, and chipped beef. Smith guesses they sell about 500 pounds each during fair week.
Smith said he also runs the nearby lemonade and pizza stands, which keeps him busy. He said he doesn't have the time to go visit, but he's glad when people take the time to come down and say hello. He said he enjoys the aspect of seeing people he knows.
"You see a lot of people you only see once a year," he said.
Follow Crystal Schelle on Twitter: @crystalschelle