As a handful of children recently threw colorful scarves into the air during a juggling lesson in what used to be a shoe store at the Francis Scott Key Mall, a young girl walking past with her mother stopped in her tracks to catch a glimpse of what was happening.
The girl's reaction is exactly what Elizabeth Lucas was looking for when she conceptualized Free Range Kids, a new venture where children can experience a myriad of performing arts programming.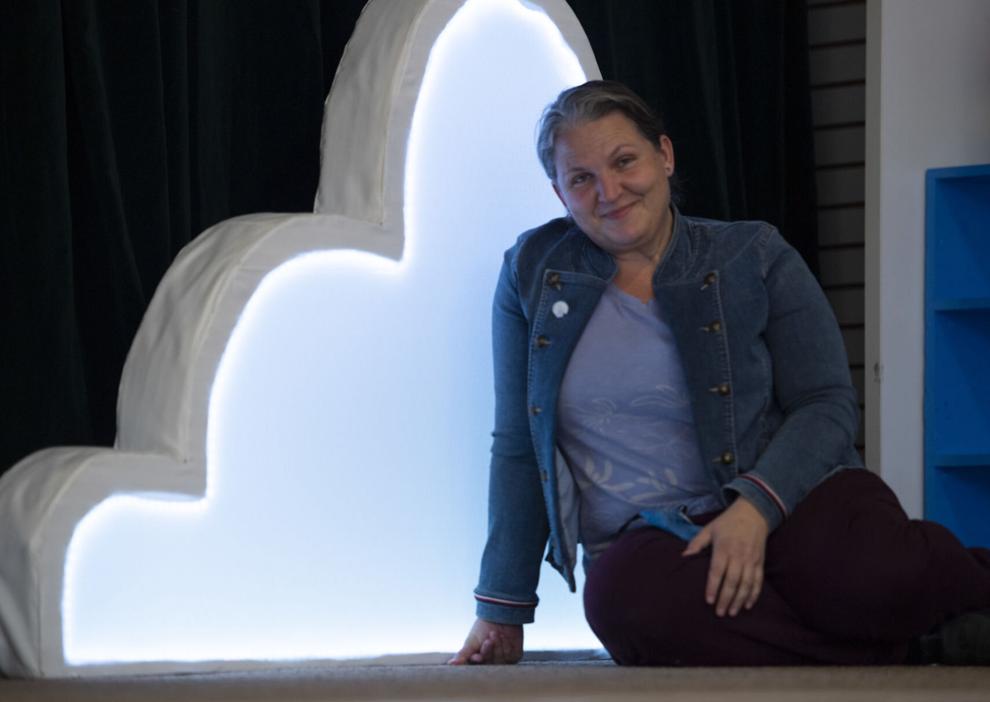 "I hope [Free Range Kids] will be a welcoming place for someone to walk in and see what we're doing; [someone] who would never consider walking into an artistic institution," said Lucas, the founder of the 501©(3) nonprofit.
From her location next door to the Macy's department store, Lucas hopes to seize upon the steady stream of would-be participants who walk past every day.
"I love that it's sort of a democratic place where the demographics of the people who are likely to engage with what we do are much more varied than you would get in most of the … institutional places in town," she said.
Just a few weeks out of the gate, the nascent arts center is already offering a variety of classes and looking to build upon the existing line up.
In-person classes
Any decision to enroll a child in an in-person program during the era of the coronavirus is likely to begin with a parent's safety concerns. Lucas had those concerns at the top of mind while she readied the new venture for launch.
Thanks to a $3,300 grant from Frederick County, Lucas was able to update the space to mitigate COVID risks, including upgrading the existing HVAC air conditioning system that not only uses hepa filters — high-efficiency particulate air filters — to clean the air, but also UVC light to kill airborne microbes. The air also vents to the outside, providing fresh air in the space.
Lisa Romano, whose three children — Anna, 9, Billy, 8, and Daniel, 6 — are enrolled in a 7-week circus arts class that meets once per week, heard about Free Range Kids prior to its opening and had discussions with Lucas about what safety protocols would be in place.
"[Lucas] actually asked, ... what were the precautions that we want taken and things like that," she said. "And I'm really happy with the social distancing, wearing a mask, [and] all the advances that they've put into the ventilation system."
Romano is homeschooling her children this year for the first time — she calls it COVID-schooling — and noted the many benefits the trio get from the program.
"I think it's great that there's an opportunity for the kids to get together [and] socialize with other kids," she said.
Romano is also able to use the classes to satisfy several homeschool education requirements.
When she approached her kids about the program, which is taught by members of the Theatricks circus school, they were excited, but also a little nervous. But not for the reason one might think.
"The boys kind of thought that there might be lion taming and strongman acts and things like that," she said.
But despite their initial misconceptions, they immediately took to the program.
Along with everyone — both students and teachers — wearing face coverings, each person has their own materials, their own seat, and everyone is able to socially distance on the performing floor.
That social distancing offered an added benefit to Romano's daughter Anna. She appreciates having some distance between herself and her younger brothers, the lack of which Anna said can be a bit much at home.
For those who aren't yet comfortable with having their kids attend in-person classes, Lucas said she plans to offer take-home activities for children of varying ages. One such kit, for example, would include the materials for a child to create a puppet and produce a show at home.
Space for diverse offerings
Free Range Kids, which is the educational arm of Lucas' other project, Free Range Humans, will serve as a home base for the parent organization and a place to introduce the next generation of artists.
"What we wanted more than anything was … to cultivate a sense of adventure and creativeness and involvement from students who will potentially grow up to be our collaborators," she said.
Marci Shegogue, a substitute teacher and the music director for Free Range Humans, joined Free Range Kids on its board of directors. She said she's looking forward to teaching her own classes in the new space, but for now is limiting her role to that of consultant.
Shegogue also said the lack of opportunities for kids to collaborate with other kids creatively is a huge source of frustration.
"I look at performing arts as just a very broad range of things," she said. "It's not just sitting down and teaching someone how to read music or teaching someone how to sing. For me it's about the whole person and trying to find ways to connect with the arts."
Shegogue sees a way to change lives by building both community and confidence, even at a time when there's far less in-person socializing due to the pandemic.
"I feel like arts education is so vital to these kids," she said. "Especially right now with all the virtual learning."
Rikki Howie Lacewell, one of the instructors at Free Range Kids, said she's excited for the opportunity to share her love of choreography and dance with her students.
While she will — for now — teach her classes virtually from home with students either attending in-person at Free Range Kids, or virtually from home, she said she is looking forward to reaching people who aren't exposed to the arts.
"What I really hope," she said, "is that we're able to not only reach the population that is within the Frederick area, but also the surrounding areas ... [and] get them interested in theater and any of the other programs that we happen to offer."
Lucas said Free Range Kids isn't looking to be a full dance studio for those who want to dance six days a week. There are already a number of dedicated studios for that. Nor is it a place exclusively for production theater.
"It's a space for learning," she said.
The breadth of the offerings planned for Free Range Kids includes classes and workshops touching on subjects as far ranging as DJing, video production, costume design and even escape room design.
A launch that almost didn't happen
Without two $10,000 grants, one from the Nora Roberts Foundation and one from an anonymous donor, Lucas said Free Range Kids wouldn't have even made it off the ground.
"We wouldn't be opening without those grants," she said.
She added that she also looked for deals when acquiring the materials needed to build out the space.
The stage, for example, which is bright purple and adorned with logos stenciled on by Mave, one of Lucas' 9-year-old twin daughters, was purchased at auction for $22.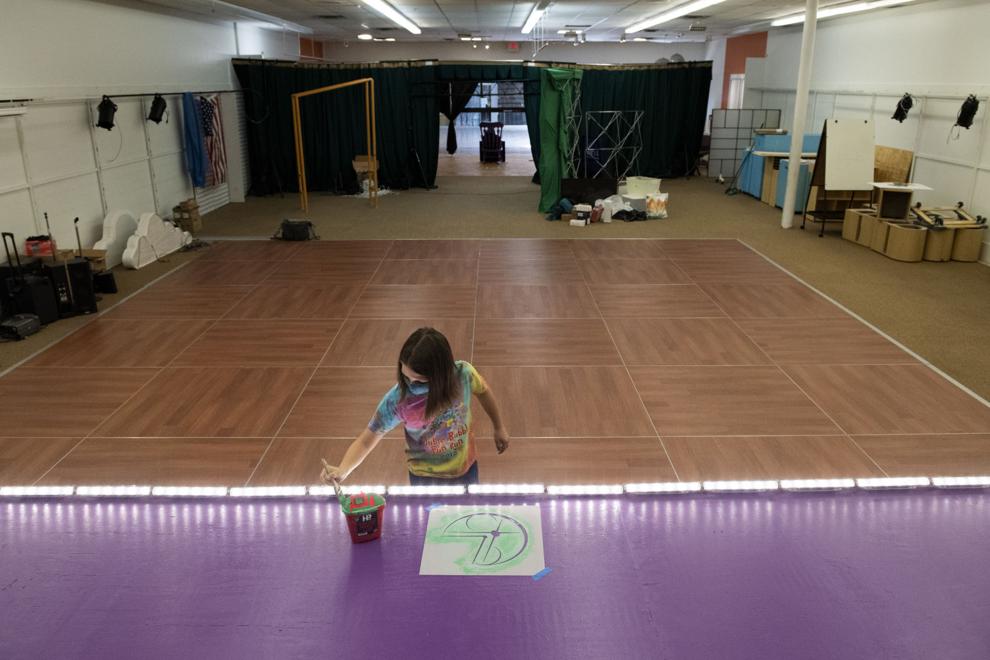 Lucas' passion for arts education is apparent when she talks about her desire to see more opportunities for collaboration among the many arts organizations in Frederick. She wants Free Range Kids to also be a place for groups that don't have their own space, such as Theatricks, which has offered classes in a variety of places, including The Banner School in Frederick.
"And if we can be a place that funnels business to them and gives them a platform, awesome," she said.
Whether a class is one of her offerings or from an outside organization, Lucas said she impresses the importance of adding historical context to a lesson — even if it's just a few sentences.
"I'm a firm believer that artists thrive by being around other artists and magnifying each other and lifting each other up," she said.