Shoppers who enter Tiara Day in downtown Frederick will notice many sets of eyes on them.
Throughout the shop that specializes in vintage and antique items, as well as vintage-inspired pieces, exists a small collection of vintage mannequins and about 100 doll heads. These are not for sale but add to the decor of the shop.
Shop owner Maria Peck has had the mannequins longer than she's owned the 153 N. Market St. business. She opened the corner shop a little over 10 years ago after relocating from Kensington.
"I love old department store displays and I guess general store displays, so you'll see a lot of them around here with our inventory," Peck said recently while standing in her shop. "The old mannequins have glass eyes, so there's just something different about them."
Mannequins were a practical investment, she said, as she uses them to display her clothing and jewelry. She often finds them by word of mouth. She bought the first ones in college while working at Montgomery Mall. A store there had gone out of business and she bought the store's dress forms.
"I ended up buying all of them," Peck said, "I knew I was gonna have [a] store someday."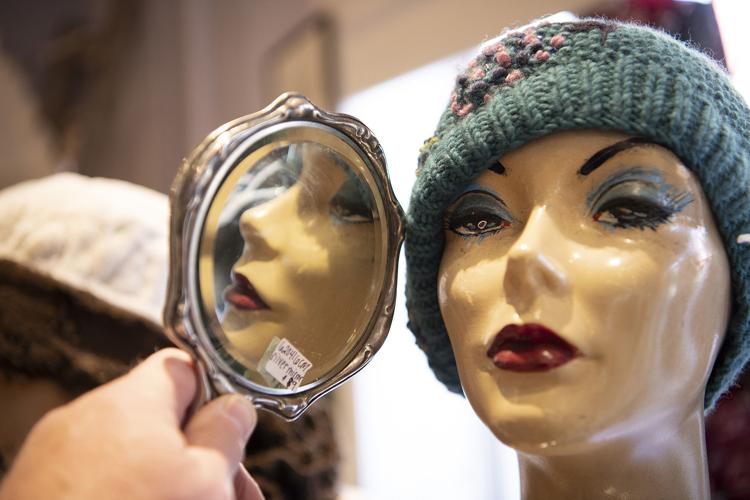 A collection of mannequins
Mannequins have come a long way over the years.
Author Leighanne Morris' article "The complete guide of mannequins: Garbos, Twiggies, Barbies and beyond," chronicles the rise of the statuesque dolls for HopeandFears.com.
Mannequins were introduced around the turn of the 20th century for window displays. And at the end of the Victorian era, it was actually against the law to undress mannequins in the store without covering the windows.
And as the ideal woman's body changes for society, the shapes are reflected in the forms. The early mannequins featured real hair, false teeth and glass eyes, Morris said.
Early dolls are also more voluptuous with fuller breasts and larger hips. Over the years, the form changed to included moveable arms and legs, hips got slimmer, chests got smaller. Many of the ones in Tiara Day are from the 1940s to 1960s era.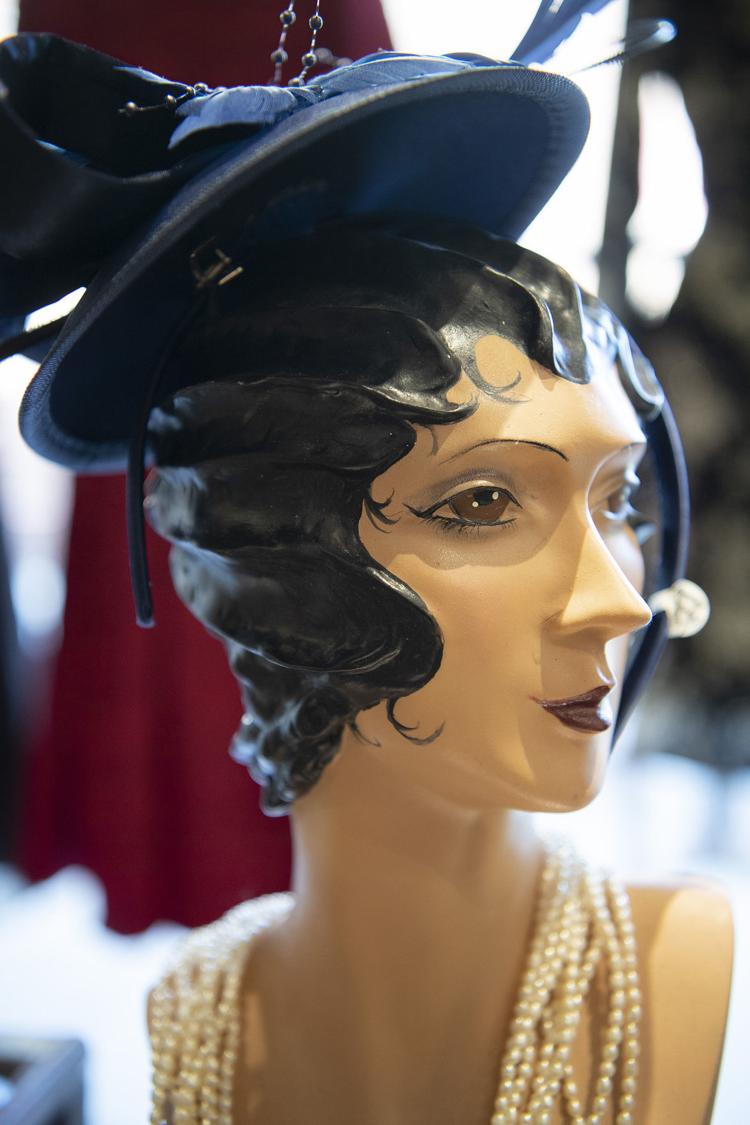 Peck said the vintage mannequins can be a challenge to work with because of the way they are made.
"But it's kind of the price to pay for having them," she said with a laugh. "Because trying to put pants on them or shorts is next to impossible but you know I love the way they look. Some of them ... you know, have broken hands or fingers you know, but that's been that's kind of like the vintage things, they've been really loved and used ... And I don't think that takes away from them. It gives them character."
Off with their heads
The most remarkable piece of the shop is a collection of doll heads that sit on shelves behind the cashier counter. The heads range in size, materials and ages.
"And you know some of them have stories behind them," Peck said.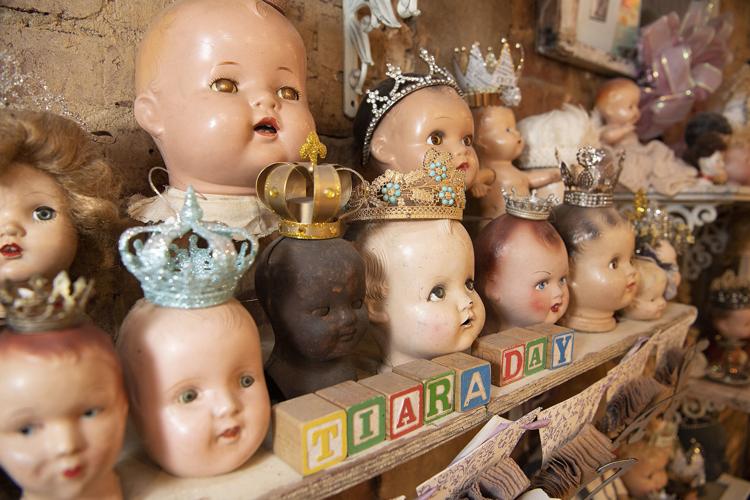 She said she didn't set out to collect doll heads.
"I found one in a box one time, I think ... from an auction when I had my shop in Kensington, and I put a tiara on her head and named the store Tiara Day. And it became a thing," she said.
That one doll head has grown into what has become a 13-year collection that she has on display at her business.
"A lot of my customers and friends have brought me doll heads as gifts, so they're all displayed up here," Peck said while looking at her collection. "I'm very picky about them."
The dolls have to be vintage or antique and are from the 1800s to the 1960s. Peck has some dolls in the form of frozen Charlottes, which were china dolls that were made from 1850 to 1920.
Peck said she tries not to have too many repeats on display. And, she said, she wants them to look like doll heads, and won't display Cabbage Patch or Barbie dolls.
The doll heads are made of bisque, porcelain, plastic composite and are a variety of sizes. The oldest doll head, she said, is a cast-iron mold.
"Some of these are from Europe," she said. "I bought a number of them when I was in Paris and I actually have one that's not here at the store."
'She was waiting for me'
With collections like Peck's, some people say that the item finds the collector, not the other way around. And that's exactly what happened to her with the doll head she found in Paris. She was at a Parisian flea market when she noticed a vendor who had bought out a doll factory that was going out of business. The woman had all types of doll parts for sale.
"She had this one special case that had doll heads in it and they were haunting, they were just beautiful," Peck said. "And she said, 'Well, those are the special ones.' And I said, 'What makes them special?" She said, 'They have real human hair.'"
Among those doll heads, Peck said there was one that just captivated her and she asked to see it. Peck said the doll mesmerized her, but at that point in her trip, it was out of her budget. Instead, she decided to say goodbye to it and head back home.
"Two years later, I was back at another flea market, and there was that same vendor there. And I said to her, 'Oh, this is going to be the weirdest thing.' You know, it's two years later, but you had a case of dolls. And she says, 'Oh, that's funny that you ask, I have one left. This one, everyone loved her, but nobody wanted her,'" Peck remembered. "And it was the one that I wanted. I said, 'She was waiting for me.'"
This time, Peck purchased the doll head and it remains the one at her home.
Countless heads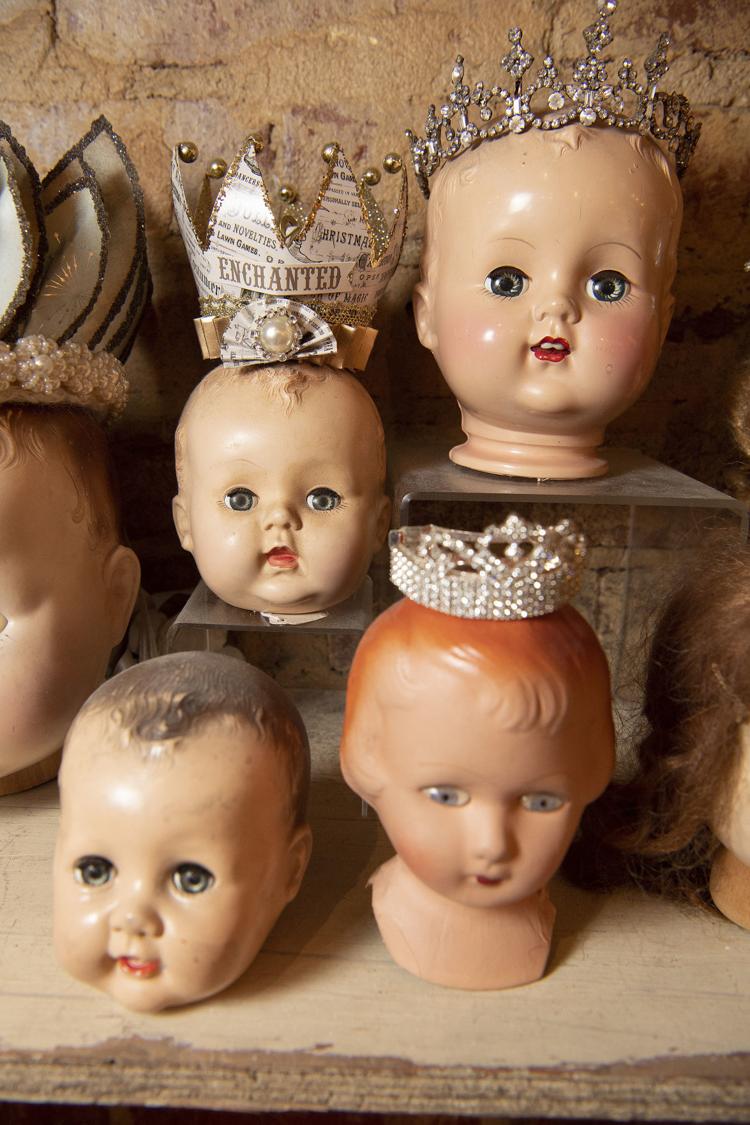 One of the largest doll heads on display at Tiara Day is actually a mask that Peck bought from the shop Obscura Antiques & Oddities in East Village, Manhattan. The shop was featured on the "Oddities" TV series on the Discovery Channel.
Peck was accompanied by her mother for the trip. And when they walked in, Peck said she immediately saw the mask. Her mother agreed that she needed to have it as part of her collection. Peck guesses that it was from a theater and most likely had a party hat with it.
Obscura closed its doors on Dec. 31 after 20 years.
"I'm kind of grateful that I have a little piece of their store," Peck said.
One doll head just randomly showed up at her shop with a note saying it was for her collection. No name, no return address, no clue who the sender could have been.
Peck isn't sure how many doll heads she actually has. In fact, she said, not all are on display. She has a special collection of heads that are a little more cracked and slightly more creepy that she uses for window displays for Halloween.
For those wondering what happened to the bodies, Peck doesn't know. She only purchases the doll heads as heads.
"I'm too much of a vintage purist. I don't like to destroy vintage things. I don't decapitate them," she said.
The doll heads have become their own little oddity of Frederick. Peck said the doll heads are the most photographed aspect of the shop.
"People either absolutely love it or [are] completely creeped out by them," she said. "I will say it's more men that are creeped out ... by it than women."
Peck also continues to add to her collection.
"I'm always on the hunt, she said.
Peck said overall that she hopes the doll heads might make someone laugh or giggle. She said people often will look at them and will react with an "oh, that's different."
"Like we can't be all beautiful, we have to have a little twist."
Follow Crystal Schelle on Twitter: @crystalschelle.